If you search online for the best tools to keep your Mac uncluttered, Cleanmymac is one of the options that will appear in top searches. The tool claims to offer a comprehensive way to clean up Mac storage and fix issues within a few clicks. But does it have what it takes to satisfy your needs? Well, in this Cleanmymac review, we shall discuss everything you need to know about the tool to help you confirm all its claims. So, without wasting much time, let's dive into the article to find out more.
Part 1: Cleanmymac X Complete Review
What Is Cleanmymac
CleanMyMac is a popular utility tool created by MacPaw that allows you to optimize and maintain your macOS storage easily. It can come in handy to enhance performance, free up disk space, and ensure a smooth user experience. With a user-friendly interface, CleanMyMac X enables you to clean junk files, such as caches, log files, and unused language files, which can significantly free up storage space. Plus, it helps manage applications by uninstalling them completely, removing all associated files, and updating outdated ones.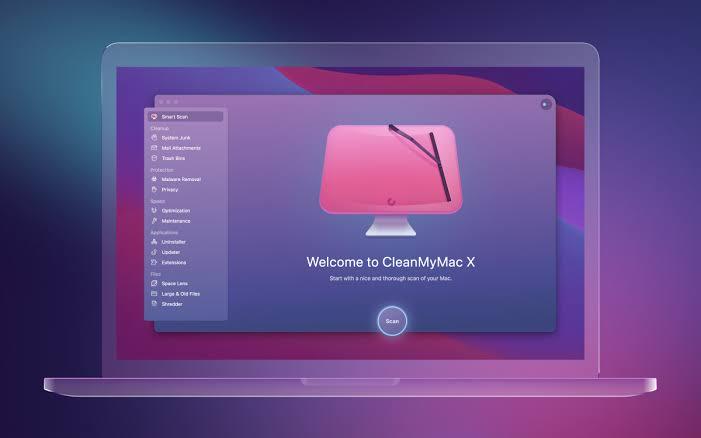 Also, Cleanmymac X supports a built-in protection tool called "Malware Removal", which allows you to detect viruses in apps, protecting your Mac from threats that could compromise its functions. Overall, CleanMyMac is a valuable tool for Mac users who want to keep their systems clutter-free, secure, and running at their best.
Key Features
Smart Cleanup: Scans your system for junk files, system clutter, and large files, providing one-click solutions to clean up space efficiently.
Uninstaller: Thoroughly removes applications, widgets, and plugins, including their residual files, to reclaim disk space.
Malware Removal: Protects your Mac from potential threats by scanning for malware and adware and removing them effectively.
Privacy: Erases browsing history, cookies, and other sensitive data, ensuring your online privacy is safeguarded.
Maintenance: Offers a set of tools to optimize the system, including verifying and repairing disk permissions and managing login items.
Large & Old Files Remover: Remove large and old files occupying your Mac storage within a few clicks.
Pros
30-day money-back guarantee.
Built-in app uninstaller and updater.
Scan Mac for all kind of vulnerabilities and remove them instantly.
Remove your browsing history without leaving any online or offline traces.
Cons
Some newbiews might find the app confusing to use.
Some of the advanced features could be better.
Supported OS: Mac OS 10.13 or later
Pricing:
Plan  for 1 Mac: $39.95/year
Plan for 2 Macs: $59.95/year
Plan for 5 Macs: $89.95
How Does Cleanmymac Software Works?
Step 1: Download and install Cleanmymac X software on your Mac system.
Step 2: Start the installed program and select System Junk or the relevant feature you need to clean up your Max storage from the left sidebar.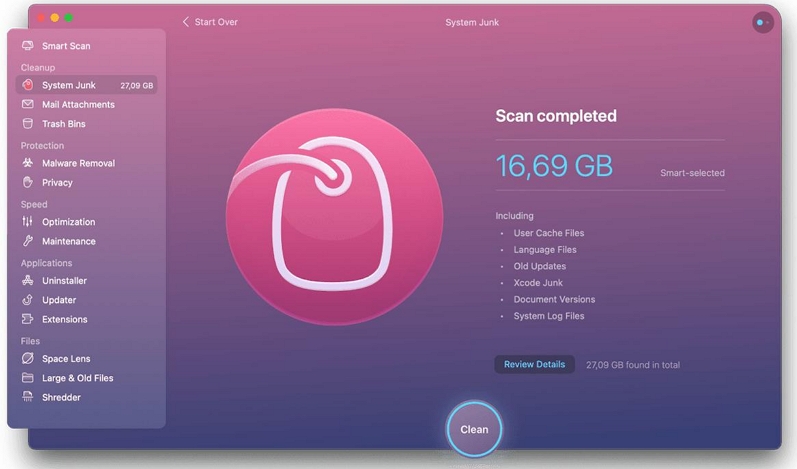 Step 3: Next, click the Scan button to initiate the scanning process.
Step 4: After the tool has successfully scanned your Mac, all junk  and other irrelevant files will be displayed on your screen. Click the clean button to remove them from your Mac.
Part 2: Best Alternative To Cleanmymac X - Macube Cleaner
If you're wondering what the best alternative to Cleanmymac is, then you need the Macube Cleaner. This software program is very popular for its smart cleaning algorithm. It allows you to detect and delete junk, duplicate files, and any kind of unimportant files occupying your Mac storage. Besides, Macube Cleaner supports an Optimization Toolkit that allows you to manage startup items, system extensions, and login items, fine-tuning your Mac's performance. And the availability of an app uninstaller makes it easy for you to completely remove unwanted apps and their files. Another notable feature of this tool is the privacy protector, which enables you to clear browsing history and other sensitive data both online and offline securely.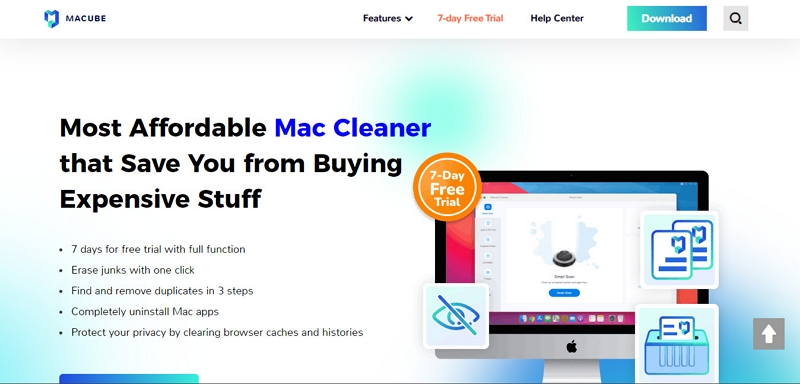 Key Features:
Smart Cleanup: The tool uses smart scan to intelligently identifies and removes unnecessary files, cache, and temporary data, saving valuable disk space.
Duplicate Finder: It scans and locates duplicate files, allowing you to delete them and reclaim additional storage.
App Uninstaller: Macube Cleaner helps you uninstall unwanted applications completely, including their associated files and folders.
Privacy Protector: The application safeguards your sensitive data by erasing traces of browsing history, downloads, and online activities, making them unavailable offline and online.
Optimization Toolkit: It provides various optimization tools to manage startup items, system extensions, and login items.
File Shredder: Permanently deletes files from your Mac and makes them unrecoverable even with a data recovery tool.
Similar Image Finder: Locate similar images on your Mac and delete the irrelevant ones once effortlessly.
Pros
Boasts a wide range of efficient features for managing Mac disk space.
Fast scanning speed.
Offers 7-day free trial for users to explore the app's features.
Lightweight app.
Cons
You must pay for premium plan immediately after the 7-day free trial is complete.
Supported OS: Mac OS 10.10 and later
pricing
7-days free trial
One-month Plan: $8.95/month
Lifetime Plan: $69.95/month
How Does Macube Cleaner Work?
Here is how to use Macube Cleaner to clean and optimize Mac storage for better performance;
Step 1. Download Macube Cleaner
Firstly, visit Macube Cleaner official website and download and install the software on your Mac.
Step 2. Select Smart Scan
Launch the software program and select the Smart Scan feature from the left-hand side. This will prompt the tool to automatically scan through your entire Mac and find junk files, including application caches, system junk, browser history, etc.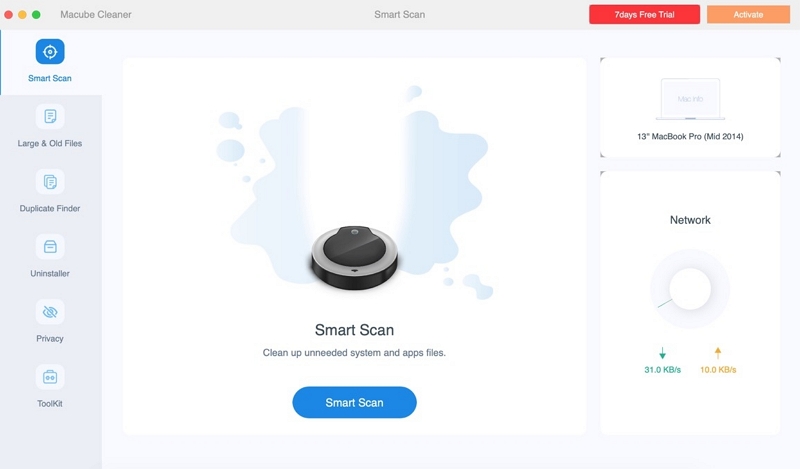 Step 3. Preview and Delete the Unnesessary Files
Next, the scan result will be shown on your screen. They are usually arranged into different categories and sizes. Click the magnifying glass icon next to the files to preview their details. Then, tick the checkbox next to the files that are not needed and click Clean to finish.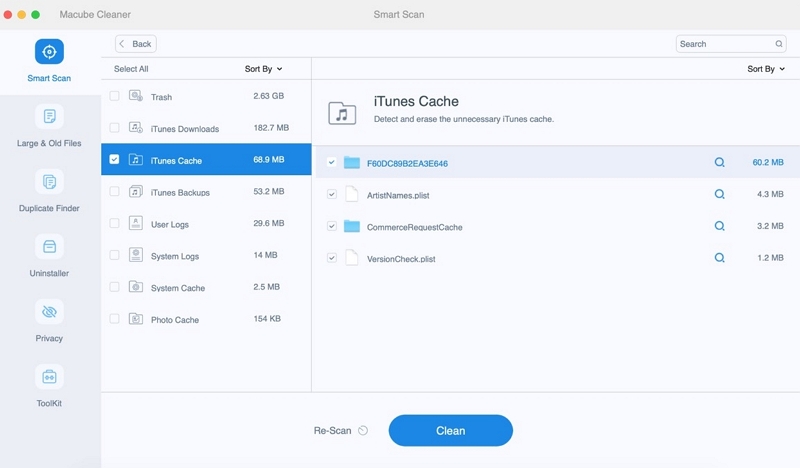 Additional Tip: You can also take advantage of additional features on Macube Cleaner like  Large & Old File Finder, Duplicate File Finder, etc., to locate files that are taking up important space in your storage and delete them.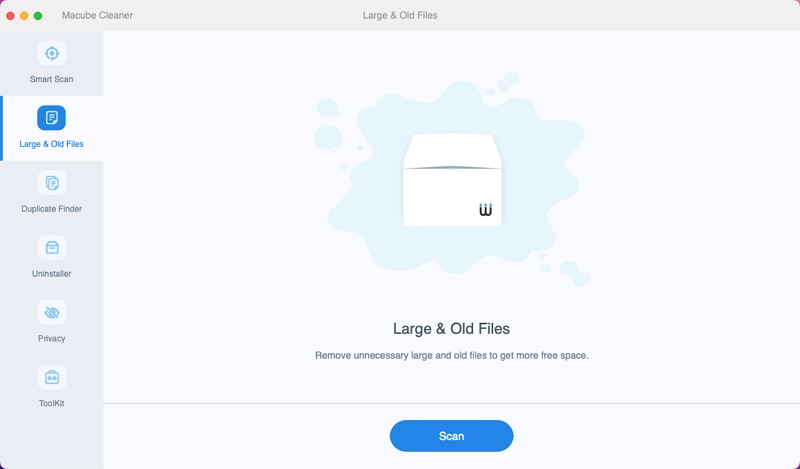 Part 3: Cleanmymac X Vs. Macube Cleaner: Comparison Table
Software

Cleanmymac X

Macube Cleaner

Technology

Combination of advanced technologies to clean and optimize Mac systems effectively

Smart  optimization technology for protection of Mac privacy and removal of duplicate files, junk, large files, and similar images, making Mac operate faster.

Scan Speed

Fast

Very fast

Pricing

Plan for 1 Mac: $39.95
Plan for 2 Macs: $59.95
Plan for 5 Macs: $89.85

7-days free trial
One-month Plan: $8.95/month
Lifetime Plan: $69.95/month

Best For

Cleaning and optimizing Mac system

Mac cleaning, optimization, and privacy protection.

Rating

4.2/5

4.7/5
FAQs
1. Is Cleamymac Recommended By Apple?
Unfortunately, Apple does not recommend Cleanmymac. Apple mentioned that there's no need to install third-party apps to clean Mac. But this does not mean the software is not safe to use.
2. Is Cleanmymac Free?
No, the Cleanmymac software is not free to use. You need to pay to be able to use it. But if you want a tool that offers free trial, you can use Macube Cleaner.
3. How Do I Uninstall Cleanmymac from my Mac?
It's easy to uninstall Cleanmymac from Mac. You just need to complete the following procedures;
Open Finder App on your Mac and select Applications.
Locate Cleanmymac and press the command key + Delete.
After that, empty the trash by clicking the Empty button at the top right corner. It's as easy as that.
Conclusion
Cleanmymac is one of the best Mac disk cleaning software in the industry. But it also has its pros and cons. In the Cleanmymac review above, we've covered all you need to know about the software, from its key features, pros, cons, and how to use it. So, if you've read the review, we believe you already have an idea of what Cleanmymac has to offer. However, perhaps you need an alternative to Cleanmymac, Macube Cleaner is the best software program that can come to your rescue. It offers the great tools to help you clean up your Mac disk space efficiently.