Privacy and security have become very essential in the online realm. But one aspect that often gets overlooked is the management of cookies on our computers. Yes, while cookies can enhance our browsing experience, they can also compromise our privacy if not managed effectively.
To address this privacy concern, you need for reliable cookies removal software. So, in today's post, we will explore the importance of managing cookies and provide a comprehensive list of the best free cookie removal software for Windows and Mac in 2023. These tools not only help you maintain your online privacy but also ensure a smoother and faster browsing experience by decluttering your device from unwanted cookies.
Part 1: What Are Cookies?
Cookies are small pieces of text written to your browser by websites you visit.  When you visit a website, it sends cookies to your device, which is stored by your web browser. These cookies usually contain information about our interactions with the website, such as login credentials, preferences, and browsing history. So, the next time we visit the same website, the browser sends the cookies back to the server, allowing the website to remember our settings and provide a personalized experience.
Part 2: Why Do You Need To Manage Cookies On Your Computer?
Although cookies are useful, they can present privacy and security risks. From tracking your online activities to collecting your data for targeted advertising, occupying your computer storage space, and lots more.
We've briefly explained the main reasons why you should manage cookies on your computer below: 
As mentioned earlier, cookies can track your online behavior and preferences. Some cookies can be used for invasive tracking, profiling, and even data collection without your consent. So, by managing cookies on your computer, you can have full control over what information websites can collect about you, helping to safeguard your online privacy.
Besides collecting your data, some cookies can be exploited by malicious actors to carry out attacks like cross site scripting (XSS) or cross site request forgery (CSRF).
Regularly managing and deleting cookies helps you reduce the risk of being vulnerable to these security threats. It also helps you to avoid session hijacking attacks, where an attacker gains access to your active sessions on various websites.
Improved Website Performance:
Accumulation of a large number of cookies on your computer can also slow down your browsing experience. This is because your browser has to load and process each cookie when you visit a website. Managing these cookies and removing the unnecessary ones can improve your browser's performance and page loading times.
Avoiding Account Conflicts:
Another reason to manage cookies on your computer is to avoid conflict information you use on different accounts. Cookies often store session information, login credentials, and other data related to your online accounts. If you use multiple accounts on the same website (e.g., personal and work email accounts), cookies can sometimes mix up the sessions, leading to confusion and potential security issues. Managing cookies can help you avoid such conflicts and ensure a smoother experience when switching between accounts.
Customized Browsing Experience:
While cookies can be invasive, they can also provide benefits by allowing websites to remember your preferences, such as language settings, shopping cart items, or personalized recommendations. By selectively managing cookies, you can retain the advantages of a customized browsing experience while removing the ones that compromise your privacy or security.
Part 3: Best Free cookies removal software for Windows
1. Fortect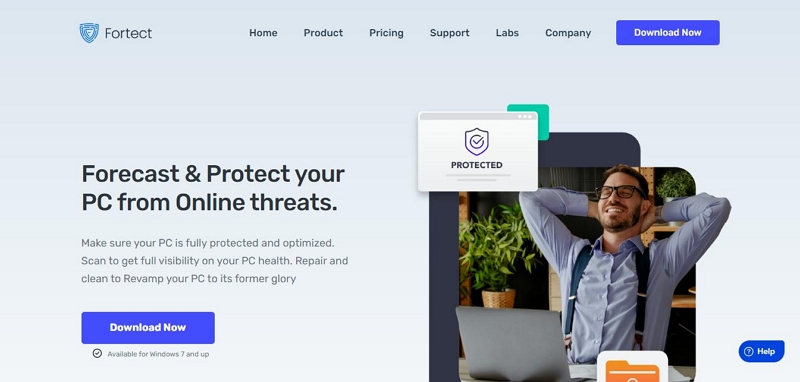 Fortect is an excellent free cookies removal software for Windows. This tool offers powerful features to delete cookies and optimize your browsing experience. Whether you're looking to remove unwanted cookies, junk files, or build ups from your folders, disk, and hard drive, it allows you to get the job done efficiently. It also provides a full diagnostic and scan report, allowing you to identify and fix vulnerabilities in your system.
Key Features:
Advanced cookies removal capabilities.
Junk file removal and optimization.
Full diagnostic and scan report.
Customizable browser cleanup.
Faster response rates on all apps and processes.
Pros:
Powerful cookies removal features.
Comprehensive system optimization tools.
User friendly interface.
Customizable browser cleanup options.
Cons:
Limited advanced features in the free version.
2. CCleaner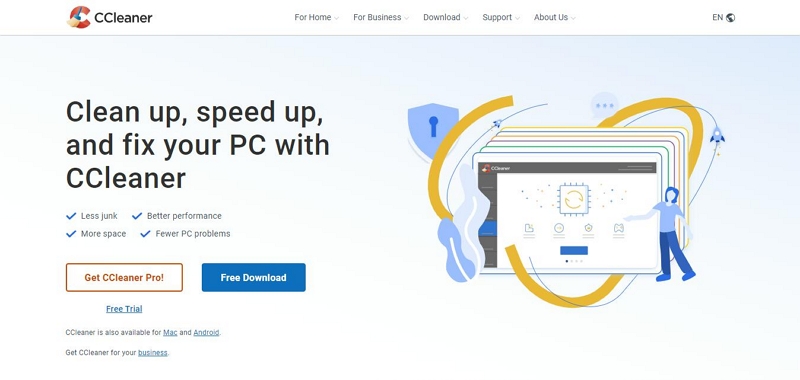 Launched in 2004, CCleaner is a well known name in the world of computer optimization, and it also offers effective cookies removal capabilities. Although this tool is primarily known for its system cleaning features, it includes a dedicated tool to remove unwanted cookies and browsing data.
CCleaner allows you to easily analyze and remove cookies from popular web browsers like Chrome and Firefox. And it provides a registry cleaner and tool management features for comprehensive system optimization.
Key Features:
Registry cleaner to fix errors.
Tool management for program uninstallation and startup program editing.
Browser Cleanup to remove cookies, trackers, and internet history.
Enhance system privacy using built in security features.
Pros:
Wide range of system optimization tools.
It's affordable.
Boasts really great performance compared to many of its competitors.
Cons:
Cookies management features could be better.
Newbies might find the interface to be very intimidating.
3. SecureClean<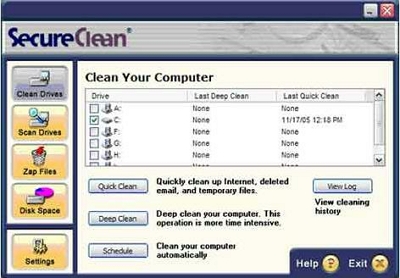 SecureClean is a powerful cookie removal software that focuses on safeguarding your privacy and permanently erasing sensitive data. It offers advanced features to delete temporary, cached, and deleted files regularly.
With SecureClean, you can create a schedule for automatic cookies removal and ensure that your personal data is unrecoverable, even with sophisticated tools. It also provides options to whitelist cookies that you want to keep, such as login information.
Key Features:
Permanent erasure of sensitive files and information.
Scheduled cookies removal.
Whitelisting functionality for specific cookies.
Detailed reports on cookies activity.
Pros:
Government grade wiping technology for enhanced privacy.
Comprehensive file and information erasure.
User friendly interface.
Cons:
No free version is available.
It might not be able to detect most modern browser threats.
Part 4: Best Free Cookies Removal Software for Mac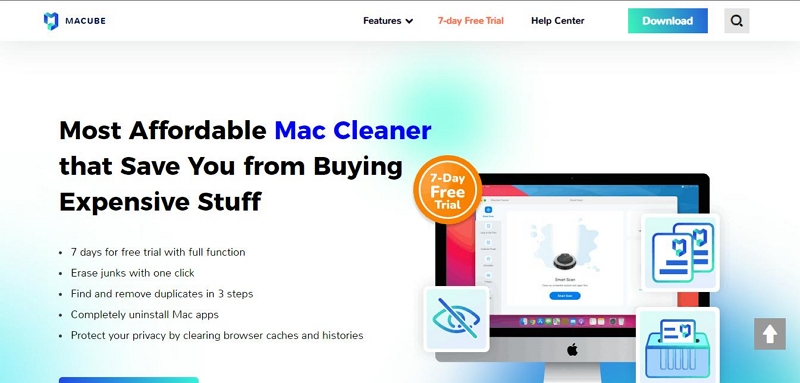 Macube Cleaner is our top recommendation for free cookie removal software for Mac. It offers a comprehensive set of features to clean and optimize your Mac, including effective cookie removal capabilities.
With Macube Cleaner, you can easily and safely delete unwanted browser cookies, cache files, history, and other unnecessary data that may be cluttering your system using a smart algorithm. Plus, it provides an advanced privacy protector that enables you to enhance your browsing privacy by clearing sensitive browser data, including downloads, auto fill history, etc.
However, it doesn't end there. This tool also supports app uninstaller that completely deletes unwanted also and their leftovers, file shredder for deleting files from system and making them unrecoverable, duplicate file finder for finding duplicate files, and more.
Key Features:
Efficient cookies removal capabilities by using smart algorithms.
Enhance privacy while browsing by using an advanced privacy protector to clear sensitive data.
Improve your system performance by clearing duplicate contents, similar pictures, unwanted apps, and large & old files.
Manage browsers extensions and plugins using modern extension manager.
Pros:
Offers 7 days free trial.
Boasts many efficient features for managing browser cookies and optimizing Mac performance.
Seamlessly integrated user interface makes navigation easy for users with any level of experience.
Cons:
There have not been any error reports about Macube Cleaner from users to date.
We've provided the steps to clear cookie from Mac using Macube Cleaner below:
Step 1: Launch the "Macube Cleaner" app and choose the "Privacy"  feature from the left side of the page. Then, click on the "Scan" button.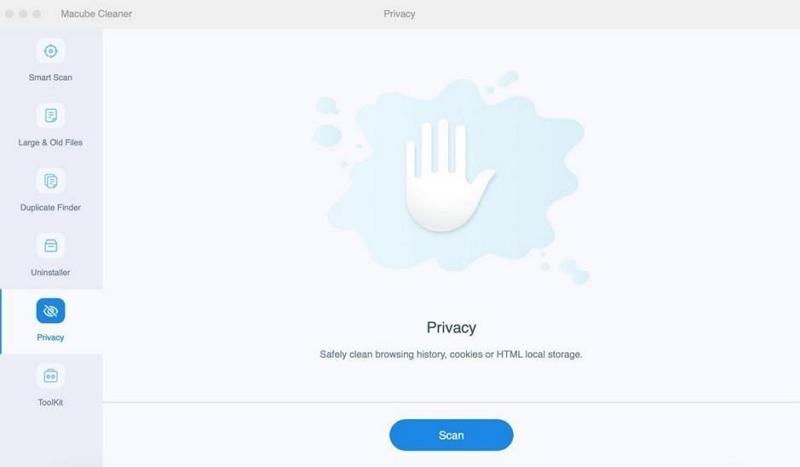 Step 2: Macube Cleaner will deeply scan every browser installed in your Mac for browsing data like cookies, auto fill  information, which include personal accounts, passwords, and addresses,  etc.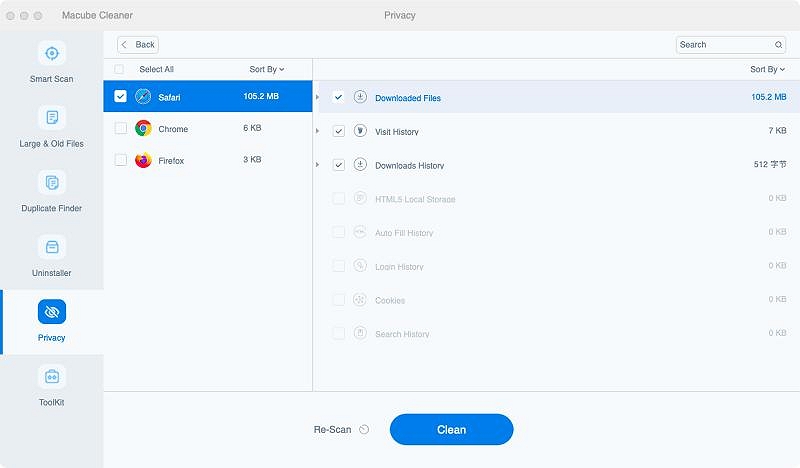 Step 3: Tick the applicable checkbox next to the browser you want to clear history from and the relevant data (e.g cookies, auto fill information, browser history, download files, cache, etc.).
Finally, hit the "Clean" button at the bottom of the screen to clear cookies and the selected browsing data instantly.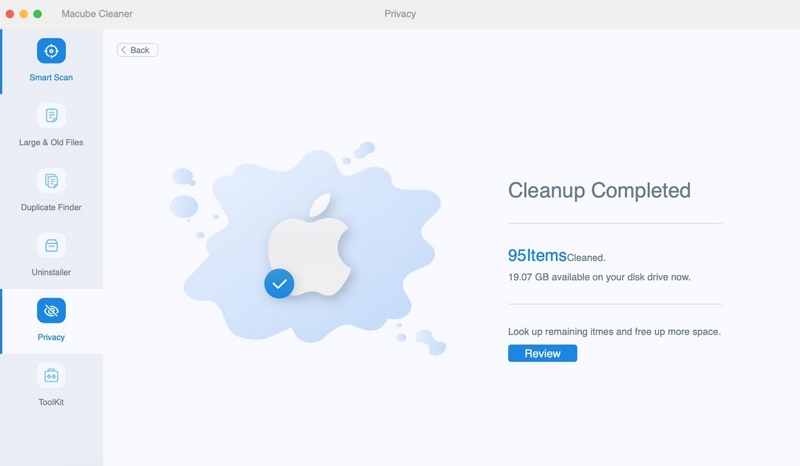 2. MacCleaner Pro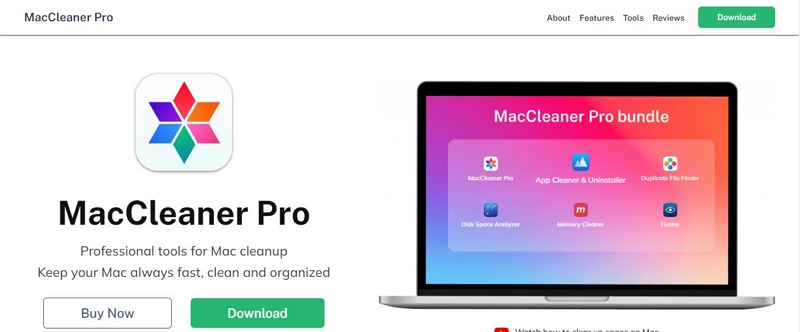 MacCleaner Pro is another excellent option for free cookies removal software on Mac. It offers a range of features to clean and optimize your Mac, including the removal of unwanted cookies and browsing data.
Besides, MacCleaner Pro allows you to easily analyze and delete cookies from popular web browsers like Safari and Chrome. And it supports efficient tools for disk cleanup, duplicate file removal, and app management.
Key Features:
Built in app cleaner and uninstaller.
Allows you to clean up and analyze Mac disk space effectively.
Memory cleaner cleans up cookies and other browsing data.
Supports multiple languages.
Pros:
User friendly interface.
Comprehensive system cleaning and optimization features.
Offer a free trial version for users to explore features before buying.
Cons:
It does not support any privacy protection tool.
It can't be used to securely delete files on Mac.
3. CleanMyMac X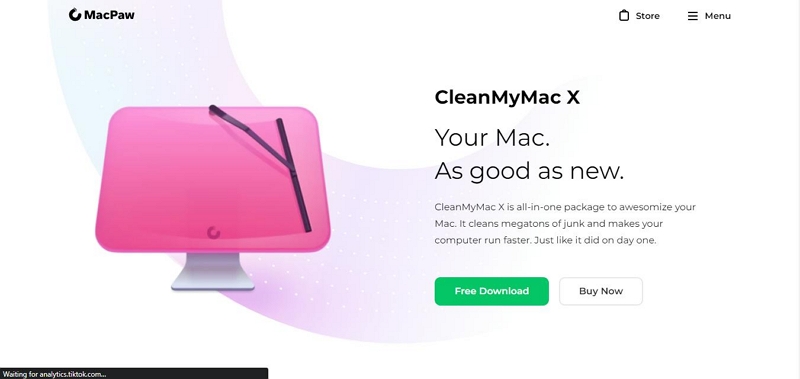 Last recommendation on our list CleanMyMac X.  It's a popular choice for many Mac users looking for professionally  system optimization tools with cookies removal capabilities. Just like the prior mentioned cookies removal software tools,  it offers many features to manage Mac storage. From clearing cookies to cleaning unneeded files like outdated caches and broken downloads.
Also, CleanMyMac X supports an anti malware technology that allows you to block malware, adware, and lots more that could expose your system to external threats.
Key Features:
Advanced anti malware technology to perform in depth checks on Mac for all kinds of vulnerabilities.
Remove your browsing history online and offline within a few clicks.
Clear caches and other outdated contents from your Mac to facilitate smooth performance.
Built in smart technology to guide you through regular disk clean up.
Pros:
Customizable cookies cleaning options.
Extensive toolset.
Excellent cleaning tools for Mac storage.
Cons:
The Anti malware feature produces poor results. So, it's not very efficient for protecting your Mac against malicious websites.
Too many tools makes the interface a bit confusing.
Conclusion
Ultimately, clearing cookies from browsers is one of the best ways to maintain privacy on your Mac or Windows computer. But, you need reliable cookies removal software to get the job done effectively. The best cookies removal tools for Mac and Windows discussed in the article above have been selected based on their performance and efficiency. Besides, they provide you with comprehensive system cleaning and optimization features to help you improve your Mac performance. So, all you need to do is choose the software that aligns with your specific needs and preferences.