Summary: This post is about how to make your Mac running faster. The reasons which slow down your Mac are various. So to fix Mac running slow problem and to enhance the performance of your Mac, you need to troubleshoot the causes and find out the solutions. For more details you can check the guide below!
You can also learn:
How to Fix Safari Running Slow on iPhone/iPad (opens new window)
How to Enable or Disable Extensions on Mac (opens new window)
Whether you've got an iMac, a MacBook, a Mac mini, or a Mac Pro, the computer runs slow after being used for a period of time. It just takes a longer time to do almost everything. Why does my Mac start to run slow? And what can I do to speed up the Mac? Here are the answers and tips.
Why Is My Mac Running Slow?
Reason 1: Hard Drive is Nearly Full
The first and the most direct reason for a slow Mac is that its hard drive gets full. Therefore, cleaning up your Mac is the first step you should take.
Solution 1: Clean Up Mac Hard Drive
To clean up Mac hard drive, we usually need to locate and delete useless files and program; recognize system junks that can be safely removed. This could mean lots of work and a great chance to mistakenly delete useful files. A Mac cleaner program like Macube Cleaner (opens new window) can make this job easy for you.
The Mac cleanup tool is designed for memory optimization and disk cleaning of Mac. It can scan out removable junk files (photo junks, mail junks, app caches, etc.), large & old files (video, music, documents, etc. that are 5 MB and above), iTunes Junks (like unneeded iTunes backups), duplicate files and photos, and then enable you to select and delete unwanted files with no need to search for old files from different folders on Mac.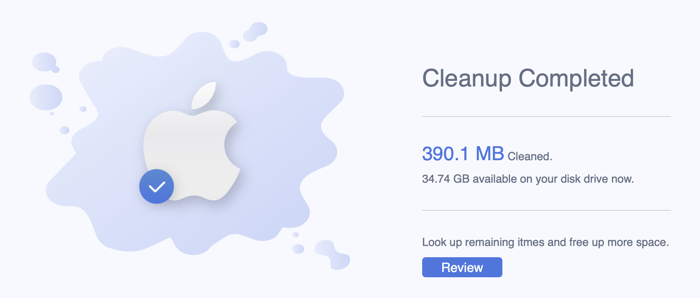 Solution 2: Reinstall OS X in Your Mac
Reinstalling OS X in this way won't delete your files but give your Mac a fresh start.
Step 1. Click the Apple menu on the top left corner of the screen and choose "Restart" to restart the Mac.
Step 2. Press and hold down the Command (⌘) and R keys at the same time until you see the Apple logo.
Step 3. Choose "Reinstall OS X".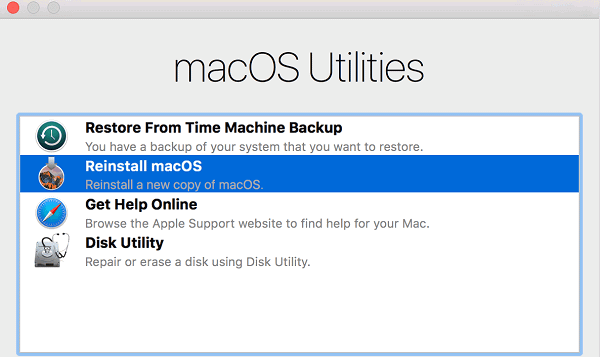 Reason 2: Too Many Startup Programs
If your Mac gets especially slow when it starts up, it is probably because that there are too many programs that automatically start when you log in. Therefore, reducing startup programs can make a big difference.
Solution: Manage Startup Programs
Follow these steps to remove unnecessary programs from the startup menu.
Step 1. On your Mac, navigate to "System Preference" > "Users & Groups".
Step 2. Click on your user name and choose "Login Items".
Step 3. Tick the items that you don't need in startup and click minus icon.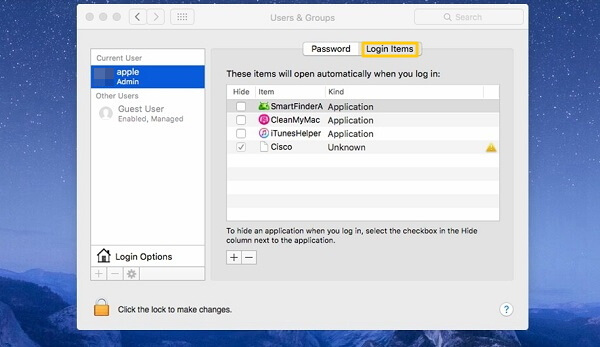 Reason 3: Too Many Background Programs
It is a burden for Mac if there is too many programs running simultaneously in the background. So you may want to close some unnecessary background programs to speed up Mac.
Solution: End Process on Activity Monitor
Use Activity Monitor to identify background programs that occupy much memory space, then end the processes to free up space.
Step 1. Find "Activity Monitor" on "Finder" > "Applications" > "Utilities folder" folders.
Step 2. You'll see the list of programs that are currently running on your Mac. Choose "Memory" on the top column, the programs will be sorted by the amount of space that they are taking up.
Step 3. Select the programs that you don't need and click "X" icon to force the programs to quit.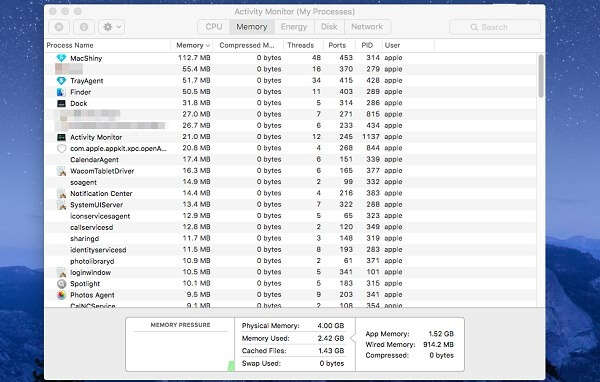 Reason 4: Settings Need to be Optimized
There are multiples settings that you can optimize to improve performance of your Mac, including reducing transparency and animations, disable FileVault disk encryption and more.
Solution 1: Reduce Transparency & Animations
Step 1. Open "System Preference" > "Accessibility" > "Display" and check "Reduce transparency" option.
Step 2. Choose "Dock", then intead of ticking "Genie effect", select "Scale effect", which will improve window-minimizing animation speed a bit.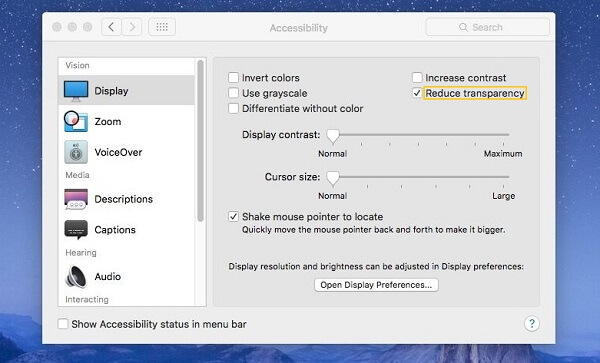 Solution 2: Use Safari Browser Rather Than Google Chrome
If your Mac runs especially slow when you open multiple tabs at once in Chrome, you may want to swtich to Safari. It has been known that Google Chrome doesn't perform very well on Mac OS X.
If you have to stick to Chrome, try to reduce the use of extensions and avoid opening too many tabs simultaneously.
Solution 3: Reset System Management Controller
System Management Controller(SMC) is a subsystem that controls power management, battery charging, video switching, sleep and wake mode, and other stuffs. Resetting SMC is kind of performing a lower-level reboot of your Mac, which helps to improve the Mac's performance.
Reset SMC on MacBook Without a Removable Battery: Connect your Macbook to a power source; press and hold Control + Shift + Option + Power keys at the same time; release the keys and press the Power button to turn the computer back on.
Reset SMC on MacBook With a Removable Battery: Unplug the laptop and remove its battery; press and hold the power button for 5 seconds; place the battery back in and turn on the laptop.
Reset SMC on Mac Mini, Mac Pro, or iMac: Turn the computer off and unplug it from power source; wait 15 seconds and more; turn the computer on again.
Reason 5: Outdated OS X
If you are running an old version of the operating system such as OS X Yosemite, OS X El Capitan or older version, you should update your Mac. New OS version is usually improved and has better performance.
Solution: Update OS X
Step 1. Go to Apple menu. See if there is any update in App Store for your Mac.
Step 2. If there is, click "App Store".
Step 3. Click "Update" to get the update.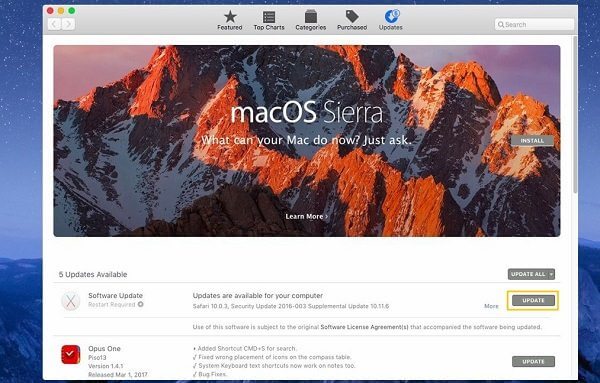 Reason 6: RAM on Your Mac Need to Be Updated
If it is a Mac of older version and you have used it for years, then there may be little that you can do about the slow Mac but upgrade its RAM.
Solution: Upgrade RAM
Step 1. Check memory pressure on "Activity Monitor". If the area shows red, you really need to upgrade the RAM.
Step 2. Contact Apple Support and learn about your exact Mac model and if you could add more RAM to the device.
Step 3. Purchase suitable RAM and intsall the new RAM to your Mac.
Above are the most common problems for your MacBook Air or MacBook Pro running very slow and freezing. If you have other solutions, please share with us by leaving your comments.