If you're a Mac user, you know how important it is to keep your system clean and optimized for better performance. One of the best ways to do this is by uninstalling unwanted applications and their associated files that take up valuable disk space. This is where AppCleaner comes in - a small but powerful app that allows you to thoroughly uninstall unwanted apps and their associated files, freeing up space on your hard drive.
But is AppCleaner the best option out there? In this ultimate review of AppCleaner for Mac software, we'll take a closer look at its features, pros, and cons, and compare it to some of its top alternatives. So, if you're looking for a reliable and efficient way to keep your Mac clean, read on to find out if AppCleaner for Mac is the right choice for you.
Part 1: What Is AppCleaner Mac?
Appcleaner is a freeware tool designed specifically for Mac users who want to reclaim their storage space and enjoy a faster and more efficient computing experience. It works by scanning your Mac for unused and unnecessary files, including application remnants, caches, and junk files, and safely removes them with just a few clicks. The intuitive interface of Appcleaner makes it easy for anyone to use, regardless of their technical expertise. Besides, the software utilizes advanced algorithms to identify and remove files that are no longer needed. And it analyzes your system thoroughly, leaving no stone unturned, to ensure that every unnecessary file is safely removed.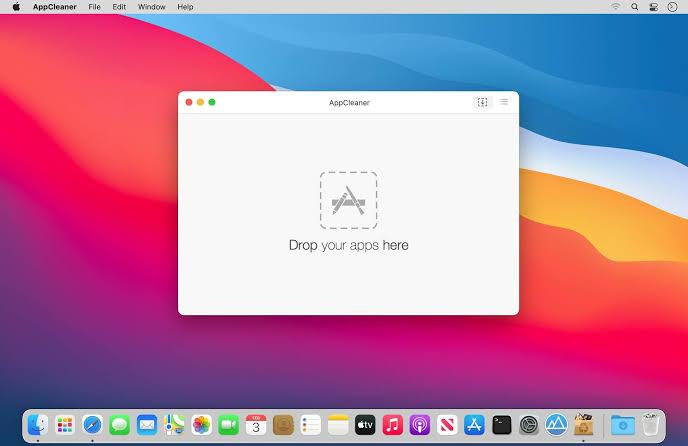 Key Features
Remove unwanted apps from Mac using drag-and-drop or list mode.
Smart Delete allows quick and easy deletion of unwanted apps and their associated files within a few clicks.
It makes the process of deleting unwanted apps fast and concise.
Appcleaner regularly updates its cleaning algorithms to keep up with the latest Mac operating systems and applications.
How To Use Appcleaner Mac App To Clean Mac Storge
Step 1: Visit the official Appcleaner website and download the latest version of the application. Once downloaded, open the installer and follow the on-screen instructions to install Appcleaner on your Mac.
Step 2: After installation, locate the Appcleaner icon in your Applications folder and double-click to launch the application.
Step 3: There are different methods you can use to uninstall apps from Mac using Appcleaner. You can either use the drag-n-drop method to drag the app you wish to delete to the software's interface or the list view to select the unwanted apps from a list.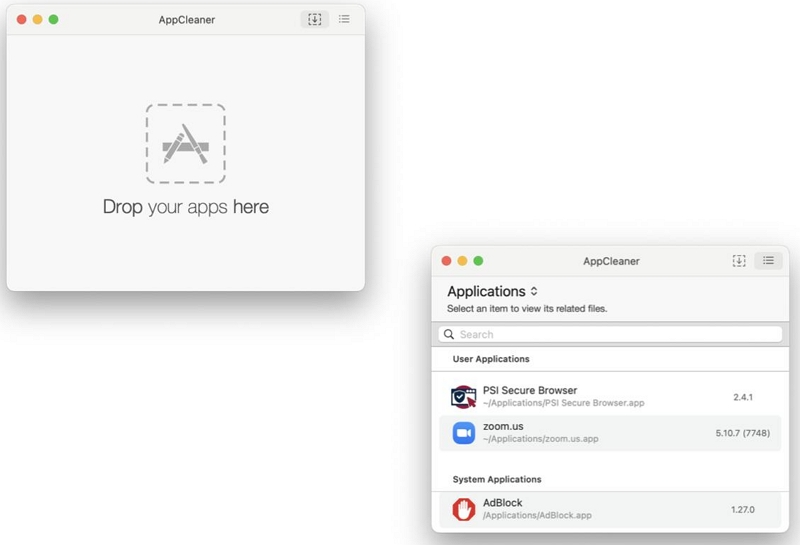 Step 4: Next, click the Remove button to delete the unwanted app or files from your computer.
Appcleaner Pros & Cons
Pros
Clean and intuitive user interface.
Very minimalistic design.
It's 100% free to use.
Cons
You can't delete multiple apps at once.
No malware protection.
Appcleaner Pricing: Free
Supported OS: macOS
Part 2: Best Alternatives To AppCleaner Mac
Appcleaner is a great cleaning tool for Mac systems. But its drawbacks might turn off some users. Here, we would walk you through a list of some of the best Appcleaner alternatives you can try in 2023.
1. Macube Cleaner
Macube Cleaner is the best alternative to Appcleaner which is trusted by many users globally. The app offers more beyond app uninstallation and duplicate file finding. Although Macube Cleaner is not 100% free to use like Appcleaner, it offers comprehensive key features that completely delete unwanted apps, find similar images, clear browser histories and caches,  manage extensions and plugins, and do lots more.
Also, its smart scan feature allows you to perform quick and easy detection and deletion of junk and unwanted files occupying your Mac storage. Thanks to its simple user interface, you only need a few clicks to use Macube Cleaner to clean up your Mac storage.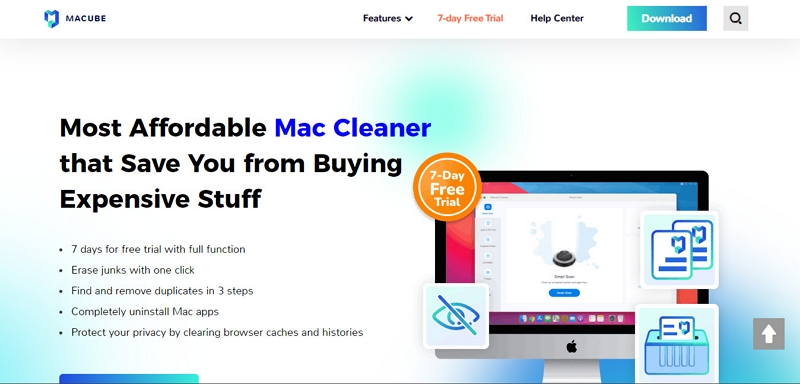 Key Features
Smart scan for quick and easy detection and deletion of junk and unwanted files.
Extension manager to efficiently manage plug-ins, add-ons, and extensions.
Similar image finder for photographers to manage duplicate images.
Privacy cleaner to securely erase online activity traces and protect sensitive data.
Pros
Simple and intuitive user interface.
Offers more features compared to regular Mac cleaners.
Cons
It is not 100% free to use.
Pricing
7-day free trial available.
One-month Plan: $8.95/month.
Lifetime Plan: $69.95/month.
Supported OS: macOS 10.10 or later.
2. CleanMyMac X
CleanMyMac X is an all-in-one utility app designed for Mac users to clean up and optimize their devices. Created by MacPaw, the software offers helpful tools to enable you free up disk space, speed up their Macs, and protect their privacy.
With a user-friendly interface, CleanMyMac X provides easy access to a variety of features that can help improve the performance of your Mac.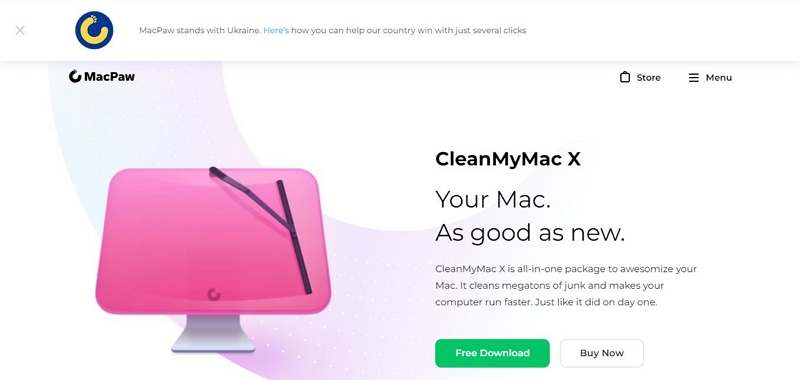 Key Features:
Identify and remove unnecessary files, including system junk, mail attachments, and large files.
Malware removal tool to help you protect your Mac computer from viruses and other malicious software.
Optimize your Mac's performance by managing startup items, freeing up RAM, and running maintenance scripts.
The software includes a privacy protection feature to help users remove browsing history, cookies, and other sensitive data.
Pros:
User-friendly interface
Wide range of features
It's pretty fast.
Regular updates and improvements
Cons:
Can be pricey compared to other Mac cleaning software
Some features may not be necessary for all users
Supported OS: macOS 10.13 or later
Pricing Plan:
Plan for 1 Mac: $39.95
Plan for 2 Macs: $59.95
Plan for 5 Macs: $89.85
2. Mac Booster
Mac Booster is a well-designed Mac optimization tool that aims to clean, maintain, and protect your Mac. It offers a range of features that include system cleanup, malware removal, performance boost, and more. One of its standout features is the Duplicate Remover, which helps organize your digital world. With a user-friendly interface, it's easy to use even for those who are not tech-savvy.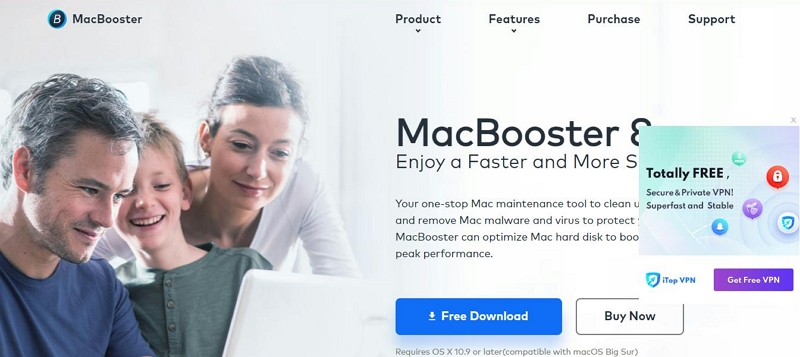 Key Features
Remove all kinds of junk files, including system logs, cache files, and temporary files using system junk.
Detect and remove any malicious software on your Mac using advanced virus and malware scanner.
Facilitates quick optimization of Mac performance by disabling unnecessary startup items, freeing up memory, and optimizing hard drive.
Built-in duplicate file finder..
Pros
Quick scanning process.
User-friendly interface.
Offers free trial to explore available features.
Cons
It might be expensive for some users.
The virus and malware scanner is too sensitive and can sometimes be frustrating.
Supported OS: macOS 10.9 or later
Pricing:
Standard: $2.49/month
Premium: $4.16/month
Lite: $89.95
3. App Zapper
AppZapper is an uninstall utility for macOS that allows users to delete all application-specific files along with an application. It was released in 2010 and is designed to extend the method of uninstalling in macOS, which is dragging the application one wants to delete to the trash bin.
Key Features:
Drag and drop interface for uninstalling applications
Finds and deletes all associated files with the application being uninstalled
Lets you create a list of favorite apps to protect them from accidental deletion
Allows you to undo an application deletion
Pros:
Easy to use
Can delete all associated files with an application
Allows users to create a list of favorite apps to protect them from accidental deletion
Cons:
It's not free
Some users report issues with compatibility with newer macOS versions
Compatibility: macOS 10.9 and later.
Pricing: $19.9
Part 3: Comparison Table of Appcleaner Mac and Its Alternatives
Software

Pricing

Scan Speed

Best for

AppCleaner

Free

Moderate

Quick removal of unwanted junks and files on Mac for free

Macube Cleaner

7-days free trial
One-month Plan: $8.95/month
Lifetime Plan: $

Very Fast

Thoroughly clean Mac storage fast and efficiently using state-of-art technology

CleanMyMac X

Plan for 1 Mac: $39.95
Plan for 2 Macs: $59.95
Plan for 5 Macs: $89.85

Very fast

Cleanin, optimizing, and protecting Mac

MacBooster

Standard: $2.49/month
Premium: $4.16/month
Lite: $89.95

Fast

Improving Mac performance

App Zapper

$19.9

Moderate

Drag-n-drop app removal
Conclusion
Ultimately, Appcleaner for Mac allows you to eliminate files and apps causing sluggish performance on your Mac. It helps you detect junk and clean it up, thus freeing up your Mac's storage. Thankfully, you don't need technical knowledge to be able to operate the software. However, if you need software that offers more than just regular Mac cleaning operations, you can use any of the Appcleaner alternatives introduced in the article. Though Macube Cleaner is the best overall.