CCleaner, created by Piriform, is one of the top software programs that claims to offer the best Mac storage optimization. It boasts of helping to clear caches, browsing histories, and unnecessary files taking up Mac storage. But does it have what it takes to satisfy your needs? In this review, we shall discuss all we noted while reviewing the CCleaner for Mac software, from its unique features to its pros and cons, how it works, and its best alternative. Stick with us to find out more.
Part 1: CCleaner Mac Ultimate Review
What Is CCleaner Mac?
As mentioned earlier, CCleaner Mac is a software created by Piriform to facilitate quick and easy Mac storage optimization. The tool can come in handy to clean up Mac storage, allowing you to get more of your old or new Mac system. With CCleaner, you'll be able to perform automated cleaning of your Mac storage, find duplicate photos, detect bad photos, and do lots more. Thanks to its simple user interface, you don't need to be tech-savvy to operate. Also, this tool allows you to uninstall drive-clogging apps and delete sensitive data like your browser history, cookies, and lots more safely.
Key Features
Automatically find junk and clean up browser.
Easily detect and remove bad photos.
Uninstall apps and remove duplicate files efficiently.
Clear browser history and caches.
Pros & Cons Of Using CCleaner On Mac
Pros
Excellent customization tools.
Facilitates quick removal of junk from Mac.
The free version is very effective.
It's easy to use.
Cons
The interface looks outdated.
You need to restart the analysis process to be able to unselect files for deletion.
Supported OS: Mac OS 10.10 or later
Pricing: $29.95/year for 1 Mac
Rating: 4/5
Now that you know what CCleaner for Mac software has to offer, let's take a look at how to use it to clean up Mac storage. The steps are outlined below;
How To Use CCleaner For Mac on My System
Step 1: Download and Install CCleaner for Mac on your computer. Then, launch it.
Step 2: Select Cleaner from the top left side and tick the checkbox next to the path or folders you want to clean up on your Mac.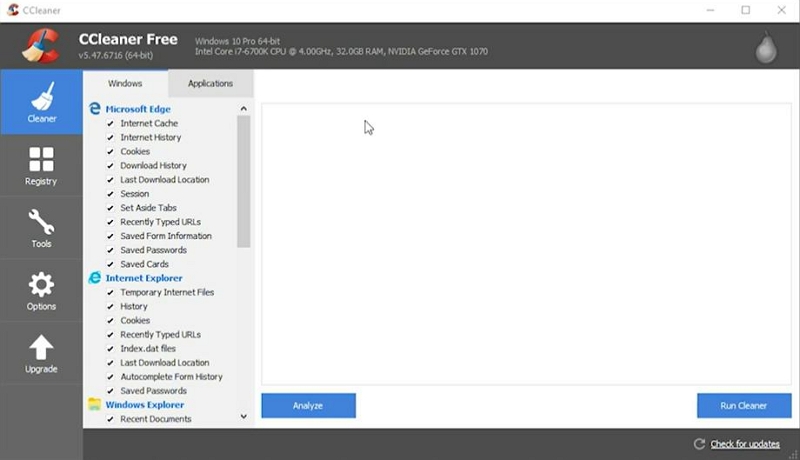 Step 3: Click Analyze from the bottom left side. Then, select Run Cleaner to clean up Mac storage.
Part 2: What Is The Best Alternative To CCleaner For Mac?
After reviewing hundreds of CCleaner software alternatives for Mac, Macube Cleaner is the best tool that stands out in every aspect. The tool supports a wide range of features that enable seamless Mac storage optimization. Whether you're looking to delete duplicate files, clear junk, delete similar images, manage extensions, or more, this Macube Cleaner will provide you with the necessary tools to be able to get the job done quickly and easily.
Also, this software specializes in protecting users' privacy. It supports a built-in privacy protector that allows you to clean up sensitive information on your computer without any complications. It takes only a few clicks.
Key Features
File Shredder: File shredder securely deletes sensitive and hard-to-delete files, ensuring they cannot be recovered by any means.
Junk Cleaner: Junk cleaner uses smart scan and removes unnecessary files, temporary data, and cached items.
Privacy Protector: Safeguard your privacy by clearing browsing history, cookies, and other potentially sensitive information from browsers and applications.
Large & Old Files Finder: Manage bulky and old files and folders that are consuming significant disk space by deleting them.
App Uninstaller: The app uninstaller assists in completely removing applications and associated files, preventing leftover clutter.
Similar Image Finder: Identify duplicate or similar images on the system and delete them.
Pros and Cons of Macube Cleaner
Pros
Offers 7-day free trial to test all basic and advanced features.
Boasts many efficient tools like duplicate finder, privacy protector, files shredder, smart scan, extension manager, and lots more for managing Mac storage.
Simple and intuitive user interface.
Fast scanning speed.
Cons
You need to upgrade to the premium plan to keep enjoying all features after the 7-day free trial.
Supported OS: Mac OS 10.10 or later
Pricing:
7-days free trial
One-month Plan: $8.95/month
Lifetime Plan: $69.95/month
Rating: 4.7/5
How To Use Macube Cleaner To Clean Your Mac
Step 1. Download Macube Cleaner
Download and install Macube Cleaner on your Mac.
Step 2. Select Smart Scan
Launch Macube Cleaner and select the Smart Scan feature from the left interface to automatically scan through your entire Mac. This feature allows you to quickly find junk files, including system documents, application caches, and logs.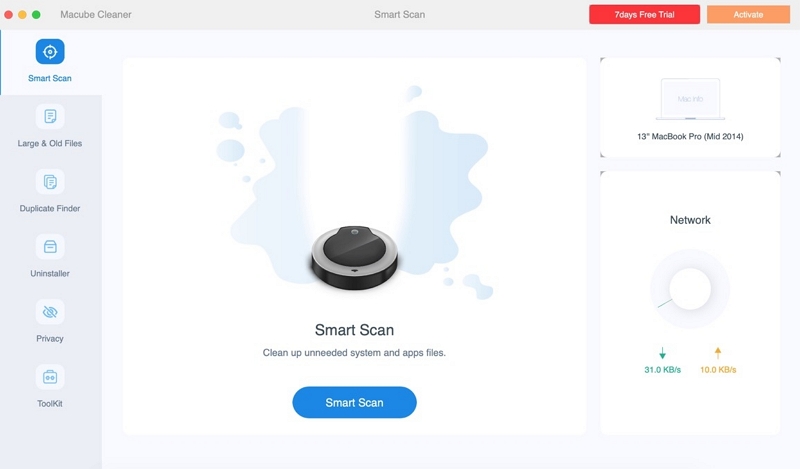 Step 3. Preview and Delete the Unnesessary Files
Once the scanning is complete, the tool will display the results on your screen. The junk files are usually divided into various categories and listed by size. So, to preview the files in detail,  click the magnifying glass icon on the right side. After that, check the checkbox next to the files you don't need and hit Clean to delete them.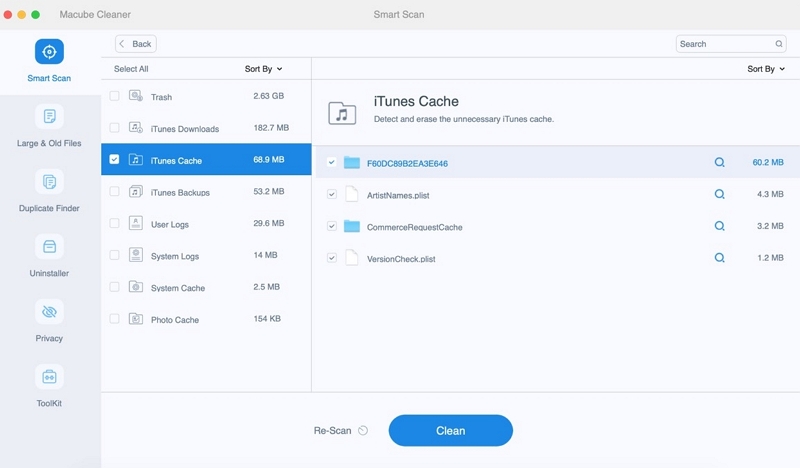 Additional Tip: Besides the Smart Scan feature, the Large & Old Files feature is also very useful when you want to locate large files on other storage. So, you can take advantage of the feature to remove large files occupying your storage.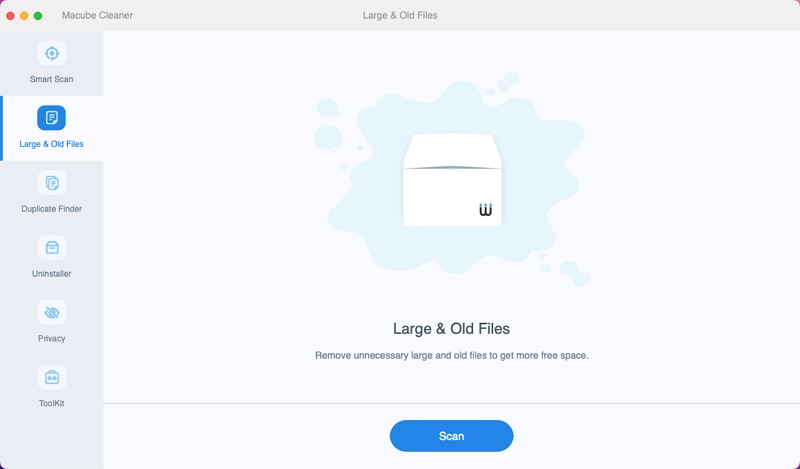 As you can see, not only can Macube clean up the files in the other storage, but it can also do more for you like uninstall apps, find duplicates, etc. Get this free Mac cleaner to learn more about it.
Part 3: Macube Vs. CCleaner Mac: Comparison Table
Software

CCleaner Mac

Macube Cleaner

Technology

Smart algorithm for detecting duplicate files.

Advanced optimization technology for detection and removal of duplicate files, large files, extensions, etc., making Mac operate faster.

Scan Speed

Moderate

Very fast

Pricing

$29.95 per year

7-days free trial
One-month Plan: $8.95/month
Lifetime Plan: $69.95/month

Best For

Regular cleaning of duplicate files and junk on Mac storge

Mac storage optimization and privacy protection.

Rating

4.0/5

4.7/5
Part 4: FAQs
1. What Can I Use Instead Of CCleaner?
The best alternative to cleaner is Macube Cleaner. It offers the ideal tool you need to optimize Mac storage efficiently.
2. Is It Safe To Use CCleaner On Mac?
Yes, cleaner is safe to use on Mac. Experts recommend it!
3. Does CCleaner Make My Mac Computer Faster?
No, cleaner only frees up your Mac storage by deleting duplicate files. If you want a tool that will optimize your Mac performance and improve speed, Macube Cleaner is the best option
Conclusion
 The CCleaner for Mac review above highlights the software's remarkable capabilities as an essential tool for Mac users seeking to enhance their system's performance and efficiency. With its comprehensive set of features, the tool proves to be a reliable choice for users with any level of experience. But if you think you need a better alternative Mac cleaner that can help you optimize your Mac storage, then Macube Cleaner is the ideal choice.