Is it a time when you find it pressing to clean up your Mac to boost its performance? It's usually a tough task – you must consider freeing up the memory, tidying up the desktop, uninstalling unused apps, or clearing malware infections.
As the time that you have got your Mac computer goes by, you would have a huger need for a reliable Mac cleaner to help them optimize and clean Macs without hassle. Hence, this blog will introduce the 7 best free Mac cleaners for Mac users to maintain a clean Mac with ease without paying a penny. Through detailed testing, we also collected some pros and cons of all these Mac cleaners. Now, follow me and grasp a look!
Part 1: 7 Best FREE Mac Cleaners for 2023
We downloaded 7 well-known Mac cleaning software from the whole network and made a comparison table according to their characteristics. After real practice, we made a score according to the experience for your reference.
| Software Name | Unique Feature | Price | Star Rating |
| --- | --- | --- | --- |
| Macube Cleaner | Users can set the size of clean duplicate files and customize photo similarity. | 7-day free trial; 1-month – $8.95; lifetime plan-$69.95 | |
| Cleanmymac X | Find and disable applications that are consuming your memory resources. | 7-day free trial; Annual plan – $39.95 | |
| DaisyDisk | It has protection measures that do not automatically clean and prevent accidental deletion of files. | One year- $39.95; lifetime plan-$89.95 | |
| MacKeeper | Block ads and prevent identity theft. | One month- $10.95; lifetime plan-$71.40 | |
| CCleaner for Mac | When deleting browsing history, you can select the time range you want to delete. | It starts at $29.95 | |
| App Cleaner & Uninstaller | You can change the default application for a specific file type. | One Mac-$19.90; the family pack-US$64.65. | |
| Onyx | Each major version of the operating system has a specific version of OnyX. | Free | |
1. Macube Cleaner
Free Download
Free Download
As the top-ranking software, Macube Cleaner delivers pretty easy-to-grasp functionality for users to tidy up and optimize Mac in a simple way. With 8 cleaning modes available, you are available to remove system junk, duplicates, unused large and old files, uninstall apps with all related files, erase browsing data to protect privacy, etc. with only this one multifunction software.
With an intuitive interface, Macube Cleaner enables you to process the Mac cleanup without go through complicated operations. Simply select a mode from the left panel, and it takes only two more steps to scan the device and delete the files or data you don't need at all. Additionally, by offering the 7 days free trial, you are able to access the full features of Macube Cleaner and clean up Mac for free! You won't need to pay for anything during this period as it will be completely free to use.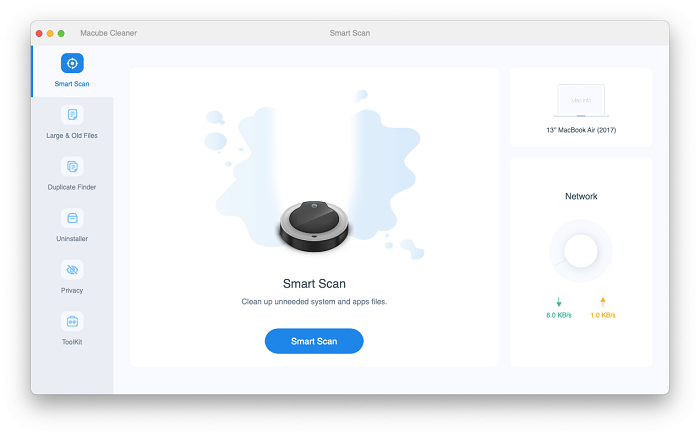 Once the 7 days free trial ends, users are able to get started with the monthly subscription at US$8.95/mo or pay it once for all at US$69.95
Free Download
Free Download
Pros and Cons of Macube Cleaner
Pros
Intuitive interface with 8 cleaning modes easy to select and clean up Mac;
Fast Mac scanning and cleaning speed to boost efficiency;
100% secure in-app performance and privacy protection guaranteed.
Compatible with the latest Mac systems such as the M1 and M2;
Cons
The free trial is only available for the first 7 days.
2. CleanMyMac X
With a straightforward interface, CleanMyMac X is another helpful Mac cleaner available for users to monitor and optimize the Mac performance without hassle. Once the installation is completed, CleanMyMac X will also perform to process real-time malware protection to prevent malicious attacks from unknown applications and bring hidden dangers to your Mac devices.
CleanMyMac X is equipped with most practical modes to remove system junks, mail attachments, malware, files in trash bins, etc. with very simple clicks. Also, the powerful application uninstaller and file shredder are both able to free up much space on your Mac. As a free recommendation, everyone can get started with CleanMyMac X for free if you only consider removing 500 MB data and files from Mac. But to further unlock this limitation, you will need to upgrade to its registered version.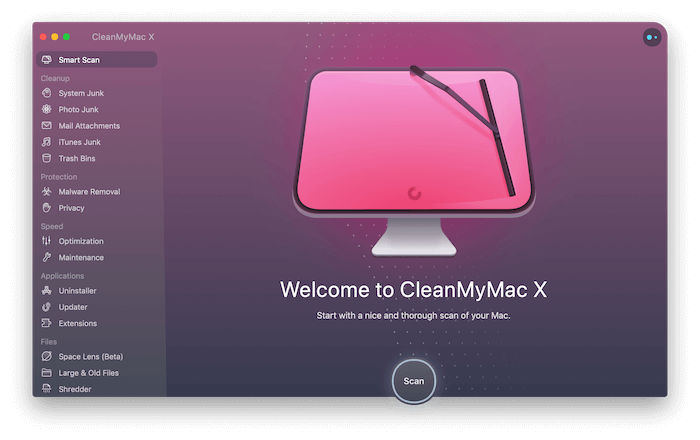 The free trial only allows users to clean up 500 MB space on Mac. To unlock this limitation, you are able to select the yearly subscription spending at US$39.95 or the lifetime plan at US$89.95 for using the features forever.
Pros and Cons of CleanMyMac X
Pros
Malware monitor to protect the Mac from malicious attacks instantly;
Smooth in-app performance to clean up Mac quickly;
A comprehensive tool list available to optimize Mac from different aspects.
Cons
The price to upgrade to the registered version is expensive.
3. DaisyDisk
While comparing and seek a free Mac cleaner, we discover DaisyDisk also a reliable software program you can give a try. The software mainly focuses on helping to free up disk space when your Mac is running out of storage and doesn't have sufficient space anymore. On its main interface, you will quickly grasp the storage condition of your Mac and press the "Scan" button to process the storage usage analyzing right away (however, the delete feature will be disabled unless you upgrade to the registered version). Based on this, you are able to clean up your Mac quickly without hassle and save much time!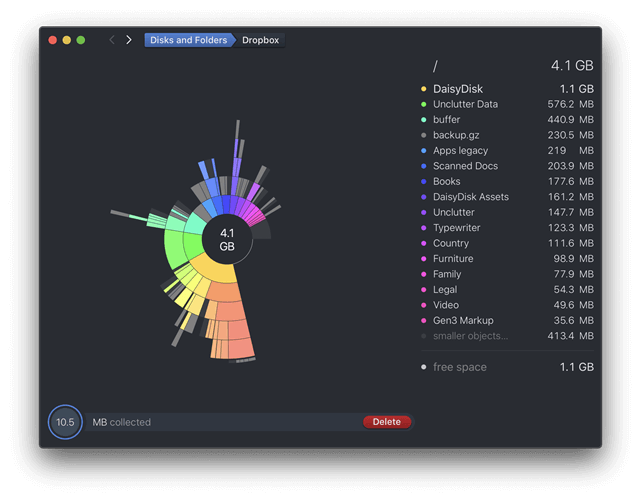 The free trial only allows users to clean up 500 MB space on Mac. To unlock this limitation, you are able to select the yearly subscription spending at US$39.95 or the lifetime plan at US$89.95 for using the features forever.
Pros and Cons of DaisyDisk
Pros
Overview storage info provided on the main interface;
Available to quickly start scanning your Mac right away;
Preview mode available to select items to clear quickly;
Cloud storage scanning is also supported.
Cons
Duplicates and junk files are only available to be cleaned manually;
The desktop scanning process is a bit time-consuming.
4. MacKeeper
Aiming at providing the efficient services to clean up Mac, MacKeeper has been equipped with the speed up teches to enable faster speed in processing both the desktop scanning and cleaning to save your time. As one of the free Mac cleaners, you will find it completely free to get started with MacKeeper. Simply install it to your Mac computer, and you are able to process the Mac cleaning by selecting any cleanup modes on the left panel.
You won't be required to manually process the Mac cleaning process as MacKeeper will do it all for you! Simply by submitting the scanning, as the detected items and data are listed, choose those you desire to remove and hit the "Clean" button, MacKeeper will do the rest and return a cleaned and optimized Mac to you once again.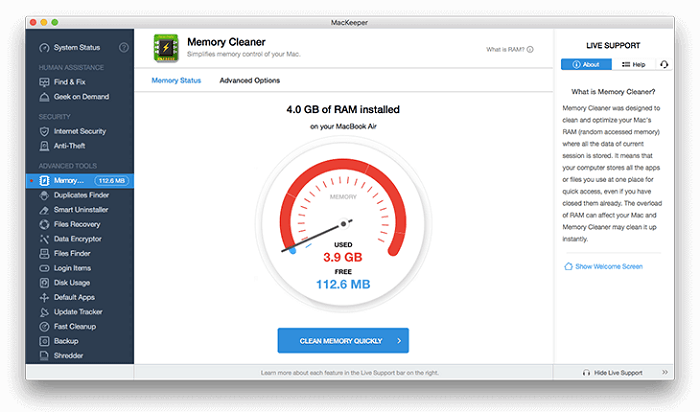 MacKeeper limits certain functions such as protecting Mac from viruses or blocking adware and pop-ups. To access the full features, you are able to get started with its monthly subscription at US$10.95/mo or the annual plan at US$71.40.
Pros and Cons of MacKeeper
Pros
Available to clean up files and data of different types to free up storage on Mac;
Out-performing antivirus protection supported to keep your Mac secure;
Intuitive interface enabling easy setup and quick navigation;
Most Mac cleanup tools are available in the free version.
Cons
Too many pop-ups and dialog boxes affecting the usage experience;
Take higher expense to access the premium features.
5. CCleaner for Mac
Released in 2004, CCleaner for Mac is also a free Mac cleaner that users can quickly get started with to clean up Mac without hassle. The software offers the powerful Mac scanning ability to specify detecting the files and data you desire to clean up just in one go.
From browser data, trash, useless documents, and so on, CCleaner for Mac is able to complete the scanning within a few seconds. Its free version has already covered most basic cleanup tools that are sufficient for you to tidy up the Mac without going through complicated processes.

To access the full functionality of CCleaner for Mac, you only need to pay for US$29.95/year to get started.
Pros and Cons of CCleaner for Mac
Pros
Most cleanup tools are available in the free version;
Previewing mode available to select items before processing the Mac cleanup;
Security protection is available to prevent any data disclosure from happening.
Cons
Incompatible with the latest Mac systems;
The software update is not frequent at all, thus causing some incompatibility errors while running on newer Mac systems.
6. App Cleaner & Uninstaller
App Cleaner & Uninstaller is specially designed to manage applications on Mac with powerful functionality. It is able to uninstall apps from Mac with easy clicks, and also detect to remove all its related files to absolutely clean up the applications without leaving any data on Mac. Besides uninstalling apps, App Cleaner & Uninstaller is also able to clean up the Mac system install files, widgets, system extensions, and so on.
On the first 7 days, you are able to use App Cleaner & Uninstaller completely for free. But once the trial period is over, payment is required to access the full features for cleaning up Mac.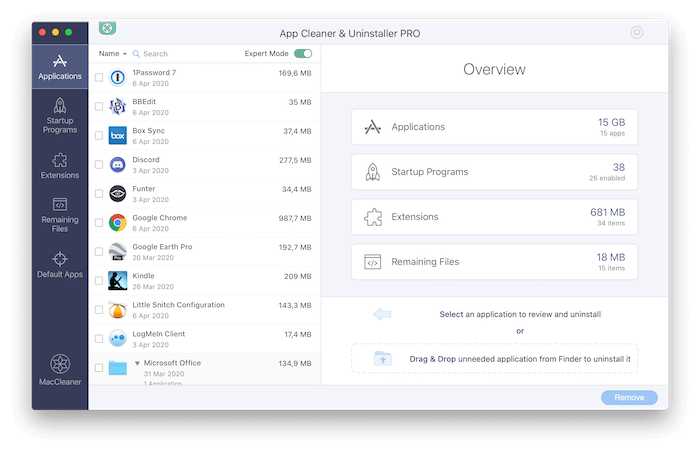 App Cleaner & Uninstaller provides lifetime license to access the full features without any limitation after purchase. To use it on one single Mac, it only costs US$19.90. For using on more Macs, the family pack only costs US$64.65.
Pros and Cons of App Cleaner & Uninstaller
Pros
Effortless access to uninstall apps on Mac;
Auto tracing the related files with the uninstalled apps to clear them completely;
System widgets and extensions are available to delete with ease.
Cons
Less clean up features than its competitor;
The free version is only available for the first 7 days.
7. Onyx
As a freeware program, Onyx won't require you to take any cost for cleaning up Mac with the software. With all practical features provided, Onyx is perfect to clean up disk space and remove useless files simply by giving several easy clicks. The software is even able to help resolve disk errors and rebuild databases through simple operations that everyone can handle. Hence, no matter if you desire to process in-depth Mac cleaning or maintain and optimize your computer, Onyx can be an economical choice as it is absolutely free to use.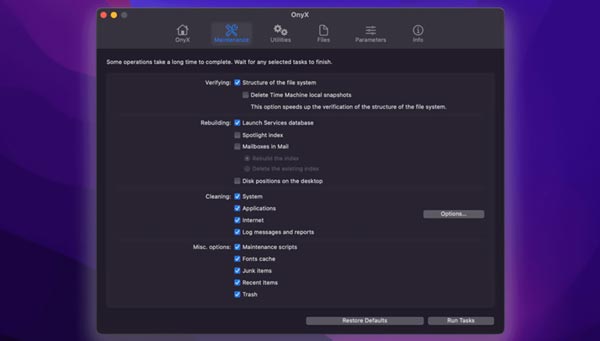 Pros and Cons of Onyx
Pros
Absolutely free to use;
Accurately detect junk files for cleaning up within seconds;
Available to resolve disk and other system errors to optimize Mac performance.
Cons
Lack of security protection features;
Sometimes the cleaning process can be slow.
Part 2: How to Free Your Mac Memory in three Steps?
After the comparison and summary of the above 7 software, I believe you have the answer in your mind. The safest and most efficient way to optimize Mac performance is to use Macube Cleaner software. Here is how to use Macube Cleaner to quickly clean system garbage in your Mac.
Step 1: Start Macube Cleaner and select the Smart Scan function. Macube Cleaner will quickly and automatically scan your disk for junk files, whether it is cache, browsing history, video, pictures, zip packages, or mysterious "other storage", will be quickly screened out.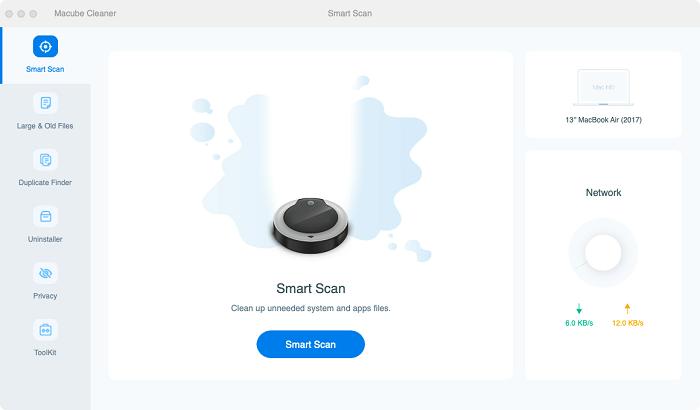 Step 2: After the scan, you will be previewed with details such as the name, size, date of each junk file. If you are not satisfied with the results of the scan, you can choose a deep scan for secondary screening. Then select the file you want to delete and click Clean.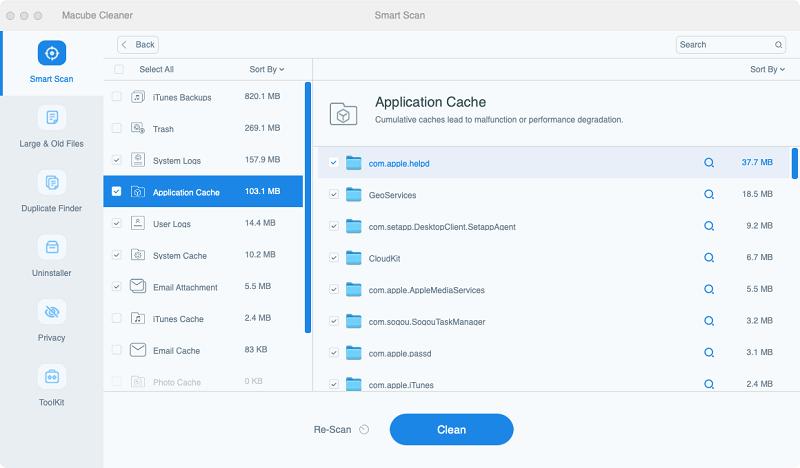 Step 3: Wait for the clean up to end, you will get a refreshed Mac, fast operating experience, rich Mac storage space, let's try it.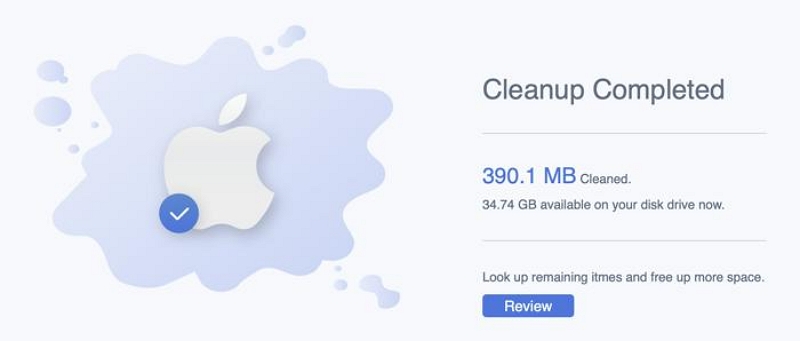 Part 3: FAQs About the Free Mac Cleaner
What is the best Mac cleaner free?
As you can see, this have collected and reviewed on the 7 best Mac cleaning tools, but the selection of the best free Mac cleaner finally depends how you need a tool to clean up your Mac. Considering the versatility of features, the easiness of use, and the limitations of the free version, our best recommendation is Macube Cleaner.
Does Mac have a built-in cleaner?
No, Mac does not have a built-in cleanup software program. But instead, it offers some cleaning features at About My Mac > Storage > Manage > Recommendations, which you can use to quickly sort out and reduce clutter files on your Mac. If you want to clear some system files, caches, or some app files, using a third-party Mac cleaner is a better choice.
Verdict
On the Mac cleaner market, there have been various excellent software developed for Mac users to free up Mac and optimize the computers without hassle but in an efficient way. Through testing a batch of them, we have selected these 7 best Mac cleaners that are available to freely use for you. Now, just take a moment compare and pick your ideal choice from them to tidy up your Mac!
Free Download
Free Download