When your entire life schedule and workability are saved in your system for years, you definitely need a clean-up to make room for storing new data. Now while using the delete option of your computer, you may get rid of it temporarily, but the data is always there on your system unless other data overwrite it. So, to delete any data from your system, you need the most suitable Trash Shredder software to get permanent deletion of your data.
Part 1: What Is Trash Shredder & Why Do You Need It?
Trash Shredder is a data-deleting software program that helps you to delete unwanted, old, or corrupted data from your computer. Once you delete any data using this program, you will never get it back, as other data overwrite the deleted data. So, let's see the primary purpose of Trash Shredder software.
Purposes
Delete unwanted data to clear up storage space on the Hard disk.
Ensure permanent deletion of vulnerable data.
Deleted data is overwritten with the machine code 0 to 1 to erase the data permanently.
No one can retrieve your deleted data from your machine using any data recovery software.
Part 2: Worldwide Statistical Status of the Data Deleting Software Industry
The more dependency on devices for saving various data increases the demand for data-deleting software worldwide. You always need more room to store new data, so permanently delete old, outdated, or useless data. So, let's see how fast the data-deleting software is grabbing the globe.
Statistics State: According to Global Industrial Report, the Data deleting software industry is expected to reach a CAGR of 5% annual growth from 2023 to 2030. So, this industry is rapidly evolving with its dynamic competition.
Report Link -https://www.benzinga.com/pressreleases/23/07/33375225/the-data-eraser-software-market-report-provides-a-detailed-analysis-of-market-dynamics-competitive-

Pro Tips:
Among multiple options of Trash Shredder software, you must select the one that offers flexibility and customization in its features and functions. You also select Trash Shredder, which is compatible with most of the versions of your computer. So that you can use the tool on multiple machines with different versions.
Part 3: 5 Best Trash Shredder Softwares With Best Benefits
There are several Trash Shredder software available in the market. It is quite difficult to pick the perfect tool to meet your specific data-deleting requirement. So, to make your job simple and sorted, select the suitable software here; you will get the top 5 Trash Shredder software with their best mechanism for permanent data deletion.
| Software Name | Platform | Price | Best For | Star Rating |
| --- | --- | --- | --- | --- |
| Macube | Mac | Free & Paid | Smart detection & deletion of duplicate data, apps, caches etc | |
| Securely File Shredder | Windows | Free & Paid | Simple file drag, drop & delete option & data deletion from recycle bin | |
| WipeFile | Windows | Free | 14 data wiping methods with file queue-up option for later data deletion | |
| Freeraser | Windows | Free | Permanent deletion of sensitive & malicious data from recycle bin with multiple data erasing option | |
| Hard Disk Scrubber | Windows | Multiple custom data deletion options with 5 levels of overwrite features | Freelancing, and home video editing. | |
Best For: Delete trash, duplicate data, browser caches, long & old files, similar apps, etc on Mac in a few seconds.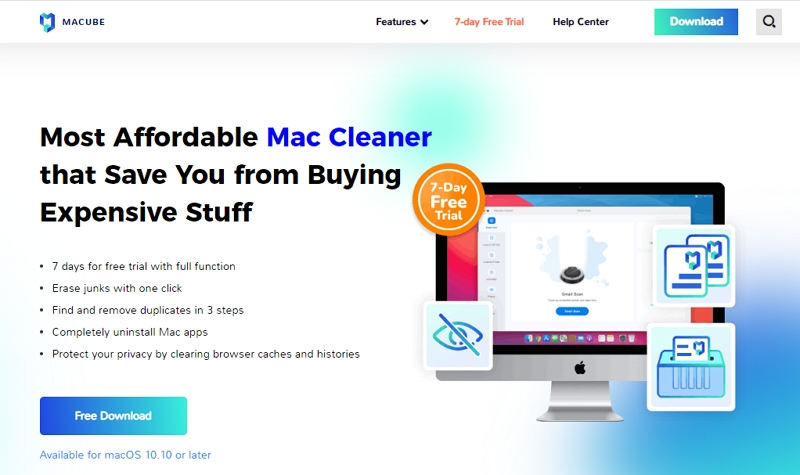 Macube is a very powerful Trash Shredder with some smart and sophisticated tools to delete unwanted data on your Mac computer. This software uses gigabytes to detect all the trash data from the Mac system's folder, large files, mail, photos, etc. It navigates the duplicate data of your essential data on your system within a second, and by clearing them all permanently, you will get huge storage space in your system.
OS Compatibility: Mac
Price: 7 days free trial with a $9/month subscription
Features:
Smart scanning option to detect system caches, email attachments, app cache, etc.
It can detect week, month, or year-old long files & delete them instantly
Duplicate Finder option to find duplicate files of the same data.
The uninstaller function deletes an unwanted app with its associated file & folder.
Con: Privacy features could be improved.
Verdict: This Trash Shredderoffers the best three tools to detect and delete useless data from your Mac system. Shredder option to delete files & folders securely. Extension option to manage & delete proxy services, plug-ins, and startup items. Similar Image Finder for easy detection & deletion of duplicate data.
2. Securely File Shredder
Best For: Simple data deletion with the usual file drag & drop option.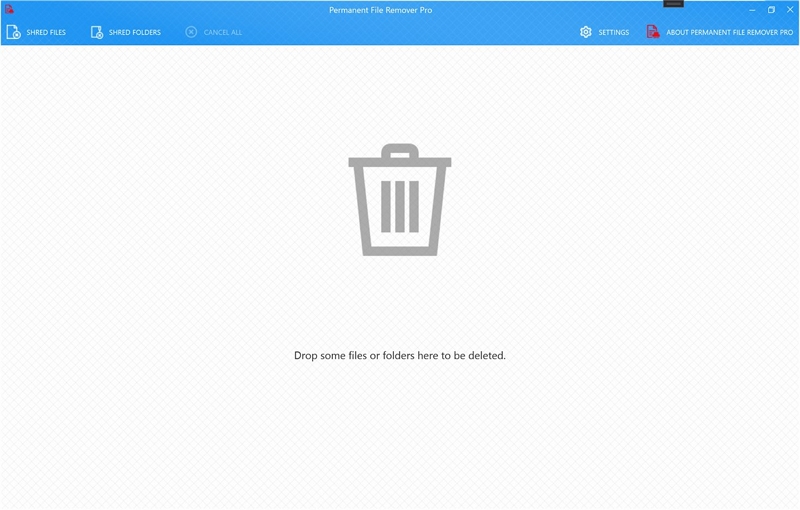 Securely File Shredder is a very straightforward Trash Shredder to remove various trash data from your computer. Using a simple drag & drop option, you insert the unwanted file or folder into the software's interface, and the tool will take care of the rest instantly. It also helps you delete data from your system's recycle bin so that no one can retrieve the deleted data ever.
OS Compatibility: Windows 10 & later
Price: Free & in-app purchase Version available
Features:
Secured permanent data deletion from recycle bin
Three sanitization methods: Gutmann, Schneier, DoD 5220.22-M
Clear up the hard drive by overwriting the deleted data
It is a swift & quick tool for shredding files
You can delete the 500Gb drive within one hour
Cons:
The free version comes with annoying ads
The free version offers a limited number of file deletions every week
Verdict: The data sanitization methods of this software need fewer file overwrites. This tool offers a simple and secure data deletion experience over complicated and sophisticated features.
3. WipeFile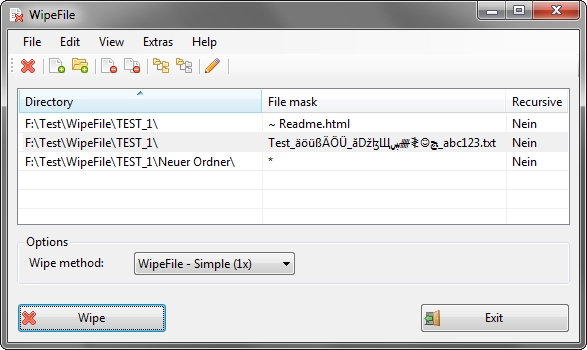 Best For: Portable, free, & unique program for permanent data deletion.
WipeFile is the most user-friendly software program to erase files and folders from your machine instantly or later. It uses multiple data-wiping methods to ensure permanent data deletion from your system's hard drive. This trash shredder lets you queue up files and folders so that you can delete them later simultaneously.
OS Compatibility: Windows 7, 8, 10, 11, etc
Price: Free Program
Features:
No installation required
14 data wiping methods include DoD 5220.22-M, Gutmann, Bit Toggle, Random Data, WipeFile, etc.
It supports 7Z format & you must use 7-Zip to open it
Fast & suture tool to overwrite data to prevent its reconstruction
Cons:
Lack of customizations
Free apps could be security vulnerable for your system.
Verdict: This trash shredder supports various flexible features such as Context Menu Extension, Multiple Languages, Multiple Overwrite modes, etc. This program writes to a log file, and this toolset works with the "Send to" context menu under the "File Explorer" option.
4. Freeraser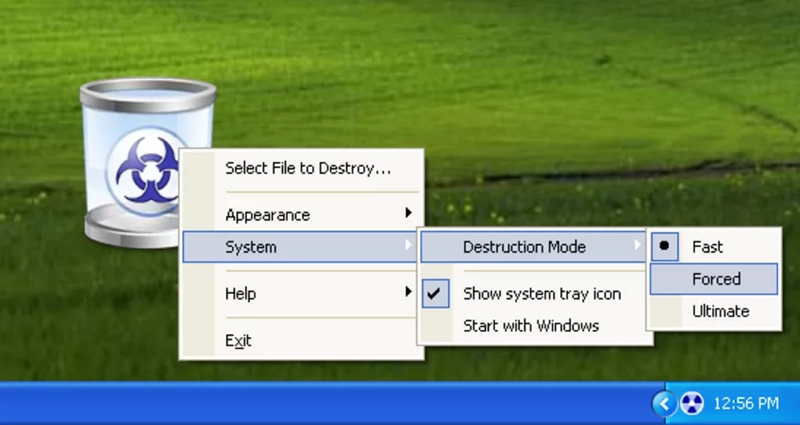 Best For: Free trash shredder for multiple file deletion options in one go.
Freeraser is one of the smartest trash shredder tools to erase sensitive data from your system's recycle bin securely. It can't be retrieved anyway once you permanently delete data using this trash shredder. So, this is one of the best tools to clear up your computer from unwanted data. There is also no risk of retrieving sensitive data after its permanent deletion.
OS Compatibility: Windows 10/11 & older versions
Price: Free Tool
Features:
Nicely designed, transparent, resizable recycle-bin icon
Drag & drop option for single file or multiple file deletion in one go
Three data erasing methods like Random Data, DoD 5220.22-M, & Gutmann
You can stop the program anytime you want
A multilingual support alert massage is given
Cons:
It can't be integrated with the context menu
There is no "Undo" option
Verdict: This trash shredder is perfect for permanently deleting sensitive or malicious data from your system. It lets you select the option to install the tool as a separate program or as a portable one.
5. Hard Disk Scrubber
Best For: Simple tool to delete any data from your PC without any skill or expertise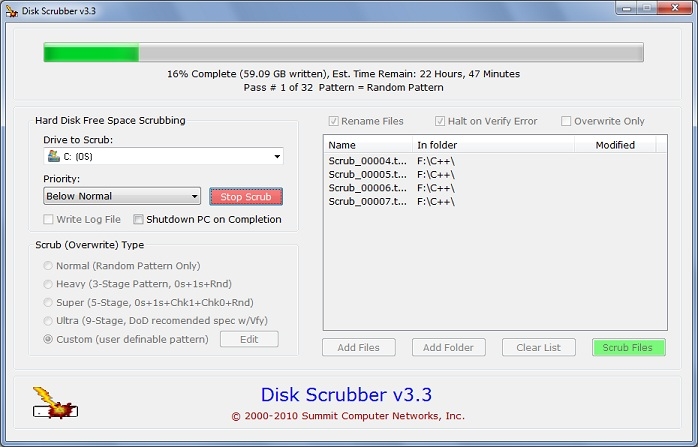 Being one of the simplest trash shredders, Hard Disk Scrubber provides the simplest interface to delete anything and everything forever from your computer. Using the simplest steps of "Add file" or "Add folder" and then "Scrub files," you can get rid of any old, corrupted, duplicate, or private data, including photos, videos, audio, documents, etc., within a few seconds.
OS Compatibility: Windows 2000/11 & latest version
Price: Free Software
Features:
It uses 5 levels of overwrite to ensure secured permanent deletion of data
It offers multiple data deletion algorithm
It supports user-definable custom-built patterns, for example, writing any character over the file
It supports three data sanitization options such as DoD 5220.22-M, Random Data, and AFSSI-5020
This trash shredder is best for getting maximum free space on the hard disk
Cons:
Comparatively less advanced tool
Limited customization features
Verdict: Deleting data from your system will not free up the space of your hard disk unless the deleted data is overwritten by other data. This trash shredder has the expertise to overwrite data with multiple options.
Part 4: How to Delete Data Permanently From Your Mac
After knowing the best possibilities of the top 5 trash shredder tools, it's time to know how to shred data from your Mac computer using Macube software.
Step 1: After launching the Macube software on your Mac computer, head to the Toolkit option to locate the shredder feature.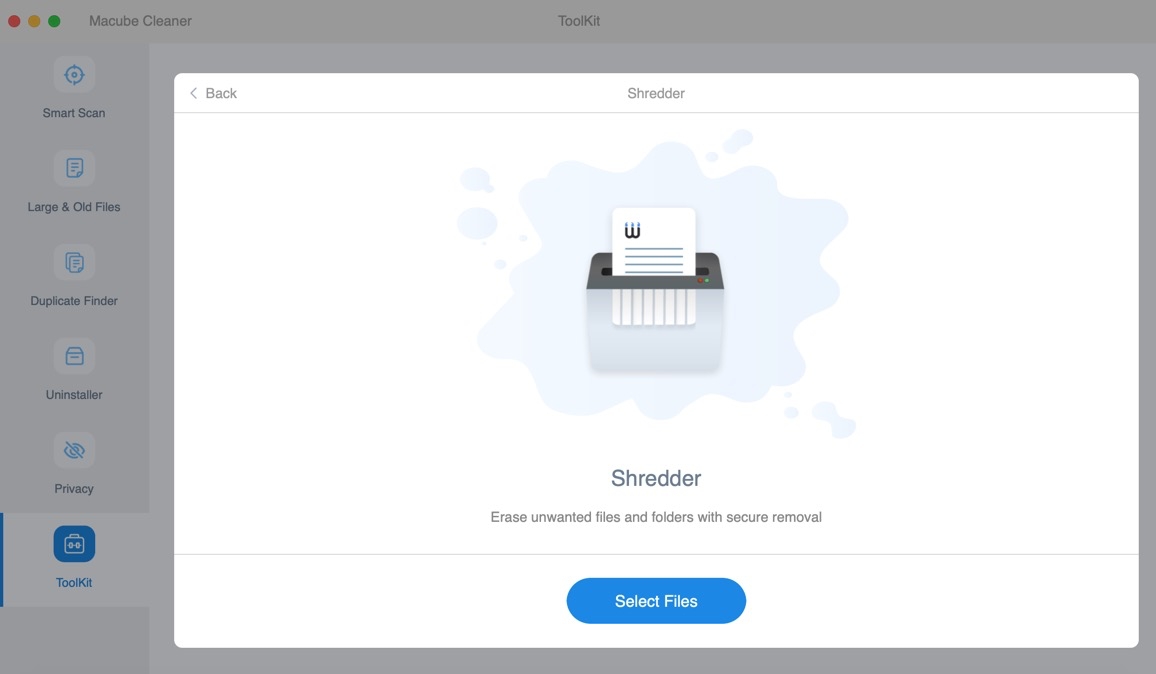 Step 2: Choose your desired file or files you want to delete permanently.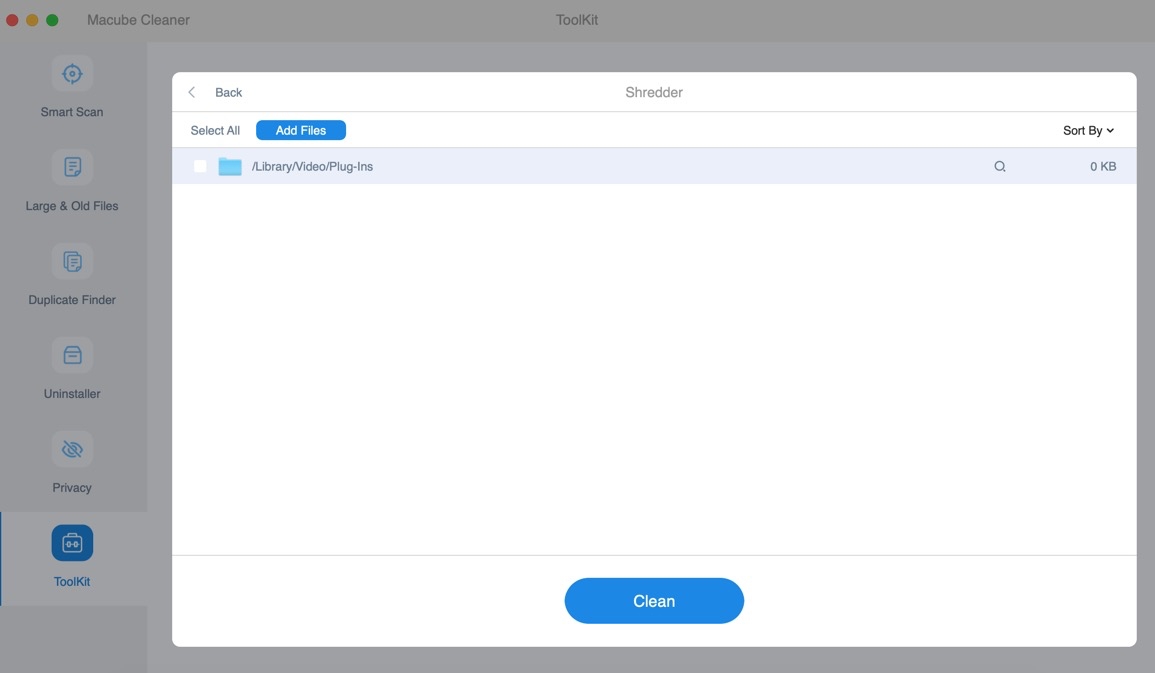 Step 3:  Select the "Clean" option to permanently erase the file from your system and the recycle bin.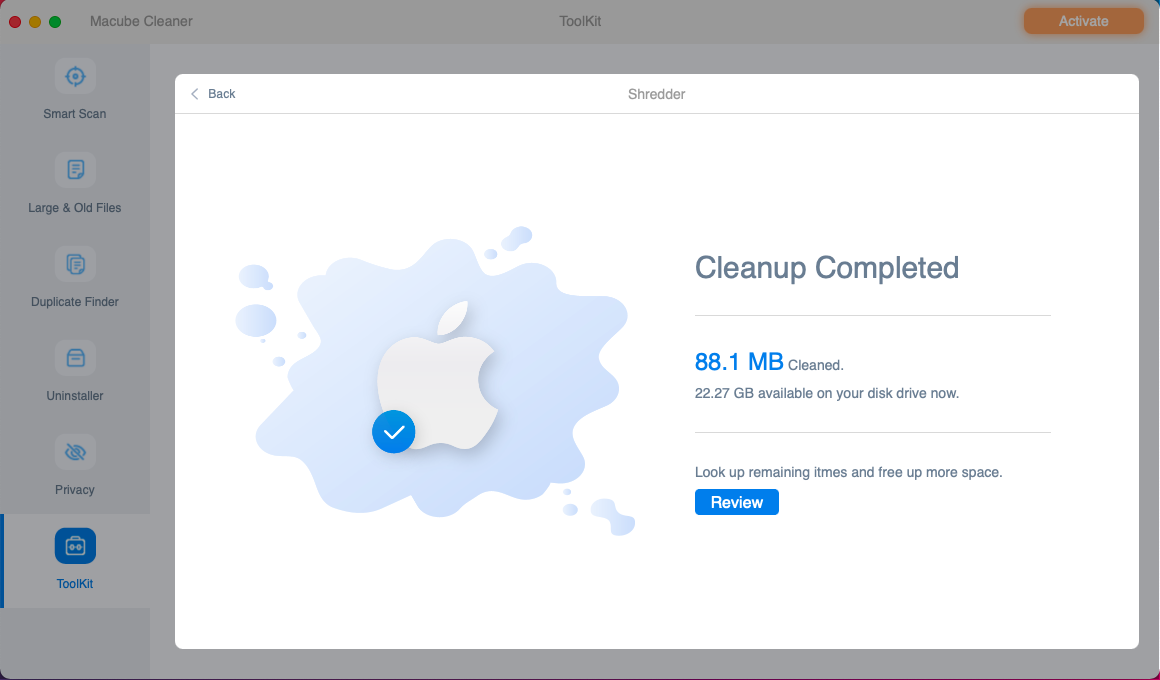 FAQs
What Is the Most Cost-Effective and Secure Method of Permanent Data Deletion?
Shredding is the most secure and economical option for permanent data deletion. It gives a new life to your hard drive by deleting all unwanted old large files, media taps, etc.
What Are the Main Methods of Forever Data Destruction?
There are three main methods of permanent data deletion such as wiping, shredding, and hard drive degassing.
What Is the Common Machine Algorithm to Destroy Data Permanently?
DOD 5220.22-M
US Army AR 380-19
AFSSI-5020
Royal Canadian Mounted Police (RCMP)
Conclusion
When you want to clean up your computer by deleting all the unused and unimportant data to create some storage on your system's hard drive, the best quality trash shredder is the ultimate option. With this tool, you can easily erase all the unwanted data within a few seconds & clicks. If you are a Mac user, you must go for the Macube with versatile data deletion features instead of selecting any random trash shredder.