In the digital age, our Macs have become indispensable tools for productivity and entertainment. To ensure they operate at their peak performance, efficient memory management is crucial. One key component in this process is understanding and utilizing RAM (Random Access Memory) effectively. In this comprehensive exploration, we will introduce the concept of RAM cleaner applications and their pivotal role in optimizing Mac performance. These tools are specifically designed to free up memory space, allowing your Mac to run seamlessly and handle multiple tasks with ease.
As we delve deeper into the guide, we will emphasize the importance of RAM optimization and the multitude of benefits it brings to your Mac experience. From enhanced system responsiveness to smoother multitasking capabilities, a RAM cleaner can elevate your Mac's performance to new heights.
Part 1: What is a RAM Cleaner and how it Works
RAM cleaner software, also known as memory optimizer or memory cleaner, is a type of utility designed to manage and optimize the usage of Random Access Memory (RAM) in a computer system. It works by monitoring the RAM usage and clearing unnecessary data, cached files, and inactive processes, allowing the system to free up memory space for more active tasks and applications.
The main goal of RAM cleaner software is to improve system performance and responsiveness by ensuring that the available RAM is used efficiently. As applications and processes run on a computer, they consume RAM to store temporary data and perform tasks. However, some applications may not release the used memory properly after their tasks are completed, leading to "memory leaks" and decreased available RAM for other tasks. RAM cleaning, performed by RAM cleaner software, helps address this issue by clearing out cached data and releasing inactive memory pages.
Part 2: Benefits of Using a RAM Cleaner on Mac
Using a RAM cleaner on your Mac can lead to enhanced performance in various ways:
Faster Application Launching: With a cleaner RAM, more memory space is available for active applications. As a result, applications launch faster since they can access the required resources promptly.
Smoother Multitasking: RAM optimization ensures that there's enough memory available for simultaneous tasks.
Improved Responsiveness: When RAM is efficiently managed, the overall responsiveness of your Mac improves. Actions like opening files, browsing the web, or interacting with applications feel more fluid and immediate.
Better Resource Allocation: A RAM cleaner ensures that memory resources are allocated optimally. It prevents unnecessary memory fragmentation and ensures that your Mac utilizes its RAM efficiently for various tasks.
RAM optimization through a RAM cleaner can prevent memory pressure and potential system freezes in the following ways:
Memory Pressure Mitigation: As applications and processes run, they demand RAM resources. A RAM cleaner helps free up memory space by clearing cached data and releasing inactive processes. This reduces memory pressure, preventing your Mac from running out of available RAM.
Avoiding Swapping: By optimizing RAM, a RAM cleaner minimizes the need for swapping and keeps your Mac running smoothly.
Preventing System Freezes: optimization helps maintain a healthy memory balance, reducing the likelihood of system freezes and ensuring stability.
In conclusion, using a RAM cleaner on your Mac offers multiple benefits, including enhanced performance, smoother multitasking, reduced memory pressure, and prevention of system freezes. By optimizing your Mac's RAM usage, you can enjoy a more efficient and responsive computing experience, making the most out of your device's capabilities.
Part 3: How to Choose the Best RAM Cleaner for Mac
Choosing the best RAM cleaner for your Mac involves evaluating various factors to ensure it meets your specific needs. Here are some key considerations to guide you:
Features and Functionality: Look for RAM cleaners that offer a comprehensive set of features, such as automated RAM optimization, real-time monitoring, memory leak detection, and customizable settings.
Compatibility: Ensure that the RAM cleaner is compatible with your Mac's operating system version.
Performance Impact: Check if the RAM cleaner has a minimal impact on your Mac's performance when running in the background.
Developer Reputation: Opt for RAM cleaners from reputable and trusted developers to ensure you are using reliable and safe software.
Trial Versions: If available, consider trying out trial versions of RAM cleaners before making a purchase.
Customer Support: Check if the RAM cleaner offers reliable customer support. Prompt and helpful customer support can be invaluable if you encounter any issues or have questions while using the software.
Price and Value: Opt for a solution that aligns with your budget while delivering the functionalities you need.
Introducing Reputable RAM Cleaner Applications:
1. Macube (Recommended)
Macube stands out as the ultimate solution to effortlessly clean RAM on your Mac. This exceptional tool for Mac cleaning offers a wide array of features, including the removal of unnecessary files, deletion of duplicates, and protection of your privacy. Its expertise shines through as it efficiently detects and deletes redundant data scattered across crucial macOS system directories like iTunes, photos, mail, browsers, and outdated large files.These remarkable results lead to a significant recovery of valuable storage space on your Mac.
Furthermore, Macube seamlessly handles downloads and unneeded files, expertly manages duplicates, and adeptly identifies and removes large or old files. With just a simple click, you can manage extensions, clear web history, uninstall applications, and eliminate outdated files. Macube presents a comprehensive and efficient solution to enhance your Mac's performance, all while safeguarding your privacy by erasing browser cache and history. The era of using multiple applications for similar tasks is now a thing of the past; Macube consolidates all your Mac optimization needs into a single powerful package.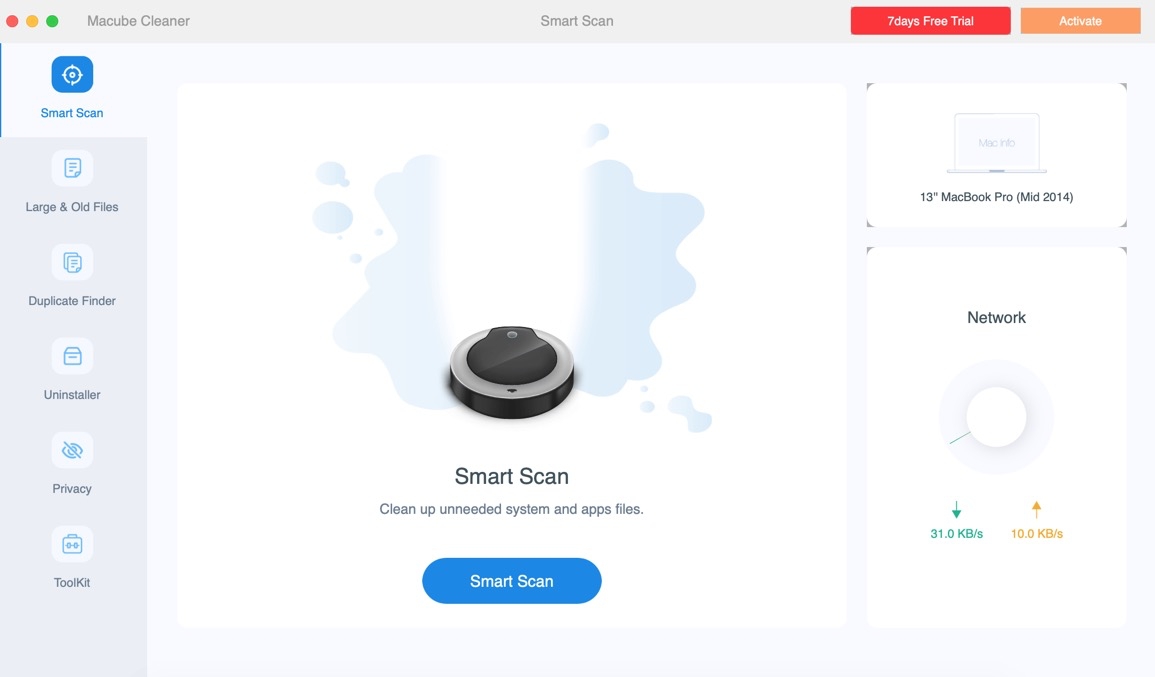 Pros:
When uninstalling applications on Mac, no lingering traces of residual app files remain.
Enhances your privacy and strengthens the safeguarding of your personal data by clearing your browser's cache and history.
Experience the full range of features with a complimentary 7-day trial period.
Effortlessly free up all the space consumed by an app, exceeding the usual amount.
Enables you to effortlessly identify and remove duplicates in just three simple steps.
Cons: No significant drawbacks of Macube have been identified thus far.
2. CleanMyMac X
There are two ways to clean RAM in CleanMyMac X. The first is its Maintenance tool, which offers a Free Up RAM function that can quickly recover gigabytes of memory. It can aid in your understanding of how the Mac's memory functions. Since Apple has notarized the software, using it on a Mac is secure. To test out all the features, download the free version. Additionally, this tool helps you easily clear up storage space if you need to.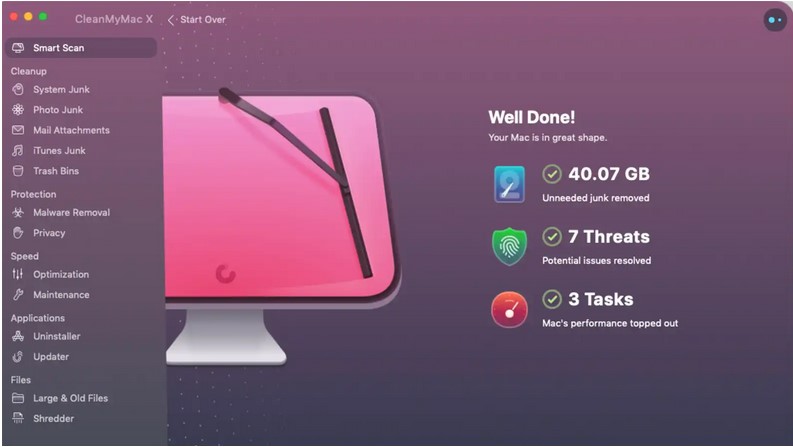 Pros:
User-friendly interface with one-click RAM cleaning.
Additional features for system cleanup, malware removal, and performance optimization.
Real-time RAM usage monitoring.
Regular software updates and customer support.
Cons: Some advanced features require a subscription.
3. MacCleaner Pro from Nektony
A collection of six programs called MacCleaner Pro from Nektony was created to optimize and clean up your Mac. It provides tools for locating and deleting duplicate files and directories as well as the option to consolidate related folders. Additionally, it will thoroughly and safely delete programs. With the complete edition of MacCleaner Pro, you can clean up RAM, eliminate unnecessary files and files taking up a lot of disk space, and manage disk space.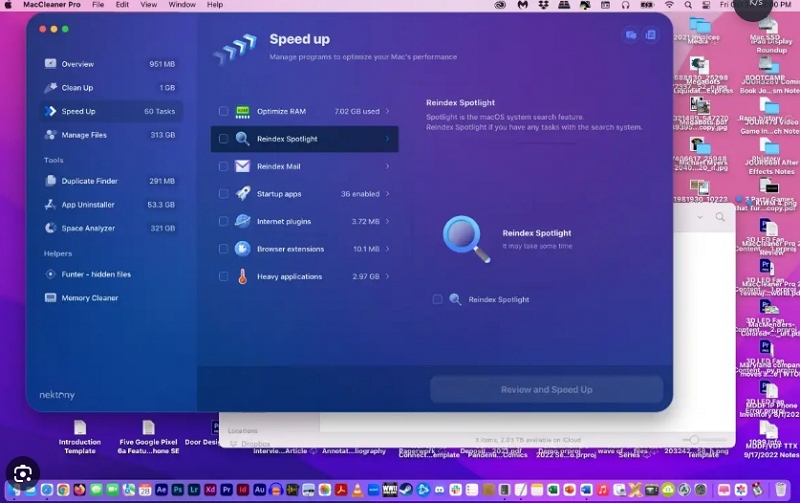 Pros:
Real-time monitoring of RAM and other system resources.
Customizable menu bar display for quick access to RAM usage.
RAM cleaning function
Easy-to-use app with a user-friendly design
Cons:Limited RAM cleaning features compared to dedicated RAM cleaner apps.
4. Memory Clean 3
You may view your available memory and what is using the remaining space by selecting Memory Clean 3 from the menu bar. It also shows which applications are utilizing the most RAM and resources on your Mac. Clean and Extreme Clean are the two cleaning options, and Memory Clean also has the option to automatically release RAM so you never have to think about it.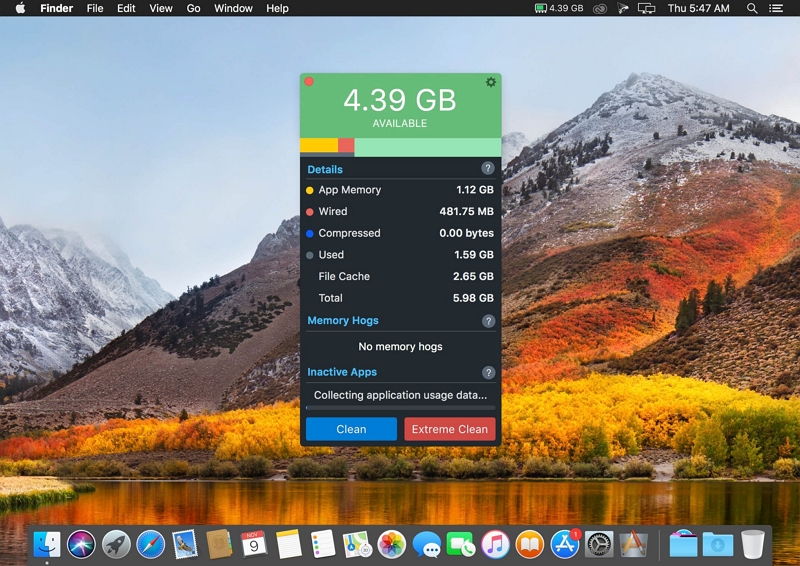 Pros:
Simple and easy-to-use interface.
Real-time memory usage display.
One-click memory cleaning.
Clean and Extreme Clean are the two cleaning options
Cons: Lacks advanced memory management features.
5. DaisyDisk
 DaisyDisk is primarily concerned with file management, showing you what is using up valuable disk space and letting you interact with it. DaisyDisk also keeps track of how much space you've lately freed up, giving you an even more amusing reason to browse through your files and delete any unused project folders that were once devouring dozens of gigabytes of hard drive space.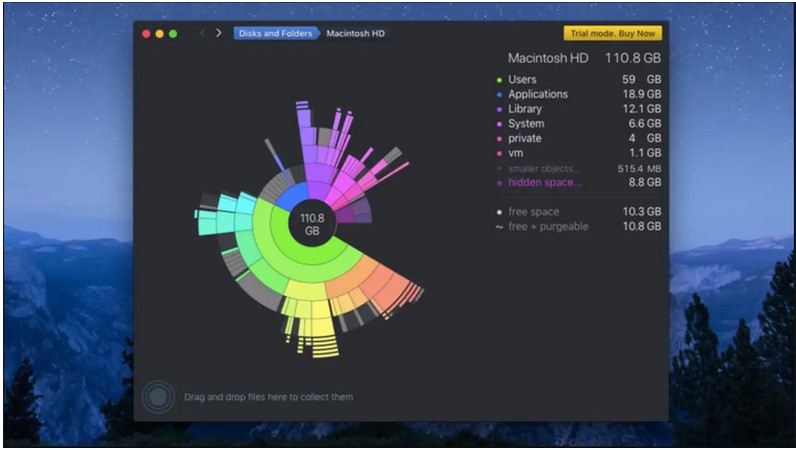 Pros:
locates huge files quickly after scanning storage
previews of file names
Visually appealing interface for analyzing disk and memory usage.
RAM cleaning function for freeing up memory space.
Cons: RAM cleaning is not the primary focus of the app.
6. Memorykeeper
An antivirus scanner, adware remover, cleanup feature, duplicate file finder, and clever uninstaller are just a few of the 11 tools that MacKeeper provides. Additionally, there is a memory cleaner, a tracker for software updates, and a startup item finder.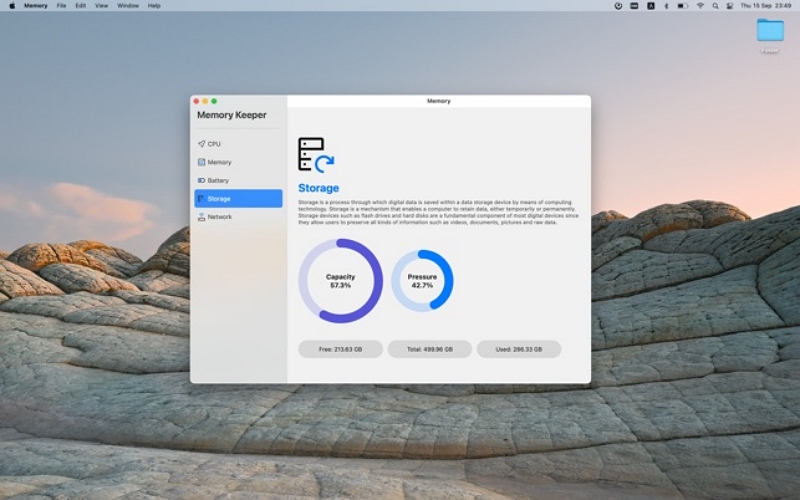 Pros:
Real-time memory usage monitoring.
One-click memory cleaning.
Convenience of a single package including several tools
Most functionalities are accessible in the free version.
Cons: Paid subscriptions are pricey.
7. Piriform Software CCleaner
With an astonishing amount of control, CCleaner from Piriform accomplishes what it sets out to do: assist in clearing up terabytes of cache data, internet history files, and discover and remove big files on your Mac. Analyzing a hard disk makes it simple to find out how much space particular files might be occupying. Uninstall, Startup, Erase Free Space, Large File Finder, and Duplicate File Finder are available options.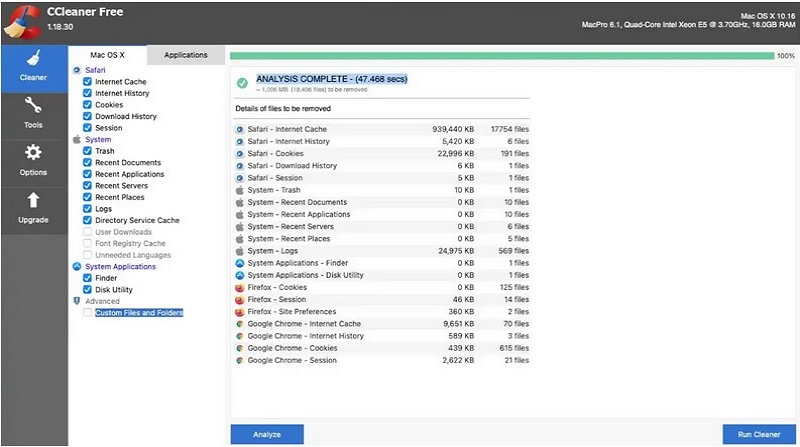 Pros:
Impressive customization tools
Excellent control over storage
RAM cleaning for freeing up memory space.
Additional features for disk cleanup and system optimization.
Cons: Some features require a subscription.
8. App Cleaner & Uninstaller
The straightforward and user-friendly App Cleaner & Installer is also made by Nektony. This small tool is really bundled with MacCleaner Pro (above), but the free version works well on its own for removing any leftover files, links, and other junk once an app has been deleted. In addition, you may choose which apps open at startup and delete them completely from the beginning, as the name says.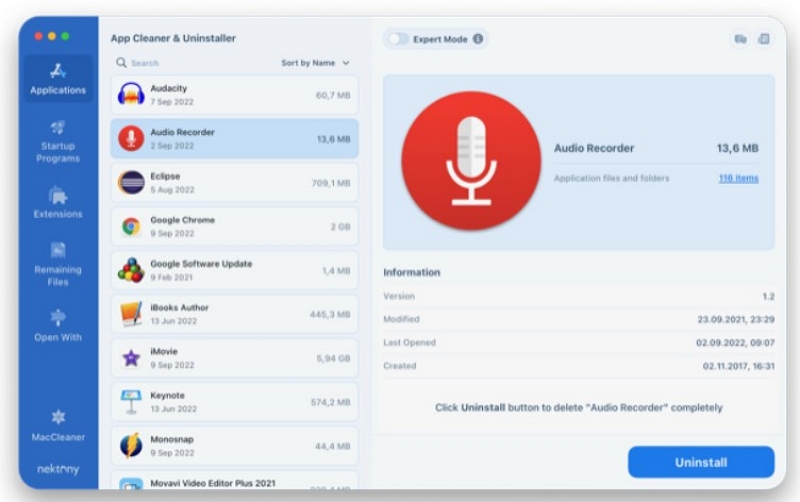 Pros:
RAM cleaning for freeing up memory space.
Uninstaller for removing unnecessary apps and files.
Free with a Pro upgrade
Simple user interface
Cons:RAM cleaning is not the main focus of the app.
9. MacBooster
In addition to performing basic disk cleanup tasks like deleting duplicate files, searching for huge files, recovering RAM, and other performance-enhancing activities, the potent utility MacBooster also does virus and malware checks to protect your Mac from harmful programs.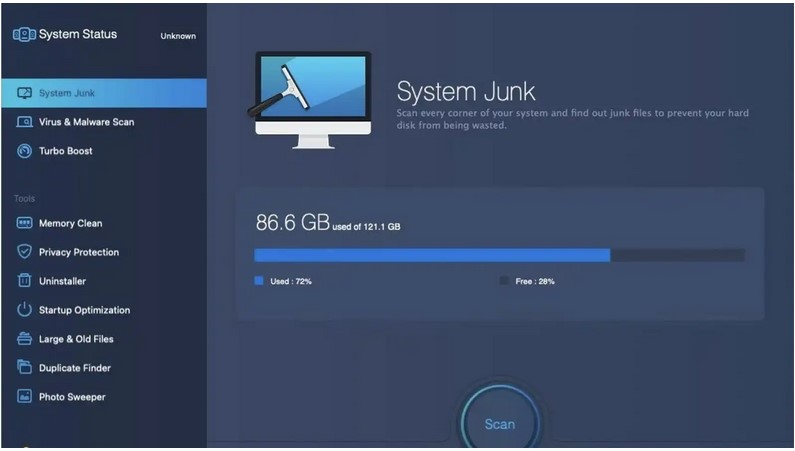 Pros:
One-click memory optimization.
Lightweight and easy to use.
Adds optimization and virus and malware scanning
Not a yearly membership
Cons:Limited features compared to more comprehensive RAM cleaner apps.
Part 4: Precautions and Considerations
RAM cleaning is a temporary solution that may improve system responsiveness by freeing up memory space. However, it may not resolve all performance issues. Consider it as part of overall system maintenance, addressing other factors that could affect Mac performance. Beware of potential scams and risks associated with unreliable RAM cleaner software.
Download apps only from trusted sources like the Mac App Store or official developer websites. Read user reviews, verify developer information, and avoid suspicious pop-ups offering immediate cleaning. Rely on established and reputable RAM cleaner applications to ensure the safety and effectiveness of memory management tools.
Conclusion:
In conclusion, using a RAM cleaner on your Mac offers a range of benefits, including enhanced performance, smoother multitasking, and reduced memory pressure. To efficiently manage your Mac's RAM, consider final tips such as upgrading your RAM to accommodate more memory-intensive tasks and regularly cleaning unnecessary files to free up space. For an all-in-one solution, we recommend Macube, a reputable RAM cleaner that offers automated optimization and real-time monitoring, ensuring your Mac always performs at its best.