The first few months of owning a Mac are usually amazing. It boots up in seconds and its performance is lightning-quick. However, the more apps you install on your Mac and the more documents you save on it, the slower it becomes.
If you've recently noticed that your Mac is freezing more frequently or running out of RAM, you need to consider boosting its performance and disk space with the help of a Mac optimizer. Below, we've reviewed the top 10 best Mac optimizers that can clean up your PC and improve its performance.
Part 1: What Is a Mac Optimizer?
It's a tool that has been developed to improve the performance and functionality of a Mac computer. Mac optimizers are generally used to clean up storage, optimize various functions, and enhance the processing speed of the computer. Most Mac optimizers have features such as a duplicate file finder, startup manager, and uninstaller amongst others.
Part 2: Reasons Why You Need Mac Optimizer
A Mac optimizer can be a valuable tool for several reasons, including:
Improved System Speed & Responsiveness: Over time, Macs can accumulate unnecessary files, slowing down performance. A Mac optimizer helps by cleaning up these files, optimizing startup processes, and ensuring your Mac runs smoothly and responds quickly to your commands.
Enhanced Privacy & Security:  Mac optimizers often include privacy and security features. They can help you identify and remove potentially harmful software, malware, or unnecessary browser extensions that could compromise your data. By keeping your Mac clean and secure, you reduce the risk of privacy breaches.
Streamlined Storage Management: Mac optimizers help you manage your storage efficiently. They can identify large files or unused applications and assist in their removal, freeing up valuable disk space. This not only improves your Mac's performance but also ensures you have ample space for important files.
Extend the Lifespan of Your Mac:  By regularly optimizing your Mac, you can extend its lifespan. Unnecessary clutter and fragmented files can cause wear and tear on your hard drive. Mac optimizers can help prevent this, potentially saving you money on costly hardware repairs or replacements.
Part 3: The Top 10 Mac Optimizer Software Tools to Boost Performance and Disk Space In 2023
| Software Name | Unique Feature | Price | Star Rating |
| --- | --- | --- | --- |
| Macube Cleaner | Uses avant-garde smart scan algorithms to safely detect and delete unnecessary files and apps from Mac storage and keep it optimized at all times. | 7-day free trial; 1-month – $8.95; lifetime plan-$69.95 | |
| Cleanmymac X | Malware scanner and remover. | 7-day free trial; Annual plan – $39.95 | |
| MacCleaner Pro | Clean up and organize the Mac very fast. | 1-month – $14.95; 1-year – $22.46 | |
| MacKeeper | VPN and ID theft guard. | It starts at $10.95 | |
| MacBooster | Clean up junk files from Mac safely and securely. | Annual plan – $59.95 | |
| Onyx | Multifunction utility used for verifying the structure of system files and performing regular maintenance. | It's free | |
| Daisy Disk | Graphical representation of your storage space. | A one-time purchase of $9.99 | |
| CCleaner | Clean up temporary files. | Start at $29.95 | |
| OmniDiskSweeper | Optimize Mac performance without requiring any technical knowledge. | Free | |
| Drive Genius | Provide you with a full diagnostic of your PC. | Annual plan - $79 | |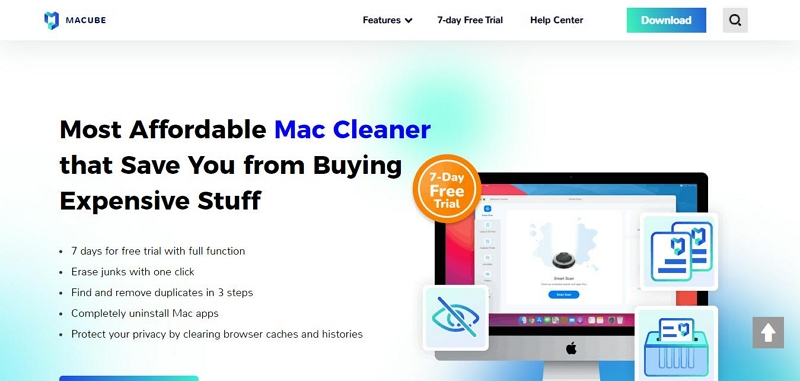 Macube Cleaner is undeniably the best Mac optimizer software you can find on the internet. This powerful software can dig through your disk space and clean up unnecessary files and documents, including videos, photos, documents, iMessages files, chats, and lots more.
Unlike regular Mac optimization software, Macube Cleaner makes it easy for all users, including newbies to manage the Mac storage and keep it optimized at all time without any stress. Besides, it offers more features like large & old files finder to remove large and old files you will never have expected to have on your system, app uninstaller to delete unwanted apps and their leftovers, files shredded to completely delete files and make them unrecoverable, and lots more.
Key Features:
Smart Scan enables deep scanning of Mac hard disk for junk, caches, and cookies.
Locate old and large files that have been saved for 1 yearand delete them from your storage within a few clicks.
Delete duplicate files and similar picturesfrom Mac in just a single click.
Supports a toolkit that offers more features like extension manager, similar images finder, and file shredder.
Privacy protector feature allows you to keep your browsing activities safe and untraceable.
Pros: 
7 days free trial for all features.
Supports many types of files that can be cleared, including MP4、JPG、GIF、DOC、DMG, etc.
Easily set the similarity to find and delete the photos using similar images finder.
Excellent smart scan technology that can scan for system junk, log files, application caches, iTunes backups, email attachments, etc.
Cons: Users have not reported anydefects in Macube Cleanerfor the time being
Pricing: 
1-month - $8.95
Lifetime plan - $69.95
2. Cleanmymac X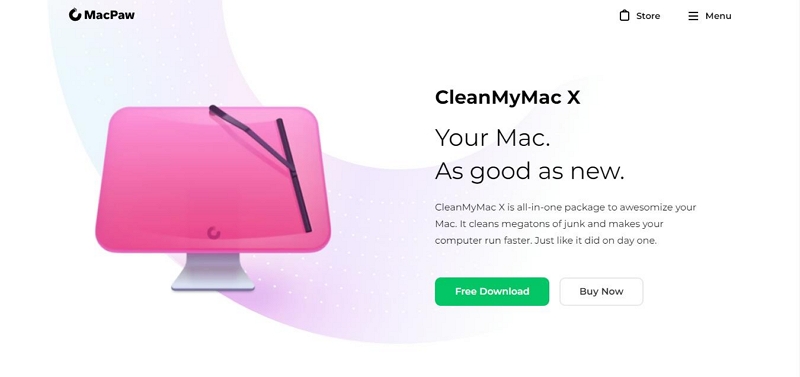 The reason we added Cleanmymac X to this list is that it integrates multiple tools into one software. This means that you get a malware remover, an uninstaller, and a file cleaner just at the tip of your fingertips.
Cleanmymac X is a powerhouse that you can count on to optimize your Mac performance. From giving you insight into your system's health to providing you with access to a smart clean assistant to perform regular disk cleanups and lots more.
Also, this tool costs a built-in malware detection tool that allows you to perform regular in-depth checkups for all types of vulnerabilities.
Key Features:
Malware scanner and remover.
Smart technology to perform regular disk cleanup.
Instantly delete browsing history online and offline.
Efficient speed up tools to improve your Mac speed in a few clicks.
Pros: 
It gives you access to a vast toolset.
The software is quite intuitive.
Excellent privacy protection.
Cons: The malware remover could use some improvement.
Pricing: 
7-day free trial
Annual plan - $39.95
3. MacCleaner Pro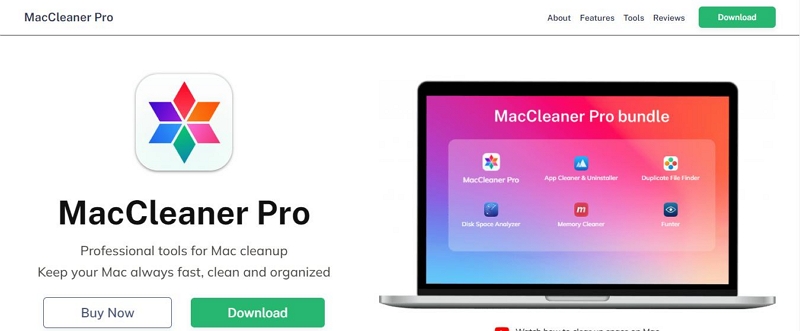 MacCleaner Pro, a product of Nektony, is one of the leading Apple software development companies in the world. This Mac optimizer is known for its efficient tools for cleaning and organizing Mac storage. It supports features like disk space analyzer, app cleaner & uninstaller, and duplicate file finder.
Although it has a poor detection technology, MacCleaner Pro makes it easy for you to optimize your Mac storage by finding files taking up space and deleting them without interacting with other important files on the system. It removes junk files, manage extensions, and fix errors, allowing your system to operate faster and smoother.
Key Features:
Duplicate file finder.
App cleaner and uninstaller.
Disk analyzer.
Enhance Mac speed by cleaning up unneeded files within a few minutes.
Pros: 
It's easy to use thanks to its tutorial.
Simple interface.
Packed with lots of useful features.
Cons: 
The subscription fees are very high.
The detection technology could be better.
Price: 
1-month - $14.95
1-year - $22.46
4. MacKeeper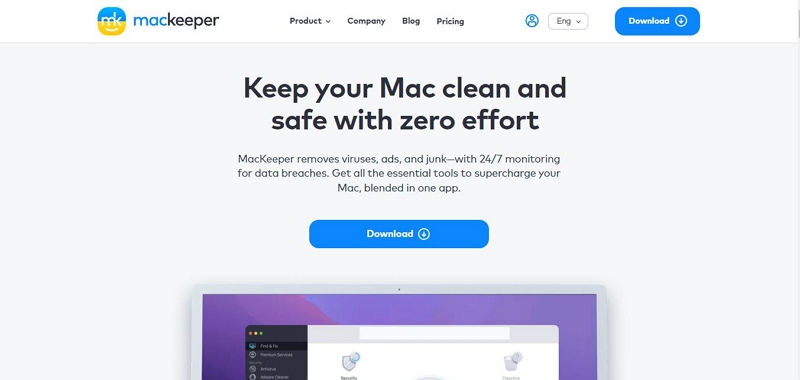 Initially, MacKeeper didn't have a good reputation in the world of Mac Optimizers. However, ever since it changed ownership, we have seen significant improvement. This software offers you a wide range of tools that you can use to boost performance effortlessly.
Whether you're looking to clean disk space, remove malware and adware, browse anonymously using VPN, monitor your system for personal leaks, remove junk files, or delete unused apps, MacKeeper got you covered with the right set of tools to achieve your objective. Besides, they've also got a reliable customer support service. You can always count on any time you experience issues on the app.
Key Features:
Block adware, malware, and popups without stress.
Efficiently remove junk files and unneeded apps.
Quit memory-draining apps and enhance Mac performance.
Built-in VPN to browse anonymously and keep your online activities private.
Pros: 
It amplifies the security of your Mac PC.
Speedy malware scan.
Excellent customer support.
Cons: 
Only files that haven't been used in the last 6 months can be detected.
Cost of subscription might be expensive for some users.
Price: It starts at $10.95 (Subject to change based on your location)
5. MacBooster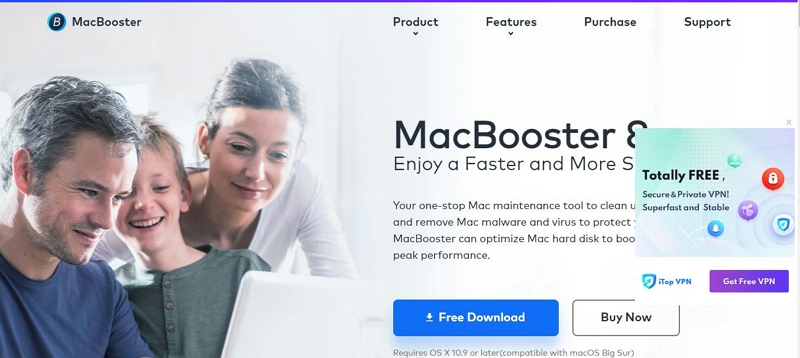 MacBooster claims to allow users enjoy a faster and more secure Mac, and they're actually not kidding. This tool specializes in cleaning, securing, and optimizing performance on Mac using avant-garde technology system.
MacBooster boasts up to five different clean up tools that facilitates the removal of junk and other files cluttering up your disk, giving your Mac a new life. If you're looking to enjoy  a Mac optimizer that offers more than just the basic tools, you can't go wrong with MacBooster. However some users complain about frequent errors while using the app.
Key Features:
System junk cleaner allows you to remove more than 20 types of junk files.
Supports virus scan and malware removal.
Excellent privacy protection tool to completely remove malicious cookies in browsers and unsafe apps.
Supports duplicate file finder and large and old files finder.
Pros: 
Fast scanning process.
There is a free trial.
Offers helpful privacy protection tools.
Cons: 
Malware scanner is not as effective.
You might encounter errors while scanning for junk files.
Pricing: Annual plan - $59.95
6. Onyx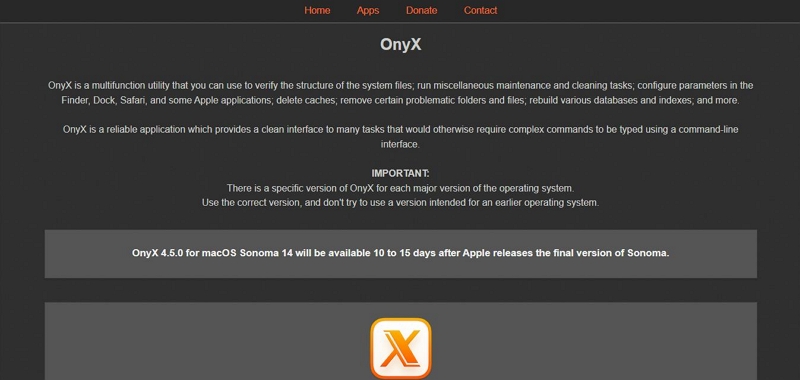 Onyx is a versatile system maintenance and optimization tool for Mac OS that allows users to fine-tune their system's performance efficiently by cleaning up junk and other unneeded files efficiently.
It offers users a wide range of system customization and cleaning options, making it a valuable tool for Mac users.
Apart from helping you free up space on your PC, Onyx has a lot of room for customization. With this Mac optimizer on your PC, you can restore indexes, check hard disc structures, and even rebuild databases. See why it's the ideal tool for techies? It offers just what you need to keep your Mac optimized all the time.
Key Features:
System cache cleaning.
Verification and repair of system structure.
Hidden system settings customization.
Startup item management.
Pros: 
It's free.
It can run and review system utilities.
You can use this tool to access hidden areas on your Mac.
Cons: Its operation is complex and not suitable for beginners.
Price: It's free
7. Daisy Disk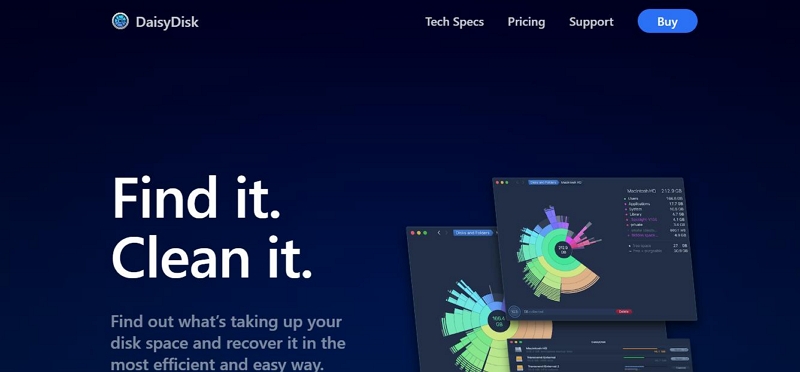 Are you always wondering what's using up all the storage space on your Mac? Well, Daisy Disk offers you a graphical representation of your storage space. This feature makes it easy for you to identify what's slowing down your PC. And as if that's not enough,Daisy Disk allows you to get rid of unwanted files in just one single click.
Overall, Daisy Disk makes the process of managing and optimizing your system performance very easy. However, some users report it has a poor scanning process.
Key Features:
Interactive disk map visualization.
Direct file deletion from the app.
Quick identification of space-consuming files.
Real-time storage monitoring.
Pros:
It has an impressive layout.
It quickly scans your Mac for unwanted files.
You can use it to free up space on your cloud.
Cons: 
The free trial has limited capabilities.
Scanning processtakes a long time.
Price: A one-time purchase of $9.99
8. CCleaner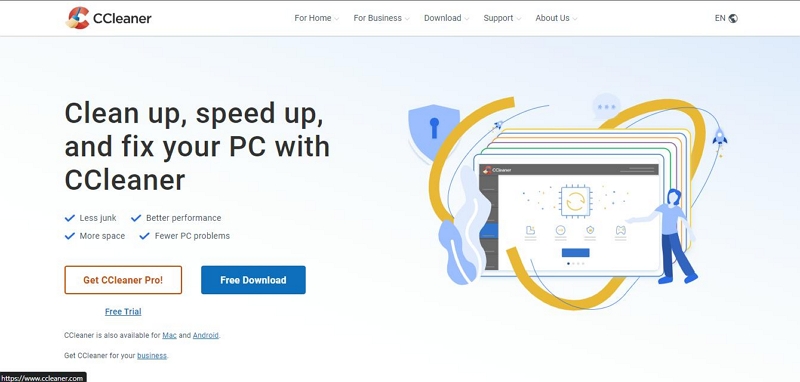 CCleaner was developed by Piriform, another company that has made long strides in the tech world. This tool known for cleaning temporary files and enhancing. Although it doesn't have the best interface, CCleaner gets the job done without hesitation.
With CCleaner,  you can locate both large and small files on your Mac, and it has a wide range of features like an uninstaller, duplicate file finder, and lots more, including privacy protection tools.
Key Features:
System junk cleaning.
Registry cleaner.
Browser history and cookies deletion.
Privacy features for data protection.
Pros: 
It's very easy to use.
Users enjoy regular updates.
You can also use it to clean cookies.
Cons:
The user interface is so basic.
The trial version is not fully functional and does not provide protection against spam files, automatic clearing of search history, software updates, etc.
Price: Start at $29.95
9. OmniDiskSweeper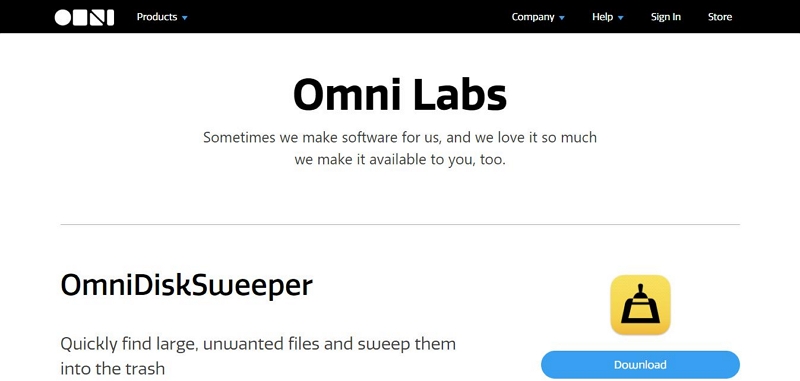 Next on our list is OmniDiskSweeper. This is another top Mac optimizer that offers helpful features to optimize Mac performance without requiring any technical knowledge. It offers Mac users an easier and more convenient method of freeing up disk space.
All you just need to do is to run a quick scan with OmniDiskSweeper, and it will give you access to all files on your drive, in descending order. From there, you can choose which to keep or delete. Also, OmniDiskSweeper supports a document syncing tool for iOS and Mac, allowing you to sync data between your Apple devices smoothly.
Key Features:
Sorted list of files by size.
Easy identification of space-hogging files.
Simple and intuitive interface.
Quick and efficient disk clean.
Pros:  
It doesn't just find files, it arranges them in order of size.
It's very easy to use.
You don't have to worry about monthly payments.
Cons:  It can't retrieve deleted files. 
Price: Free
10. Drive Genius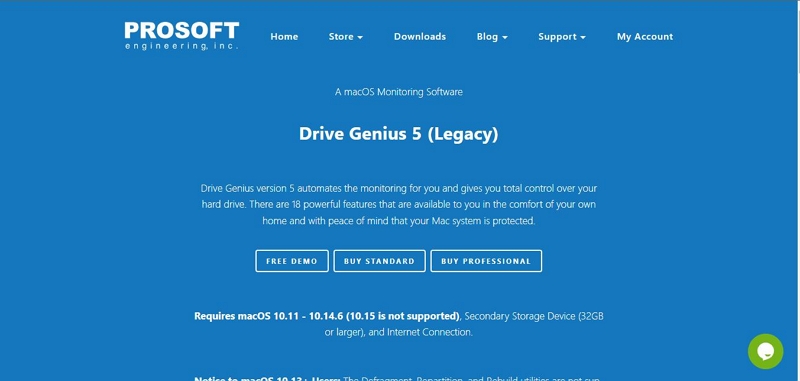 Most people assume that Drive Genius is a cleanup tool. But it's actually more than that. This Mac Optimizer can provide you with a full diagnostic of your PC. You can also use it to delete unwanted files or malware in just a few seconds. What we like most about Drive Genius is that it sends you alerts if your drive is showing signs of failure.
Key Features:
Check, repair, and rebuild system performance in a few clicks.
Find and delete duplicate, large, and old files compromising system performance.
 Securely overwrites unnecessary data on Mac without interacting with other important files.
Measures performance of Mac drive and improves its speed.
Pros: 
It provides tools to automate the Mac optimization process.
It can be used to create and manage partitions on Mac hard drive.
It also protects your Mac from viruses and offers data backup and recovery solutions.
Cons: 
This tool requires a learning curve.
It's a bit too pricey compared to its competitors.
Price: Annual plan - $79
Part 4: Safe & Secure Way to Optimize Your Mac Performance  
After the comparison and summary above, the safest and most secure way to optimize your Mac performance is by using Macube Cleaner software. It offers great tools that make the process easy and concise.
Step 1: Launch the Macube Cleaner, scroll to the left pane and click on the "Smart Scan" feature. Then, click on the "Smart Scan" button to initiate a deep scan.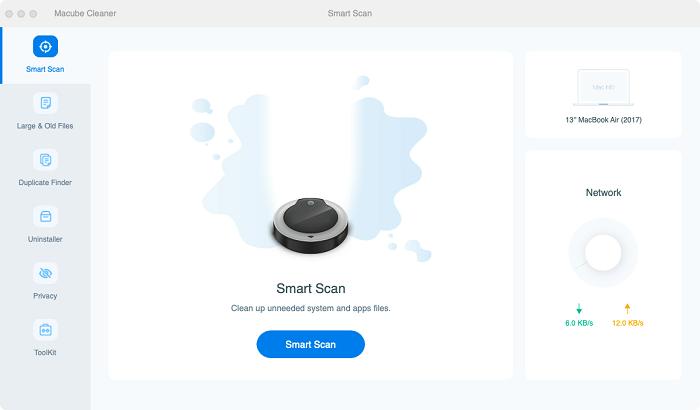 Step 2. Macube Cleaner app will deeply scan your Mac for junk files, including message history, email attachments, cache files, iTunes, etc., on your Mac. Then, display them in various categories.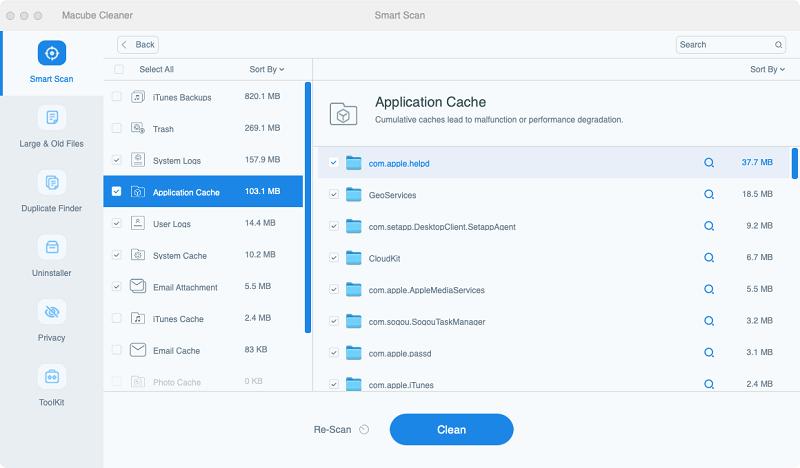 Step 3. Preview the files by clicking on the "Magnifying glass" next to them. Then, select the file that needs to be eliminated and click on "Clean" to remove them from your Mac completely. This usually takes a few minutes to complete.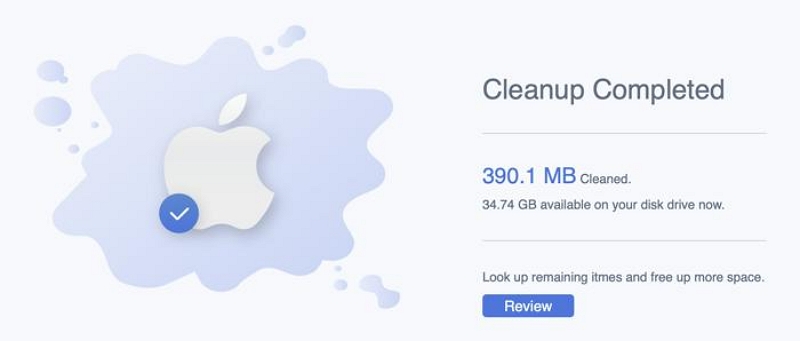 FAQs
Q. What does optimizing your Mac do?
Optimizing Mac involves cleaning up your system, eliminating unnecessary files and apps, and enhancing performance by adjusting settings and configurations. It also helps you free up storage space, speed up your computer, and reduce the likelihood of crashes or errors.
Q. How do you find out what is slowing down your Mac?
The best way to find out what is slowing down your Mac is to do the following:
Go to macOS "Menu Bar" and click on "Go."
Select "Utilities" and click on "Activity Monitor."
Click on the "CPU" tab and select "%CPU" to check active processes and sort them by how much power they're using.
The programs that are using a higher percentage of CPU are the ones slowing down your Mac performance.
Conclusion
If you want to maintain peak performance, unwavering security, and streamlined efficiency on your Mac, you need the best Mac optimizer.The article on this page has covered a list of the best 10 Mac optimizers in 2023 tested and trusted by experts. From the speed and responsiveness enhancements to the bolstered privacy and security features, these Mac optimizers have proven their mettle.