Are you running into constant crashes and freezes and losing important work? Or are you experiencing lag when you are trying to run any application? If you are reading this article, chances are you are running into memory issues. Look no further as this is the article for you. The purpose of this article is to empower you, as a dedicated MacOS user to confidently and safely optimize your device performance by cleaning your device memory. First, we will inform you of the concepts of memory cleaning, and then introduce you to the latest software and tips available.
Random Access Memory or RAM is a temporary storage where processes are kept until your Mac is turned on. This allows you to quickly open up software and files during your operation. However, these processes take up RAM space. Moreover, for many different reasons RAM space is shortened which slows down your PC speed and performance. Which is where Mac memory cleaners come in. They can automate the memory management process; thus your Mac's RAM is used in the most effective way. They can allocate and deallocate RAM space, freeing up precious memory resources, saving you from memory hogging and leaking – thus making your life easier.
In this article, we will look at how to use the built-in Activity Monitor in Mac, how to find the best memory cleaner application for Mac and then discuss the 5 best Mac memory cleaners available in the market today. These are:
Macube
CleanMyMac X
MacCleaner Pro by Nektony
MacKeeper
Parallels Toolbox
Part 1: Exploring Memory Cleaning for Mac
If your system is responding very slowly and you are experiencing lags and crashes, it is likely that applications and software in the background are behind the memory hogging. As an initial step, you should close applications from the menu bar, and close all the unused tabs in your browser.
Then, you can open the Force quit application manager. Press the keyboard shortcut Command + Option + Esc. Here you can forcibly quit some applications that are running in the background.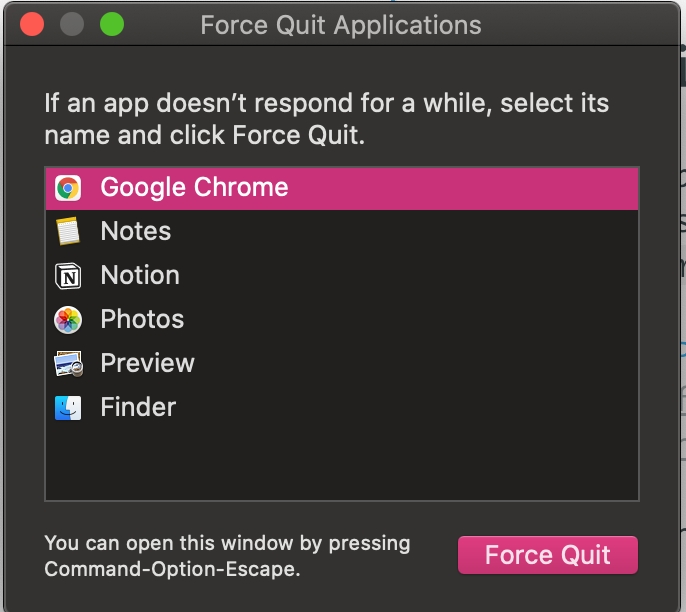 However, for a more detailed look at all the process running in your MacOS, you can utilize the Activity Monitor built-in your iMac, Macbook Pro and Air devices. This will allow you to see all the processes and applications that are running in your system, which you can force stop if you require it so. Just follow these steps:
Step 1: From Finder, Go to Applications folder > Utilities > Activity Monitor App
Alternatively, you can search it in Spotlight Search. You will recognize it by the icon.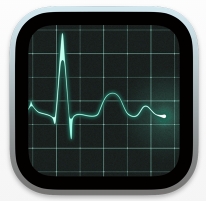 Step 2: In the window, you can see 5 tabs: CPU, Memory, Energy, Disk and Network. For our requirements, only CPU and Memory are important.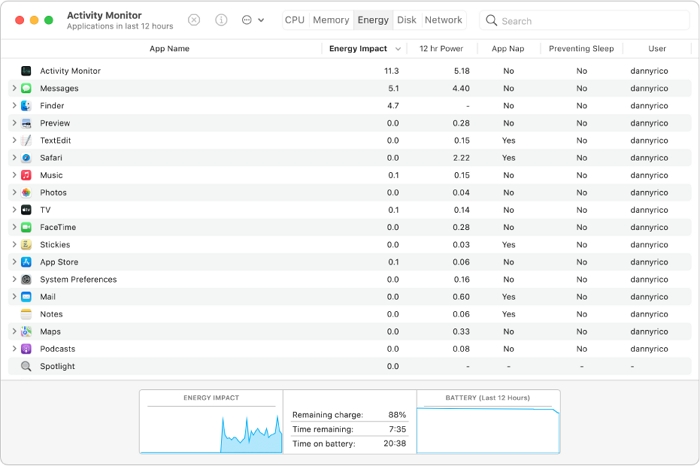 Step 3: The window shows you a list of activities running currently in your Mac. At the bottom, you can see more detailed report on the amount of CPU load used by the System and the user end respectively.
To quit the desired process, select it and then press the x symbol on top. Then click Quit or Force Quit.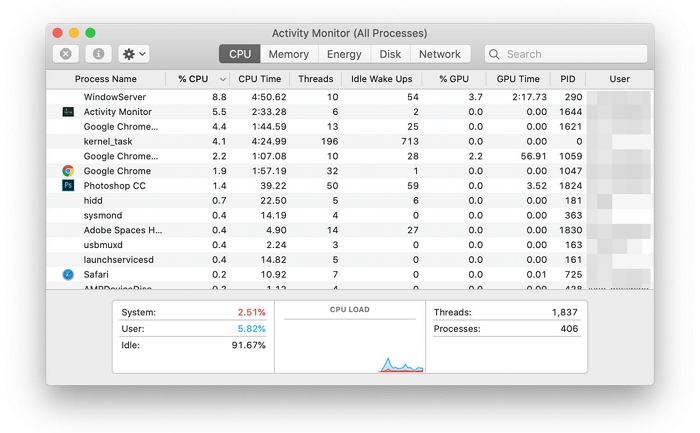 Step 4: Similarly, in the Memory tab, you can inspect the amount of RAM or memory any process is using. At the bottom, a more detailed view can be seen of the breakdown of physical memory capacity and the amount currently being used.  As you can see, MacOS automatically compresses some memory to free up more RAM to use. Thus, MacOS performs some memory management of its own.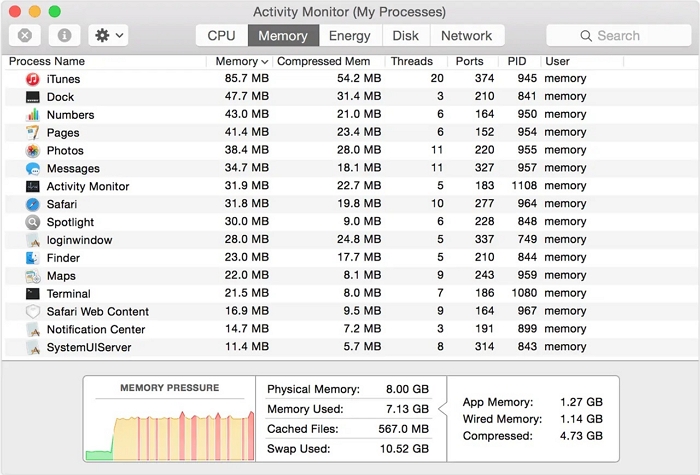 In the list view, you can see the list of applications sorted according to memory usage as seen on the Memory column. To quit the desired process, select it and then press the x symbol on top. Then click Quit or Force Quit.
Activity Monitor is a useful tool for monitoring your applications' resource usage and performing some memory management yourself. However, it gets tricky when you have multiple applications, hidden memory usage (such as applications that have not cleared up the RAM after closing causing memory leaks) and malware. Furthermore, you may not be feeling comfortable closing applications without properly monitoring them as they may be important system processes. Then you may need the assistance of a Mac memory cleaner.
Part 2: Choosing the Right Memory Cleaner
In the previous section, we saw how to use the Activity Monitor to track applications' RAM usage and how to perform some basic memory cleaning ourselves. However, you can exponentially make this process easier and faster by using dedicated Mac memory cleaning tools. Here are some of the ways a Memory Cleaner software can benefit you:
Helps you multitask easier and smoother with less freezes, lag and crashes.
Improves speed, responsiveness and load time of process and applications.
Manages resource allocation efficiently by sorting out fragmented RAM resources and removing the need to swap (i.e switch to physical memory usage).
Alleviates the pressure on memory capacity.
Now that you understand how important a RAM cleaner software for Mac is, it is compulsory to know how to choose the best memory management application for this purpose. There is a plethora of great memory cleaners for MacOS available in the market. So, look out for these qualities before making that purchase:
Compatibility: First and foremost, the application must be compatible with your version of MacOS and should be constantly kept up-to-date.
Performance: The ideal Mac memory cleaner should be efficient and have little impact on your system's performance so that it does not freeze your system while cleaning.
Features: RAM cleaners and memory management software should have all the comprehensive set of features and functionalities that can help you perform complete memory management, such as one-click RAM cleanup, activity monitoring, memory leak notifications, speed boosting and device health checkup, to name a few.
Price: Last but not least, the ideal software should also fit your budget.
Part 3: 5 Dedicated Mac Memory Cleaner Tools
Based on our research and experience we picked top 5 Mac memory cleaners available in the market:
1. Macube (Recommended)
Macube is one of the most sought-after third-party software for MacOS. Trusted by 200,000+ users worldwide, its simple and powerful functionalities make it one of the best memory cleaners for MacOS and MacOS X operating systems.
Macube is an affordable, all-in-one solution that you will end up reaching for daily. It has powerful algorithms to effectively find out junk files, including application caches, application logs, temporary files, temporary logs, browser, and mail caches and so on. It can also detect large files, duplicate files, unused apps and most importantly, malware and background apps which are safe to delete, thus boosting your Mac device's performance and saving you time and hassle. It can effectively perform resource allocation and clear up RAM after successfully exiting Mac applications, thus preventing memory leaking.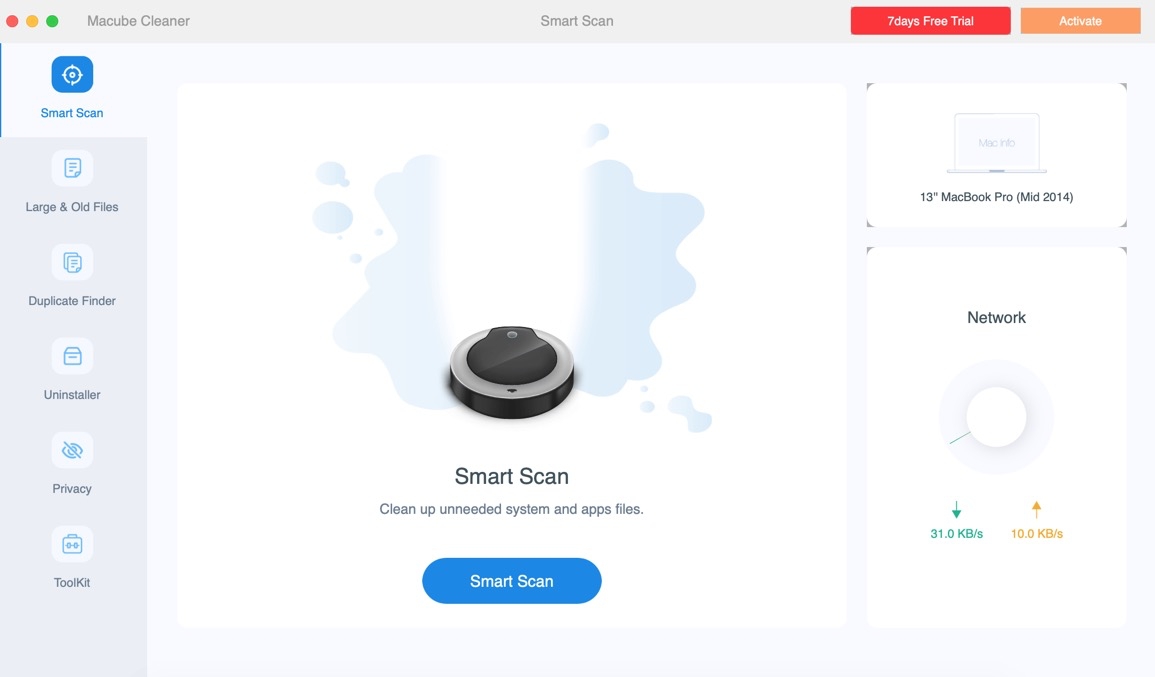 Features:
One click, all-in-one solution for maintaining device health, storage space and memory optimization.
Simplified clutter, junk, cache, duplicate and temporary files removal.
Maintain privacy and safety by deleting browsing data and potential malware.
The file shredder option allows users to shred undeletable files with ease.
App management is top notch, you can easily uninstall apps that slows your Mac RAM.
Cons:
Free memory cleaner trial is only for 7 days.
Price: $8.95/month, one-time purchase for $69.95.
2. CleanMyMac X by MacPaw
CleanMyMac by MacPaw is one of the more well-known RAM cleaners. It is specifically geared towards mac memory and storage cleaning operations with some malware removing features.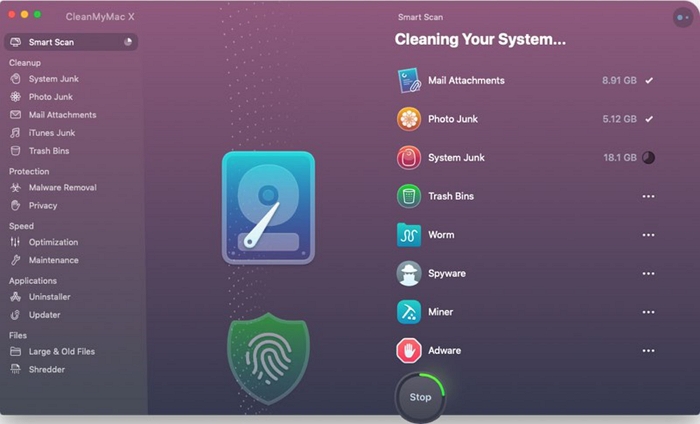 Features:
One-click RAM cleaning functionality and device optimization.
Removes background applications and plugins.
Protects you from some malware and deletes tracking cookies from websites.
Uninstalls redundant software and manages regular updates.
Activity monitoring, view resource-heavy applications and manage startup software.
Free trial available.
Cons:
Comparatively expensive pricing model.
Can only support MacOS X version 13 or later.
Price: $39.95/year, one time purchase for $89.95.
3. MacCleaner Pro by Nektony
MacCleaner Pro is a device management software from Nektony. Nektony also has a free piece of software to only do memory management, aptly named Memory Cleaner. However, it is very limited in functionality, so to get the full benefits – you need to use MacCleaner Pro. It is a simple application that has easy-to-use tools to optimize your device as promised.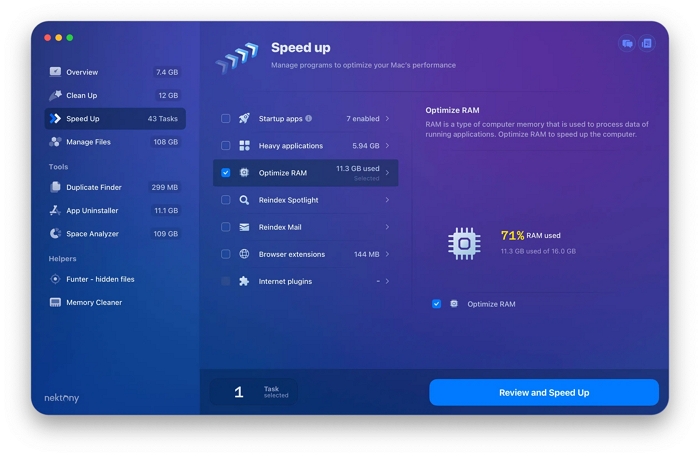 Features:
Built-in features such as app uninstaller, duplicate file finder and disk space analyser.
One-click RAM cleaning functionality and device speedup process.
Cleans and frees up RAM and deletes junk and duplicate applications with Funter module.
Review and delete clutter and junk files.
Free trial available.
Cons:
Comparatively expensive.
Does not have malware removal like other RAM cleaner applications.
It is more feature-rich in terms of disk cleaning as opposed to memory management.
Price: $14.95/month, $24.95/year and one-time purchase available for $74.95.
4. Mackeeper
MacKeeper is a minimalistic memory cleaning application for MacOS which also counts as an all-in-one cleaning solution. Along with memory cleaning and management, it has many other features attached to it that are suitable for heavy internet users, such as VPN, antivirus and advertisement blocker.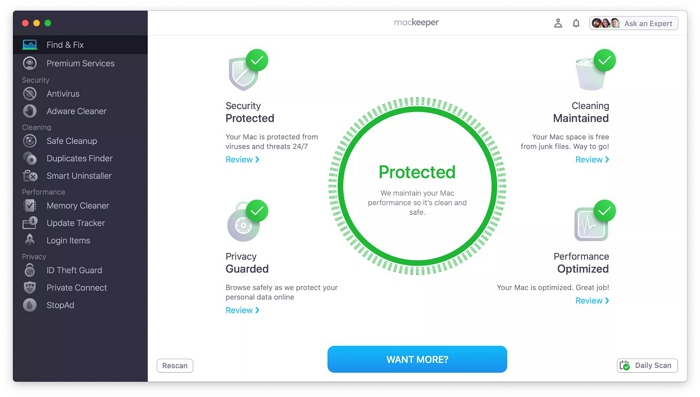 Features:
One-click Mac memory cleaner and device speed optimizer.
Removes RAM clutter and performs disk cleanup.
Features to remove malware, block website ads, and built-in VPN.
Instant chat customer support.
Cons:
Can only support MacOS 10.13 or later.
Free trial has limited functions.
More geared towards internet safety than memory clean.
Pricing:  $14.95/month, yearly fee $119.40.
5. Parallels Toolbox
Parallels Toolbox is a truly all-in-one app with over 40 tools for almost all different functionalities for your MacOS or Windows PC. Not only can it perform some memory management operations for you, it also has some out-of-the-box tools for your daily computer usage, such as Do Not Disturb mode, GIF maker and barcode reader.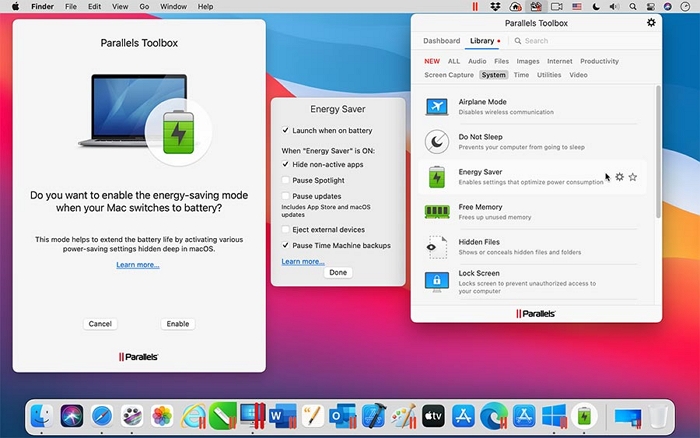 Features:
About 40 different toolsets for MacOS and MacOS X.
Frees up memory, junk and cache with one-button click.
Optimize memory consumption and speeds up Mac.
Handy dashboard view for simplified management with quick access features.
Find and delete duplicate files and applications.
Cons:
No monthly subscription available.
Somewhat overwhelming with wide sets of tools that may not be for most users.
Very simplistic in terms of memory management.
Price: $24.99 yearly fee.
Conclusion:
Memory management for Mac is an integral operation for day-to-day MacOS users. Especially if you are running resource-heavy applications on a regular basis, such as browsers, Photoshop etc. then you need to be diligent and mindful about memory clean for Mac and device optimization. Although MacOS has built-in Activity Monitor that can be handy for some basic memory clean up, it is quite simplistic and not very useful if you are running into hidden applications and malware that can clog your RAM and make your Mac slow. Therefore, it is quite important to always have a Mac memory cleaner software available that can perform these tasks for you with ease. There are many good applications available in the market with their dedicated user base. However, it is hard to find software that can do everything it promises smoothly. Which is where Macube comes in. Revered by tech journals and tech reviewers, Macube can be your one-stop solution for not only memory cleaning and device optimization, but also for storage management and other operations required to keep your iMac, Macbook and Mac Air running for years to come.