In the world of computers, our reliable Macs store lots of files, documents, and memories. But as we use them more, we collect more stuff that we don't need anymore. The 'Trash' on the computer is like a bin where we put these unwanted things. If we don't manage it well, it can become full and messy. But don't worry, on a Mac, taking care of the trash is important and quite easy. In this article, we will talk about how to empty trash on Mac. This way, your computer will stay organized and free from unnecessary stuff. Let's explore how to keep your computer tidy and organized.
Part 1: Why can't I empty my Trash on a Mac?
Before you start trying to clear your Trash, you need to figure out why you can't empty it. Here are the main reasons why your Mac Trash might not empty:
The things in the Trash are being used by your computer.
Your computer's storage is almost full.
You don't have permission to delete all the things in the Trash.
There are problems with your computer's system that stop you from emptying the Trash.
The things in the Trash are locked and can't be deleted.
Some software on your computer might not work well with the Trash-emptying process.
Part 2: How to Empty Trash on Mac: Standard Method
In this part, we'll show you the usual way to clear out the Trash on your Mac –
Method 1: Regular Emptying of Trash
To keep your Mac neat and working well, you need to do something important: regularly empty the Trash. This is easy to do and it makes sure that the things you don't need anymore are completely gone from your computer. This gives you more room for important stuff. Just follow these steps to learn how to manage the Trash using Finder:
Step 1: Start by finding the Trash icon on your Dock. It looks like a bin for throwing away things and is usually at the very right side of the Dock.
Step 2: Tap the Trash icon to open the Trash folder. Here, you can see all the stuff you deleted recently, like files and folders.
Step 3: Pause for a bit and look at what's in the Trash. If you accidentally deleted something important, you can bring it back. Just right-click on the thing and choose "Put Back."
Step 4: When you have the Trash open, go to the very top of the screen and click on "Finder." Then, a menu will drop down. Choose "Empty Trash" from this menu.
Step 5: A small box will pop up and ask if you're sure you want to do this. This is to make sure you don't delete things by mistake. Tap on "Empty Trash" if you want to continue.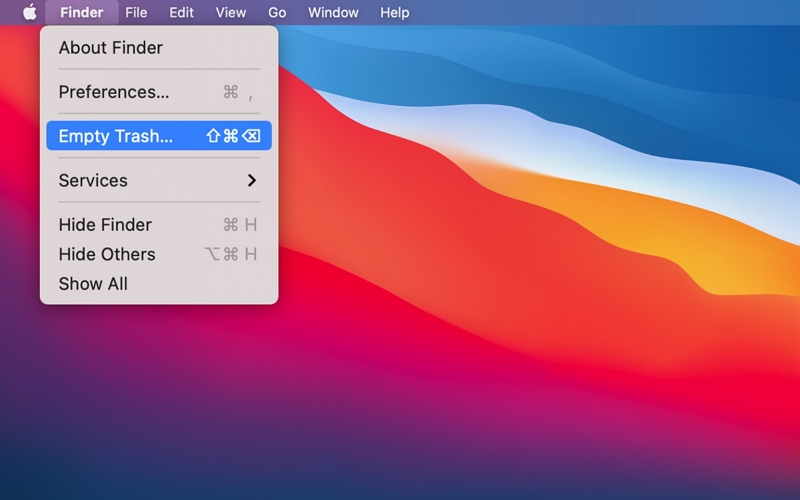 Method 2: Force Emptying Mac Trash
If you're trying to empty the Trash like usual, but it doesn't work, you can try a stronger method called force-emptying. This way, you can delete files even if they're being used or locked. The easiest way to force-empty the Trash on a Mac is by using a tool called Terminal. Here's how you can force empty Mac trash:
Step 1: Open the Terminal program. Write this command and leave a space after it: sudo rm -rf.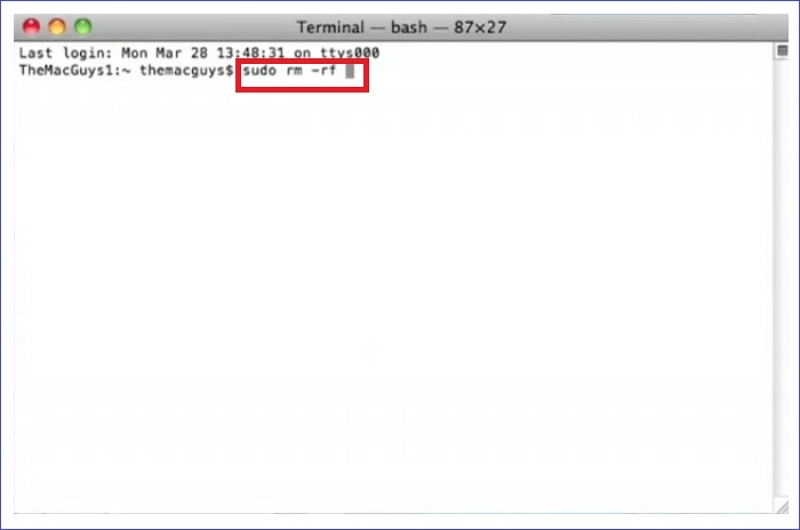 Step 2: Go to the Trash and pick the files you want to remove. Take those files and move them into the Terminal window, then hit the Return key.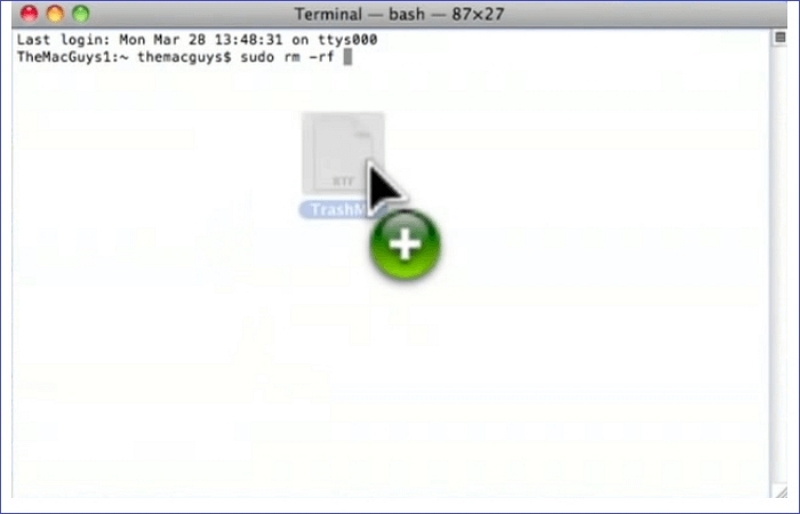 Step 3: Type in the special password you use to control your Mac and press Enter to confirm it. Then, give the command to remove the chosen files from the Trash. This will make the computer delete all the files that didn't go away when you tried to empty the Trash before.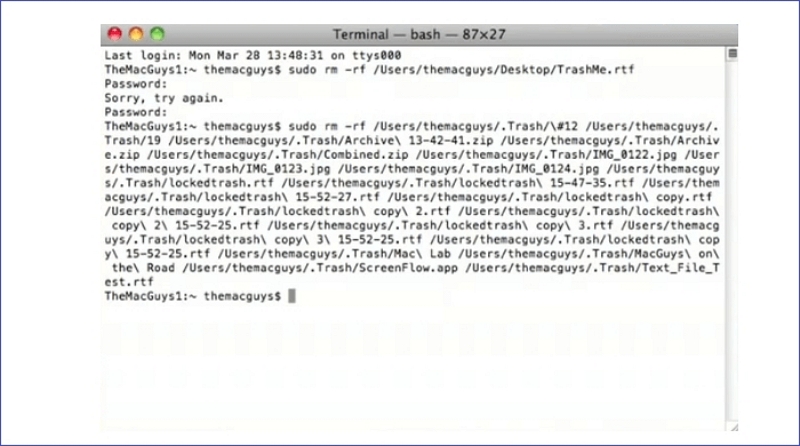 Method 3: Addressing Persistent Issues for How to Empty Trash Mac
Sometimes, you might find that the Trash just won't clear out no matter what you do. But don't worry, there's something that can help called Macube. This is a tool that's often used to tidy up a Mac and free up space. It can do a bunch of things like getting rid of useless stuff, deleting copies, shredding files, and keeping your privacy safe. Macube is good at finding and erasing extra files from important parts of your Mac like iTunes, photos, emails, web browsers, and old big files. You don't need lots of different apps. Macube does everything you need in one powerful package to make your Mac work better.
Features:
It shows you a clear list of files, so you don't accidentally delete the wrong ones.
Remove apps from your Mac entirely, without leaving any traces of the apps behind.
You can get back all the room that an app used up, and even more than you might expect.
Keep your things safer by deleting the saved information in your web browser, such as websites you've visited and your browsing history.
You can find files that are the same, really big, or very old on your Mac with just one click.
Here are the steps to empty trash on a MacBook –
Step 1: Download and install Macube on your device. After that, launch the program and select the "Smart Scan" option from the left side to locate junk files in the entire device.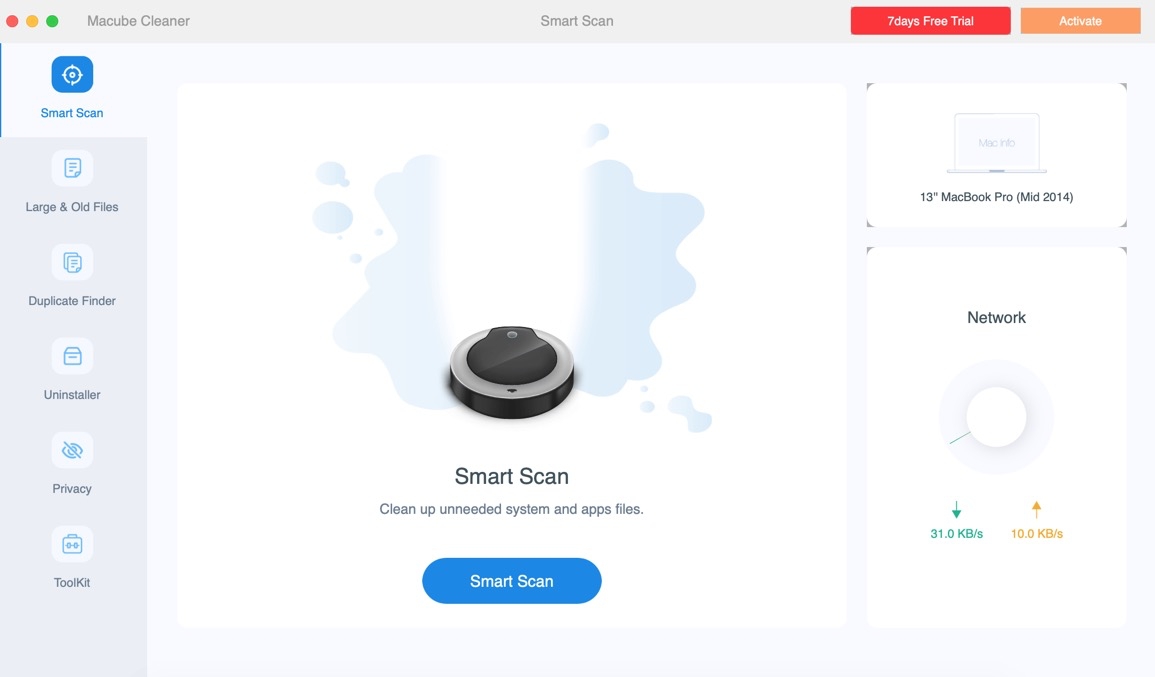 Step 2: Select the files that you want to delete after previewing the scanning result.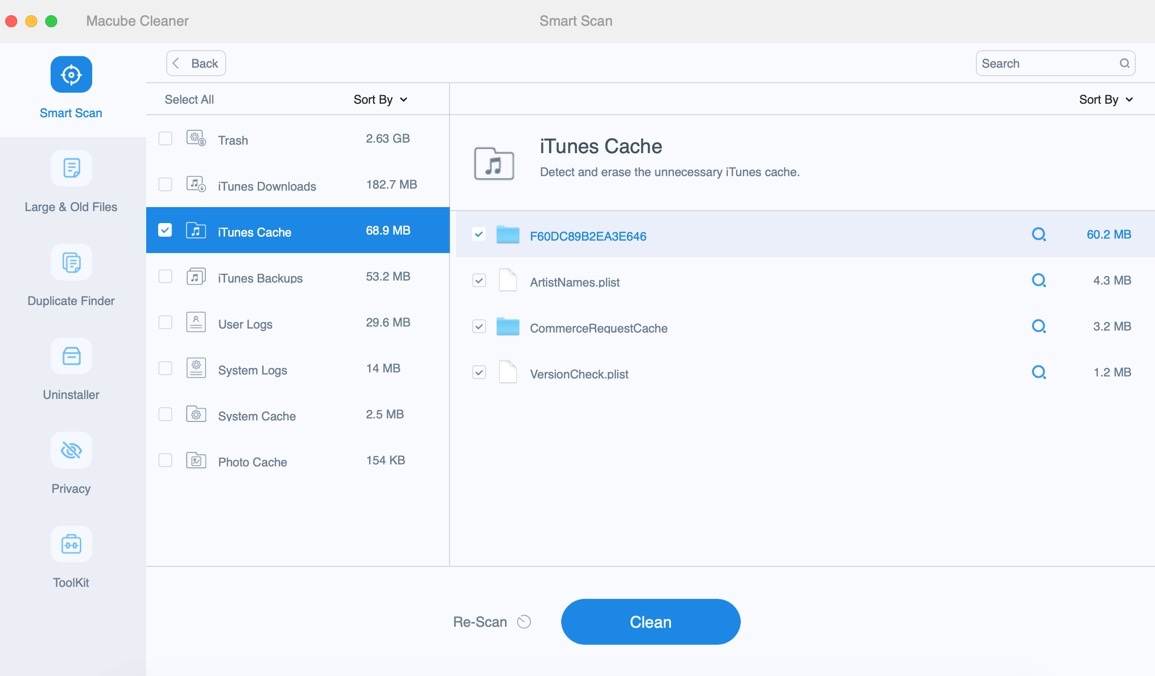 Step 3: Tap on the "Clean" button and get back your disk space.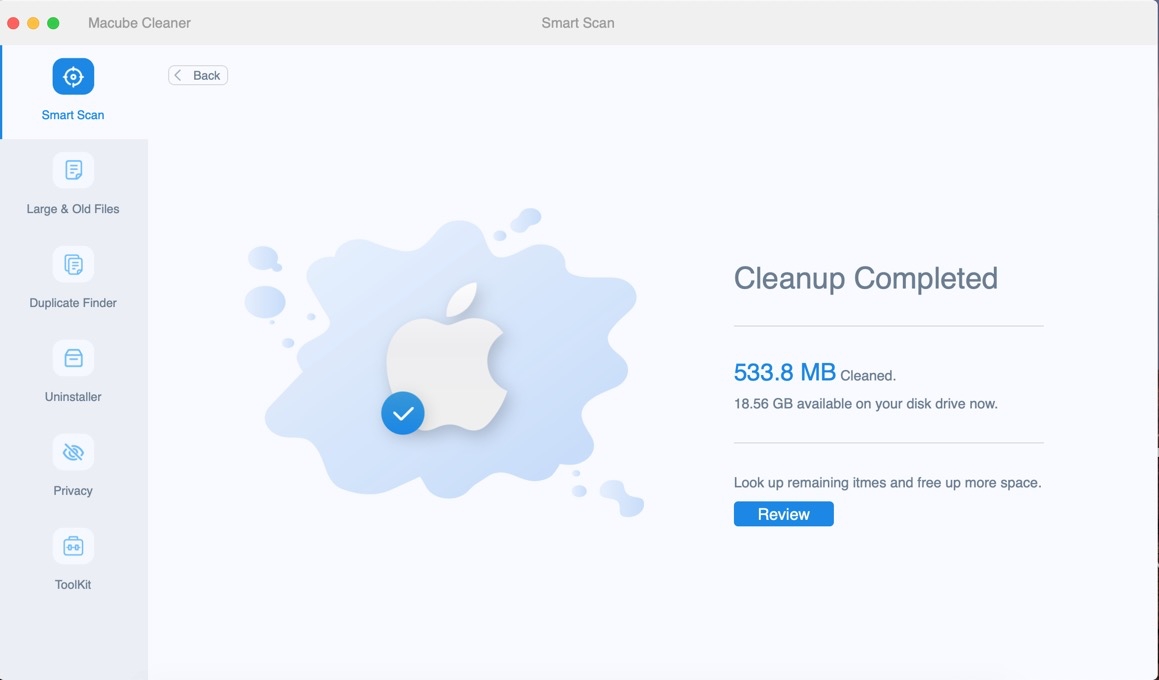 Part 3: How to Recover Deleted Files from Emptied Trash on Mac
Eassiy Data Recovery is good at getting back lost files - it succeeds 98.6% of the time! If you accidentally delete important stuff or something goes wrong with your computer or gadgets like USB drives, cameras, or hard drives, this tool can help. It works in lots of situations like when you mess up, viruses attack, or your computer crashes. It has two ways of looking for your files: a fast way and a really thorough way. And the best part is,
Features:
Recover lost data when you accidentally delete it, format storage, partition your drive, experience system issues, or get a virus.
You can get back more than 1000 types of files just like they were before.
Recover lost information from over 2000 types of storage devices.
Before you start getting back your lost files, sort through the different types of files, take a look at them and pick out the ones you want to get back.
Find lost files with a thorough search that works well 98.6% of the time, getting back as much data as possible.
Here are the steps to recover deleted files from emptied trash on Mac –
Step 1: To begin getting back your lost files, open Eassiy Data Recovery and pick the type of data you want to find and the computer storage you want to search. If you only want certain kinds of files, just check the boxes that match those types.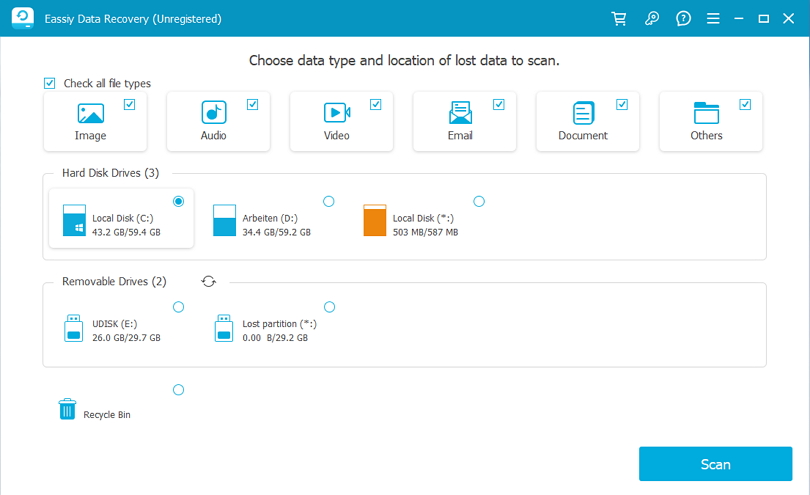 Step 2: In Eassiy Data Recovery, you can choose between two ways to look for your lost files: Quick Scan and Deep Scan. Quick Scan is a fast option that starts on its own and works well for recent data losses. You can see the results by checking the files sorted by where they are and what kind they are.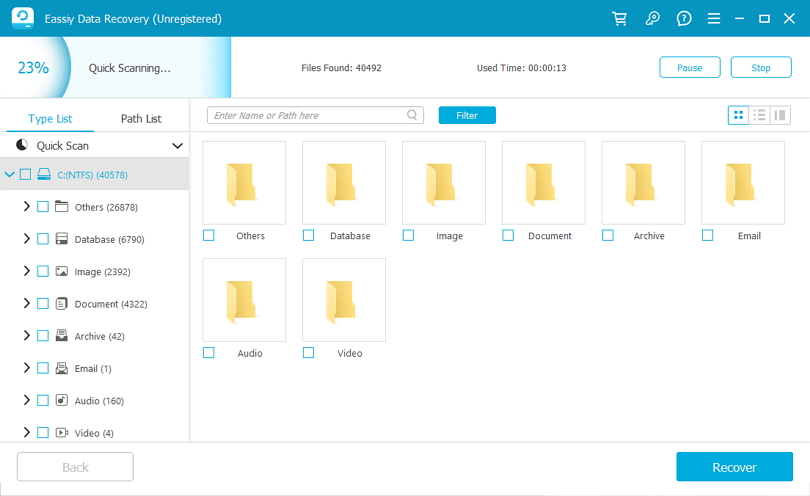 Note: If you're not happy with the results, you can do a deep search to find more stuff, but it might take longer.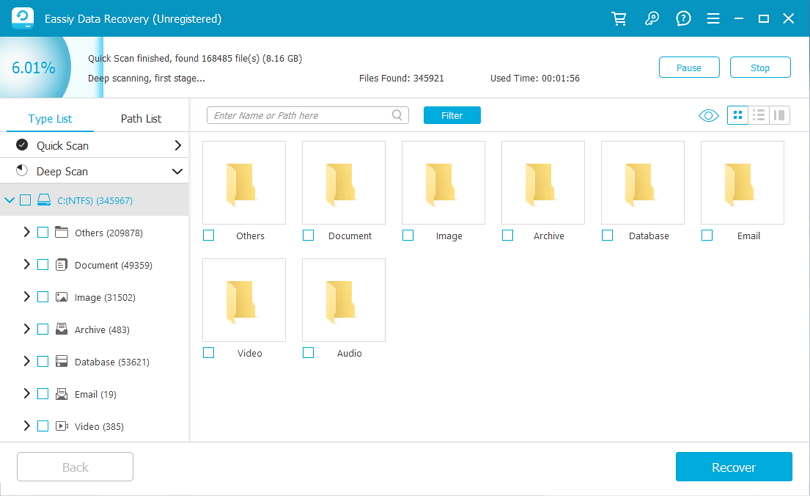 Step 3: After you see all the different kinds of data, pick the files you want to bring back. Lastly, get the files you chose back by clicking the Recover button.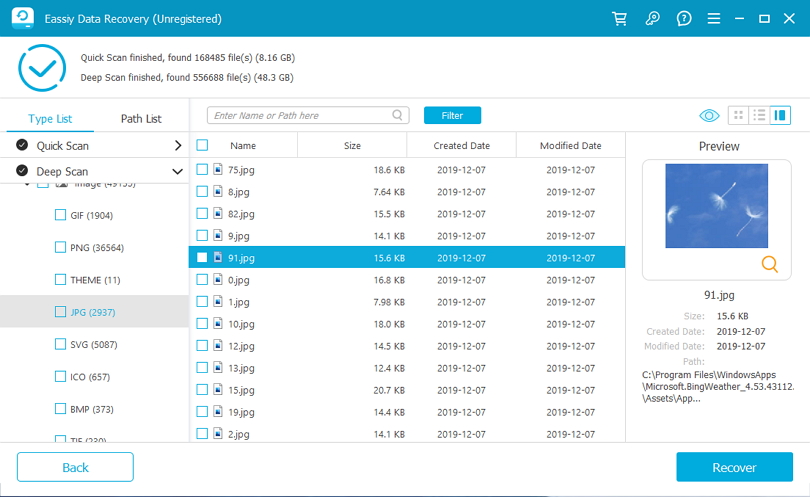 Conclusion
As time goes on, Macs gather lots of files, documents, and memories. These things can pile up and make your computer slow. The Trash on your Mac is where all these not-needed things go, and handling it well is important to keep your computer organized and working smoothly. In this article, we have talked about how to empty trash on Mac. We have introduced several ways for you to empty trash on Mac. However, our highly recommendation is Macube which helps you to clean your Mac trash within a few simple clicks. This tool ensures your safety while cleaning your Mac. Another tool is Eassiy Data Recovery which you can use to recover deleted files from the trash bin. Sometimes you might delete some important data while removing unwanted ones. In such cases, it is better to use a tool like Eassiy.