In the world of evolving technology, macOS has led the way with innovative features, providing seamless user experiences and increased productivity. Among these features, the Trash on Mac acts as a vital safety net, temporarily storing files we no longer need. However, many users are unaware of the consequences of emptying the Trash. This article aims to shed light on the potential loss of deleted files and the permanent nature of this action. By understanding the repercussions and exploring file recovery options, Mac users can protect their data and avoid irreversible deletions. In this guide, you will get to know how to undo empty trash and retrieve deleted trash Mac.
Part 1: How to Undo Empty Trash on Mac?
A. The Limitations of Undoing Empty Trash
Once the Trash on Mac is emptied, the conventional "Undo" option, relied upon for reverting actions, becomes unavailable. Unlike other macOS operations, emptying the Trash is irreversible. Upon confirmation, the contents are permanently deleted, and the standard "Undo" feature cannot retrieve them.
This emphasizes the critical need for alternative methods to recover deleted files. Specialized file recovery options and third-party software offer a potential lifeline for data inadvertently lost in the void. These methods can scan the system for traces of deleted files and, if successful, restore them to their original locations or a separate designated location.
Understanding the absence of the "Undo" option underscores the importance of caution and vigilance while managing files. It also highlights the necessity of proactive measures like data backups and reputable file recovery tools, ensuring that valuable information can still be retrieved despite the irreversible nature of emptying the Trash.
B. Recovering Deleted Files from Time Machine Backup
Utilizing the integrated backup tool called Time Machine is essential for Apple users to consistently safeguard their data. These backups are invaluable now as they empower you to effortlessly restore accidentally deleted files. Here are the steps for retrieving deleted files from Time Machine Backup.
Step 1: To access Time Machine, you have to tap on the clock icon located on the Mac's Menubar. Alternatively, you can utilize the Terminal app, which grants you control over Time Machine through a command-line interface. By using Terminal, you can remotely manage other computers and access detailed statistics about the Time Machine backups.
Step 2: For a successful file recovery using Time Machine, ensure that the media you use for backing up your Mac is connected and powered on. Once you launch Time Machine, you can seamlessly navigate through the backups created for your file system.
Step 3: Find and identify the files unintentionally deleted from a backup made before the deletion date.
Step 4: Once you have located the requested files, just click on the "Restore" option to recover them back to your hard drive.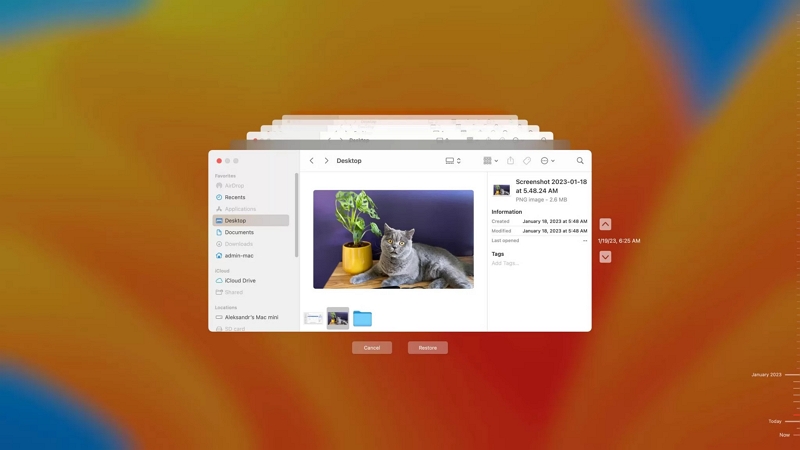 Part 2: Retrieve Deleted Trash Mac without Backup
Eassiy Data Recovery for Mac is a user-friendly yet powerful software designed to recover 1000+ file types, such as photos, videos, Excel, Word, and more. It can efficiently recover files emptied from the Mac Trash. This top data recovery software enables you to retrieve deleted files from over 2000 storage devices, including Windows and Mac computers, internal HDD/SSD drives, external USB drives, memory SD and CF cards, digital cameras, removable drives, and flash drives, among others. You have the option to perform a quick scan or opt for the deep scan mode to swiftly scan and recover data, or choose the deep scan mode for a higher success rate in retrieving lost data. This versatile tool is applicable in various scenarios, such as accidental data deletion, formatting, partition loss, system crashes, virus attacks, and many other data-related issues. You can filter file types, preview, and select the files that you badly need to recover. Also, Eassiy allows you to stop or resume the scanning process whenever you want to.
Key Features:
Supporting over 2000 storage devices, this data recovery solution caters to a wide range of data retrieval needs.
This software can recover 1000+ file types in their original quality, ensuring a comprehensive and reliable data retrieval experience.
Effortlessly recover lost data caused by deletion, formatting, raw partitioning, system failure, virus attacks, and other factors with ease.
Before commencing data recovery, you have the option to filter file types, preview the content, and selectively choose the lost data you wish to recover.
Achieve an impressive 98.6% success rate with the Deep Scan feature, allowing you to effortlessly retrieve unlimited data during the recovery process.
Here are the steps to retrieve deleted trash Mac
Step 1: Launch Easy Data Recovery for Mac and select the data type you want to scan. Navigate through specific data categories by choosing "Recycle Bin" from the disk list.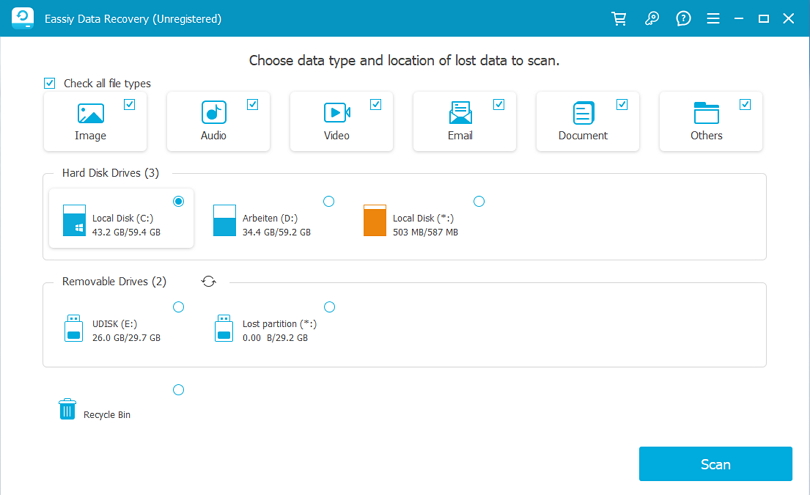 Step 2: Eassiy Data Recovery offers two scanning options: Fast Scan and Deep Scan. For quicker results and better suitability for recent data loss, it is advisable to start with the Fast Scan.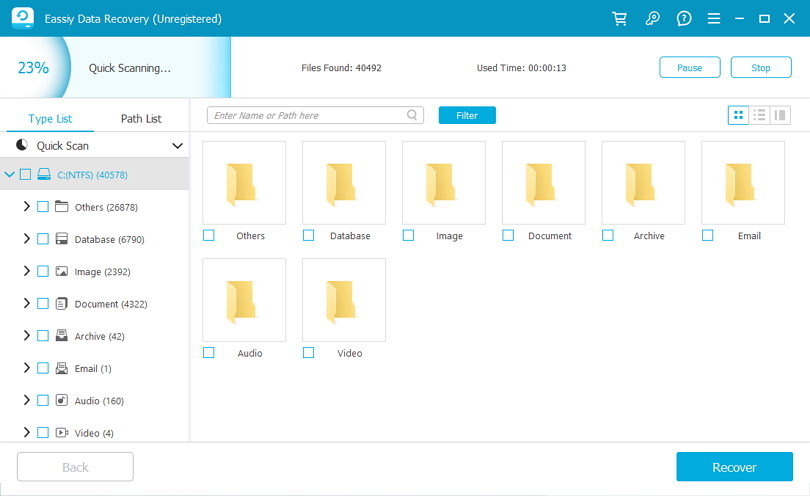 In case you find the outcomes unsatisfactory, there's an alternative: the Deep Scan option. This method is more comprehensive and recommended for dealing with complex data loss scenarios.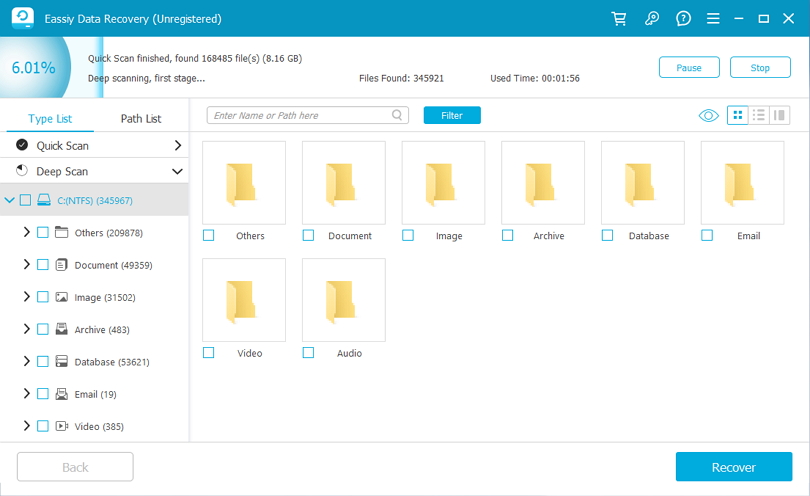 Subsequently, examine the scanned results in the Recycle Bin, categorized by type and path lists, to ascertain the availability of the data you intend to back up.
Step 3: Once the scan is complete, select the lost files from the Recycle Bin that you wish to recover, and then click on the "Recover" button.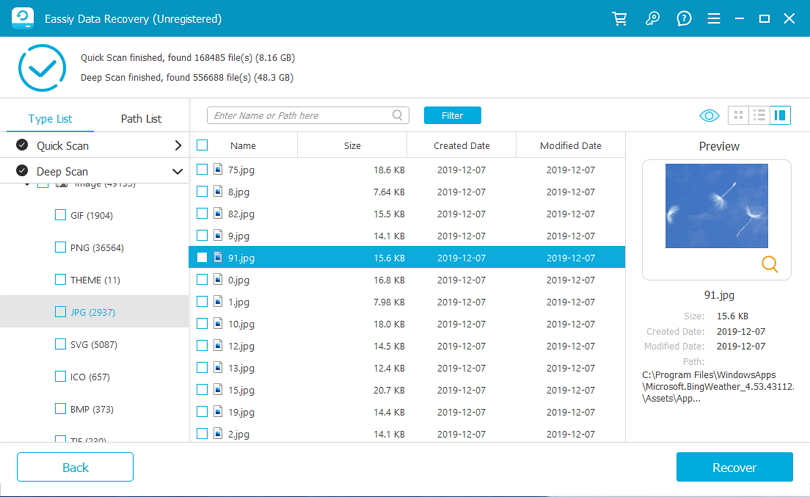 Part 3: How to Manually Retrieve Empty Trash Mac
Immediate Action after Emptying the Trash
If you've experienced data loss on your Mac and plan to use data recovery software, act quickly to prevent data overwriting. Overwriting can occur when you keep using your Mac after the loss, reducing the chances of successful recovery.
Here's why you should stop using your Mac now:
Data Integrity: Deleted files aren't immediately removed, but continued use increases the risk of new data overwriting the lost files.
Data Recovery Difficulty: Overwritten data makes retrieval harder, even with recovery software.
Risk of Permanent Loss: Critical files overwritten may lead to permanent data loss.
To improve recovery chances:
Stop using your Mac immediately, avoiding new files, software, or updates.
Install recovery software on another device to prevent overwriting on your Mac.
Act promptly to start the recovery process.
Consider professional help for physical damage or complex cases.
Remember, data recovery isn't always guaranteed, so act fast and follow best practices for better results.
Part 4: Precautions and Considerations for Undo Delete Trash Mac
A. Avoiding Data Recovery Scams and Risks
When recovering data, beware of scams and risks with unreliable software.
Be cautious of free or suspicious software that may contain malware or ransomware.
Avoid software with false promises of 100% recovery.
Research privacy measures of data recovery software before use.
Watch out for hidden fees and limited recovery options.
Ensure compatibility to avoid data loss or hardware damage.
Regularly back up your data as the best protection against loss.
Consider professional data recovery services for severe data loss.
Stay informed and prioritize data privacy to ensure successful recovery without compromising your system's security.
B. Backing Up Recovered Files Securely
Users should prioritize backing up their recovered files to a different drive, storage medium, or cloud service to minimize the risk of further data loss. Here are the key reasons for following this advice:
Redundancy for Safety: Storing recovered files on a separate drive or medium adds redundancy to your data backup strategy, safeguarding against hardware failure, system issues, or accidental deletions.
Protection Against Future Data Loss: Data recovery is not foolproof, and files may become corrupted or unrecoverable. Backing up the recovered data to a different location provides an extra layer of protection.
Preserving the Original Data: Copying files to another location ensures the original data remains intact and untouched during the recovery process.
Disaster Recovery Preparedness: Backing up data to the cloud or an external drive adds protection in case of catastrophic events like theft, fire, or natural disasters that could affect your primary storage.
Flexibility and Accessibility: Storing data on different drives or in the cloud allows easy access from various devices, offering flexibility and convenience for data retrieval.
Versioning and Historical Data: Some cloud storage solutions offer versioning, enabling you to keep multiple file versions, useful for reverting to older files or recovering previous changes.
Ease of Migration: Backing up data on a separate drive or cloud simplifies system upgrades or hardware replacements.
To ensure comprehensive data protection, follow the 3-2-1 backup rule: maintain three copies of your data, store it on two different media, and keep one copy offsite (e.g., in the cloud). This approach significantly reduces the risk of data loss and provides peace of mind, knowing that your valuable files are secure and recoverable even in unforeseen circumstances.
Conclusion
Understanding how to undo empty trash Mac and retrieve deleted trash Mac is crucial for data protection. We explored the limitations of undoing empty trash and the importance of alternative recovery methods like Time Machine backups and third-party software. Prompt action and using reliable tools like Eassiy Data Recovery for Mac are essential for successful retrieval. Prioritize data backups and be cautious of recovery scams to safeguard against permanent data loss. By following best practices and utilizing reputable solutions, like Eassiy Data Recovery for Mac, you can protect your data and ensure peace of mind. Safeguard your valuable data effortlessly with Eassiy Data Recovery for Mac.