If you use Apple Mail on Mac, the received emails and attachments may pile up on your Mac over time. You may notice that the Mail storage grows bigger in the storage space. So how to delete emails and even the Mail app itself to reclaim Mac storage? This article introduces how to delete emails on Mac, including deleting single, multiple and even all emails on Mail app, as well as how to clear mail storage and delete Mail app on Mac. Hope it will be helpful for you.
1. How to Delete Emails on Mac
It is easy to delete one email on Mac, however, there seems no way to delete multiple emails altogether. And by clicking the Delete button, the deleted emails still remain on your Mac storage. You have to erase the deleted emails to permanently delete them from your Mac to regain the storage space.
How to Delete An Email on Mac
It's extremely easy to remove an email from your Mail app on Mac and here is how.
Step 1: Open the Mail app on your Mac and then choose a message.
Step 2: Click the Trash Can icon in the upper panel to remove the unwanted email.

How to Delete Multiple Emails on Mac
Open the Mail app on your iMac/MacBook, press and hold the Shift key and select the emails you want to delete. After selecting all the emails you want to delete, click the Delete button, then all the selected messages will be deleted.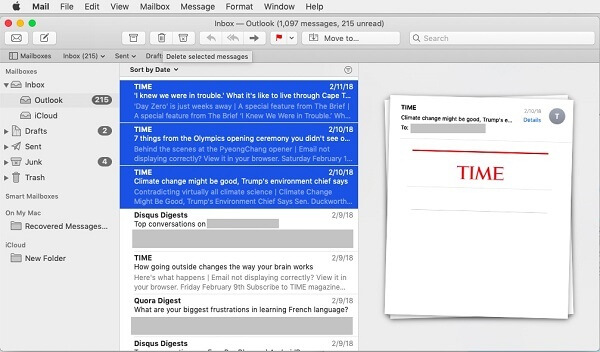 It you want to delete multiple emails from the same person, type the name of the sender in the search bar to find all the emails from the sender. If you would like to delete multiple emails received or sent on a specific date, enter the date, for example, enter "Date: 11/13/18-11/14/18" in the search bar.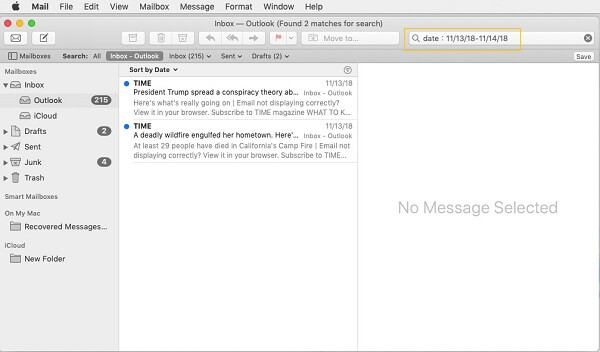 How to Delete All Emails on Mac
If you want to remove all emails on Mac, here is a quick way to do it.
Step 1 In the Mail app on your Mac, select the mailbox you want to delete all emails.
Step 2 Click Edit > Select All. All emails in the mailbox will be selected.
Step 3 Click the Delete button to remove all emails from Mac.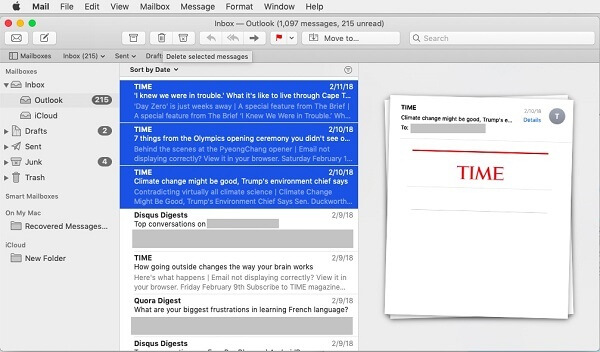 Or you can select a mailbox to delete it. Then all emails in the mailbox will be deleted. However, the inbox cannot be deleted.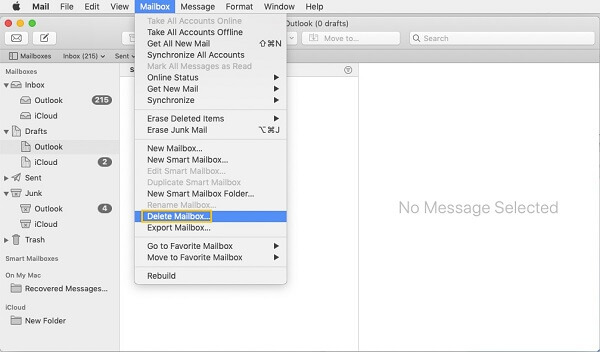 Note:
If you delete a Smart Mailbox, the messages it displays remain in their original locations.
How to Permanently Delete Emails from Mac Mail
To release Mail storage, you have to permanently delete emails from your Mac storage.
Step 1 On the Mail app on your Mac, select a mailbox, for example Inbox.
Step 2 Click Mailbox > Erase Deleted Items. All deleted emails in Inbox will be removed permanently. You can also control-click a mailbox and select Erase Deleted Items.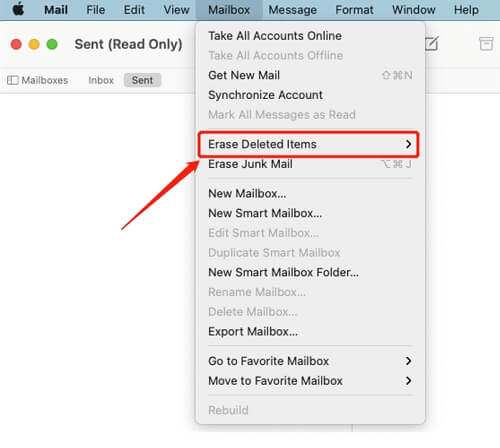 2. How to Delete Mail Storage on Mac
You may find that the memory occupied by Mail is particularly large on About this Mac > Storage.
Mail Storage is mainly composed of Mail caches and attachments. By navigating to messages with attachments and clicking Remove attachments, you can delete the mail attachments one by one. But it's usually too time-consuming to identify them one by one. To simplify the process, there is an easier solution.
It is recommended to use Macube Cleaner to clear Mail storage on Mac. It is a great Mac cleanup utility that lets you clean mail cache generated when you open the mail attachments as well as unwanted downloaded mail attachments in one click. In addition, deleting downloaded attachments with Macube Cleaner won't remove the files from mail server, which means you can redownload the files anytime you want.
Here are the steps of using Macube Cleaner.
Step 1 Download Macube Cleaner on your Mac, even running the newest macOS Monterey.
Step 2 Choose and click Smart Scan.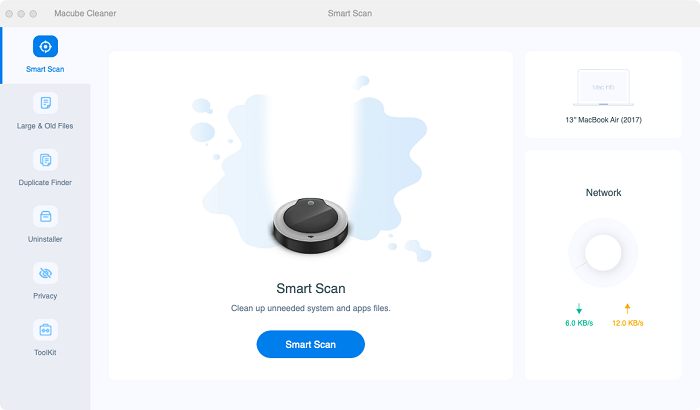 Step 3 When scanning is done, tick Mail Junk or Mail Attachments to view the unwanted junk files on Mail.
Step 4 Choose the old mail junk and attachments that you would like to remove and click Clean.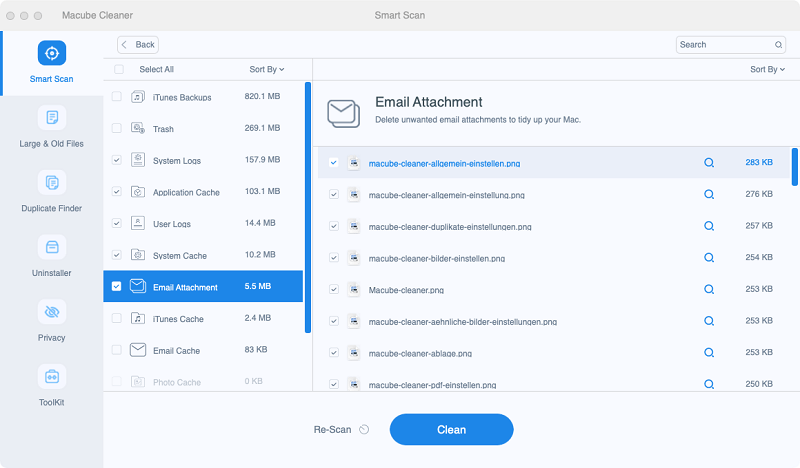 You will find the Mail storage will be significantly reduced after the cleanup with Macube Cleaner. You can also use the software to clean more, such as system caches, application caches, large old files, duplicates, and so on.
3. How to Delete Mail App on Mac
Some users don't use Apple's own Mail app, which takes up space in the Mac hard drive, so they want to delete the app. However, Mail app is a default application on Mac system, which Apple doesn't allow you to remove. When you try to move Mail app to Trash, you will get this message that the Mail app can't be deleted.

Even so, there is a way to delete the default Mail app on iMac/MacBook.
3.1 Disable System Integrity Protection (SIP)
If your Mac is running on macOS 10.12 and above, you need to disable System Integrity Protection first before you are unable to remove a system app like Mail app.
Step 1 Boot your Mac into recovery mode.
How to put your Mac into recovery mode:
For an Intel-based Mac: Tap "Apple logo > Restart" on your Mac, press and hold the "Command + R" keys until Apple logo or spinning globe appears.
For an M1 Mac: Shut down your Mac, then press and hold the Power button, and you will see a message saying that you will be able to access startup options. Keep holding the button until you finally enter it. After that, select Options > Continue to open Recovery Mode.
Step 2 Click Utilities > Terminal at the left top. Type:
csrutil disable
And click Enter key.
Step 3 Now that your System Integrity Protection is disabled, restart your Mac.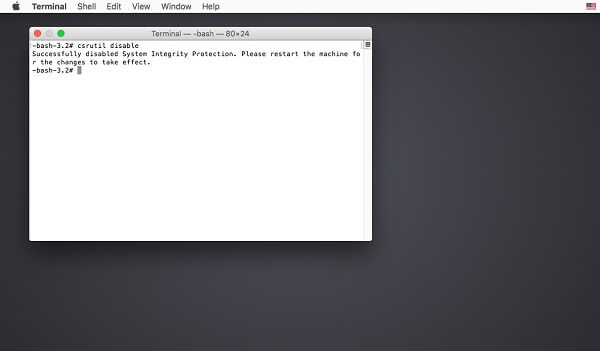 3.2 Delete Mail App with Terminal Command
Step 1 Sign in your Mac with your admin account.
Step 2 Then launch Termail. Type in:
cd /Applications/
and hit Enter, which will show the application directory.
Step 3 Type in:
sudo rm -rf Mail.app/
and hit Enter, which will delete the Mail app.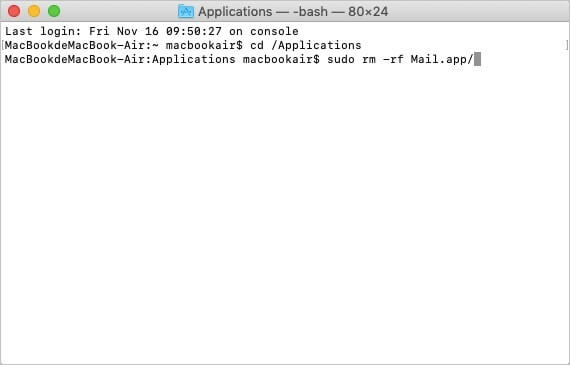 You can also use the sudo rm -rf command to delete other default apps on Mac, such as Safari, FaceTime.
After deleting Mail app, you should enter Recovery Mode again to enable the System Integrity Protection.
3.3 Enable System Integrity Protection
Step 1 Shut down your Mac and put it into recovery mode. Same as the above step.
Step 2 Click Utilities > Terminal. Type:
csrutil enable
And click Enter key.
Step 3 Restart your Mac, and the ISR is enabled again.
4. How to Manage Mail App on Mac to Save up Storage
To prevent the Mail app from taking up too much storage, you can also change some settings on Mac to better manage the Mail storage.
Erase Junk and Deleted Messages on Mail Regularly
Actually, you can set up a time period for Mail itself to erase the necessary messages for you, and you can change the settings here:
Step 1 Head to Mail > Preferences.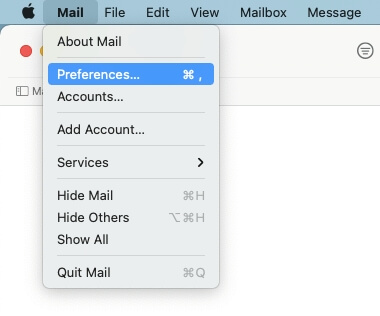 Step 2 In Accounts > Mailbox Behaviors, you can change the time period for Mail to erase junk messages or deleted messages, for instance, never, after one day, after one week, after one month.
If you shorten the time period, the messages will be cleared more quickly and more storage will be saved up.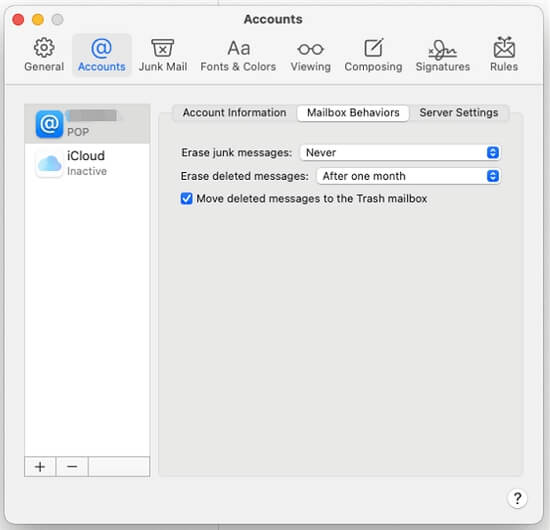 Remove Downloads on Mail
Mail will temporarily download the mail attachments on a special "Mail Download" folder on your Mac if you open them to have a look. As time comes by, they may also accumulate if you don't notice and clean them. You can also set it up in Mail Preferences to manage them:
At Preference > General, you will see the setting "Remove unedited downloads", and the available choice is "Never", "When Mail Quits", and "After Message is Deleted". Change it to "When Mail Quits" if you prefer not to keep the downloads.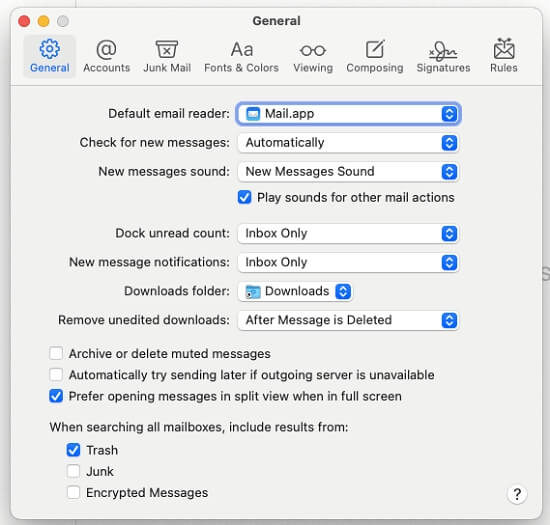 Prevent Mail from Downloading Attachments
By default, Mail automatically downloads the attachments when it retrieves the messages and stores them on your Mac. If you want to prevent Mail from doing so, you can change the default setting at Mail > Preferences > Accounts > Account Information, and set "Download Attachments" as "None".
Conclusion
Above is what you can do to delete Mail from Mac. You can try the corresponding ways to free up space on your Mac, such as clearing Mail Storage by deleting Mail's attachments and cache with Macube Cleaner. Hope they are helpful for you.