Looking for a reliable and efficient Mac cleaning app? This article provides a detailed comparative review of Trend Micro's Cleaner One Pro and Macube Cleaner. Both apps claim to offer a comprehensive set of tools to optimize Mac performance. We'll compare them in terms of features, ease of use, price, and customer support. Read on to find out which Mac cleaning software is best for your needs.
Part 1: Is Cleaner One Pro Good For Mac?
Cleaner One Pro is a software solution launched by Trend Micro in 2019. The application is designed to keep your Mac running fast and smoothly by removing junk files, duplicate files, large files, and other unwanted items. You can view scan results and delete unwanted items with one click. Cleaner One Pro also has a Disk Mapping feature that shows disk space usage and lets you manage files to free up space.
Cleaner One Pro has a simple and intuitive interface, making it easy to use. After installing and launching the app, you'll see a window that have various functions.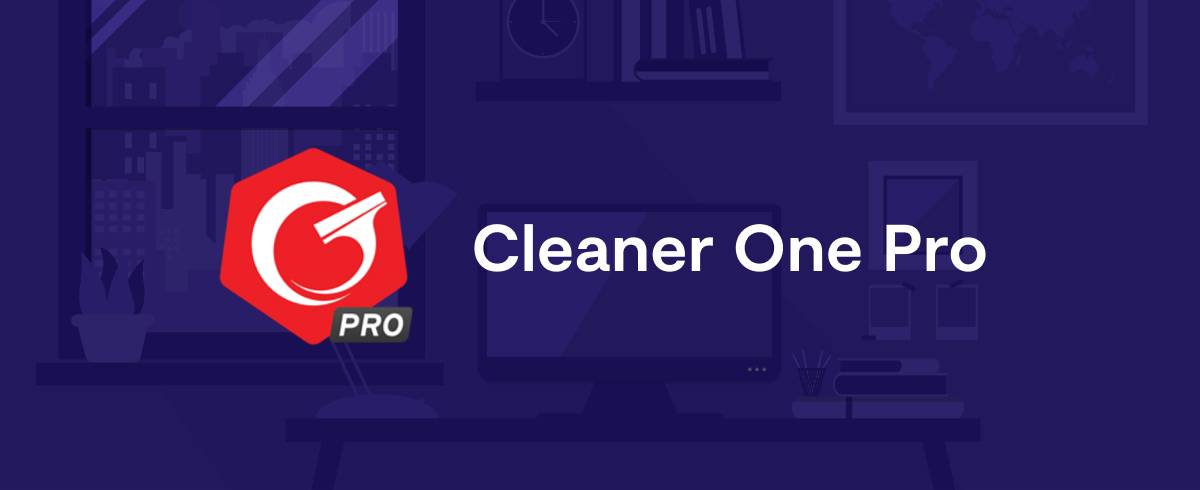 Features:
Scan: With a scan function, find the junk in your Mac that can be cleaned up.
Application Manager: With the software management function, you can uninstall unnecessary software that takes up a lot of memory, and free up storage space with one click.
Startup Manager: This feature helps you see the applications that start up automatically and how they affect your startup time. You can also enable or disable any startup item.
File Shredder: With Cleaner One Pro, you can delete sensitive and private files so that they cannot be recovered.
Disk Map: This feature helps you see what's taking up the most space on your disk or in specific folders, and find and delete large files that you no longer need on your Mac.
Performance Monitor: You will see it in the menu bar. You can see how much CPU, memory, disk, and network resources your Mac is using.
Price: $24.59/Year(1PC); $36.89/Year(5PC);
Supported System: Window & Mac
1. Advantage & Disadvantage of Cleaner One Pro
Without exception, each software will have its own advantages and disadvantages, so what are the advantages and disadvantages of Cleaner One Pro? Let's take a look.
| | |
| --- | --- |
| Advantage: | Disadvantage: |
| Easy to use dashboard | Unable to scan out old files |
| Fast and responsive | The browser cache cannot be cleared |
| Monitor computer data at all times | No hidden file finder |
| Quick and friendly support | The free trial version has limited features |
| | The company had a bad reputation in the past |
2. What Do Users Think About Cleaner One Pro?
✅ Some users like Cleaner One Pro because it is very easy to use and has a registry cleaning tool that you can trust.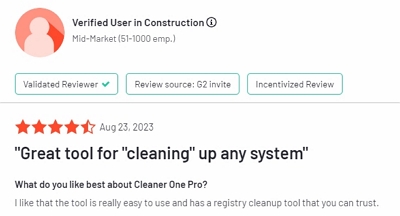 ✅ A user of Cleaner One Pro left a message on the App Store saying that he was satisfied with the cleaning function of the software, but felt that the software itself took up too much space.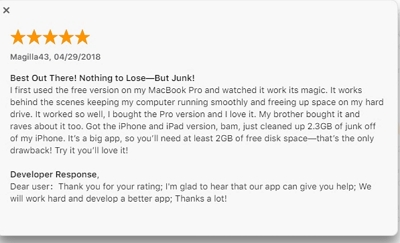 ❌ A user communicated in the Trend Micro home user community that he could not choose which files to delete. When cleaning up junk files, he had only the option to clean up all. His important files were deleted as trash and could not be retrieved.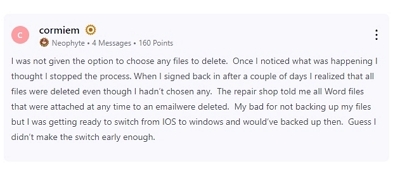 ❌ Here another user commented on the Apple Store that he thought the software might have deleted something he needed to keep, such as old messages, contact information, or just game data for games he played. Especially when he's running two Game Center accounts on the same tablet, it's easy to delete one of them with no warning of any kind.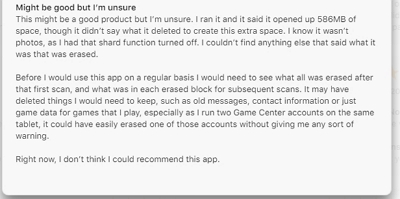 These evaluations show that Cleaner One Pro has a certain cleaning ability, but its cleaning details are not informed to users, and the control is completely given to customers. So using Cleaner One Pro still has certain risks.
The following will introduce you a more comprehensive and safer Mac cleaning software.
Part 2: [Optimal Version] Mac Cleaner software-Macube Cleaner
Macube Cleaner is a very mature software that will confirm to you every step of deletion. For example, if you need to make a selection in the preview mode, you can choose to arrange by file type or size, and then check the files you want to delete. So Macube Cleaner is absolutely safe and will not delete your important information and files.
To be more realistic, I'll show you the cleaning steps.
Firstly, Click "Smart Scan" on the left, Macube Cleaner has very advanced smart scan technology, which can help you scan out System junk, log files, application caches, iTunes backups, email attachments, etc.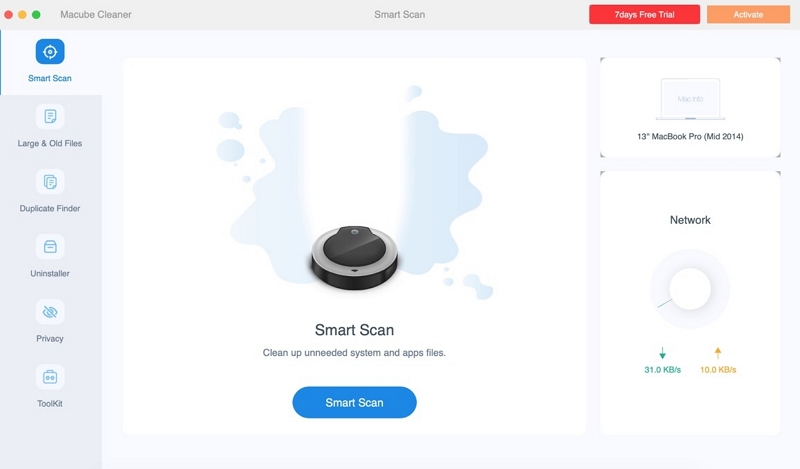 After the smart scan, you can preview the files that Macube Cleaner suggested you delete. You can use the magnifying glass next to the file to see which folder these files come from, how much memory they occupy, and when they were saved, and then you select the file you want to delete.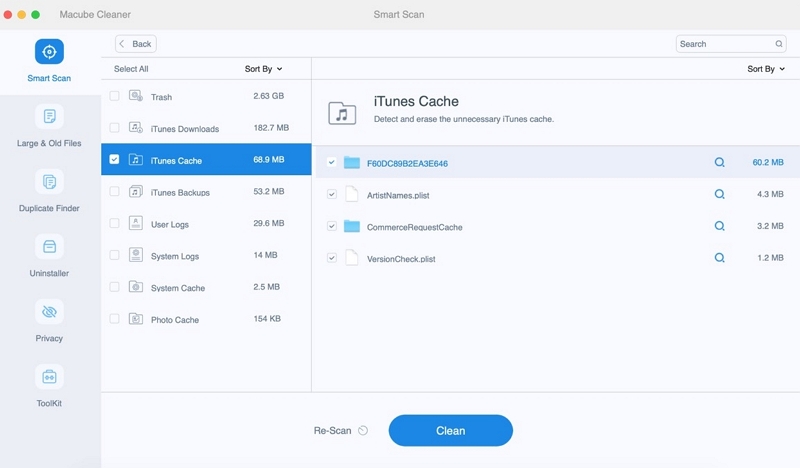 Finally, you click the "Clean" button to complete the cleanup. Get lots of storage on your Mac with ease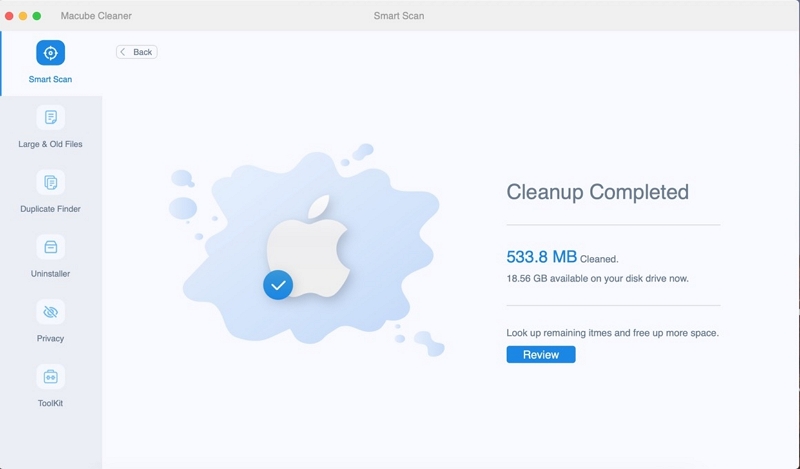 It's convenient isn't it? Safe and simple operation, meeting the needs of users has always been the pursuit of Macube Cleaner.
Macube Cleaner has many functions waiting for you to explore. This article will introduce another function that you will definitely use-APP Uninstaller
Efficient App Uninstaller:
Our Mac always encounters a common problem, that is, it is invaded by malware, and these malware cannot be removed, and they keep popping up annoying software. If you want to uninstall the app from your Mac, select this option from the sidebar and click "Scan".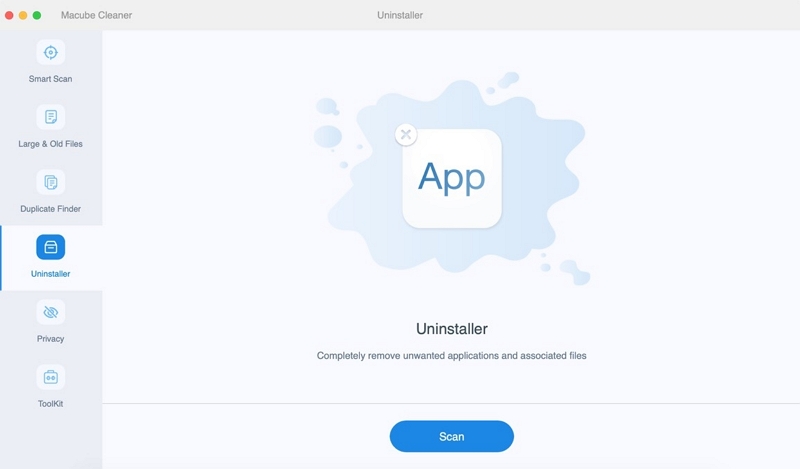 In this window, you'll see all your apps and can sort them by size or last opened date to find and delete large unused apps.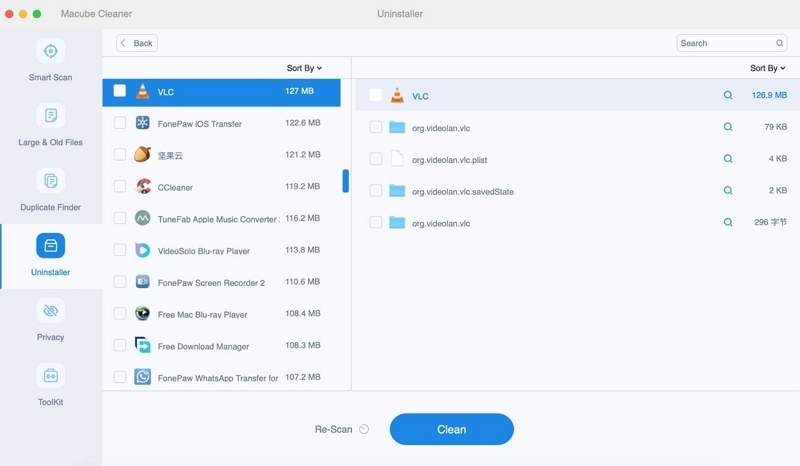 Finally, click "Clean" to completely say goodbye to the nasty apps you don't want.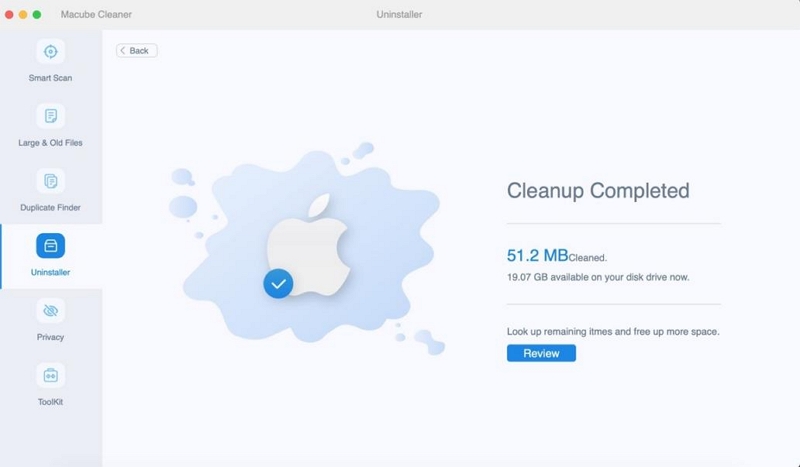 Macube Cleaner can not only clean up junk files, uninstall applications, but also has File Shredder: Permanently delete files of any type.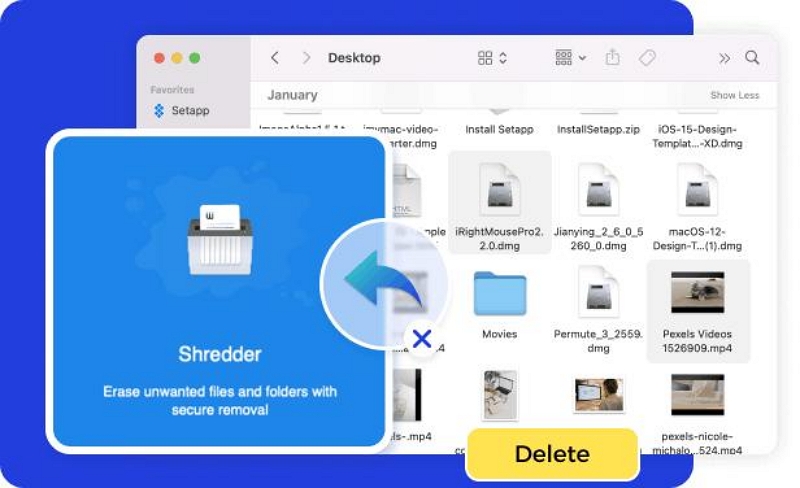 Extension Management: Enable or disable add-ons so you can speed up your Mac.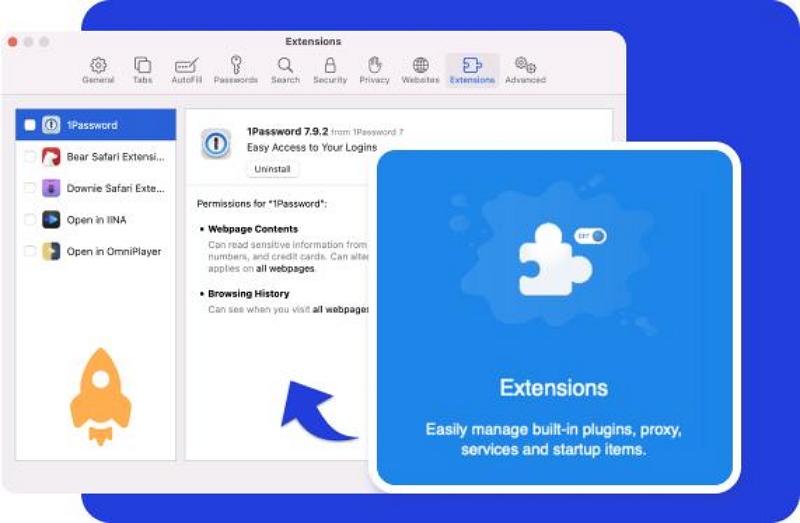 Delete Large & Old Files and Duplicate File: Macube helps you find and delete useless file duplicates to free up disk space.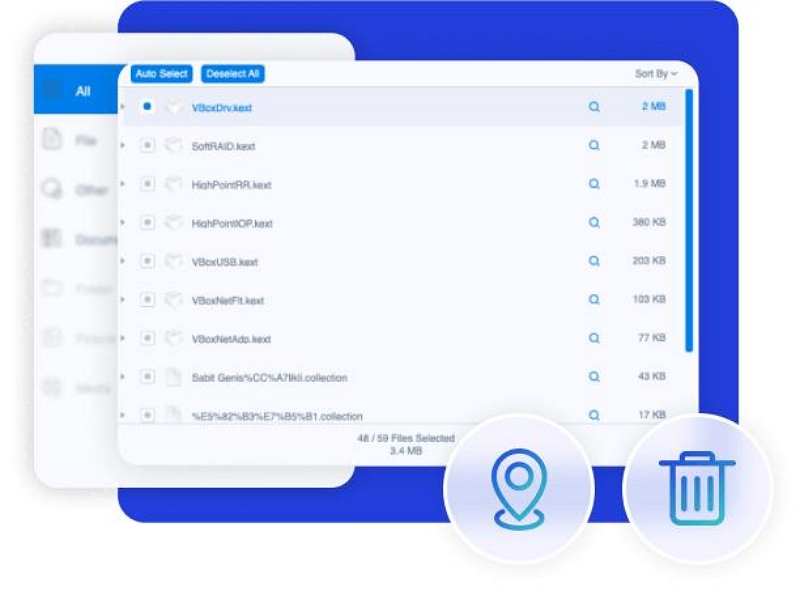 Security and privacy protection: It is safe to clean history, cookies and HTML local storage for Google Chrome, Safari and Firefox.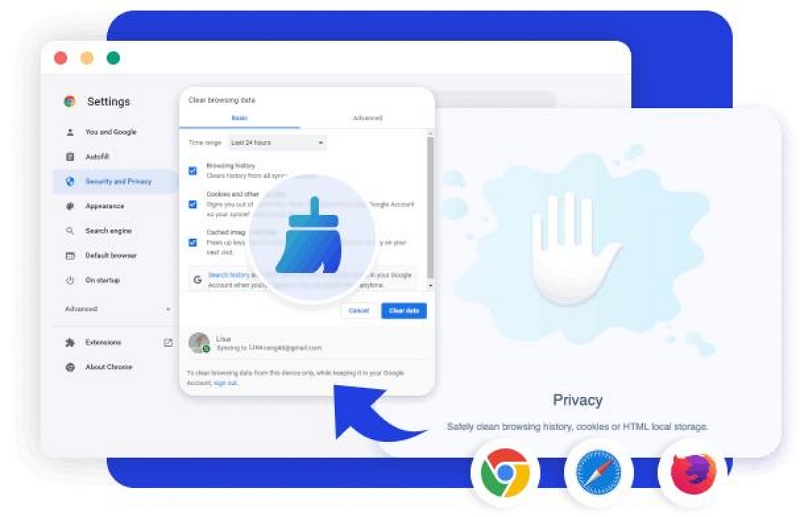 Similar Image Finder: Macube has a unique algorithm and function to find similar images on Mac. You can set similarity criteria to find and remove similar images.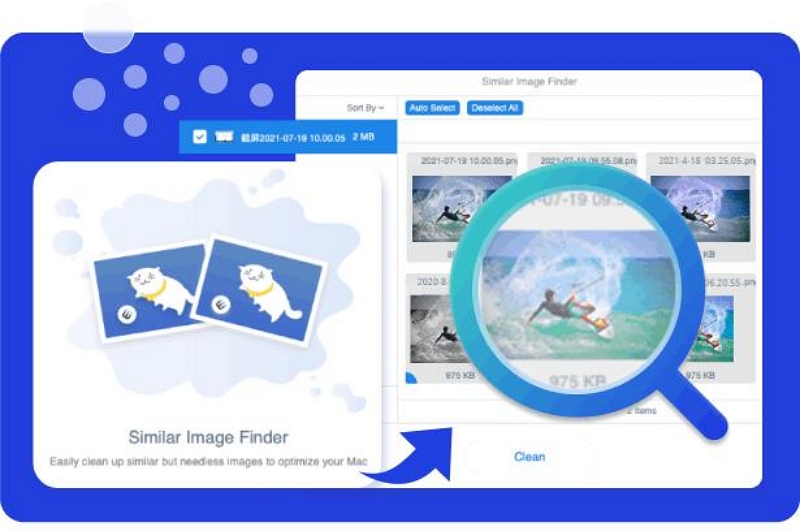 All of the above functions require the consent of the user, so it is absolutely safe.
What Do Users Think About Macube Cleaner?
In addition to the powerful functions of the software itself, we also need to look at user satisfaction, after all, users are the first.
✅The user thinks that Macube can help him find files with large memory and keep more than one year, which cleans up a large part of the memory for him.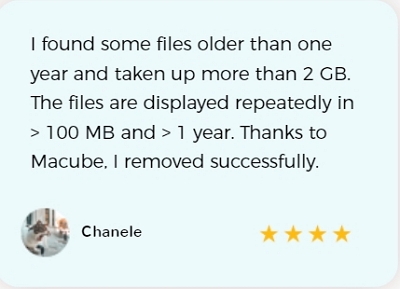 ✅There is also a user who only has 128GB of hard disk memory, but he cleared 35GB of storage from iTunes through Macube, which is simply amazing. His computer can be used as smoothly as new again.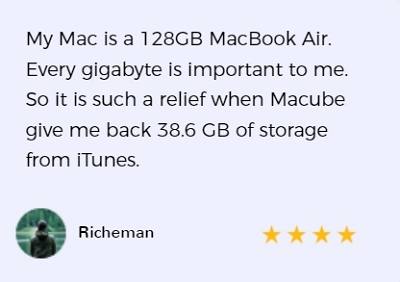 At present, we have not found any bad reviews about Macube, and we believe that this situation will support Macube Cleaner to work harder to develop new functions to serve users.
Part 3: Comparison Table
Cleaner One Pro

Macube Cleaner

Price

$24.59/Year(1 PC);
$36.89/Year (5PC)

$8.95/month(1PC);
  $69.95/lifetime plan(2PC)

Cache and logs cleaning

✅

Scan two documents at the same time

❌

✅

Downloads folder cleaning

✅

Similar image finder
(The similarity can be set)

❌

✅

Uninstalling apps

✅

RAM cleaning

✅

Managing web browser extensions

❌

✅

Finding and removing duplicates

✅

Hidden files finding

❌

✅

Shredder

✅

Mail downloads cleaning

❌

✅

Free Trial (Open to all functions)

❌

✅
Conclusion:
All in all, if you are already using Cleaner One Pro, when you encounter difficulties, it is better to change the software to solve the problem. If you are looking for a Mac cleaning software, we recommend Macube Cleaner first, because it is much more advanced than the existing cleaning software on the market, and its functions are sufficient. It can meet your cleaning needs and guarantee you a satisfactory result.