Are you looking to clean up your Safari browser privacy on Mac but don't know how to go about it? Look no further, this post is for you!
Clearing your Safari browser privacy is one of the many actions you need to take to safeguard your data and prevent intruders from tracking you. However, the approach required to perform this operation can be quite stressful if you don't have a guide at hand.
To help you, we decided to compile a guide that explains the best 5 techniques to clean your Safari browser privacy. All techniques cover how to clean up Safari's History, and cookies. So read on!
Part 1. The Difference Between Safari History and Safari Cookies
Before discussing the various ways to clean your Safari browser on Mac, let's discuss the difference between Safari History and Safari Cookies. Here's a chart to show the clear distinction between both:
Safari History

Safari Cookies

Function

Safari History is a section on the Safari browser where the URL links to websites you've visited in the past are stored on any Apple device, whether Mac, iPhone, or iPad.
This section offers a quick and convenient way to surf the previous websites you've used, thereby alleviating the stress of racking the brain just to find the page.

Safari Cookies are a piece of data created by a web server while you are surfing a website. The generated data is automatically stored on your web browser to help you recollect all crucial information about yourself in the future.
Safari Cookies store everything about your online experience on a specific website.
Allow website pages to load faster each time you revisit them in the future.

Storage Location

Safari History is automatically stored on the browser and always readily available on any Apple device that syncs with your iCloud details.
Also, you can find your Safari History on your Mac hard drive inside a file labeled History.db. To locate the file, you can check the ~/Library/Safari/folder section of your hard drive.  

Safari Cookies are also readily available on the Safari browser underneath the Privacy section.
You can always find Safari Cookies on your Mac hard drive in a folder labeled ~/Library/Cookies.

Scope of influence

Stores and displays all browsing links you've visited in the past.  

Keeps your personal information, such as location, username, password, and more that were used while surfing specific websites.
Part 2. 5 Ways to Clear Safari History and Cookies on Mac
You can always clear your Safari History and Cookies on Mac with minimal hassles using any of the techniques given down here:
1. Smart and Easy Ways to Clear Safari History and Cookies on Mac
Macube Cleaner is a complete privacy protection tool that offers a simple yet efficient way to clear Safari browser history and cookies on any Mac computer. It's a great tool loaded with excellent features suitable for cleaning your Safari browser (including history, caches, and cookies) without compromising the system.
This software powers a highly intelligent algorithm that scans, detects, and displays your Safari browser history plus cookies at a remarkably high speed. Macube Cleaner lets you preview Safari history and cookies, select which ones to clear from your system, and then proceed with the deletion.
Macube Cleaner clears Safari history and cookies freely and quickly without interacting with other data on your Mac computer system. It's one of the smartest and easiest-to-use Mac system cleaners you will find on the internet.
Alongside the privacy protection functionality (capability to clean Safari history and cookies), you can also rely on this software to help you find duplicate files, delete large/old folders, and also uninstall useless apps from your Mac. Macube Cleaner cleans your Mac and optimizes its operations to the maximum level.
Key Features:
1-click to clear Safari history, cookies, and caches on any Mac model with zero data loss.
Scans deeply into your Mac computer system for junk files, such as iTunes caches, App caches, system logs, and many others.
Comprehensive Mac system cleaner suitabelf for cleaning other types of browser, such as Chrome, and Firefox.
More fascinating features aimed at cleaning your Mac; uninstaller, file shredder, large & old files eraser, and more.
Stepwise Guide to Clear Safari History and Cookies with Macube Cleaner
Easily protect your browser privacy by clearing Safari history and cookies with Macube Cleaner by following these instructions:
Step 1: Ensure you download the most recent version of Macube Cleaner on your Mac, install it, and then launch it for operation. Select Privacy from the cleaning modes on the left sidebar.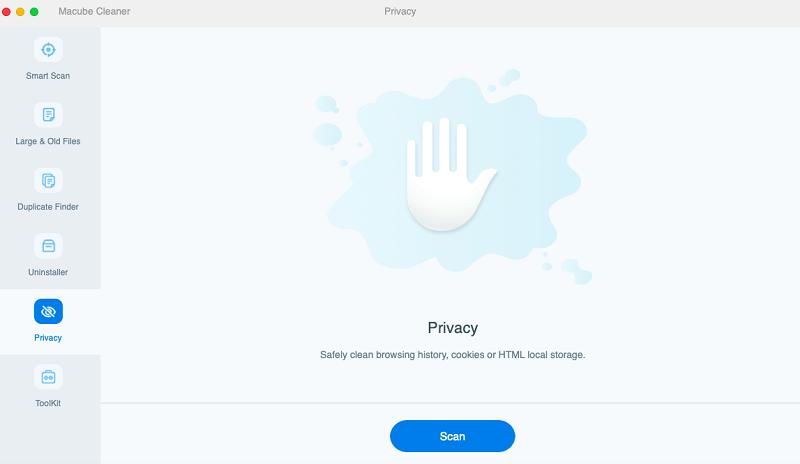 Choose Scan when the screen shown above appears on your display screen.
Step 2: Macube Cleaner should quickly perform a deep scan on your Mac checking all the browsing history for the different browsers installed. Once the scanning is completed, the software will display the storage consumed by each browser on the left sidebar. Here's a visual representation for this statement: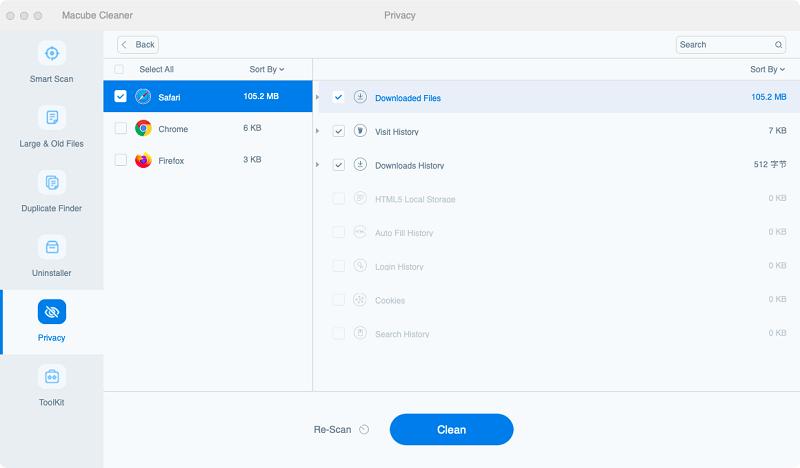 Tap on Safari, and a new window showing all content underneath the browser will come up. Mark the content you want to delete, and proceed to the next stage of this guide.
Step 3: Now, tap on the Clean button, and Macube Cleaner will automatically clear your Safari browser in no tme.
2. Clear Safari History on Mac Manually
Macube Cleaner is the ultimate solution to automatically clear Safari history and cookies on your Mac. However, if you need a manual technique, use any of the techniques down here:
a. How to clear all safari history on Mac
Clearing all your Safari browser history on Mac is pretty simple. All you have to do is select the date/time range, which could start from the last 1 hour upwards. Here's a simple guide to follow if you want to use this approach:
 Locate the Safari browser app at the bottom of your screen (also known as Dock), and click on it. Alternatively, you can go to Launchpad to run the app from there.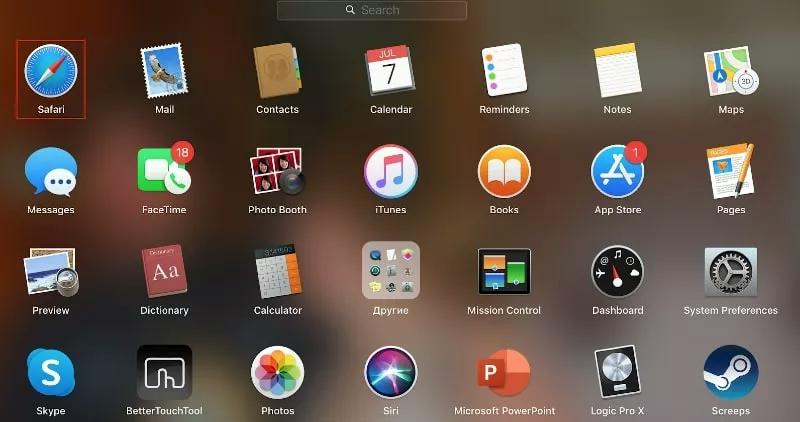 At the top of the screen that comes up, select History, and a flyout menu will automatically appear.

Scroll down to the bottom of the flyout menu, and select Clear History.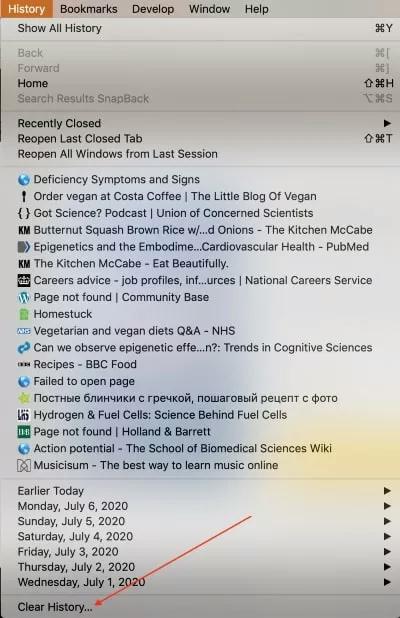 Next, another window will pop up for you to select the date/time range you want to clear your Safari history from.
Kindly enter the period, or better yet click all history, and hit Clear History to proceed.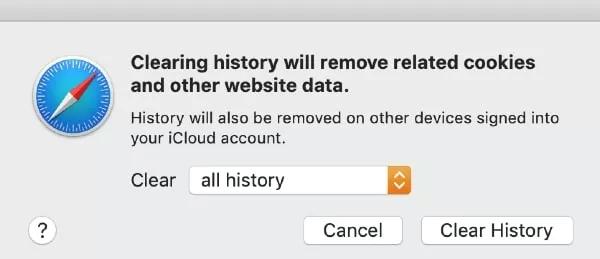 b. How to delete specific browsing history from Safari history
In the aforementioned procedure, we discussed how to successfully clear your entire Safari history with no URL link available to any website. Now, let's proceed with how to clear specific URL links on Safari browser history.  Here's the instructional guide to follow:
Run the Safari browser on your Mac by clicking on the app icon in the Dock. Otherwise, you can use the Launchpad section to achieve a similar result.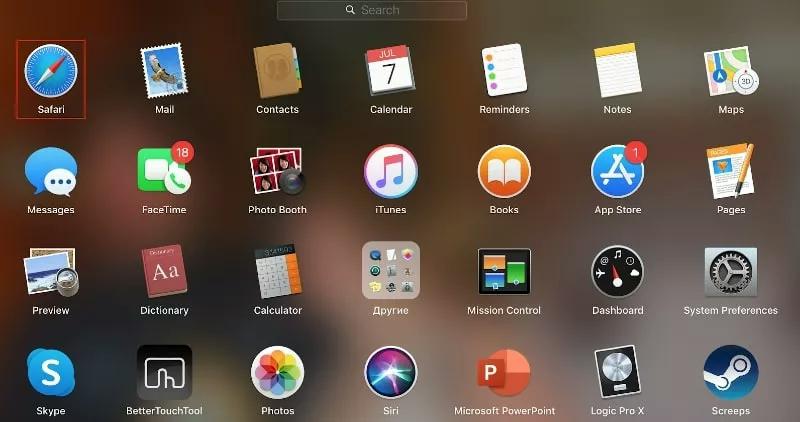 Hit the History icon at the top menu toolbar, and select Show All History from the flyout menu that pops up.

Next, scroll through the displayed URL links to see which is worth deleting from your Mac computer.
Once found, right-click on it and a drop-down menu will automatically come up. Tap on the Delete button to complete this procedure.
Tips: How to set and clear Safari browsing history automatically
Tires of clearing Safari history manually? You can leverage the automatic approach by simply setting your device to automatically clear Safari browsing history after specific browsing times. Find below the quick guide to do this:
Open Safari browser and then navigate to where you have the Preference button and click on it. Alternatively, you can just hold the hotkeys; Command +,.
On the next page, tap on General at the top menu toolbar and the screen below will come up:
Now scroll to where you have Remove history items, and click on the drop-down menu button.
Select the time range for Safari to automatically delete your browsing history.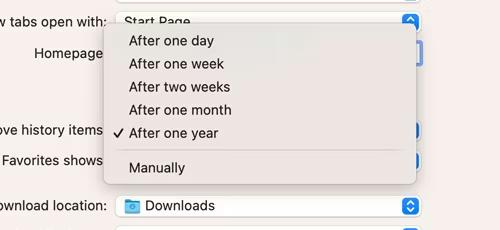 c. Clear Cookies and Caches on Mac Manually
Cookies and caches also add up to your Safari browsing history, as they store vital information, such as username, password, mail address, and others, about you. You need to clear them from your system and to do that, use the stepwise guide down here:
Navigate to the Dock section on your Mac screen, and select the Safari browser icon to open the corresponding app.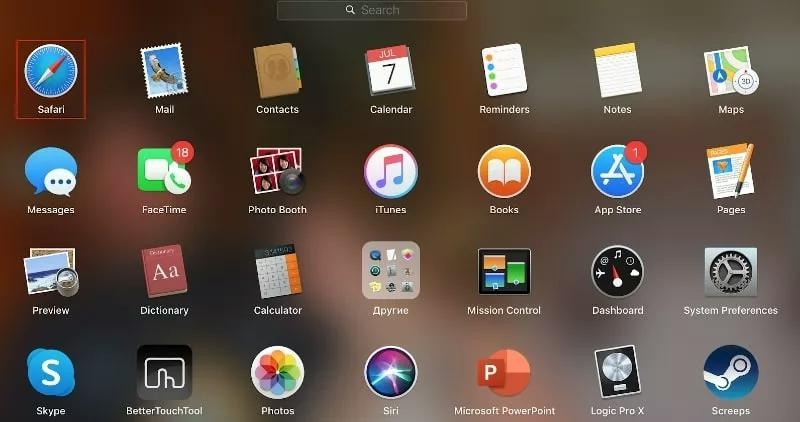 Next, click on the Preferences button, and select Privacy on the interface that follows.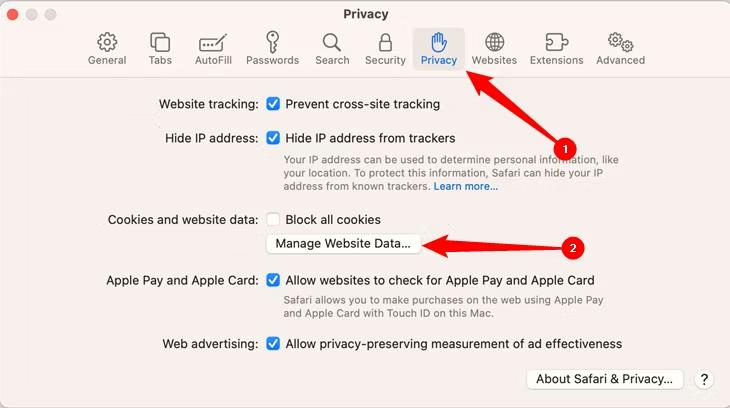 Once the Privacy tab appears, tap on the Manage Website Data button, and Safari will direct you to a new screen showing all the websites Safari has been saving cookies and caches for.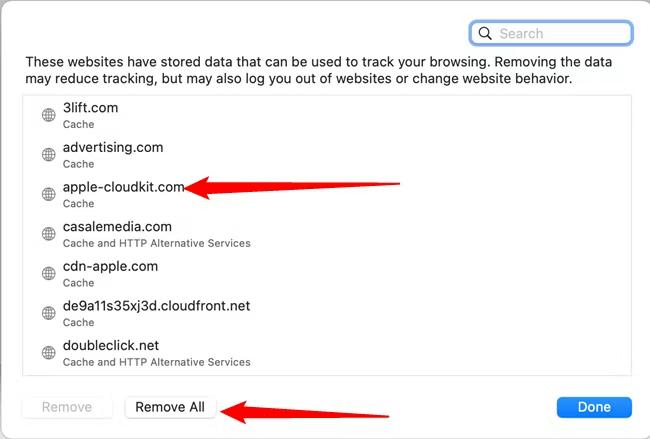 Now click on the Remove All button to delete the cookies and caches. However, if you don't want to clear everything, just select the websites to delete their cookies and caches, and hit the Remove icon to proceed.
Part 3. 2 Ways to Clear Safari History on iPhone and iPad
If you own an iPhone or iPad and need to clear your Safari browsing history, you can use any of the two procedures given down here:
1. Clean Up All Safari History on iPhone and iPad
Just as you did for Mac, you can also clear all your browsing history on your iPhone and iPad. To do this, check out the directions to follow below:
At the bottom of your iPhone or iPad screen, locate the Safari browser icon and click on it. To understand this step better, check the corresponding image below: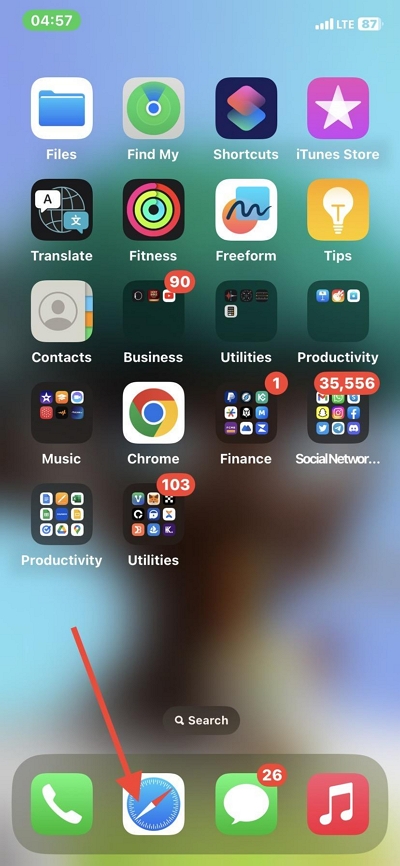 When the Safari browser opens, click on the Bookmarks button at the bottom of the screen.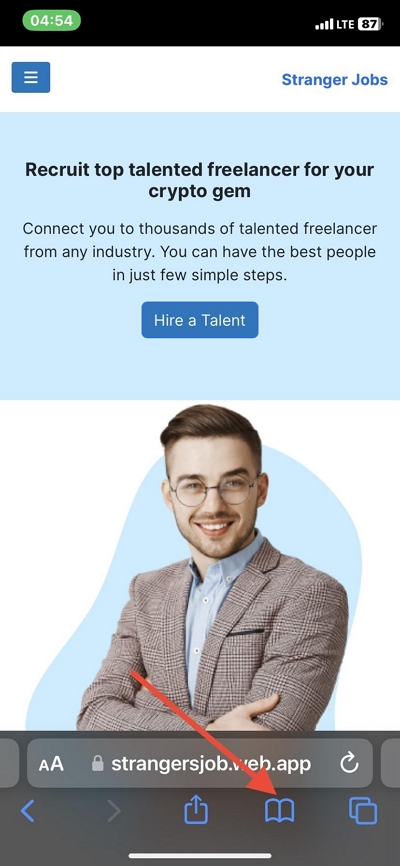 Next, click on the Timer button on the page that pops up to open History.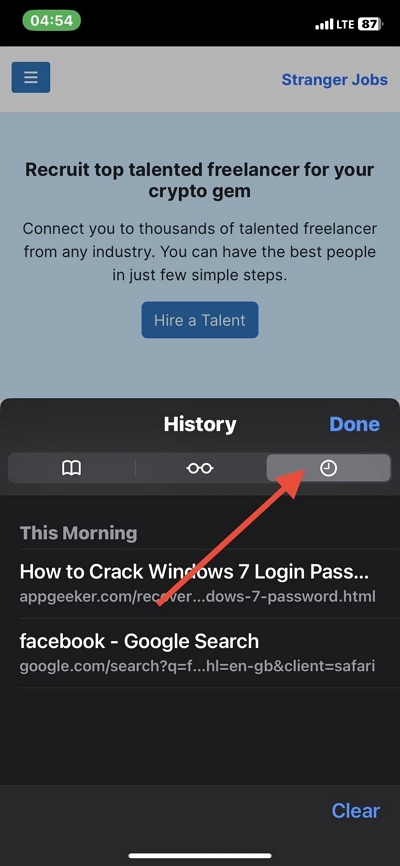 Now, your Safari browsing history will immediately load up. Tap on the blue Clear button to delete all your browsing history.
2. Clean Up Specific Pages from Safari History on iPhone and iPad
If you are looking to clear specific pages from your browsing history on the Safari app on your iPhone or iPad, use this stepwise guide instead:
Run the Safari browser on your iPhone or iPad, and click on the Bookmarks button.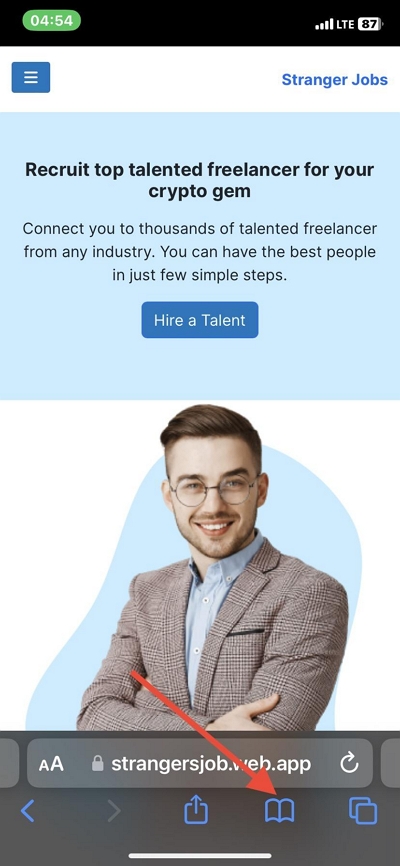 Next, tap on the Timer icon to access the History page.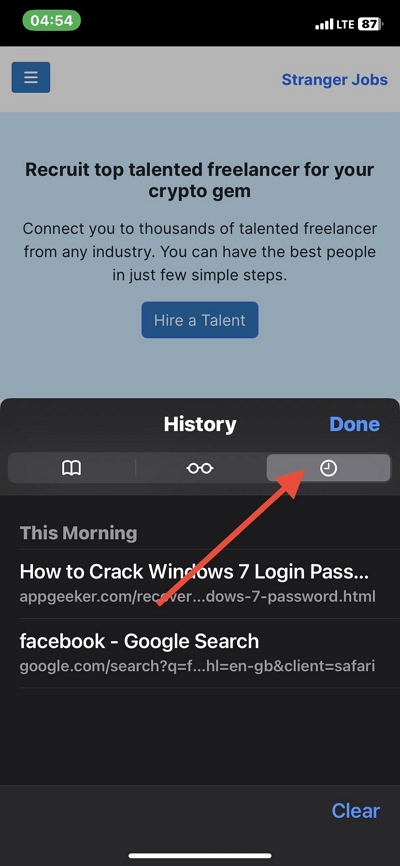 Now, hold down on each link on the history page, and select the red Delete button to remove that specific link from your browsing history.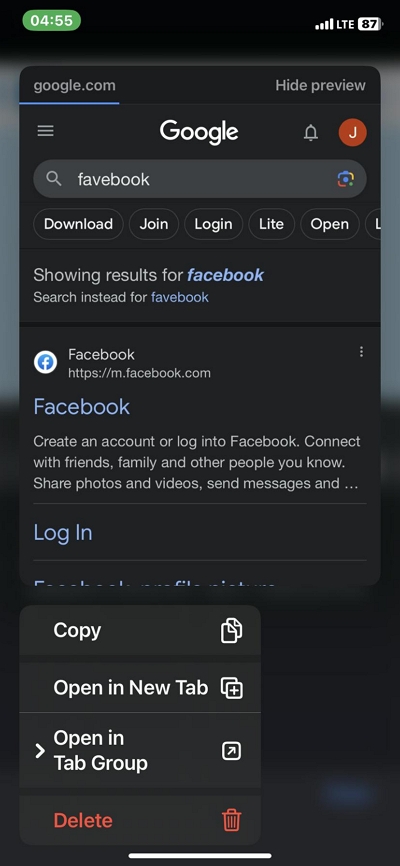 Part 4. Tips for Safari History
Here are some helpful tips you can try out and you need to interact with your Safari brower history:
1. Why can't I clear my history on Safari on my Mac?
Clearing your Safar browsing history on Mac shouldn't be a challenge with the instructional guide shared above. However, sometime, you may find the history section of your Safari browser greyed out. When such happens, it means you've activated Screen Time on your Mac computer system.
To fix this, you need to disable Screen Time restrictions, on the corresponding Mac computer so you can successfully clear your browsing history. Here's the stepwise guide you can apply to deactivate Screen Time restrictions on Mac:
Find the Apple menu icon at the top left corner of your screen, click on it and select Systsem Settings from the options that pop up from the flyout menu.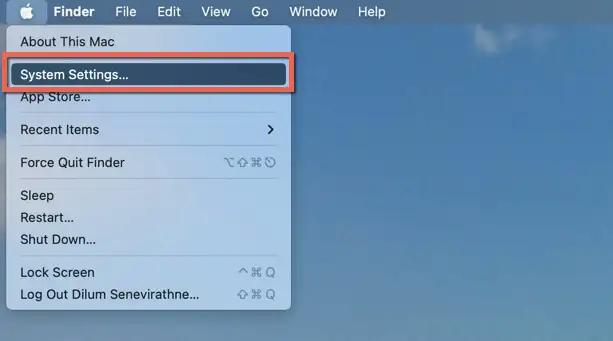 On the left sidebar, locate the Screen Time button, and click on it.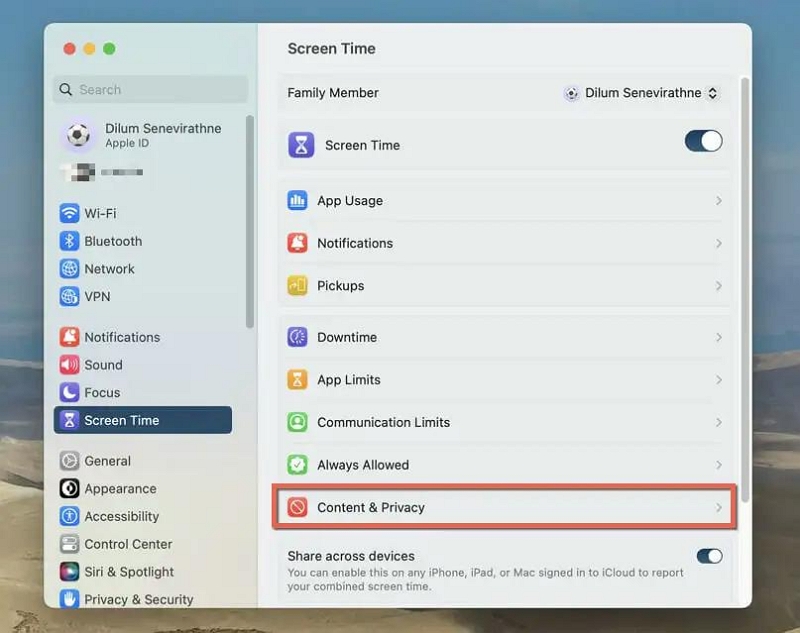 Now click on the Content & Privacy icon, and a flyout menu will immediately appear.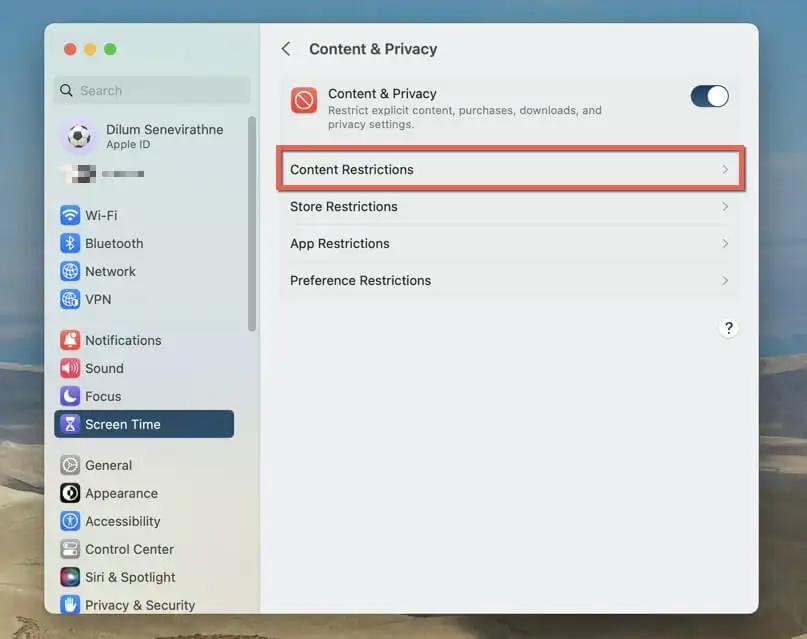 Next, click Content Restrictions, and enter the corresponding Screen Time passcode in the space provided when Mac requests you to. After that, click on the drop-down icon beside Access to Web Content, adn select Unrestricted.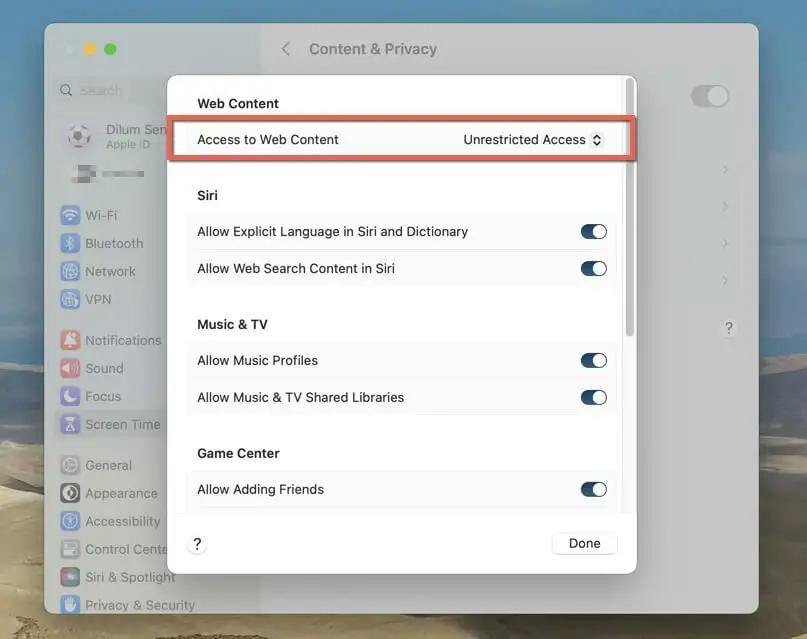 Now click Done to finish.
2. Can I recover the delete Safari history on my Mac?
Yes, you can recover the deleted Safari history page on your Mac computer system. There are two ways to go about this. One involves recovery from iCloud or iTunes backup, while the other requires the use of professional data recovery software. We recommend the latter approach which involves data recovery software.
A perfect software to use in this case is the Eassiy Data Recovery tool, the 1 data recovery solution dedicated to recovering over 15+ types of data files, such as contact, documents, texts, photos, Safari history, and more, from any computer hard drive, SSD, and other storage systems.
Easily Data Recovery is the fastest data recovery solution available on the internet, as it retrieves data at a remarkably high speed. You can trust this software to bring back your missing Safari browsing history with high precision and accuracy without compromising your system, or distorting the quality other data files.
3. How to recover Safari history on my iPhone?
Like Mac, you can also retrieve Safari history on your iPhone. The approach is similar, but we strongly recommend the use of a data recovery tool to successfully recover your Safari browsing history.
Though there are several tools to use, Eassiy iPhone Recovery is the best option available on the internet. The software retrieves all kinds of iOS data from all iPhone and iPad models freely and quickly.
Conclusion
Clearing Safari history is one of the simpest privacy protection operations to execute on your Mac computer system. With the ultimate guide shared above, you can quickly clean yor Safari browsin history, cookies, and caches with minimal stress.
All approaches, are simple, fast, and affordable. However, we strongly suggest thata you use the Macube Cleaner for this type of operation on your Mac computer system. The software offers a simple yet safe approach to clean Mac storage, so it can function at optimal level.