It's often anxious to see junk files mount up on your Mac. The more junk files, the less free space. One way to free up storage space in Mac is to delete junk files in hard drive. These junk files include files in Trash and system files such as caches and temporary files.
It is a piece of cake to empty Trash in the Mac to faster running speed. However, when it comes to system files, common users have literally no clue about where to find the files and what these files do in their Mac computers, though they might notice system junk have taken up a huge space.
Similarly, temp files, installation support files, and caches from different apps are stored on the Mac as the way they want, it's also not easy to clean these unnecessary files on Mac. And that is also the reason why it's not advisable to find and remove junk files on Mac manually. Fortunately, in this page, you will see a feasible way to remove junk files from Macbook Air/Pro with a free Mac junk cleaner.
Quick Way to Delete Junk Files on Mac with Macube Cleaner
To safely delete unnecessary files on Mac in one click, you can try Macube Cleaner, a professional Mac cleanup tool which integrates multiple cleaning features into a single one program. With Macube, you can delete junk files on Mac including trash, system junk, app caches, logs, mail attachments, iTunes junk in very simple steps.
Besides clearing junk files, it also offers more features to cleanup and revive your Mac, such as finding large and old files, locating duplicates, shredding stubborn files, and more.
Still wonder how this cleaner works? Click the download button below to free download the app and follow below steps to clean up hard drive in your Mac.
Step 1. Launch Macube Cleaner on your Mac.
Step 2. To delete system files in the Mac, choose Smart Scan feature at the left pane.
Step 3. Click Smart Scan to allow the app to scan out system files that are safe to delete.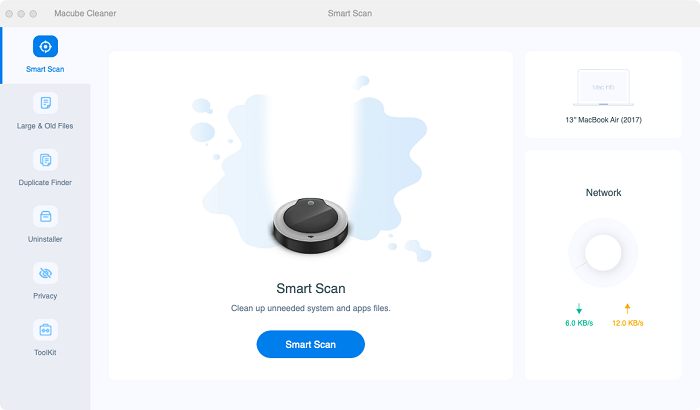 Step 4. After scanning, the program will display the junk files in different categories. You are free to preview each file by clicking the magnifying glass icon.

Note:
To better sort out the junk files, click "Sort By" to sort out the files by date and size.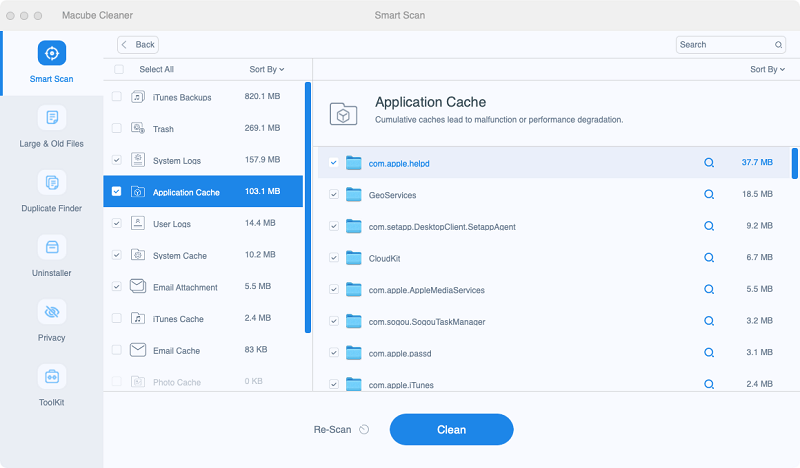 Step 5. Select the files that you don't need, and click Clean. Wait for a few seconds for the cleanup to complete.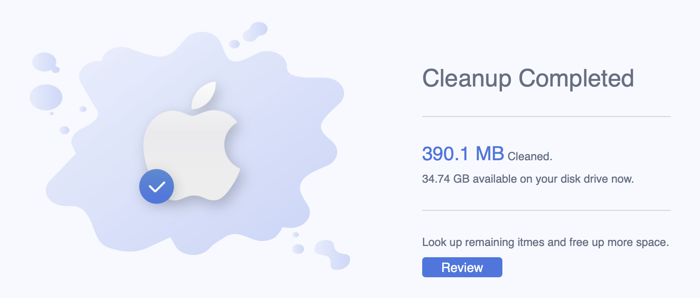 Related Tips: Are Junk Files on Mac Safe to Delete?
"Should I clear caches on Mac?" When you want to start deleting junk files from your Mac, you may usually begin with a question. Actually, the answer is absolute YES.
Before selecting the junk files to delete, it's better to know what types of files make up the junk files and what they exactly do on your Mac. Know about it can help you figure out their functions and be surer if they are safe to delete.
If you want to delete the junk files manually, you can also follow the instructions below.
Caches and Temp Files
Caches on Mac can usually be divided into system caches and app caches. Caches are also usually mentioned as temporary files.
System caches are caches files generated by the system for you to quickly access apps and services on Mac. But as caches generates, they also cause longer boot time or decreased performances.
Application caches are used by native or third-party applications to store temporary information and speed up load time.
In a way, caching is a good thing, which can improve applications' loading speed. However, over time, the caches data will grow too large and occupy storage space.
📌 How to Delete Caches on Mac Manually
Step 1. Open Finder, press Command+Shift+G, or choose Go > Go to Folder to open the inserting window.
Step 2. Enter "~/Library/Caches" and press Enter to access the caches folder.
Step 3. There are usually a bunch of folders, check each one and select the cache files you want to delete. You can press Command and click on the folders if you want to delete multiple cache files or folders at once.
Step 4. Delete the files by pressing Command+Backspace or drag them to Trash. Then, empty the Trash. You may need to enter your user name and password to complete the deletion.
System Logs
Log files of the system records the activities and events of the operating system, such as errors, informational events and warnings, and a failure audit of login failure.
If your Mac is old, the accumulated system logs will take up space and most of them are useless. They are safe to delete, and will not affect your Mac. Clearing log files on Mac is very similarly to that of deleting caches.
📌 How to Delete Logs on Mac Manually
Step 1. Open Finder > Go > Go to Folder.
Step 2. Enter "~/Library/Logs" to get access the logs' folder.
Step 3. Select the log files you want to delete. By pressing Command+A, you can quickly select all the files.
Step 4. Delete the files and empty the Trash.
Trash Bin
It contains files that you have moved to trash can in Mac. There are multiple trash cans in the Mac. Except for the main trash can that we could find in the right corner of Dock, iPhotos, iMovie, Mail all have their own trash can. Many people forget to empty the Trash after they have deleted files, so checking the trash bins on a regular basis is also a must.
iTunes Backups
iTunes backups are the backup files of your Apple devices that have connected to the Mac. Sometimes they may backup automatically without your notice. Although iTunes backups are not actually junk files, some old backups for old iPhones can occupy a lot of space, so it's recommended to check and clear the backups regularly.
Photo Junks
The files are created when you sync photos between iOS devices and the Mac computer. Those caches will take up space on your Mac like the thumbnails.
Mail Junks
These are caches data of Mail app on your Mac. Some old email attachments might also be categorized as mail junks.
That's all of the introduction of the junk files on Mac and how to delete them from your Mac. If you have more question about cleaning your Mac or MacBook, leave a message below. If you find this post helpful, you can share with your friends via Facebook, Instagram, Twitter.