"Will Macs easily get viruses?"
"Does the built-in security system of Macs is enough for protecting the device?"
"Do I need to install an antivirus program on my Mac to protect the device and my personal information?"
Over the years, Mac has been considered to be equipped with a highly-secured system, for safeguarding information and data in an advanced path. This drives many people to select Mac when they wish to have a safe online working or entertaining environment.
Nevertheless, according to a report released by the State of Malware in 2019, in recent years, there witnessed a significant rise in the overall prevalence of Mac treats, which soared by over 400% compared with the number of 2018.
Even though the figure dropped by 30% in 2020, there are still viruses and malware that would attack Macs when we surf the net, such as adware, unwanted programs, ransomware, spyware, phishing, and more. Therefore, whether Macs require third-party antivirus software to get rid of virus threats is still a controversial topic. In this post, we will discuss this in-depth.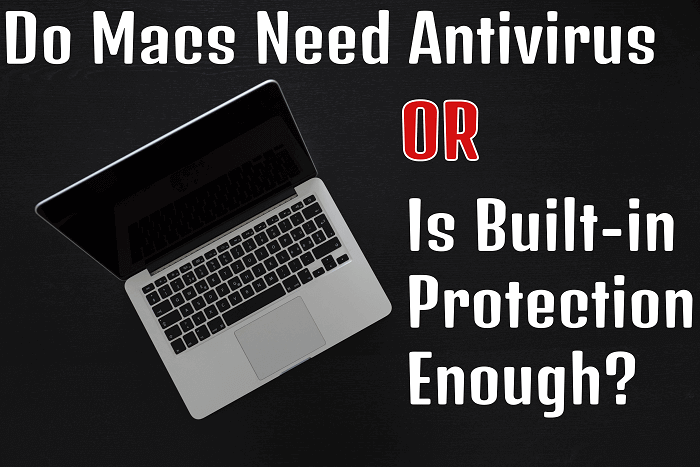 Part 1. Does Mac Come with Antivirus?
To protect the security of Macs, Apple has introduced multiple security measures to prevent the invasion of viruses and malware. Here are several essential built-in antivirus programs which are assisting you to protect your Macs.
XProtect
XProtect is a scanning tool utilized for detecting the potential malware that may attack your Mac. It automatically runs in the background without launching any program to activate. XProtect will function to scan when you download a program or open any file on Mac. When it detects the potential malware, you will receive the warning that the program or file may damage your computer. Under such circumstances, you ought to delete the program or file for preventing any malware invade your Mac.
Gatekeeper
For the unsigned software, Gatekeeper will help block them by preventing you from installing any unverified program that may bring potential harm to the Mac. With Gatekeeper, people could only install formally-released apps from App Store or those from third-party verified developers. Otherwise, you may get the notification "[this app] can't be opened because it is from an unidentified developer" while trying to install the unsigned programs.
Sandboxing
The Sandboxing feature developed for Mac helps isolate the installed apps from accessing the critical system components of your Mac, such as the camera, microphone, and more essential data storing functions, stopping the malware from snooping the data or utilizing them without your permission.
Safari Protection
For assisting people to have a secure net-surfing experience, the built-in web browser on Mac, Safari, has embedded anti-phishing technology for preventing the potential harm from fraudulent websites. When you open a suspect webpage, the anti-phishing feature will be triggered, and the page will be disabled and you will also get an alert warning. Despite this, Safari also utilizes the Privacy Report to stop tracking from advertisers on the net, and the improved Intelligent Tracing Prevention in the latest Safari 15 also protects your IP address from turning it to be invisible.
Mail Protection
Mac also improved the mail protections to keep people's privacy highly secured. For instance, the technologies utilized by Mac can stop the mail senders from tracking the behavior of your interaction with an email. If you are also an iCloud subscriber, by altering the email address, you can keep your personal one safe and private as well.
From these several major protection methods built in Macs, you can easily realize that Mac has been developed with a complete protection mechanism. Generally, they are sufficient for protecting most activities interacting on the Macs, but why there are still some cases that may get viruses? Please continue reading.
Part 2. Does Mac get Viruses?
As we know from the report data, it is still a common circumstance that Macs would get viruses and malware infected because of the security flaws that Apple has missed, or when your Macs are unexpectedly getting attacks from hackers. Here are some major viruses your Macs may face.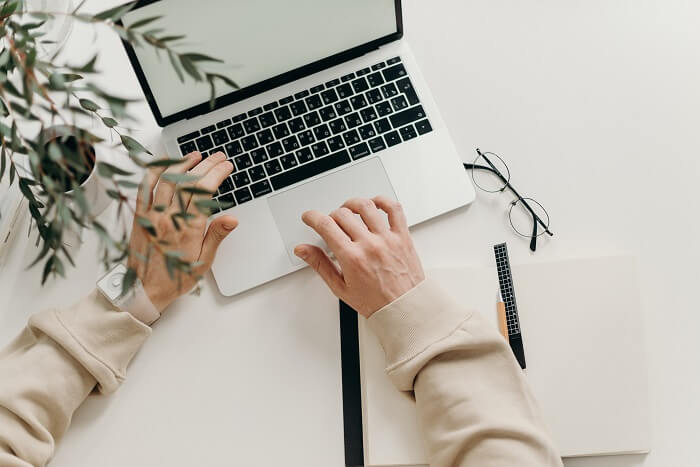 Adware
When your Macs are installed with such malicious programs, the computers would automatically pop up some ads or recommend you wtih the unwanted software. Currently, macOS systems such as macOS Big Sur, works weak to get rid of the adware, people may easily get such virus while visiting some websites.
Unwanted Programs
Some programs such as Advanced Mac Cleaner, Mac Adware Remover, and Mac Space Reviver would try to hound users in negative ways such as threatening users. They have negative reputations and are secure enough.
Ransomware
Macs would also face the risk of getting ransomware, even though its threat towards Apple devices would be less negative. Such virus is dangerous in that it would directly lock up your programs, databases, and even the whole macOS system. The hacker utilizing ransomware would ask you to pay for getting the data unlocked again, so we should also be careful about this.
Cryptocurrency Miners
The cryptocurrency miners is a way utilized by some criminals to crypto-jacking others' Macs for mining Bitcoins. They would try to send some suspect links or codes through emails or pop-up ads on websites to lead people to install the virus for mining Bitcoins.
Spyware
Spyware would be utilized by criminals to steal our personal information, by hiding in some installed programs. When people install and utilize the programs without knowledge, their personal data is being collected and sent to third-party companies or advertisers for making profits.
Phishing
There are two types of phishing: vishing and smishing. Normally, such phishing would be sent through suspicious emails or legitimate CSS and JavaScript codes. It would be harder and harder to get rid of as the criminals are getting more sophisticated.
Trojan Horse
The Trojan Horse is a hidden virus installed on your device for stealing your information, files, and data secretly even without knowing at all.
Part 3. Is Antivirus Necessary for Mac?
Following the former two discussions, let's come back to the question, of whether Macs need to install antivirus software or not? We consider that it is not necessary to do it, as Mac has developed with a comparatively complete protection mechanism.
Nevertheless, for preventing unexpected viruses such as those mentioned above, you are also recommended install one based on the type of virus or malware you wish to get rid of.
For instance, when you have to use public networks on a regular basis, need to visit all sorts of online websites, or install third-party programs, your Macs are getting higher risk. For such Mac users, it would be necessary to install antivirus programs for enhancing Mac's security protection. High-ranking antivirus programs like Intego, Norton, and Kaspersky are recommended to install for safeguarding your Macs.
Instead, replacing the antivirus software, as Macs have been secured with a sophisticated protection system, it would be a rational action to clear up the device regularly for removing the unnecessary programs, files, or data for maintenance. As the professional cleanup tools would cost much more expensive, Macube Cleaner can be an affordable alternative, with powerful Mac cleaning functions to clean up Macs in professional ways. This also helps to delete those unknown dangers that may have already been installed on your Mac.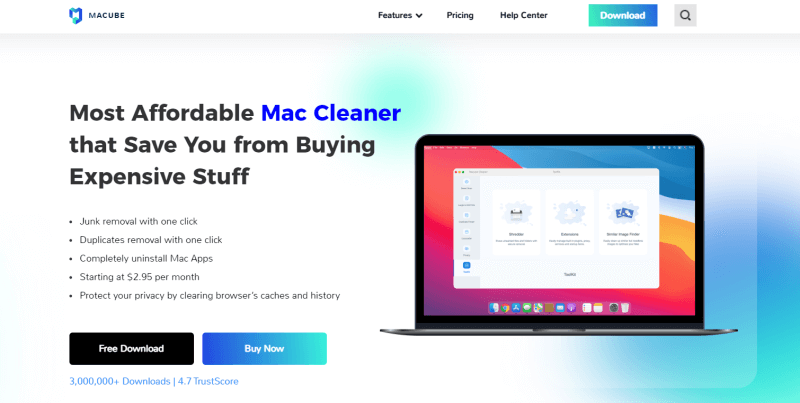 Part 4. FAQs About Antivirus for Mac
To conclude this post, let's walk through several FAQs that most people may concentrate on.
Q1: Does Mac need antivirus software?
This answer may be different from person to person. As Mac has been equipped with a sophisticated security system, for regular usage, users won't be necessary to install third-party antivirus software. However, if you have a high need in visiting all types of websites or install third-party apps, installing antivirus software would be a need for preventing the general viruses or malware that would harm your computer and your personal data.
Q2: How can I keep my Mac safe from malware and viruses?
Here are some general solutions for keeping Macs safe from malware and viruses:
Keep the macOS system up-to-date in that Apple would regularly update the security system for preventing more viruses and malware we may meet.

Try to keep away from connecting the public Wi-Fi networks.

Prevent from clicking the suspicious links sent through emails or showed on unverified websites.

Don't install Flash as Adobe has stopped letting people install Flash since 31 December 2020. When you get such notice, neglect it directly.
Q3: If my Mac has a virus, how can I find it out?
You can check through your Macs for seeing if it reveals the following signs. If yes, your Mac may have been invaded by viruses or malware:
When you open a web page, the text turns into hyperlinks instead.

Some programs you have not authorized are installed on the device.

There are unknown banners or ads that keep popping up.

The Mac keeps crashing or would run hot easily.

The Mac speeds up suddenly for no reason.
When such signs appear, your Mac may get a virus or malware installed, please check through the computer for deleting them.
Today we discuss the topic whether Macs should install antivirus or not. If you have found useful answers in this post, share it as a support. Thank you!