Avast Cleanup is one of the many legendary tools that promise to offer excellent cleanup services on Mac. The tool claims to clear junk files and unwanted data from your Mac computer without leaving any clutter. However, many users are skeptical about its services, because Avast is mostly known for antivirus operations.
Whether this is the same for you, or you have something related, this is the best place to clear your doubts. Here, we will look at a detailed review of the Avast Cleanup for Mac to verify its claim. Also, we will share the best alternative. So keep reading!  
Part 1. Full Avast Cleanup Review
Avast Cleanup is an amazing cleaning utility designed to help you remove useless or unwanted files from a Mac system. It comes in handy when you need to free up space, and enhance the operation of your computer. This software clears data such as junk files, caches, photos, unused apps, and more.
Pros:
Avast Cleanup offers a trial version.  
Scans your Mac system for junks, cached data, unused apps and more, which are deleted based on your request.
Smart enough to detect duplicates and low quality images on your system.
Cons:
You cannot use Avast Cleanup for malware protection.
Can only clear a limited number of data from your Mac computer system.
Not suitable for clearing junk files from email attachments and other social media platforms.
Avast Cleanup software offers premium services which are quite pricey.
The duplicate finder feature often misses files.
Pricing Plan for Avast Cleanup:
Free
1-year Plan: $49.99
2 years Plan: $89.99
3 years Plan: $129.99
What does Avast Cleanup do?
Avast Cleanup is dedicated to clearing useless files from a Mac computer system. It helps you tune up your computer by simply scanning it for junk, trash, and duplicate files, which are mostly deleted to free up space.
This software claims to optimize/speed up Mac operations without tampering with your crucial files data.  Also, Avast Cleanup boasts about maintaining users' systems and fixing a few issues. Here are some of the functionality of this software:
Shortcut cleaner: Removes all obsolete shortcuts and links stored on your PC/Mac from different apps and browsers.
Browser cleaner: Discover where caches are hidden on your computer and clear them immediately.
Disk cleaner: Ensures there's enough storage on your hard drive by simply tracing those junk files and useless apps on your device, and then delete them.
Bloatware Removal: Avast Cleanup permits you to delete third-party files that take up your memory space.
Is Avast Cleanup for Mac safe to use?
Using the Avast Cleanup software to clear junks and other useless files on your Mac computer is straightforward. Thanks to the clean user layout. However, it's not completely safe to use, as it does not come with a malware protection feature.
How to use Avast Cleanup for Mac
Install Avast Cleanup for Mac from the appropriate website. Wait a bit and it will automatically launch itself on your computer system. Follow the instructions below to use it:
Step 1: When the software pops up, select the green Scan tile next to the Clean Clutter icon to proceed.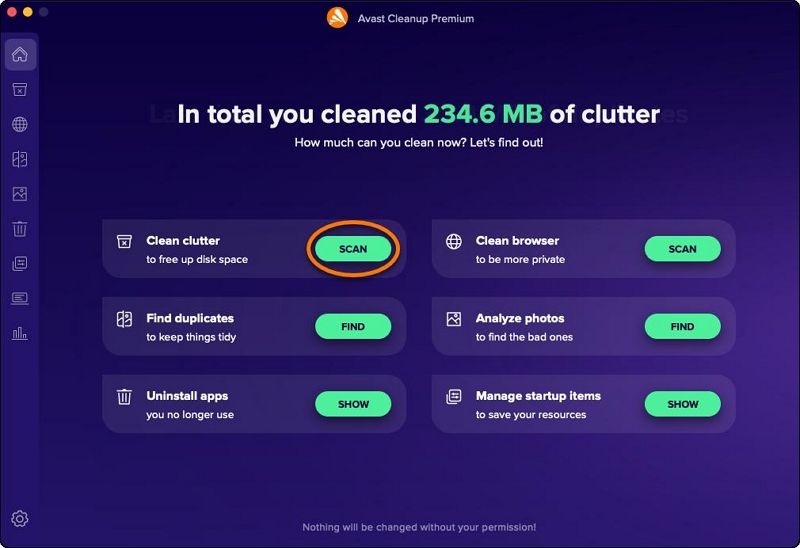 Step 2: On the next screen that shows, click on the drop-down menu at the bottom left corner to choose the file categories you want to remove.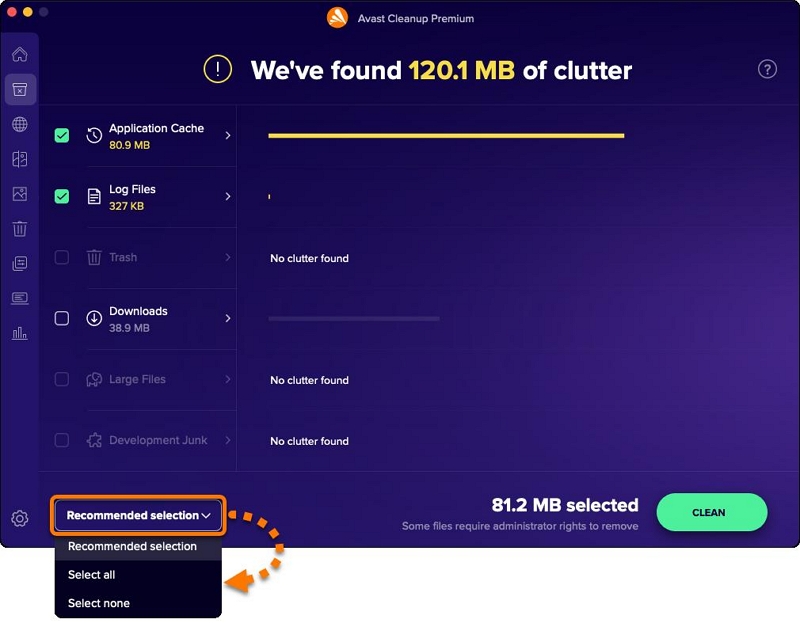 Step 3: Now that you've successfully selected the files to delete from, hit the Clean tab to proceed with cleaning your device.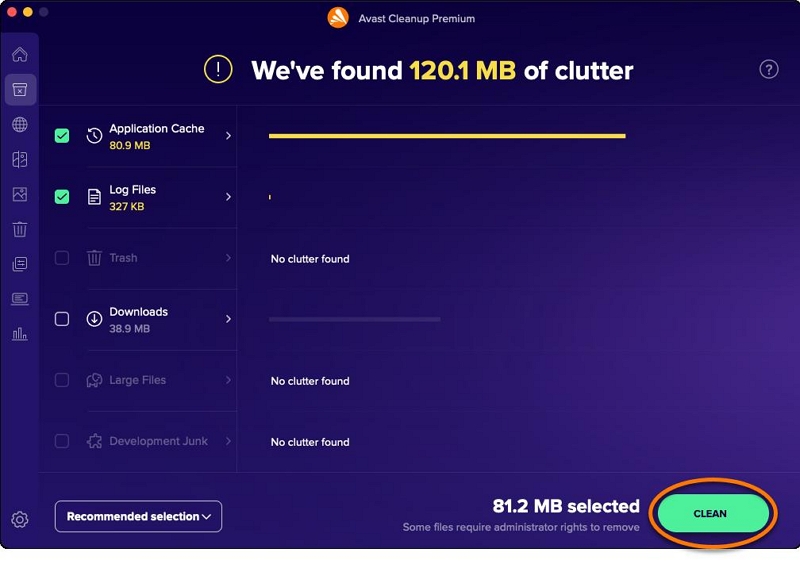 Should Avast Cleanup send a prompt, kindly enter the password you use to unlock you device and click OK.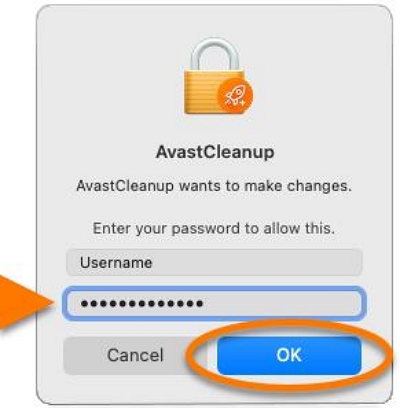 Step 4: Clean up should finish in a few minutes or hours depending on how large the junk and unwanted files are. Click Done once everything is over.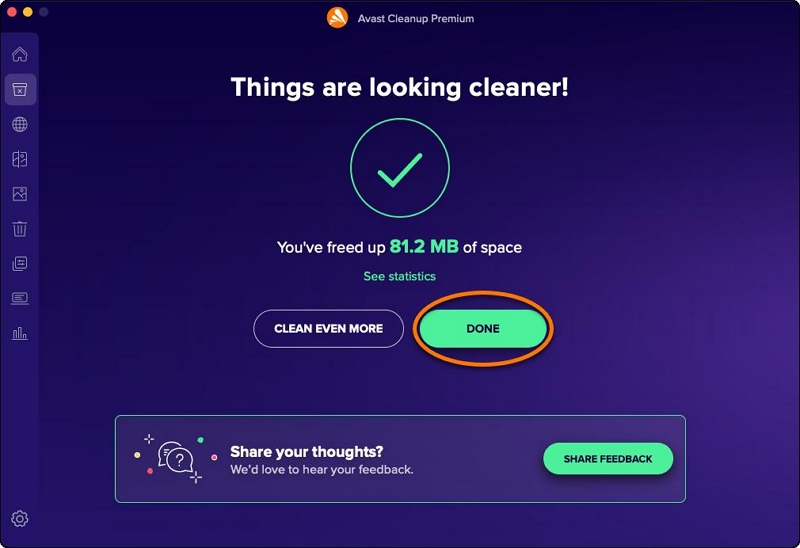 How to completely remove Avast from Mac manually
If Avast doesn't offer the quality you seek, you should uninstall it from your device. The approach to this is pretty easy, however, different from what you know. Check out the guide below:
Step 1: Tap on the Avast icon, which is usually situated in the toolbar section. A drop down menu will pop up. Kindly select Avast Security from the list.
Step 2: Next, head to the menu bar, select Avast Security and tap on Uninstall Avast Security.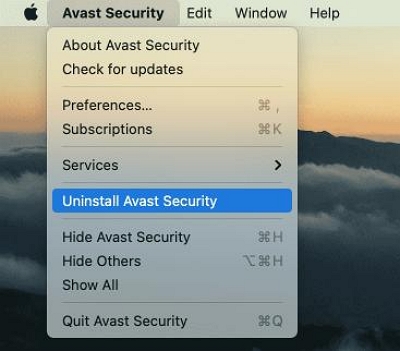 Step 3: Now an uninstalled window will pop up on your screen. Tap Continue and the y installation process will commence immediately.
Once done, a confirmation message verifying that you've successfully removed Avast Securitywill come up.
Step 4: Next, proceed to search for leftover files and delete them from your system. To do that, launch Finder and hold the hotkeys Cmd + Shift + G.
Step 5: Enter ~/Library in the search box that pops up and then hit the blue Go button.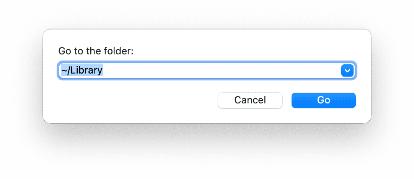 Once the Library folder comes up, locate all Avast Security files, and delete them.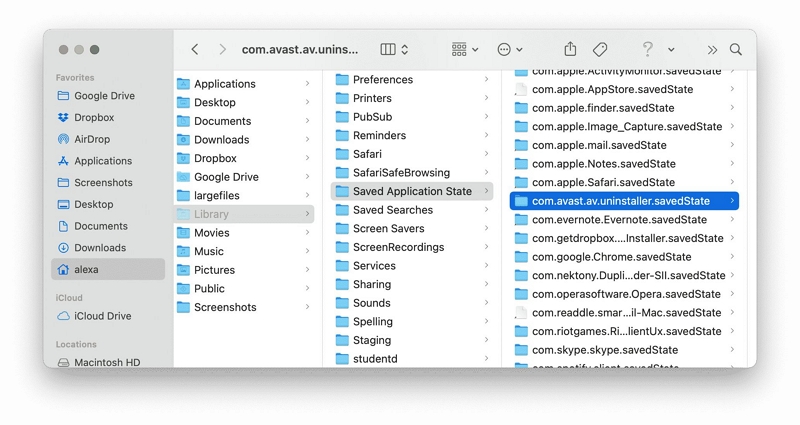 Part 2. Best Alternative to Avast Cleanup for Mac- Macube Cleaner
Obviously, Avast Cleanup for Mac is a great cleaning utility, but it's not worth it, as it doesn't detect malware or protect your computer from viruses. Nonetheless, there's a better alternative that comes with privacy protection, smart scan, and other fascinating features you won't find on Avast Cleanup. Care to know what that tool is? It's the Macube Cleaner.
Macube Cleaner is an award-winning cleaning utility capable of removing junks, and other useless data files taking up space on your Mac computer system. It's one of the trusted software to invest in, as it cleans up your computer without compromising it.
We recommend this software as the best alternative for Avast Cleanup because of the excellent cleaning functions it has, from duplicate finder to file shredder, uninstaller, and more. All of these functions lead to the successful removal of unwanted data files, so as to help you reclaim storage space on your Mac computer.
Macube Cleaner has one of the cleanest UI with a cool layout for easy and quick navigation. So whether you are an experienced tech user or not, you should be able to navigate without requesting help from anyone.
Key Features:
Find below some of those wonderful features Macube Cleaner supports, which makes it the best alternative for Avast Cleanup:
Macube Cleaner comes with the privacy protection feature, which plays a crucial role in the clearing of browser cookies, and history. You might be wondering why browser cookies and history. Well, that's where most private data are stored on a browser.
You can use this feature for nearly all popular browsers, such as Chrome, Safari, and Firefox. It doesn't work with any other browser.
The ToolKit feature on Macube Cleaner is a multifunctional tool that powers extra functions like file shredder, extensions, and similar image finder. Each extra function is designed for a unique purpose.
For instance, file shredder is built to get rid of those useless and stubborn data files that can't be deleted using the standard delete method. Similar image finder on the other hand is designed to detect images/photos with similar content.
Macube Cleaner offers a quick yet convenient way to get rid of large and old files on a Mac computer system. All thanks to the large and old files feature. This function is similar to the Recommendation and Smart Folder feature integrated into Mac computer.
However, that for Macube Cleaner is a better choice, as you don't need to start browsing your system for old/large data before erasing the corresponding files. Instead you sort your data by date and size, mark the oldest and largest ones, then delete.
Here is another interesting feature of the Macube Cleaner software. The duplicate finder function helps you identify data with similar or same content on your Mac computer, so you know which ones are worth keeping, and the ones to delete.
This function comes in handy, especially when you are running out of space, and confused about which data to clear from your system. It offers a cool way to create space on your computer without wiping the entire system.
Looking to uninstall multiple apps at a go? Macube Cleaner has got you covered, as it comes with an uninstaller function that lets you remove several unwanted apps at once without tampering with other data.
This lightweight Mac cleaning tool has a better pricing plan compared to Avast Cleanup for Mac or any other competition you will find online. Macube Cleaner hosts lots of wonderful features at an affordable pricing plan.
Check out the pricing for Macube Cleaner below:
7 days for free
1-month plan for a single Mac: $8.95
Perpetual plan for dual Mac: $69.95
Steps to Clean Mac with the Best Avast Cleanup Alternative- Macube Cleaner
Apply the instructions below to clean up your Mac computer via the Macube Cleaner software:
Step 1: Get on any browser on your Mac computer system, and visit the official website for Macube Cleaner. Download and install the newest version of the software, then launch it. Click the blue Smart Scan icon on the quick start page.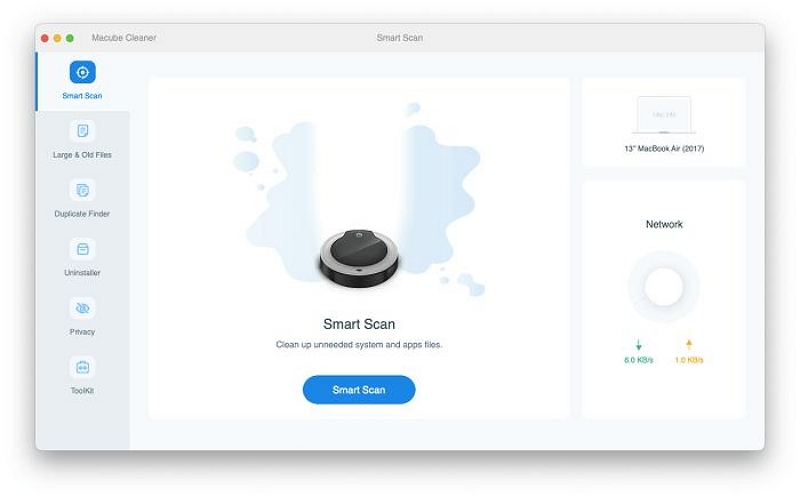 Step 2: Next, Macube Cleaner will read through your computer system for all trash, and junk files. Once done, it will list the resulting folders out. Tap on the magnifying glass icon, so you can preview the folders listed and their corresponding locations on your Mac.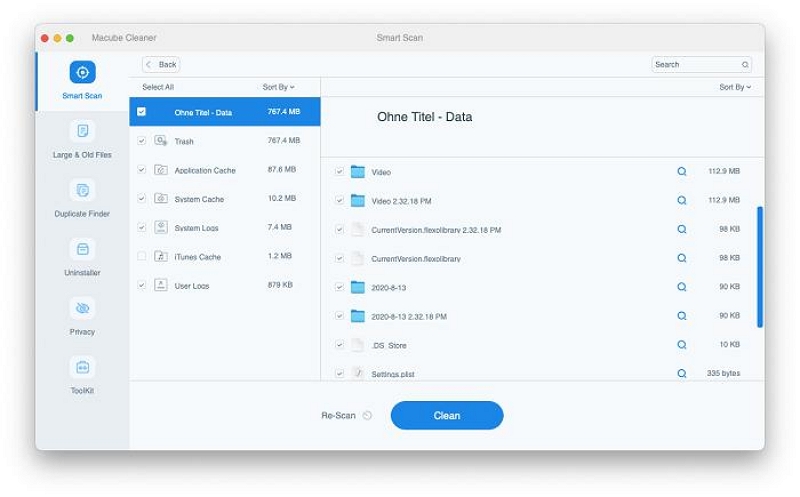 Check the ones you don't want anymore, then hit the Clean button to clean your Mac storage system.
Step 3: System cleaning will commence immediately. Wait till that is finished by the Macube Cleaner software, and the screen below pops up: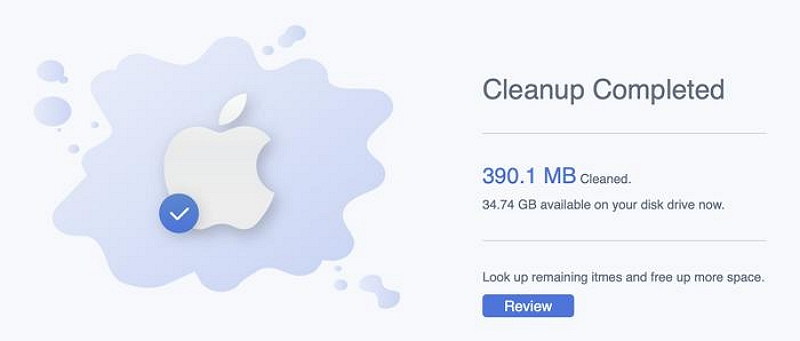 Part 3. Comparison Avast Cleanup vs Macube Cleaner
The table below shows the strengths and weaknesses of the Avast cleanup software and Macube Cleaner. Kindly compare so you can make a better decision when investing in the best cleaning utility software:
| | | |
| --- | --- | --- |
| | Avast Cleanup for Mac | Macube Cleaner |
| User Interface | The interface is well-built and simple to use for anyone, whether tech literate or not. | Clean interface with an incredible layout that aligns all features in a single file to ease navigation. |
| Speed of Operation | 15X | 60X |
| Browser Cleaner | ✅ | ✅ |
| Disk Cleaner | ✅ | ✅ |
| Privacy Protection | ❌ | ✅ |
| Duplicate Finder | ❌ | ✅ |
| Similar Image Finder | ❌ | ✅ |
| Uninstaller | ❌ | ✅ |
| Shredder | ❌ | ✅ |
| Extension | ❌ | ✅ |
| Large and Old Files | ❌ | ✅ |
| Quality Maintenance | Quality assurance of data files and apps isn't guaranteed when you use this software. | Macube Cleaner doesn't tamper with unselected files or apps on your Mac computer system. |
| Pricing | Expensive | Cheaper |
From the comparison table above, you can easily confirm that Macube Cleaner is a better option for cleaning a Mac computer system. Although Avast Cleanup features some nice functions, Macune Cleaner powers more fascinating features that you need to clean your Mac, so as to enhance the memory space and speed operation.
Final Words
No doubt that Avast Cleanup is among the legendary Mac cleaning utilities, just as mentioned in the article. However, Macube Cleaner is the best to invest in. The software powers several amazing functions at an affordable pricing plan.