The world of gaming has witnessed a tremendous shift in recent years, with digital platforms like the Epic Games Launcher offering an immersive gaming experience to millions of players worldwide. However, as gaming preferences evolve, you might find yourself needing to uninstall the Epic Games Launcher from your Mac or Windows system.
Whether you're seeking a fresh start, looking to free up valuable disk space, or simply exploring alternative gaming avenues, we're here to guide you through the process effortlessly. In this article, we'll delve into the process of uninstalling Epic Games Launcher from both Mac and Windows systems without disruption to your gaming routine.
Part 1: The Things You Need to Know About Uninstalling Epic Games Launcher
Before we jump into the uninstallation process, let's address some common questions and concerns you may have.
1. Is it safe to uninstall Epic Games Launcher on Mac?
Absolutely, yes! It is safe to uninstall Epic Games Launcher from Mac. Besides, it's not a native app on the Mac system. So, you can uninstall the app without worrying about any harm or cause any data loss.
However, it's always a good practice to back up your game progress and any important files before proceeding with the uninstallation.
2. Will uninstalling Epic Games Launcher delete my games?
Yes, uninstalling Epic Games Launcher will also remove the games you have installed through it. But, your game progress and account information will not be deleted.
3. Can I transfer my game progress to a new Epic Games Launcher account after uninstalling and reinstalling?
Unfortunately, no, you can't transfer game progress do a new Epic game launcher after uninstalling and are-installing. But if the game supports cloud-saves, you can save your progress there and continue the game as soon as you reinstall Epic Games Launcher..
4. Why can't I uninstall Epic Games Launcher?
There are few reasons why you might be unable to uninstall Epic Games Launcher ftom your system. One common issue is that the launcher is still running in the background. Make sure to fully close the launcher and any games associated with it before attempting to uninstall.
Additionally, you may encounter permission errors if you don't have sufficient privileges to uninstall the software. In such cases, you may need to log in as an administrator or contact your system administrator for assistance.
Part 2: How to Uninstall Epic Games Launcher Mac
Now that we've answered some of the common questions you might have in mind, In let's explore the methods to uninstall Epic Games Launcher on your Mac.
Method 1: Completely Uninstall Epic Games Launcher Mac with Macube Cleaner
The first and most reliable method involves the use of advanced software Macube Cleaner. Macube Cleaner is a comprehensive Mac cleaning tool that supports a wide range of features, including app uninstaller. The tool can help you easily remove Epic Games Launcher with its associated files from Mac completely within a few clicks. Thanks to its intuitive interface, you don't need advanced knowledge to operate.
Also, Macube Cleaner supports advanced scanning features called "Smart Scan", which allows you to find unnecessary files and caches occupying important spaces on your Mac. But that's not all. It also supports duplicate file ginger, similar image finder, file shredder, and lots more tools that facilitate the thorough cleaning of unwanted files without leaving any leftover files behind.
Lightning-fast app uninstaller.
Built-in duplicate files finder, similar images finder, and files shredder.
Supports privacy cleaner, which enables quick and secured removal of caches, downloads, and history for different browsers, including Safari and Chrome.
Find and uninstall unwanted junks on Mac with just one click.
Step 1: Download and install Macube on your Mac
Step 2: Launch Macube and select Uninstaller from the left interface. Then, click Scan and wait for it to scan your system for installed applications.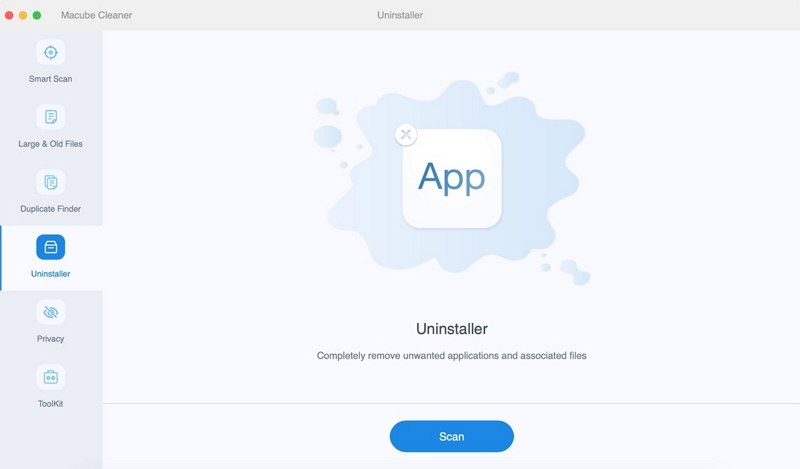 Step 3: Locate "Epic Games Launcher" in the list of scanned apps and select it.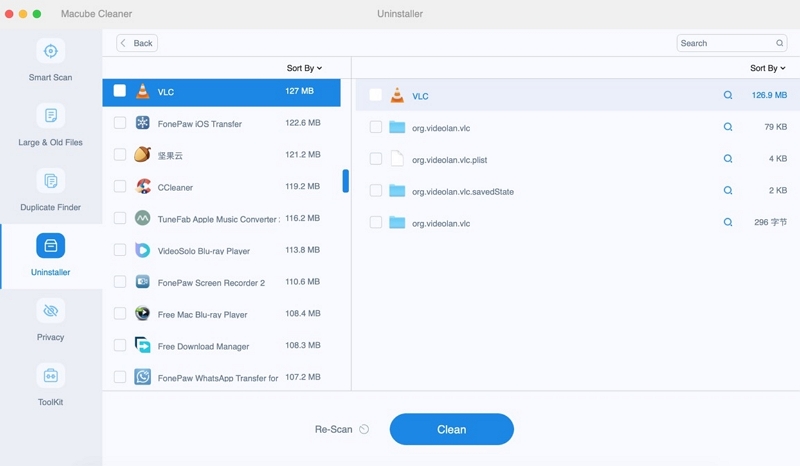 Step 4: Click on the "Clean" button and confirm the removal when prompted.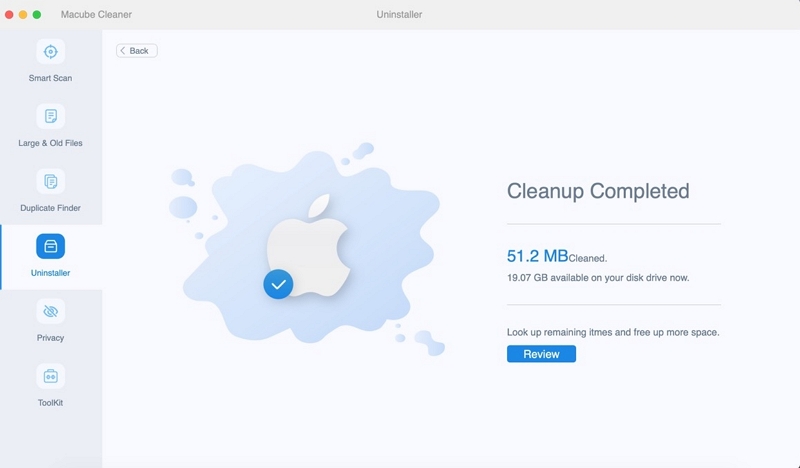 Macube will now uninstall Epic Games Launcher and all its associated files from your Mac. Wait for the process to complete.
Method 2: Manually Uninstall Epic Games Launcher on Mac
The above method with Macube Cleaner involves installing a third-party app. But if you don't wish to install an app to uninstall Epic Games Launcher on Mac, you can opt for the manual process. Though keep in mind that the manual process takes longer time to complete and you need to uninstall all Epic Games Launcher associated files separately.
Follow the steps below to uninstall Epic Games Launcher from Mac manually;
Step 1: Open the Finder on your Mac.
Step 2: Click on "Applications" in the left sidebar to access your applications folder.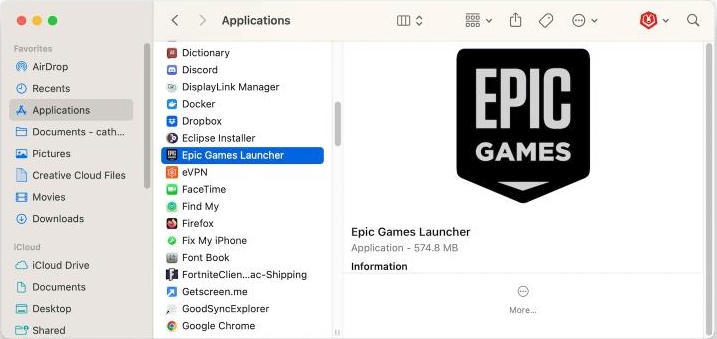 Step 3: Find and click the "Epic Games Launcher" icon in the applications folder.
Step 4: Drag the icon to the Trash or right-click on it and select "Move to Trash."
Step 5: Empty the Trash to permanently delete Epic Games Launcher from Mac.
As mentioned earlier, manual u installation may not remove all associated files and preferences. So, to remove all Epic Game Launcher associated files, you need to complete the following steps;
Step 1: Click on the Go menu in the Finder app and search for the following folders and look for any files associated with Epic Games Launcher.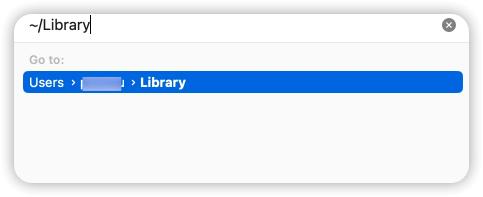 ~/Library/Application Support
~/Library/Caches
~/Library/Preferences
~/Library/Logs
~/Library/Cookies
Step 2:  Drag and drop the folders into the Trash. Then, empty the trash folder afterward.
Part 3: How to Uninstall Epic Games Launcher on Windows
If you're a Windows user and want to remove Epic Games Launcher from your PC
Step 1: Quit Epic Games Launcher via Task Manager.
Step 2: Open the Start Menu and search for "Control Panel." Then, click on the top search result to open it.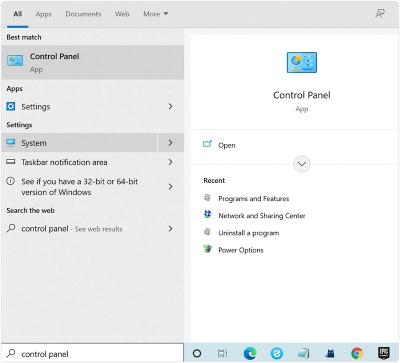 Step 3: In the Control Panel page, navigate to "Programs" > "Programs and Features."

Step 4: Scroll through the list of installed programs and locate "Epic Games Launcher."
Step 5: Right-click on "Epic Games Launcher" and select "Uninstall" from the dropdown menu.

Step 6: Follow the prompts to uninstall Epic Games Launcher from your PC.
Once the uninstallation is complete, Epic Games Launcher will be removed from your Windows system.
Conclusion
In this guide, we've provided a detailed step-by-step guide on how to uninstall Epic Games Launcher on Mac or windows. For Mac, we introduced two methods using an advanced automatic app uninstalled software and the regular manual method, while for Windows, we explained the process using the built-in control panel. With these, you can easily remove Epic Games Launcher and free up valuable space without worries. You just need to ensure you follow the instructions correctly.