Malware or harmful software is one of the causes of the destruction of desktops and mobile devices. It is a code file that is often distributed through the Internet. Malware infects, examines, steals, or performs nearly any action desired by an attacker. And these bugs have spread increasingly rapidly as technology has advanced in recent years.
Dealing with malware is always troublesome. Fortunately, thanks to the advancement of technology, many tools are able to assist you to remove malware from your computer. In this post, you will discover how to remove malware from a Mac.
Part 1. Symptoms of Malware on Mac
No operating system is resistant to viruses. Macs are not in the risky red zone in this context, yet, malware outbreaks frequently occur on any device. There are obvious signals of harmful activity that enable consumers to recognize a virus from an average performance anomaly. Here are some signs that your Mac is infected with a virus.
1. You are experiencing pop-up advertising.
If pop-up notifications disrupt your Mac encounter from a program you didn't install, or so you believe, you have most certainly been victimized by scareware. This class of malicious code encompasses false optimization tools and phony malware cleaners that enter computers without permission and purposefully flag problems that do not exist to deceive users into purchasing the licensed version of the software.
2. Your web page is being routed to objectionable websites.
The majority of the time, a hijacker takes the form of an aggressive plugin that replaces the user's personalized Internet browsing settings with negative values without the system administrator's permission. It may be Safari, Chrome, or Firefox, and it will start sending traffic to spam websites randomly, or each time you launch the program, open a new tab or do an internet search.
3. Your files are inaccessible due to encryption.
The incidence of ransomware on Macintosh computers is not nearly as ubiquitous as it is on Windows computers; nonetheless, this does not mean that should dismiss the threat. There's been a few instances of file-encrypting malware that have exclusively targeted Macs. These infections have spread quickly.
4. Your Mac is more sluggish than normal.
Some viruses can infect Mac computers and cause the infected host to become a botnet member. In other words, the hacked computer will receive arbitrary instructions from a remote command and control server, such as to take part in a distributed denial-of-service attack or mine bitcoin for the benefit of the perpetrators.
Part 2. A Quick Way to Remove Malware from Mac Completely
The good thing about technological development today is that there are numerous ways to remove the malware on Mac without restarting it. And one of these is the Macube Uninstaller.
This program is directly made for cleanup on Mac devices. The Uninstaller feature of Macube can help quickly locate and uninstall malware. The impressive point is, it also seeks to remove the things that users can't see when they uninstall some apps, such as caches, preferences, logs, and many more related files, so the cleanup is very complete. And because of its excellent performance in uninstalling apps and cleaning junks, thousands of users are starting to love this software.
Features of Macube Cleaner
It removes the apps you uninstalled without leaving any mark on them.

It helps remove the junk on System, iTunes, Mail, etc. since they cause a significant impact on having ample storage.

It detects the type of device you are using and the internet connection associated with it.

It helps in finding old and large files that exceed 100MB.

It seeks to look for the duplicated items on your device.

It keeps your browser private and clears the history of your web.
To see how to remove the Malware from Mac, you can see a quick tutorial in this post.
Step 1: First, you need to proceed on the Macube Uninstaller and press the Free Download. After that, you need to install the program properly by allowing it to run on your device. Make sure to install it properly.
Step 2: Once the application runs, you will see it directed on the main interface. To start, naviagate to the Uninstaller page, click the Scan button, and wait for it to detect all the applications along with the app files on the device.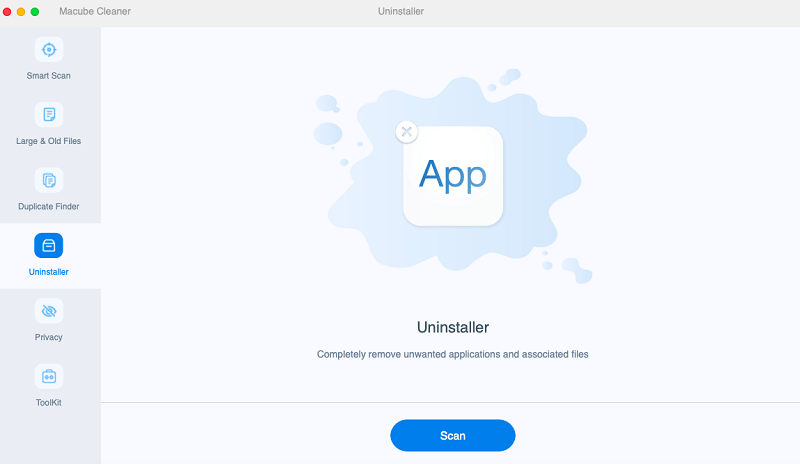 Step 3: After the apps and documents are loaded in the Macube Cleaner, you may now locate the suspicious malware you need to delete. Once you click a folder, all the files associated with the application will show on the right side of the screen. Mark all the documents you want to remove and click the Clean button.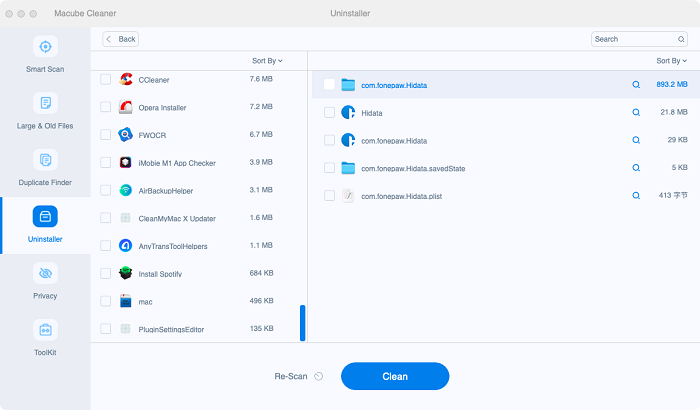 Step 4: Once you remove the unwanted files, you will see the amount of storage you removed. And that's all! You have successfully removed the harmful malware on your Mac.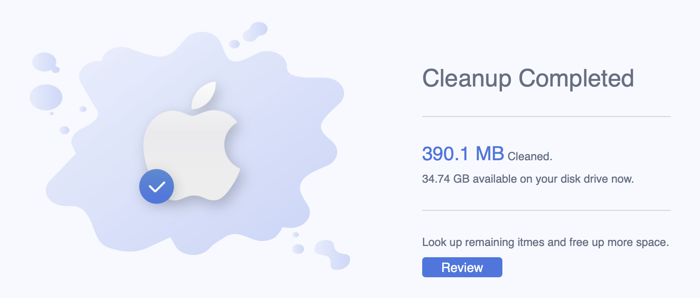 Part 3. How to Get Rid of Malware on Mac Manually
This section will now instruct you on how to delete any potentially malicious applications installed on your Mac. Keep an eye on the material that is broken down into steps below.

Note:
Before you begin to delete malware from your Mac, remember to quit its process to prevent it from stopping your uninstallation. Go to Finder > Applications > Utilities to launch Activity Monitor. Look at All Processes, find the name of the malware app and quit all the related ones, and then you will be able to continue removing it.
Step 1: Select the Finder application from the dock on your computer. You can access Applications by selecting it in the left pane of the Finder.
Step 2: After that, navigate down the list until you locate the infected application, then right-click it and select the option to Delete It from Your Device from the context menu.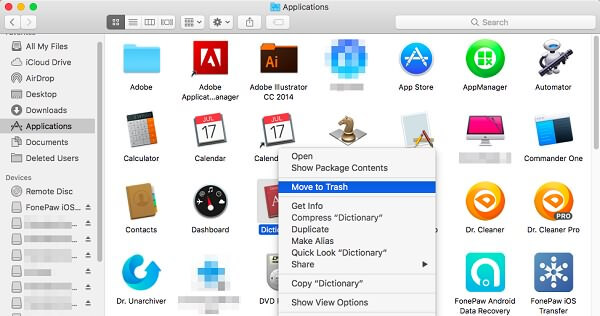 To empty the Trash, right-click the trash icon in the dock and select the Empty Trash option. If you choose to proceed, the contents of the Trash will be deleted, including the program that you have just moved to the Trash.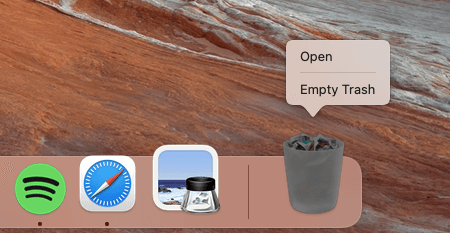 Step 3: After that, make sure you are in the Finder by clicking on the desktop, selecting Go, and then clicking on the Go to Folder option. In the new window that has opened, enter each of the paths listed below manually or copy and paste them, then click the Go button.
~/Library/LaunchAgents

~/Library/Application Support

~/Library/LaunchDaemons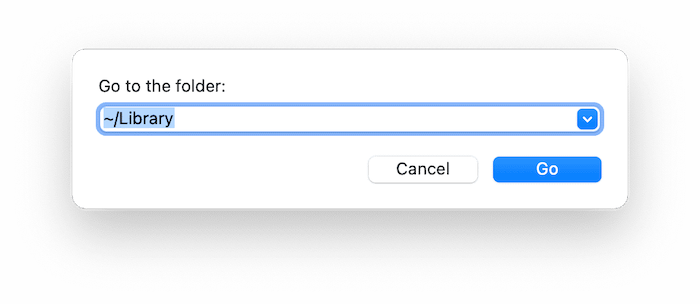 As soon as you hit those keys, it would be best if you immediately began looking for any suspicious files that could cause all the commotion. These files could be anything you do not recall installing or that does not sound like a legitimate program.

Note:
Besides the steps above, it's also recommended that you check the System Preferences (some malware may install a login item in your account). To remove the login items, go to System Preferences > Accounts > Login Items, and you will be able to find and remove it. Or, you can also use the Privacy feature of Macube to do the job.
Part 4. How to Prevent Your Mac from Viruses and Malware
It is now time to discuss the most effective methods for preventing Mac viruses and malware. Almost all of these methods are free. It is a matter of developing responsible behaviors and avoiding sites where spyware lurks.
1. Avoid the suspicious aspects of the Internet.
It is 95 percent or more of what is required to prevent Mac malware and infections. If you receive an email from an unknown sender urging you to click a link, you must delete it immediately.
2. Disconnect your Apple Mac from the web.
Ensure that your Mac is not connected to the web as your initial step. There is no secure WiFi, data hotspots, or WiFi dongle. Malware will frequently connect to a server and download additional malware to your Mac. The longer you are linked, the greater the risk.
3. Disable Javascript in Safari
Additionally, it is recommended to disable Javascript in Safari. Javascript's importance on the web is diminishing, and it is infamous for having a variety of security flaws. It's a double-whammy. Thus it would be best if you disabled it for the majority of users.
4. Install Malware and Virus Uninstaller
Install trusted anti-virus and anti-malware programs to protect your Mac from viruses. Macube Uninstaller is one of the most reliable applications for this purpose, and it is available for free.
Conclusions
Since you know how to get rid of malware on Mac, you can protect your device from any suspicious apps and programs trying to turn down your device. And please use the Macube Uninstaller if you want a better and easier way to remove malware and viruses on your Mac.