Netflix provides original and high-quality movies and TV shows, winning over 209 million paid memberships in over 190 countries enjoying its streaming products across a wide variety of genres and languages. Since Netflix does not provide a Mac app, most Mac users only stream Netflix movies via Safari. But when there's no internet access or when you suffer from network outages, you cannot watch any Netflix content on your Mac.
To solve the problem, this post will provide you with some feasible ways to download Netflix movies to watch offline on mac. Please scroll down and continue reading.
Can You Download Netflix on Mac?
Since there is no official Netflix app for Mac devices, you cannot download Netflix on Mac directly. Fortunately, you can still watch Netflix offline on Mac through different means. For example, installing the Netflix app on mac with various tools, downloading Netflix videos as plain MP4/MKV files by third-party downloaders, recording Netflix films, and mirroring your iPhone/iPad to mac. Just read on and choose one method you like.
Watch Netflix Offline on Mac with Netflix App
Without any Netflix Mac app, you can still install the official Netflix app on mac through different methods to download Netflix movies to watch offline on it. Here are 3 ways to install the Netflix app on your mac:
Install Netflix iOS App on Mac with M1&M2 Chips
Basically, iOS apps are accessible to Mac with M1&M2 chips. Nevertheless, Netflix officially set up barriers to prevent Mac with Apple silicon from installing its iOS app. However, you can still download Netflix movies on Mac by sideloading the Netflix iOS app onto your mac. You may need the help of iMazing, a useful tool, to achieve it.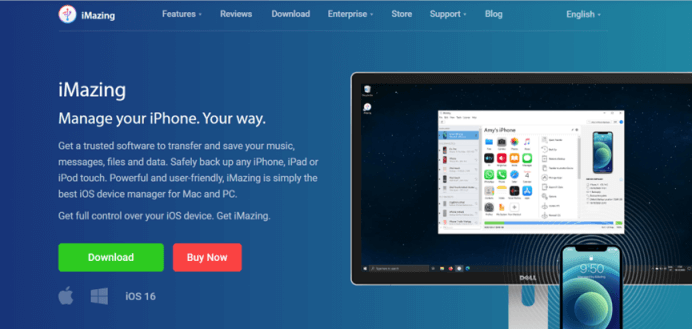 Step 1. Click on the website https:/imazing.com/ to download and install the iMazing app on your mac.
Step 2. Launch it. Then connect the iPhone/ iPad to the Mac since the app (IPA file) needs to be extracted from the device to the Mac.
Step 3. Click on the tab "Apps"-"Manage Apps"-"Library".
Step 4. Choose and download the Netflix app.
Step 5. Right-click on the Netflix app and hit "Export IPA".
Step 6. Open the IPA file and install it.
Step 7. Run the Netflix app on your mac and enjoy your film trips.

Tips:
A Mac with an Intel processor can download Netflix movies by installing the system of Microsoft Windows to run the Netflix app in the Windows version. There are 2 relevant ways—installing the Netflix Windows app on mac with Windows virtual machine and with Bootcamp. Please scroll down and read the detailed information.
Install Netflix Windows App on Mac with Virtual Machine
This method is probably not as direct as others because you should install a virtual Windows system on Mac before downloading Netflix movies on it. After the successful installation of the virtual system, you could download and run the Netflix Windows app on mac the same as that in a Windows system. Parallels is the most suitable virtual machine since it could provide a stable virtual environment for the operation of Netflix for free. Let's see how to download Netflix movies on Mac with the help of Parallels.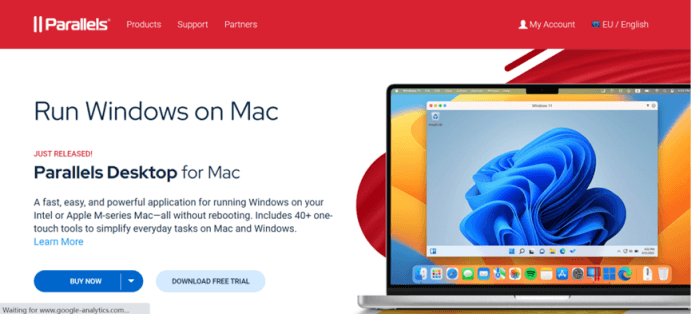 Step 1. Click to download and install Parallels on your Mac.
Step 2. Choose "Accept" after the whole process of reading the Software License Agreement to continue the installation.
Step 3. Click the "Install Windows" shown on the interface.
Step 4. Click to continue when the installation is finished.
Step 5. Open the Microsoft Store to download and run the Windows Netflix app to download Netflix movies on your Mac.

Tips:
Parallels may not be available to M1 Mac users due to technical limitations.
Install Netflix Windows App on Mac with Bootcamp
The Boot Camp Assistant is included with your Mac, which is in the Utilities folder of your Applications folder. So check whether it is in your device before starting the following steps.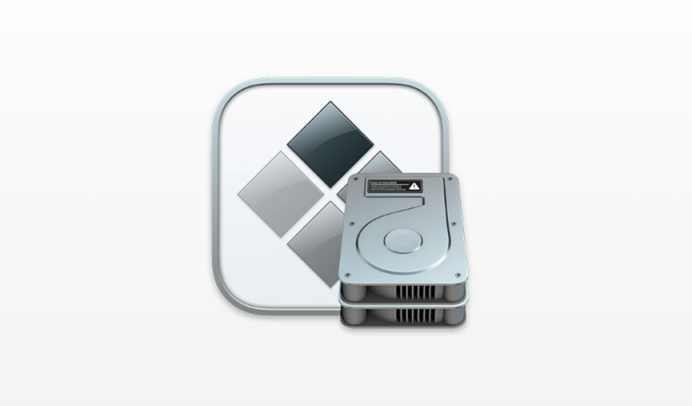 Step 1. Check and make sure that your Secure Boot setting is Full Security before installation.
Step 2. Follow the instructions on the screen of Boot Camp Assistant to create a Windows partition that meets your requirements, for instance, inserting a USB drive and setting the size of the Windows partition.
Step 3. Choose the BOOTCAMP partition to install Windows if asked. Then click Format. You can ignore this step if the installer automatically completes the process.
Step 4. Pull out any external device during the installation process for its unnecessity. Click Next to install Windows.
Step 5. When the installation finishes, you will see a "Welcome to the Boot Camp installer" window on your Mac. Restart your device after following the onscreen instructions to install Boot Camp and Windows drivers.
Step 6. Open the Microsoft Store to download and operate the Windows Netflix app on your Mac to download and enjoy your favorite Netflix movies.
Watch Netflix Movies as Plain MP4 Files on Mac
If you've ever tried to download videos through the official Netflix app, you'll notice that there are a lot of download restrictions. For example, your downloaded videos can only be viewed in the Netflix app. What's worse, you can only have at most 100 downloaded videos that are available for 2 to 7 days. Plus, not every video on the app can be downloaded.
Don't worry, we recommend MovPilot Netflix Video Downloader, a powerful tool to download Netflix videos without any limitations or obstacles. By saving all Netflix videos into DRM-free plain MP4/MKV files, MovPilot Netflix Video Downloader can ensure that you watch Netflix offline on any device you want. The following other impressive features distinguish it from others:
Save Netflix videos as MP4/MKV in full HD 1080P files.

Download Netflix videos at a fast speed.

Grab multilingual original audio and subtitles.

Preserve Dolby Atmos 5.1 surround sound for a superior audio-visual experience.

Permanently keep Netflix offline videos on your devices.
Let's see how to download Netflix movies with MovPilot Netflix Video Downloader on your Mac.
Step 1 Log in to Netflix
Click the button below to download and install MovPilot Netflix Video Downloader. Then launch it. And log in with your Netflix account.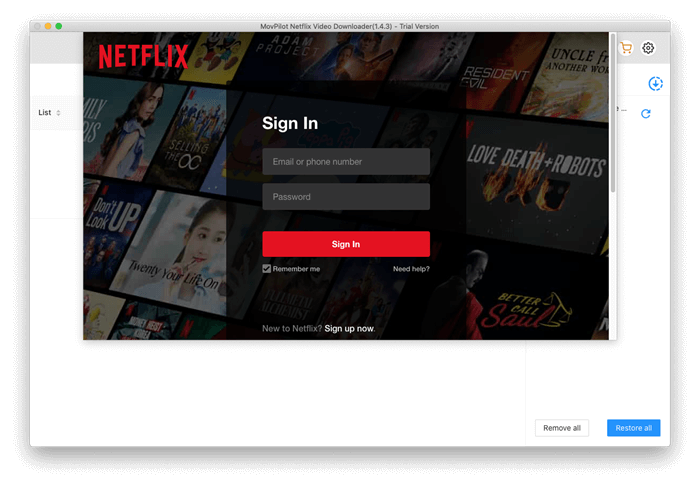 Step 2 Search for the Movies You Want
You can type the keywords of the videos you want into the search bar to get them. Also, you can open the official Netflix website to copy the URL of your favorite videos and paste it into the bar.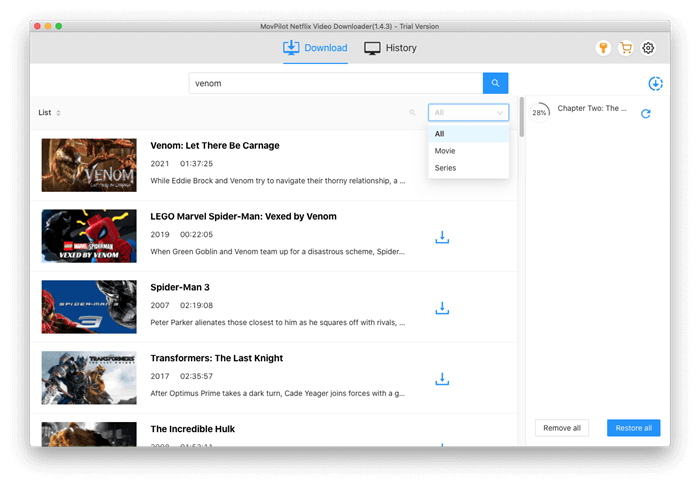 Step 3 Complete settings
Click on the setting icon in the top right corner to complete your customized downloading setting. You can choose your video format and codec, audio and subtitle language, output folder, etc. Also, you could complete this process by clicking the buttons to the right of each video on the search page.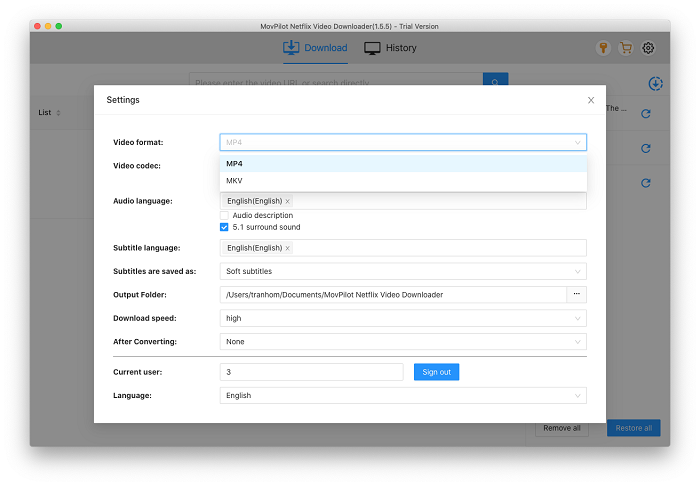 Step 4 Download Netflix movies or TV shows
After setting, press the download button to the right of the video you want to download and choose "Download".
Step 5 Check and watch your Netflix offline
When the downloading process finishes, you can turn back to the main screen and click the History tab on the top. Find your downloaded Netflix videos in it and start enjoying them anytime and anywhere.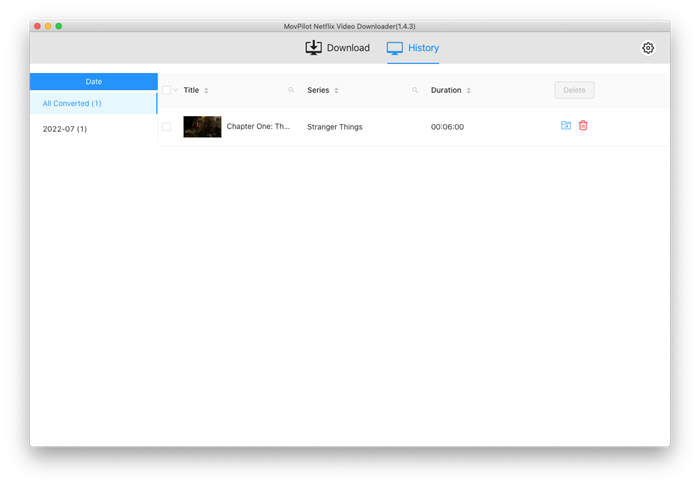 Watch Netflix Offline on Mac by Recording
Besides the use of a downloader, you can also watch Netflix offline on Mac by screen-recording the Netflix videos. However, since the most popular browsers Safari and Chrome provide no permission for screen recording, you will find that almost every Netflix video recorded contains only sound but no image, and the majority of screen-recording software cannot record them perfectly in most cases. Fortunately, the browser Firefox will help you solve the problem of watching Netflix offline on Mac. Let's see how it enables you to watch Netflix offline on Mac.
Step 1. Download Firefox and launch it.
Step 2. Log on to Netflix with it to search for the target videos.
Step 3. Open QuickTime Player and press New Screen Recording before playing the videos.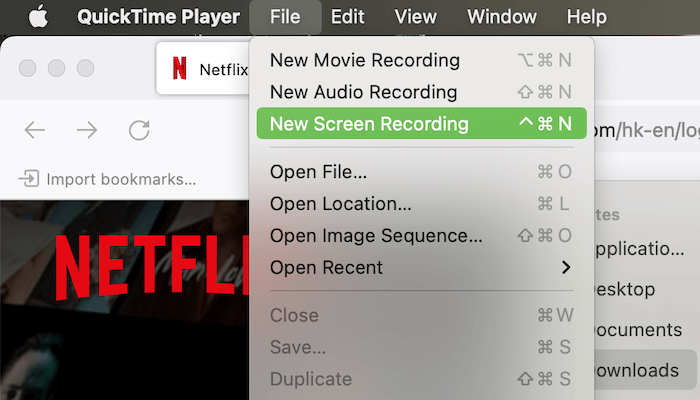 Step 4. Choose to record the entire/local screen before clicking Record. Then start playing Netflix videos.

Step 5. When the video is over, hit the Stop button which is in the upper right of the menu bar to finish the screen recording. Then save and watch your screen-recording Netflix videos.
Watch Netflix Offline on Mac by Mirroring Your iPhone/iPad
If your iOS devices are too outdated to install the applications or system shown above, there is still one more convenient way to watch Netflix offline on Mac—mirroring your iPhone or iPad to Mac, which needs no extra installation of any app.
There are 2 specific ways of mirroring: mirroring via Airplay and through a USB cable. Please continue reading.
Mirror Your iPhone/iPad to Mac through Airplay
Before we start the tutorial, you should know that Airplay, a wireless connection, may not be available for some devices and operating systems. Click here to check whether this function is supported on your device. Now, let's continue to see how to watch Netflix offline on Mac with this method.
Step 1. Make sure that your iPhone/iPad shares the same Wi-Fi as your Mac.
Step 2. Swipe down/up the screen to open the Control Center where you then tap "Screen Mirroring".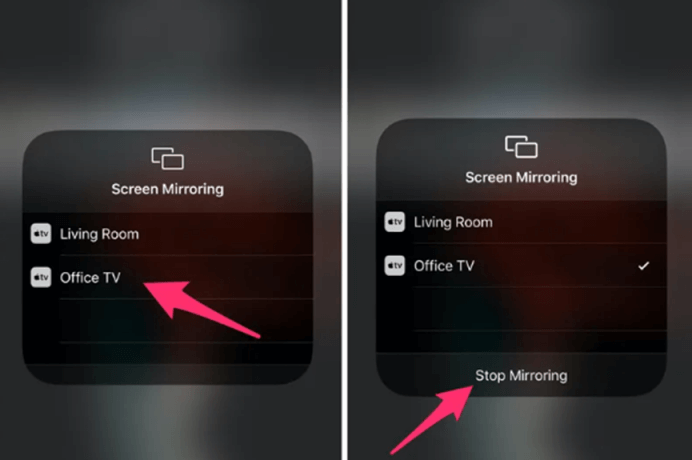 Step 3. Choose your Mac from the onscreen list and then wait for a second.
Step 4. After the successful connection between the 2 devices, start playing Netflix videos on your iPhone/iPad and enjoy your Netflix offline on Mac. You can go back to the Control Center to stop mirroring if you want.
Mirror Your iPhone/iPad to Mac via USB Cable
It doesn't matter if your devices and systems don't support Airplay, because the following method is suitable for all iOS devices and Macs, including some outdated ones. A USB cable and QuickTime are what you need to apply this method. Please scroll down for detailed instructions.
Step 1.Download the target Netflix videos on your iPhone/iPad. Be aware that not all Netflix videos can be downloaded.
Step 2. Connect your iPhone/iPad to your Mac with a USB cable. Tap "Trust Your Mac" once you are prompted by your iOS device.
Step 3. On your Mac, open a Finder window to check whether your iPhone/iPad is successfully connected via the cable. Click on "Trust Your iPhone" or "Trust Your iPad" if you are prompted by your Mac.
Step 4. Launch QuickTime Player on your mac, and click "File"- "New Movie Recording".
Step 5. In the "Camera" and "Microphone" options, tick your iPhone/iPad. Then the computer will mirror your iPhone/iPad screen.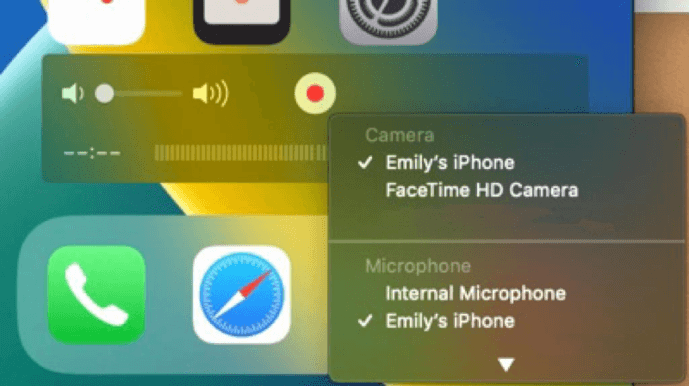 Step 6. Open the Netflix app to view Downloads where your target videos locate. Start playing them and enjoy them showing on your Mac.
Conclusion
To sum up, you can choose one or two of the approaches mentioned above based on your own needs, devices, and systems, among which the MovPilot Netflix Video Downloader is probably the best choice for you. Because it provides a more swift and convenient way for downloading Netflix on Mac as MP4/MKV files in full HD 1080P; not only that, it is also available for keeping Netflix videos forever without time or size limitations. In the final analysis, it's all depended on you and I hope this post will give you hints when downloading Netflix movies to watch offline on Mac.