Entering a screen passcode to unlock the iPhone is typically the least option for most people now that Face ID and Touch ID are widely used. Therefore, many people forget the passcode after a period of time. Besides, if you enter the wrong password too many times, your iPhone will be disabled. You need to wait for a period of time before you can try again or will be asked to connect your iPhone to iTunes to fix the problem.
Factory resetting is the most straightforward way to get access the iPhone again. But is there any way to unlock an iPhone without restoring it if you forget the iPhone passcode? If you are stuck and have no idea how to unlock an iPhone without a passcode, take it easy. I understand how inconvenient it is when you cannot unlock your iPhone. In this article, I will introduce three useful and easy ways for you. Choose one as you see fit. Now, let's get started.
Remove Passcode from iPhone with iPhone Unlocking Tool
If you want to unlock an iPhone but forget the passcode, the simplest way is to use iPhone unlocking tools. Passvers iPhone Unlocker is one of the most reliable unlocking tools that can help you out of trouble. It's compatible with both Windows and Mac and allows you to remove Screen Lock, Apple ID, and Screen Time passcode instantly.
Passvers iPhone Unlocker can do you a favor whether you forget the screen passcode, your iPhone is disabled, or your Face/ Touch ID doesn't work. What's more, it can unlock almost all iOS devices, which means it's still powerful even though you want to remove a passcode of a second-hand iPhone with an old iOS system. The app's features will run differently on different iOS systems. Therefore, to prevent data loss, you are advised to back up data before unlocking. Now, follow the tutorial below to see how Passvers iPhone Unlocker works.
Free Download Free Download Free Download Free Download
Step 1. Download and install Passvers iPhone Unlocker
Install and run Passvers iPhone Unlocker and choose "Wipe Passcode" to get started. Then, use a cable to connect your iPhone to your PC. And click "Start" to start the connection.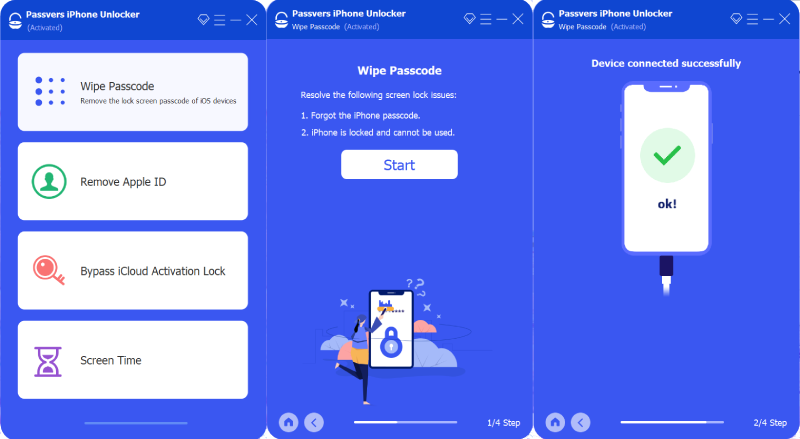 Step 2. Confirm the information and start to wipe the passcode
When the connection is made, please confirm that the device information on the screen is the same as the iPhone you want to unlock. Then, click on the "Start" button to download firmware on your iPhone to prepare for the unlocking.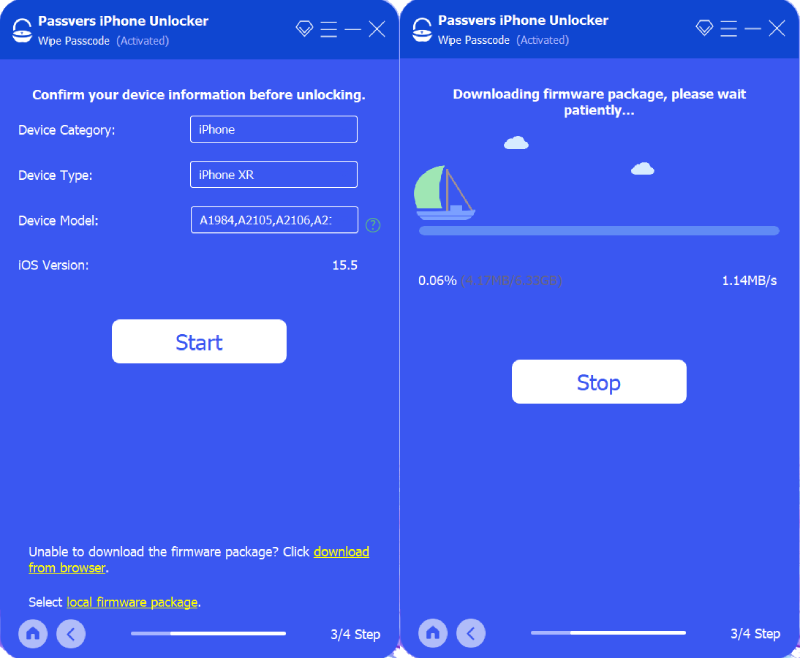 Step 3. Finish the unlocking process
Then it will go to a new page. Read the warning at the bottom of the screen carefully and then enter "0000" in the box and click "Unlock". After a few seconds, the unlock is complete.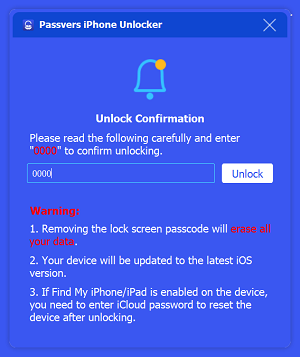 Tips: If you've turned on "Find My iPhone", you'll need to log in to the Apple ID again to reset the device after removing the passcode.
Free Download Free Download Free Download Free Download
Unlock iPhone Without Passcode via Find My
Find My iPhone is a great feature designed by Apple to help users locate their lost or stolen iPhone. However, it also has the option to remotely erase all personal data and settings on your device to prevent information leakage if the phone is stolen. Therefore, you can use this feature to remove a screen passcode. This removal will not factory reset your iPhone, so it is more convenient and safer compared with others. If you want to try this simple way, please follow the steps below.
Step 1. Open iCloud.com in a web browser on your computer. Then, enter the Apple ID and password linked to the locked iPhone. Click "Find iPhone" in the bottom right corner of the home page.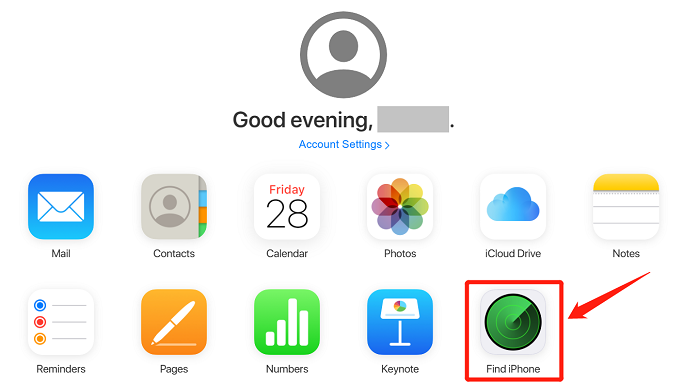 Step 2. Then a map with your iPhone's location will be displayed. Choose the device you want to unlock at the top of the screen and click "Erase iPhone". Then all your data and settings, including the screen passcode, will be deleted.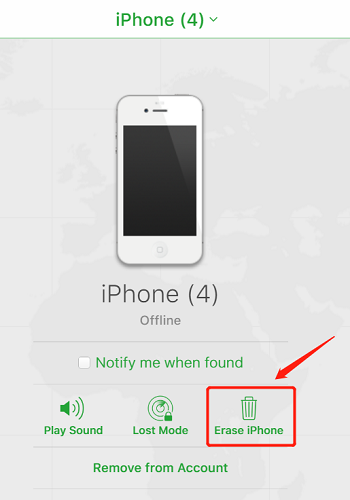 Extra Tip: Unlock iPhone Without Passcode in Recovery Mode
Unlocking iPhones through iTunes/Finder is an official solution from Apple. It will erase all contents and settings of the iPhone along with the passcode. But you should put your iPhone into recovery mode first so that you don't need to tap the "Trust" button on your iPhone since it will automatically detect your device and report a problem. Then, just follow the steps below to unlock your iPhone without a password with iTunes.
Step 1. Turn off your iPhone. Get ready to put your iPhone into recovery mode by following  Apple's official tutorial. Then, press and hold it until you see the recovery mode screen on your iPhone.
Step 2. Next, release the button and immediately connect your iPhone to the computer with a USB cable.
Step 3. Download and run iTunes if you're running a Windows computer. iTunes will automatically detect a problem with your iPhone that needs to be updated or restored. Then, click "Restore" to erase the screen lock.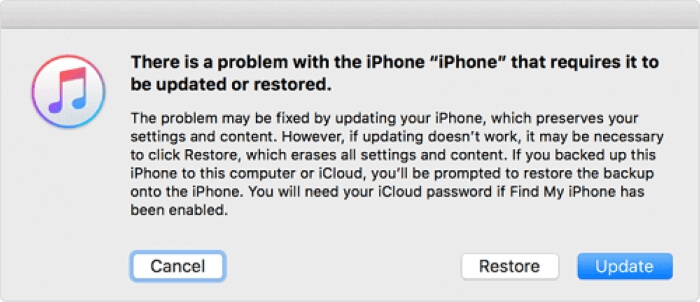 If you connect your device to a Mac, locate your iPhone in Finder. Then choose "Restore" when you see a pop-up window asking you to update or restore your device.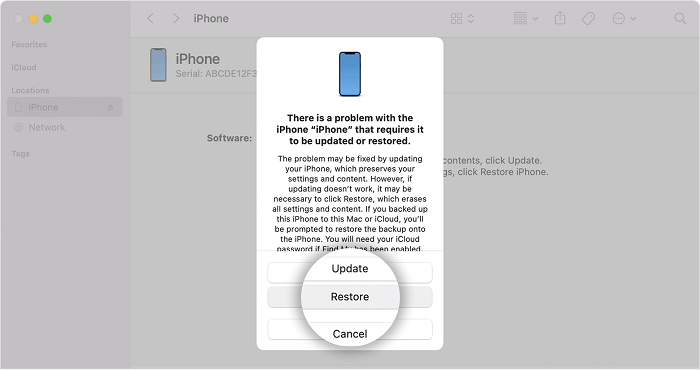 Conclusion
Overall, if you do not know how to unlock your iPhone without restoring it, all these methods will do you a favor when you get stuck. I recommend Passvers iPhone Unlocker over unlocking through Find My and Recover Mode because it's safer and faster. If you are not so familiar with computers, the other two methods may take you a little longer to handle. With this app, you can remove the screen lock within three steps. It may not be perfect, but at least it can help you out of trouble successfully and ensure the safety of your iPhone. Give it a try!