When you have forgotten about the passcodes to unlock your iPhone, and after several times to try, the device is disabled. At this point, you will only get the notification telling you to try after XX minutes, which can be quite annoying, especially when you have important things to do with your iPhone.
So, is there any way to unlock a disabled iPhone when it is locked up suddenly even without using a passcode? In this article, you will get several ways to help. Now, let's have a look.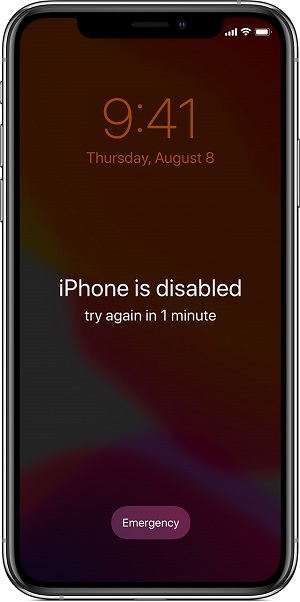 Why Is My iPhone Disabled?
If you have tried to unlock the iPhone screen with wrong passcodes for more than 5 times, your device would activate its secure system and stop you from accessing the content anymore by disabling it. When it exceeds 10 times, you can't directly unlock your iPhone anymore and you need to connect with iTunes to remove the lock limitation.
Here are the motivations you will receive when you have tried entering the wrong passcodes to unlock iPhone for more than 5 times:
iPhone is disabled. Try again in 1 minute. (6 times)
iPhone is disabled. Try again in 5 minutes. (7 times)
iPhone is disabled. Try again in 15 minutes. (8 minutes)
iPhone is disabled. Try again in 60 minutes. (9 minutes)
iPhone is disabled. Connect to iTunes. (10 times)
It seems that when your iPhone is disabled, the only way you can do is to wait for the X minutes passing so that you can unlock the iPhone again. But what if you still can't remember the passcode or want to directly remove it to access your iPhone without waiting?
Actually, there are ways provided to directly remove iPhone passcodes to unlock a disabled iPhone (but this will cause data loss). If you can accept data loss and still want to directly unlock a disabled iPhone by wiping the the passcode, just keep reading.
How to Unlock a Disabled iPhone Without iTunes or iCloud [Easiest Way]
The simplest way to unlock a disabled iPhone within several easy clicks is to use the professional iPhone unlocking tool, Passvers iPhone Unlocker to help.
This software can run smoothly on Windows and Mac computers, and also provides the easy-to-use functions to remove passcodes of iPhone, or unlock Apple/iCloud ID, screen time passcodes, and also iCloud activation lock just by clicks. No matter under what conditions, such as, forgetting passcodes, failing to unlock with the Touch/Face ID, or more, Passvers iPhone Unlocker can help you solve the problems and let you get into your iPhone again.
Free Download Free Download Free Download Free Download
At present, Passvers iPhone Unlocker works on a broad of iOS devices, including iPhone, iPad, and iPod of the latest iOS systems, iOS 16. Now, install the software and follow the tutorial below to learn how Passvers iPhone Unlocker works to unlock the disabled iPhone again.

Tip:
The passcode removal will delete all your iPhone data and update your iPhone to the latest iOS version. So, remember to back up the important files before getting started.
Step 1. Download Passvers iPhone Unlocker
To get started, install and launch the software on your a Windows or Mac computer.
Step 2. Connect iPhone and Start to Wipe Passcode
Then you can select the "Wipe Passcode" option on the home screen and click "Start" to proceed. Connect your disabled iPhone to the computer and wait for your device to be detected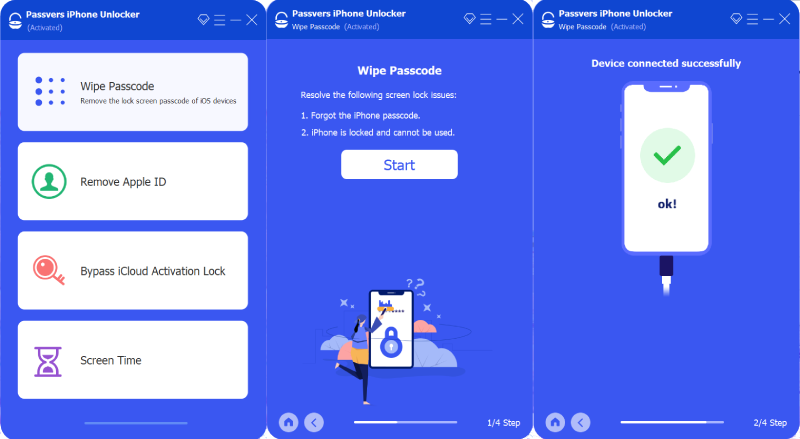 Step 3. Detect Device and Download Firmware
When your device is detected, confirm your device information on the screen and click "Start" to download firmware on your iPhone to prepare for unlocking.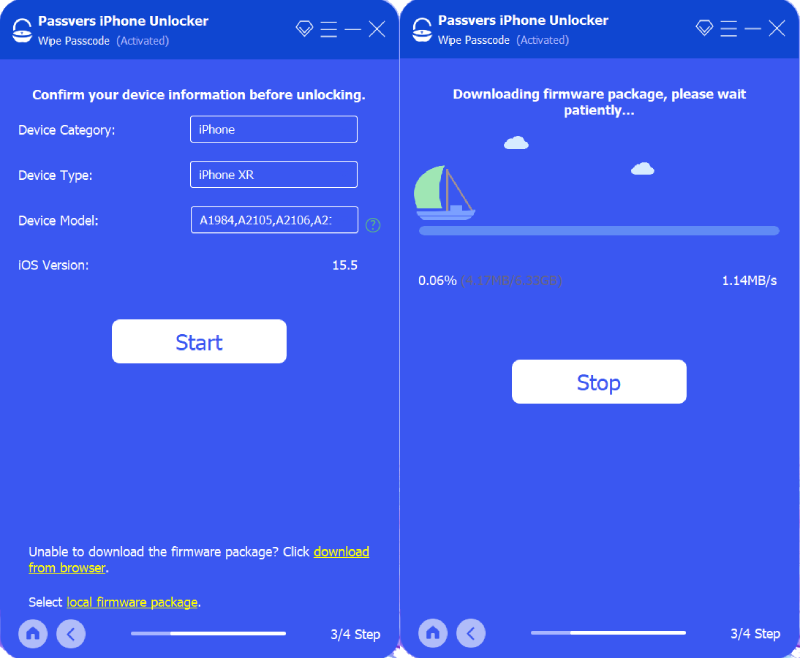 Step 4. Unlock Disabled iPhone By Removing Passcode
When the firmware package is downloaded, you will be asked to enter "0000" to continue the final unlocking process.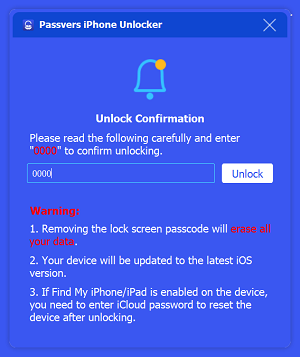 Then just wait for the unlocking to be finished!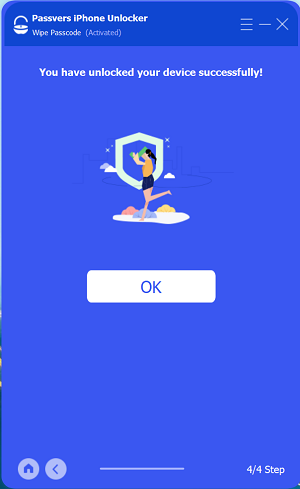 Tip:
If your iPhone has turned on Find My iPhone, you will need to log in to your Apple ID and reset your device after unlocking, so be sure that you remember your Apple ID and password.
Free Download Free Download Free Download Free Download
How to Unlock a Disabled iPhone with iTunes [Most Common Way]
To unlock a disabled iPhone, actually you can also use the official way – iTunes (Finder for Mac). The restore function of iTunes and Finder can help you enter the disabled device again by restoring the backup on the iPhone. Just follow the steps below to unlock the disabled iPhone easily.
Step 1. Open iTunes and also connect your iPhone with it. In order to let iTunes detect your device successfully when it's disabled, your iPhone must have synced with your iTunes before or you can try to put your iPhone into Recovery Mode.
Step 2. When iTunes detects the device, you can click the device icon and open its "Summary" page.
Step 3. Directly click the "Restore Backup" button. After the backup is finished, you will unlock the disabled iPhone successfully.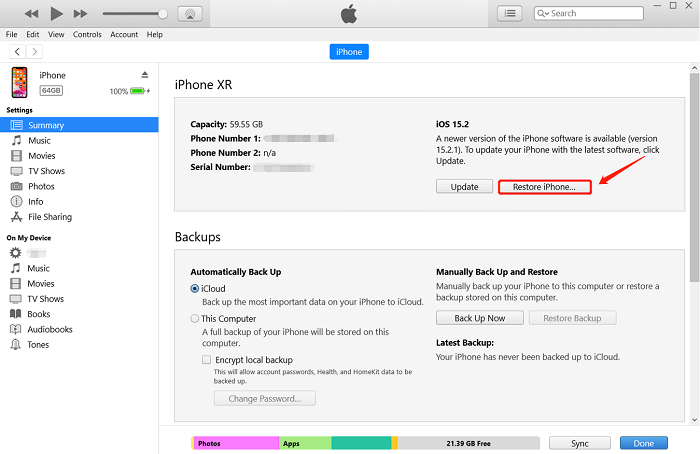 How to Unlock a Disabled iPhone with iCloud [No Computer]
Instead of using iTunes, iCloud also provides another way to unlock a disabled iPhone easily. But by using iCloud, you need to connect to a stable network and also make sure the "Find My iPhone" function has been turned on. Then by going to iCloud website and log in, you can easily unlock the disabled iPhone in easy steps.
Step 1. Firstly, open iCloud website in the browser and also sign in with your iCloud ID.
Step 2. Select the "Find iPhone" function on the page and iCloud will try to detect your device immediately.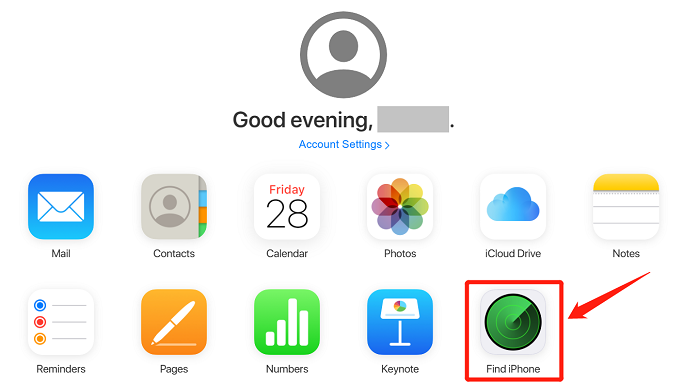 Step 3. After the detection, select "All Devices" and also choose the disabled iPhone on the list.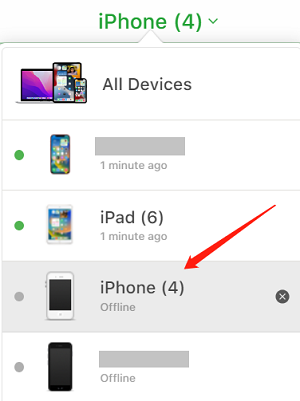 Step 4. Click the "Erase iPhone" to clear all data and settings on the device. After this, you can access the disabled iPhone again.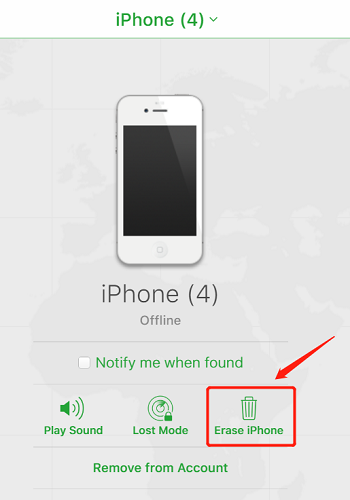 Tip:
Remember to back up iPhone at first before starting to erase all data on the device, so that you can restore your data from backup after wiping the passcode.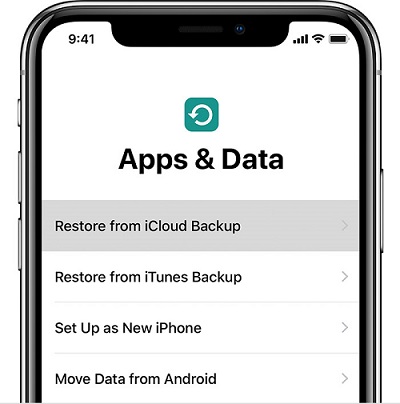 Conclusion
As you can see, it won't be difficult to unlock a disabled iPhone even you have locked it up by accident. But to process the device unlocking, you may lose data saved on it before. As a result, it is recommended to back up your data regularly in advance to reduce the data loss during unlocking the disabled iPhone.