In today's digital age, efficient management of computer resources is crucial, with RAM playing a pivotal role in performance. RAM usage monitoring tools offer real-time insights on memory allocation, aiding users in optimizing their system's RAM utilization. Monitoring RAM is essential to identify memory-intensive processes that can cause slowdowns and crashes.
These tools also provide insights into the system's health, detecting memory leaks for better long-term performance. By understanding the significance of monitoring RAM, users can take control, optimize their workflow, and enhance their computing experience. In this guide, we will introduce the top 6 RAM usage monitor for Mac and Windows.
Part 1: What is a RAM Usage Monitor and How it Works
RAM Usage Monitor software typically presents information using user-friendly graphical interfaces, allowing users to swiftly detect memory-intensive processes and keep track of their system's memory health. By continuously monitoring RAM usage, these tools empower users to proactively optimize their system's performance and avoid potential bottlenecks caused by inadequate memory allocation.
Key features commonly found in RAM Usage Monitor software include:
Real-Time Monitoring: RAM Usage Monitors continuously update and display the current RAM usage, enabling users to observe memory fluctuations and trends as they occur.
Process Identification: These tools identify and list running processes, along with their respective RAM usage, facilitating easy identification of applications or background processes that consume excessive memory.
Alerts and Notifications: RAM Usage Monitors can be configured to set threshold alerts, promptly notifying users when memory usage reaches critical levels. This helps prevent system crashes and performance degradation resulting from low-memory situations.
Historical Data and Reports: Many RAM Usage Monitors store historical data on memory usage, allowing users to analyze trends over time and identify patterns that may impact system performance.
RAM monitoring is of utmost importance for maintaining peak performance on Mac systems. Just like any computer, Macs rely on RAM to swiftly load and execute applications and processes. Monitoring RAM usage becomes particularly critical in identifying two key issues that can impact Mac performance:
Memory Leaks: Memory leaks occur when applications fail to properly release memory after completing their tasks. Over time, these leaks gradually deplete available RAM, leading to decreased performance and potential system instability. RAM monitoring tools can swiftly detect these leaks, enabling users to promptly address the underlying issues.
Excessive Memory Consumption: Certain applications may consume an excessive amount of RAM, either due to inefficient coding or other factors. RAM monitoring helps identify such memory-hungry processes, empowering users to optimize those applications or find suitable alternatives to prevent unnecessary strain on the system.
By actively monitoring RAM usage on a Mac, users can proactively maintain an optimal memory environment, ensuring smoother performance, preventing crashes, and extending the overall lifespan of the system. RAM monitoring tools are invaluable aids in diagnosing and resolving memory-related issues, enabling Mac users to fully leverage their machines' capabilities and enhance their computing experience.
Part 2: Top 3 RAM Usage Monitor for Mac
Below, we are introducing the top 3 reputable RAM usage monitor for Mac –
Macube has established a reputable position as an automated cleaning application, setting itself apart as a highly affordable Mac speed-up software. Packed with diverse features like junk cleaning, duplicate removal, and privacy protection, this Mac cleaner excels in identifying and eliminating redundant files across critical macOS system folders, including iTunes, photos, mail, browsers, and outdated large files. The astonishing results translate to a significant recovery of valuable storage space on your Mac.
Uninstall applications, and remove outdated files. Macube offers a comprehensive and efficient solution to optimize your Mac's performance while safeguarding your privacy through browser cache and history clearing. Gone are the days of juggling multiple apps for the same tasks; with Macube, all your Mac optimization needs are met in one powerful package.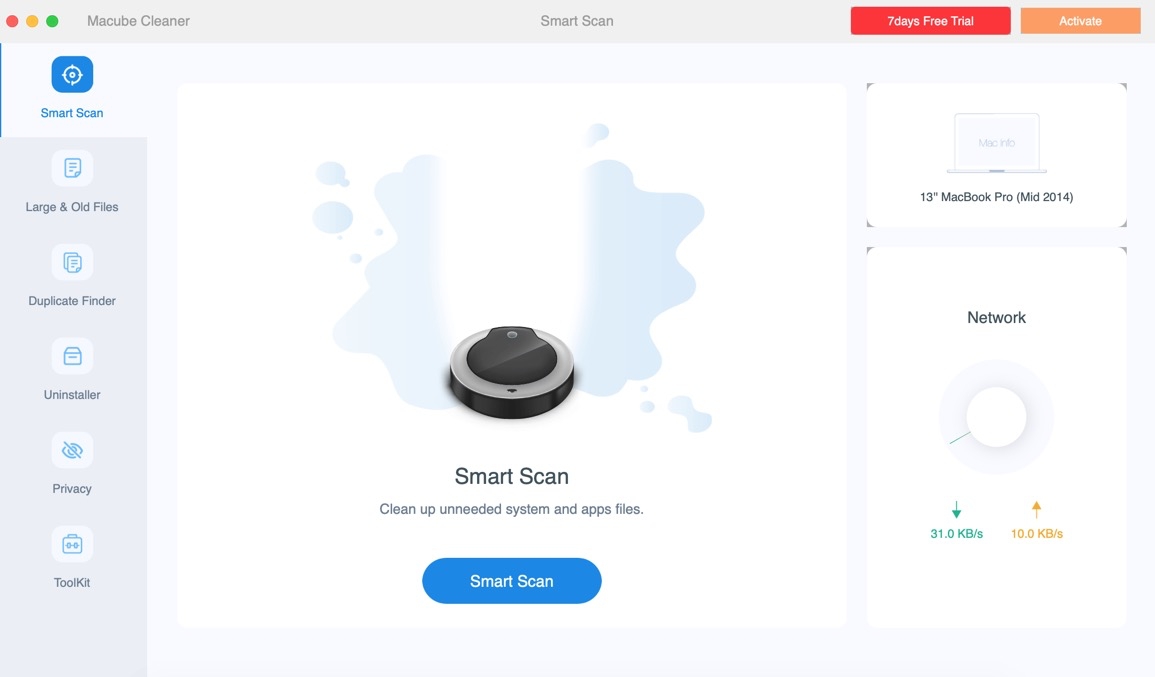 Pros:
You can remove applications on Mac without leaving any app files behind.
Assists in enhancing your privacy and strengthening the security of your personal information through the clearing of your browser cache and history.
Effortlessly reclaim all the occupied space of an app, surpassing the typical amount.
Enjoy the full functionality with a complimentary 7-day trial.
Enables you to easily locate and eliminate duplicates in just 3 simple steps.
Cons: We couldn't find any major drawbacks till now.
Verdict: Macube is a highly reputable and efficient automated cleaning application for Mac users, offering affordability, diverse features, and ease of use. Its pros include complete application removal, enhanced privacy and security, significant storage space reclamation, and a free 7-day trial. It simplifies finding and eliminating duplicates, and no major drawbacks have been found so far. Overall, Macube is a powerful and comprehensive solution for optimizing Mac performance and safeguarding privacy, making it worth trying the free trial.
Stats is a Mac performance monitor that is both free and open-source. Unlike Activity Monitor, Stats offers a real-time display of various system resources, such as CPU, memory, disk, battery, Bluetooth, network, etc., right in the menu bar. Clicking on the displayed numbers in the menu bar provides access to more detailed information.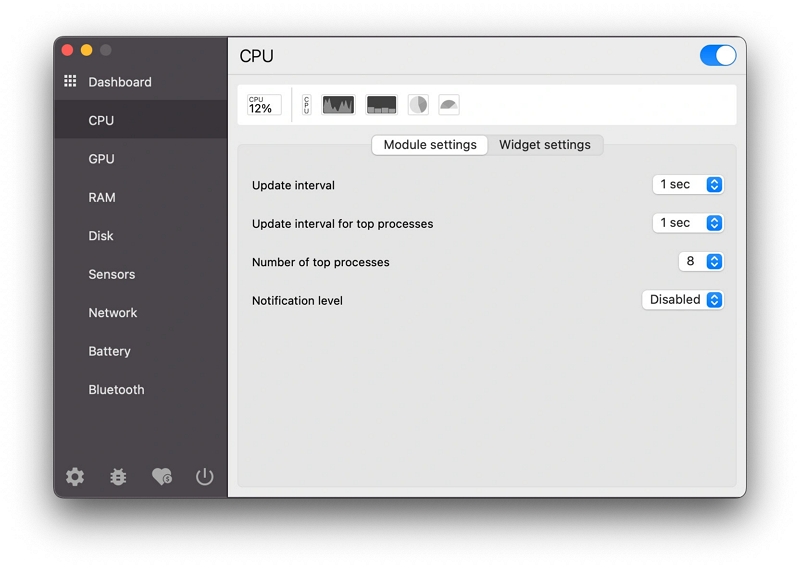 Pros:
Stats are available at no cost and are open-source.
Displays all information directly in the menu bar.
Provides a rapid data refresh rate.
Enables swift access to Activity Monitor.
Cons:
Does not include the Disk Cleanup feature.
Boasts a user interface that appears outdated.
Verdict: Stats is an impressive Mac performance monitor, available for free as an open-source tool. It offers a real-time display of diverse system resources directly in the menu bar with a rapid data refresh rate. The added convenience of direct access to Activity Monitor is a bonus for users seeking more in-depth information. Nonetheless, it should be noted that Stats lacks a Disk Cleanup feature and its user interface may appear outdated. Nevertheless, considering its cost, real-time monitoring capabilities, and open-source nature, Stats proves to be a valuable tool for users who prioritize system resource monitoring and are willing to overlook its minor shortcomings.
iStatistica Pro lives up to its name as a professional Mac system monitor, standing out with its expansive dashboard. This tool offers in-depth insights into crucial aspects such as CPU, memory, disk, battery, graphics, and more. Moreover, it provides timely alerts for low memory and CPU resources, ensuring proactive system management.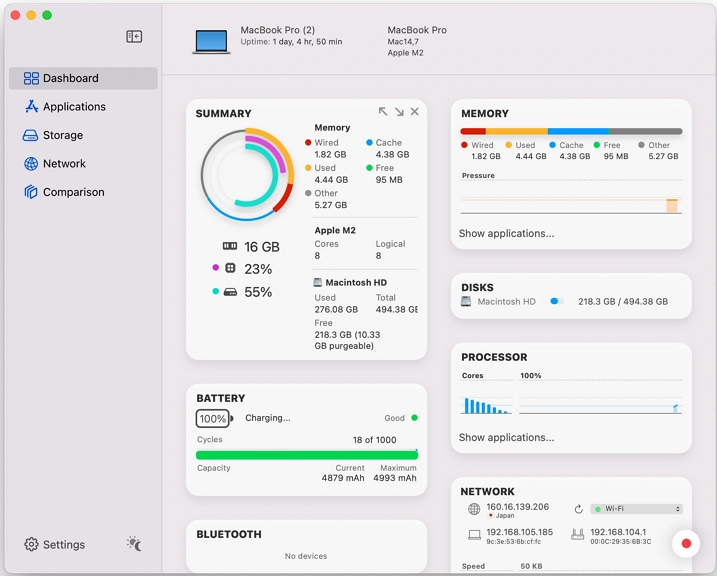 Pros:
Seamless and effortless widget integration.
Powerful alert and notification configurations.
A unified and user-friendly app management and data monitoring system.
Cons:
Initially using the app might feel a bit awkward or clumsy.
Most features necessitate payment to access.
Verdict: iStatistica Pro lives up to its name as a professional Mac system monitor, providing powerful insights into critical system aspects and timely alerts for proactive management. The seamless widget integration and robust alert configurations enhance the user experience. However, the initial learning curve and the need for paid features may be limiting factors for some users. Despite this, for those willing to invest in its functionalities, iStatistica Pro proves to be a valuable tool for efficient system monitoring and management.
Part 3: Top 3 RAM Usage Monitor for Windows
To monitor RAM (Random Access Memory) usage on Windows, you have the option to utilize various third-party software. Here are the top 3 RAM usage monitor for Windows:
Paessler PRTG, developed by Paessler AG, is a robust network monitoring solution designed to enable IT administrators and network managers to monitor their entire IT infrastructure in real time. With a user-friendly web interface, setting up and navigating PRTG is effortless. The software utilizes multiple monitoring methods like SNMP, WMI, NetFlow, and Packet Sniffing to collect data from network devices and sensors, supporting a wide range of devices and vendors for effective monitoring of networks, systems, applications, and devices – both in small and large-scale environments.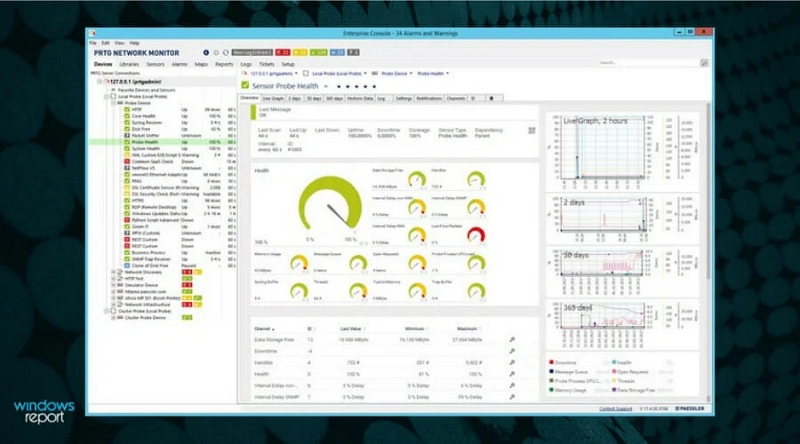 Pros:
The interface is thoughtfully designed and user-friendly.
This program offers an extensive array of monitoring capabilities.
With its scalability, the software caters to networks of all sizes, from small to large.
Facilitates remote monitoring of both networks and devices.
Cons:
PRTG's licensing cost can be high.
Might lack the same level of sophistication found in specialized network mapping tools.
Occasionally, updates can lead to compatibility issues with specific devices or operating systems.
Verdict: Paessler PRTG stands as a powerful network monitoring solution featuring a user-friendly interface, extensive monitoring capabilities, and scalability suitable for networks of all sizes. The remote monitoring feature is highly advantageous for IT administrators. Nevertheless, the licensing cost may pose a challenge, and some specialized tools could offer more advanced network mapping capabilities. Overall, PRTG remains a valuable choice for organizations seeking efficient and real-time IT infrastructure monitoring.
ManageEngine OpManager is a comprehensive network management and monitoring software by Zoho's division, providing a holistic view of IT infrastructure. With an intuitive interface and powerful features, it enables real-time monitoring and management of networks, servers, applications, and critical resources. It supports various monitoring methods like SNMP, WMI, NetFlow, and more, offering deep insights into network performance and device health. Its scalability suits businesses of all sizes, ensuring better network visibility and operational efficiency, making it essential for modern IT infrastructure management.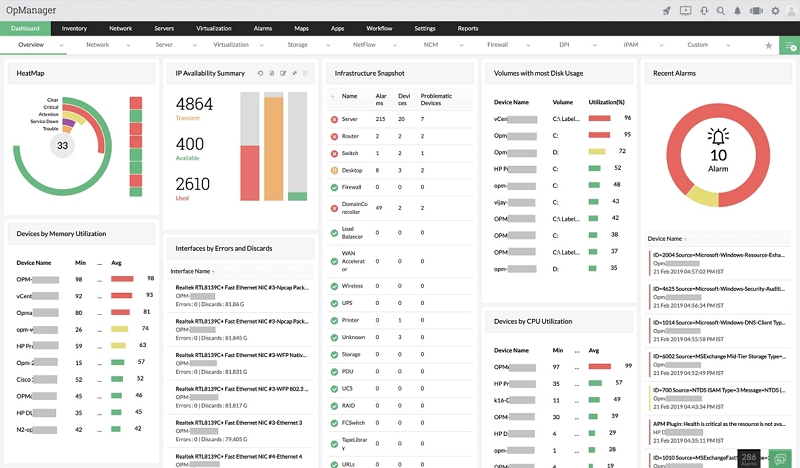 Pros:
OpManager is highly customizable, allowing it to be tailored to the unique requirements of network monitoring administrators.
The network monitoring architecture is exceptionally scalable, facilitating the seamless addition of multiple add-ons to extend its capabilities.
Cons: Novice users without experience in this type of console may find the software usage confusing and complex.
Verdict: ManageEngine OpManager stands as comprehensive and potent network management and monitoring software, providing a holistic perspective of IT infrastructure. Its user-friendly interface and robust features empower real-time monitoring and management of diverse network elements, applications, and critical resources. The inclusion of multiple monitoring methods allows for deep insights into network performance and device health. Thanks to its scalability, OpManager caters to businesses of all sizes, boosting network visibility and operational efficiency. However, novice users without experience in this console type may encounter challenges due to its complexity. Overall, OpManager remains an indispensable tool for modern IT infrastructure management, particularly for experienced network monitoring administrators.
Wise System Monitor is an all-encompassing and user-friendly software crafted to oversee and enhance your computer's performance. Sporting a clear and intuitive interface, Wise System Monitor furnishes real-time data on crucial system metrics like CPU usage, memory usage, temperature, disk space, and more. This powerful tool empowers users to vigilantly monitor their system's health, identify potential issues, and take proactive steps to boost overall performance. Whether you're a novice or an experienced user, Wise System Monitor provides invaluable insights and tools to ensure your computer runs seamlessly and efficiently.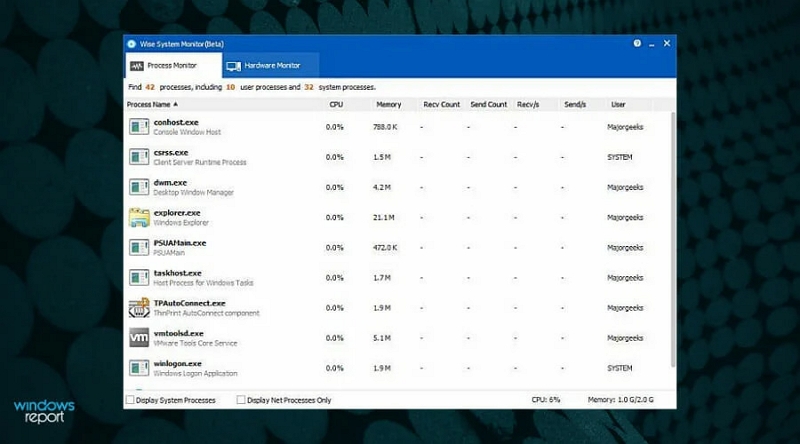 Pros:
The user experience is effortless.
The interface is aesthetically pleasing and uncluttered.
The application is compact and leaves a minimal memory footprint.
Cons: It offers limited capabilities to address the issues.
Verdict: Wise System Monitor offers a comprehensive and user-friendly solution to boost computer performance. Through its clear and intuitive interface, users can access real-time data on vital system metrics, enabling efficient monitoring of system health, identification of potential issues, and proactive measures for performance improvement. Its compact size ensures minimal memory usage. However, some limitations may exist in addressing specific issues. Overall, Wise System Monitor stands as a valuable tool for users in search of an effortless and effective solution to monitor and optimize their computer's performance.
Conclusion
Efficient RAM management is crucial for peak Windows/Mac performance. RAM usage monitoring tools provide real-time insights to optimize RAM utilization and identify memory-intensive processes. Proactively monitoring RAM helps extend the Windows/Mac lifespan, prevent crashes, and enhance system capabilities. Tips for better performance: manage startup programs, update drivers, clear cache, optimize browsers, and remove unused applications. Consider Macube, a versatile and user-friendly RAM usage monitor, for efficient system optimization. Monitor RAM usage, implement effective strategies, and enjoy a seamless computing experience.