It's easy to remove apps from your Mac. However, hidden files that usually take up a large proportion of your disk can't be completely removed by simply dragging the app into the trash. Therefore, app uninstallers for Mac are created to help users delete applications as well as leftover files effectively and safely.
Here is a guide to the 6 best Mac uninstallers that allow you to uninstall the required applications and residual files in a few seconds. What's more, some uninstallers are more than an app remover. You can also use some handy tools to optimize your Mac, manage browser extensions, protect Mac security, etc. Read on the guide to find the uninstaller that suits your particular needs.
1. Macube Cleaner
? Compatibility:
MacOS 10.10 or later
? Price:
1 month: $8.95/ 1 Mac
1 year: $29.95/ 1 Mac
Lifetime: $69.95/ 2 Macs
Macube Cleaner is one of the best app uninstallers for Mac with which you can remove unwanted applications effortlessly with no files left behind. It's 100% safe to use. No malware and pop-up ads will interrupt the uninstalling process. It helps speed up your Mac and free up disk space easily.
In addition to the app deleting features, Macube Cleaner has a variety of cleaning functions. It can scan all trash files on your Mac and allow you to clean up items you don't want in a few seconds. Duplicate documents, images, music, as well as big and old files that eat up a large proportion of your disk can also be identified and erased in a flash.
? Pros:
Uninstall apps completely with no leftover files and app caches left behind.
Remove annoying malware that is difficult to delete with simple steps.
Support multiple cleaning modes like files shredder and duplicate files finder.
Intuitive and user-friendly interface.
Clean cookies, browsing, and downloading history to protect your privacy.
Enjoy full features in the 7-day free trial.
? Cons:
The cleaning speed is not fast enough.
The number of scanned files in some features is limited.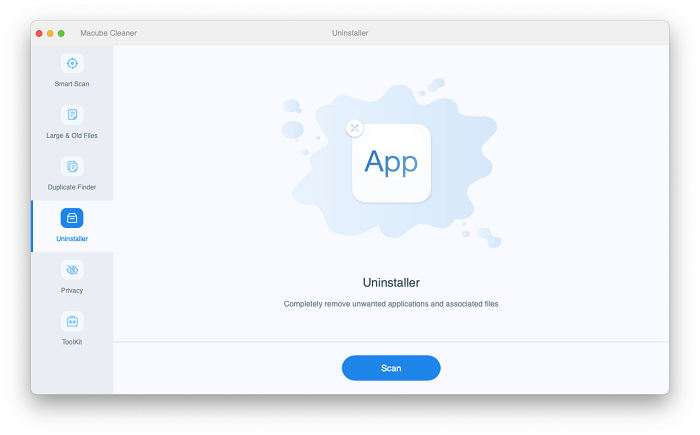 2. CleanMyMac X
? Compatibility:
MacOS 10.12 or later
? Price:
1 year: $34.95/ 1 Mac
1 year: $54.95/ 2 Macs
1 year: $79.95/ 5 Macs
Lifetime: $89.95/ 1 Mac
Lifetime: $134.95/ 2 Macs
Lifetime: $199.95/ 5 Macs
CleanMyMac X is also a very easy-to-use Mac uninstaller. All types of applications along with their associated files that take up gigabytes can be removed completely, helping you free up Mac space. You can also use it to clean up system junk, mail attachments, and large and old files.
One of the highlighted features is the speed optimization, which will boost the overall system performance of your Mac. Aside from the app deleting feature, it can also help update macOS as well as applications to the latest version directly in one sweep.
? Pros:
Scan and delete unused and unknown apps completely.
Remove junk files and app leftover files safely and effectively.
Offer malware removal and privacy protection to provide complete care.
Offer speed optimization tools for better system performance.
Update applications and Mac system.
Provide antivirus and ad blocking features.
? Cons:
Only available for limited features with the free trial version.
The cleaning speed of big and old files can be improved.
The Uninstaller feature works slowly.
Quite expensive.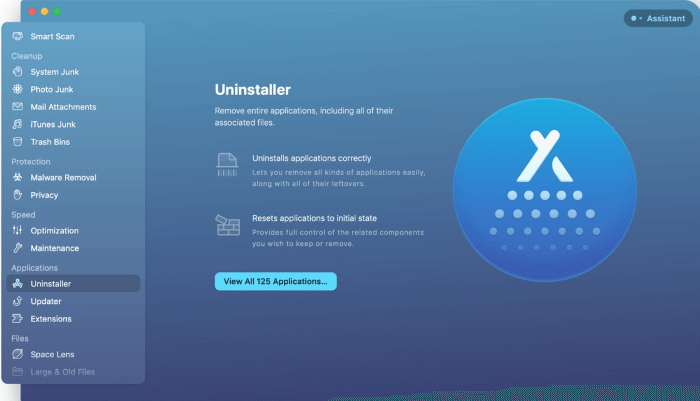 3. MacKeeper
? Compatibility:
MacOS 10.11 or later
? Price:
1 month: $10.95/ 1 Mac
1 year: $71.4/ 1 Mac
1 year: $89.4/ 3 Macs
CMacKeeper is another powerful Mac uninstaller. It can detect all kinds of software including some "invisible" apps that have been downloaded inadvertently and remove them without leaving any junk behind. With the Smart Uninstaller feature, browser extensions, widgets, and plugins can also be uninstalled in a flash.
Aside from that, MacKeeper has a bunch of other useful tools that help optimize your Mac performance and keep your Mac safe. It can monitor your Mac to avoid personal record leaks and protect your Mac from viruses, malware, and adware to improve system security. It also provides an ID theft guard and a private connect feature to protect your Mac's privacy.
? Pros:
Specialized in protecting your Mac from viruses, pop-ups, and adware.
Privacy protector that can prevent your Mac from data leaks.
Clean up unnecessary files and unused apps to free up space.
Duplicates Finder helps remove similar files in simple steps.
Provide a VPN integration.
More files can be detected by the finder compared with other apps.
? Cons:
Big and old files are unavailable to be cleaned completely.
No files shredder feature to delete unrecoverable documents.
Only some of the features can be accessed in the free version.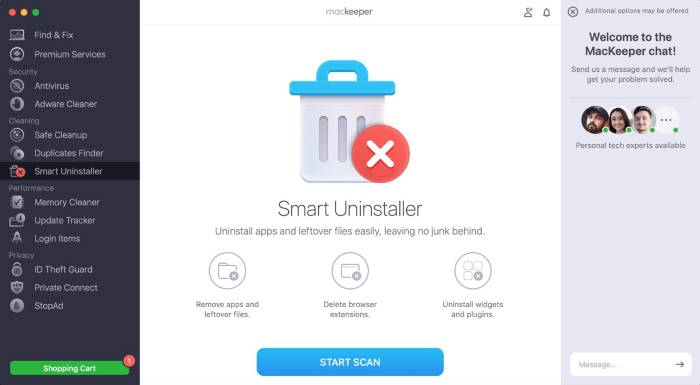 4. AppZapper
? Compatibility:
MacOS X 10.9 or later
? Price:
Single License: $19.95
Family License: $34.95/ 3 Macs
Multiple-Computer License: $97.00/ 10 Macs
Another one on our list of the best Mac uninstallers is AppZapper. It is a user-friendly app with a creative drag-and-drop feature. If you want to remove unnecessary apps, just drag them onto AppZapper. No need to worry about the extra files created by apps since they will all be detected automatically in a few seconds.
In addition, it comes with a Hit List feature, which allows you to consult applications installed on your Mac. You can search and browser associated files of the app by filtering it or clicking its icon.
? Pros:
Specialized in uninstalling apps.
Detect app files that are difficult to find in one click.
Offer malware removal and privacy protection to provide complete care.
Simple and straightforward user interface.
Drag and drop to uninstall apps.
? Cons:
No multiple cleaning modes and other powerful features.
Crashing problems may occur sometimes.
Limited features for the free version.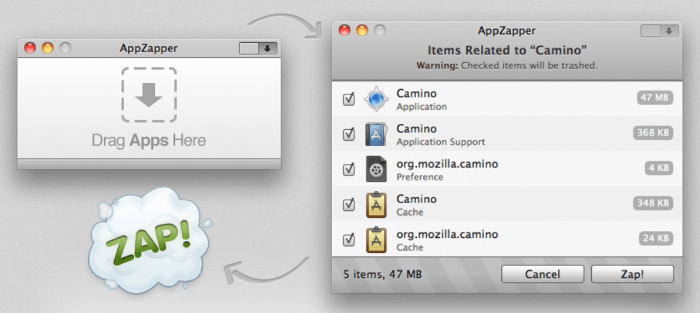 5. App Cleaner & Uninstaller
? Compatibility:
MacOS 10.10 or later
? Price:
1 Mac: $19.90
Family pack: $64.65
Apple Cleaner $ Uninstaller is an all-in-one Mac uninstaller that boasts many handy tools. You can select an application to review its service files and uninstall them with one click. The Remaining Files feature allows you to delete the leftovers of already removed apps. With these tools, you can easily uninstall unneeded applications without leaving any trace of them.
The Startup Programs feature will display items that automatically run applications and processes when you log in to your Mac. You can easily disable the unneeded programs to speed up your Mac. What's more, it has an Extension Removal that let you get rid of unwanted installation files, web browser extensions, internet plugins, and so on.
? Pros:
Delete apps and app remaining files completely and safely.
Disable startup programs to speed up the Mac system.
Remove browser extensions, internet plugins, widgets, and more.
? Cons:
No available duplicate finder features to find similar documents and images.
No privacy protection and antivirus feature help protect Mac security.
Large and old files can't be detected and removed.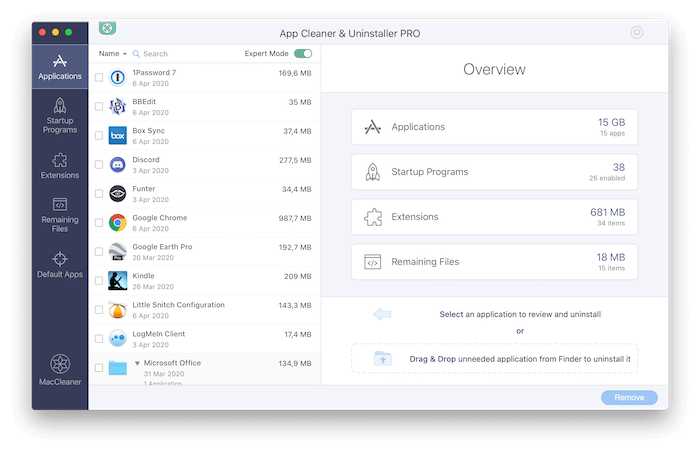 6. AppCleaner
? Compatibility:
MacOS 10.6 or later
? Price:
Free
As the name describes, AppCleaner is an app cleaner for Mac. It does a great job of deleting apps from your Mac and cleaning leftover files effortlessly. You can drag the application to AppCleaner and all the hidden files that it has created on your system will be displayed.
Or you can also use the list mode to search and browse all the applications that it found on your Mac. Click on the app icon, and it will also search for all the associated files of the application. With these ways, you can remove the app as well as relevant files that can't be deleted by directly dragging them into the trash.
? Pros:
Automatically detect and remove apps and files without launching it.
Friendly to all users.
Totally free.
? Cons:
No other cleaning and optimizing features.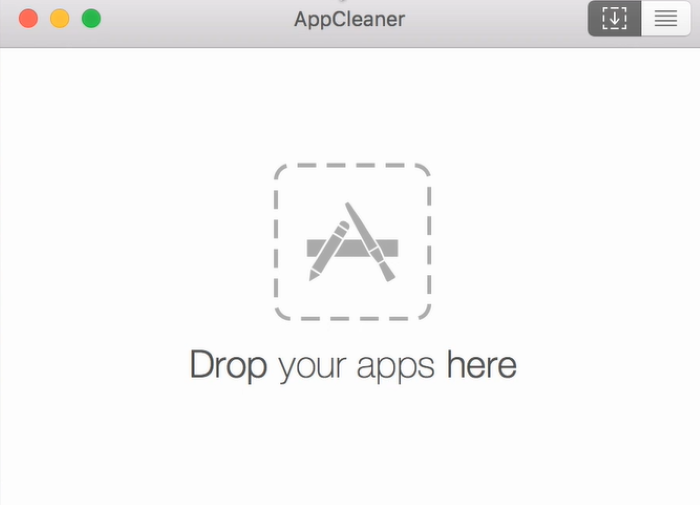 Verdict
In general, we've introduced the 6 best Mac uninstallers including paid-for and free tools for Mac users. All these have pros and cons. Cleanmymac X and MacKeeper boast multiple features which let you not only remove applications and junk files easily but also help protect your Mac security and optimize your Mac performance. However, their prices are quite expensive. When it comes to AppZapper, App Cleaner & Uninstaller, and AppCleaner, their prices are more affordable and even free. But they offer limited features.
Therefore, if you're seeking a Mac uninstaller with suitable price and versatile features, Macube Cleaner should be your first choice. While you may just need an app remover, other features of Macube such as Duplicate Finder do also work well to help free up your Mac and speed up your system. Try it and you will have a brand-new experience on your Mac journey.