"It's been a habit for me to create copies of my files to avoid the file lost in my work. However, recently, I found that there are so many duplicate files and images on my disk that eat up a large amount of my space and gradually slow down my Mac. I don't want to delete them manually because it may cost a long time. Do you have any practical way that can help me deal with these duplicates quickly and easily?"
Duplicate Files are usually neglected compared to unneeded software and junk files on Mac. At work, we may accidentally download the same file, or import the same set of images over and over again. It's a hassle to clean them up one by one. Things will be easier if you have duplicate file finders. This is a quick guide to the top 6 duplicate file finders for Mac, which is a mixture of paid-for and free removers, giving you more options for deleting duplicate files.
1. Macube Cleaner
? Compatibility:
MacOS 10.10 or later
? Price:
1 month: $8.95/ 1 Mac
1 year: $29.95/ 1 Mac
Lifetime: $69.95/ 2 Macs
Macube Cleaner is one of the best all-in-one Mac cleaners. One of its highlighted features is the Macube Duplicate Finder, which helps find and remove duplicate documents, music, pictures, and videos securely and quickly. You can preview the files and see how they differ before the deletion to avoid removing files by mistake.
Junk files and unused applications can be easily noticed and deleted. Duplicates on Mac tend to take up a considerable amount of Mac space, but users usually neglect them. With Macube Cleaner, you can clean up duplicates on every corner of your Mac, freeing up a lot of memory space.
? Pros:
Excellent duplicate file finding and removing performance.
In addition to duplicate file removal, it also owns many other cleaning features.
Simple and straightforward user interface.
Offer an affordable price and a 7-day free trail with full function.
Thoroughly cleaning result and fast cleaning speed.
? Cons:
Limited deletion options.
No Restore from Trash feature.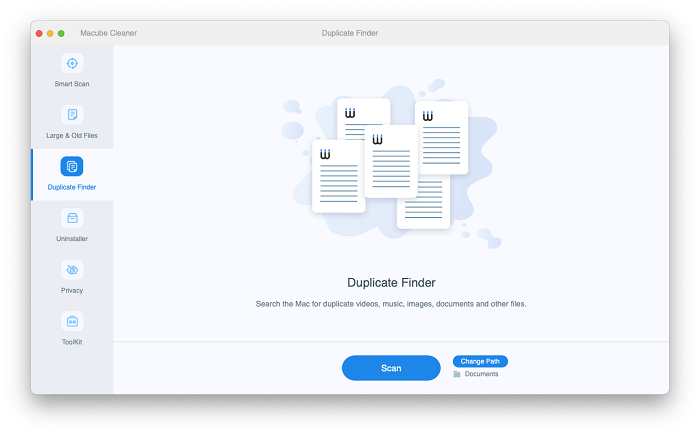 2. Gemini 2
? Compatibility:
MacOS 10.10 or later
? Price:
Start from $19.95/ 1 Year
Gemini 2 is an intelligent duplicate file finder for Mac. No matter how massive your Mac disk is, it can scan it deeply and thoroughly and then show you what will be removed. You can review the results and see which ones to keep on the list. It boasts a smart algorithm that can determine which duplicates can be safely deleted on the spot, tell copies from originals, and easily remember your choice.
The scanning results also show files that are just similar, such as photos taken from slightly different angles. You're allowed to compare them, keep the best and get rid of the rest. Duplicate tunes in iTunes can also be identified and deleted speed-of-light fast.
? Pros:
Identify duplicate files and detect similar files.
A smart algorithm that can adopt to the option you choose.
Quickly tell copied from originals.
Notice the differences in file size, modified date, and more clearly.
Support multiple languages.
? Cons:
It can't exclude a certain location within a folder.
Limited features for the free version.
The preview feature is laggy.
It takes a long time to manage large duplicates.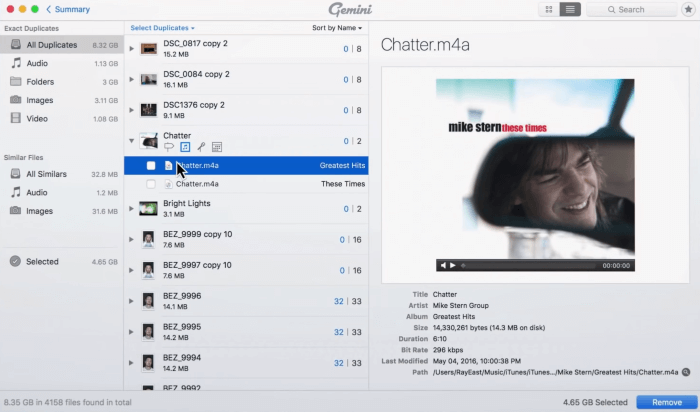 3. Duplicate File Finder (Nektony)
? Compatibility:
MacOS 10.8 or later
? Price:
One-time purchase: $19.99
Nektony Duplicate File Finder is another tool to help find and remove duplicate files, duplicate folders, similar photos, and similar folders in seconds. When the scanning is finished, Nektony Duplicate File Finder will show a colorful and intuitive graph with information about all the duplicate files being found on your disk. You can also sort them by file type or use the built-in search to find specific duplicates by name.
Nektony Duplicate File Finder also offers some advanced functions to reduce your time and save your effort. You can use the Auto Select feature to filter the duplicates automatically. If you find two folders having the same content, you can also apply the Merger Folder function to merge these folders effortlessly.
? Pros:
Drag and drop to scan the folder you want or scan the home folder directly.
Show an intuitive diagram about the duplicate file situation on your Mac.
Some customizable options such as the Merge Folders feature are provided.
Select duplicates in folders to go through duplicates inside folders.
Find duplicates in iTunes, Photos, iCloud, Dropbox, Google Drive or any other external disk.
? Cons:
A bit complicated for beginners.
Show too much information that may confuse users.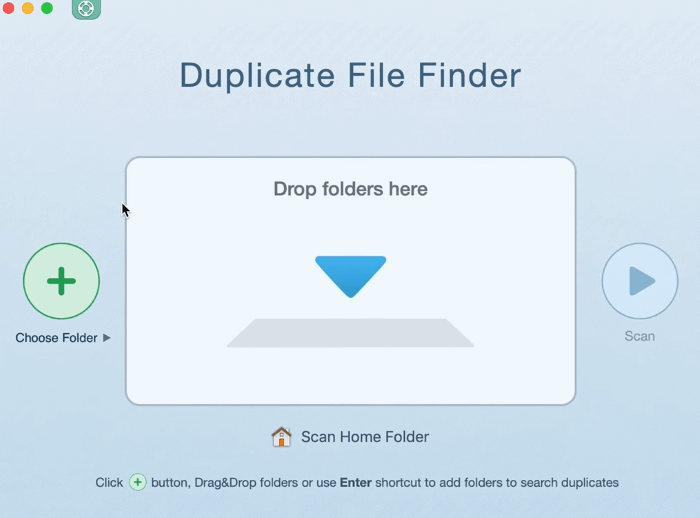 4. Duplicate Sweeper
? Compatibility:
MacOS 10.9 or later
? Price:
One-time purchase: $20
Duplicate Sweeper is one of the user-friendly software for removing duplicate files on both Mac and Windows. It has an intuitive interface that you can easily add folders you'd like Duplicate Sweeper to scan. After a few seconds, it will return a list of duplicate groups found on your computer. It displays too much information in the result window, which may be too sophisticated for computer novices to understand.
You can search a specific type of duplicate files or all types at a time with considerable speed. Duplicate Sweeper offers two modes of operation which allow you to remove redundant files automatically and manually based on your need. Folders such as Google Drive, iCloud Drive, and OneDrive can also be detected.
? Pros:
Remove every file in groups or categories except the newest ones.
Search for duplicates in folders on your Mac and even in Google Drive, OneDrive, etc.
Show brief instructions when launching it.
Delete duplicate files automatically or manually.
Restore files from Trash or Bin back to their original location.
? Cons:
The layout is a bit outdated.
Offer fewer features compared with other programs.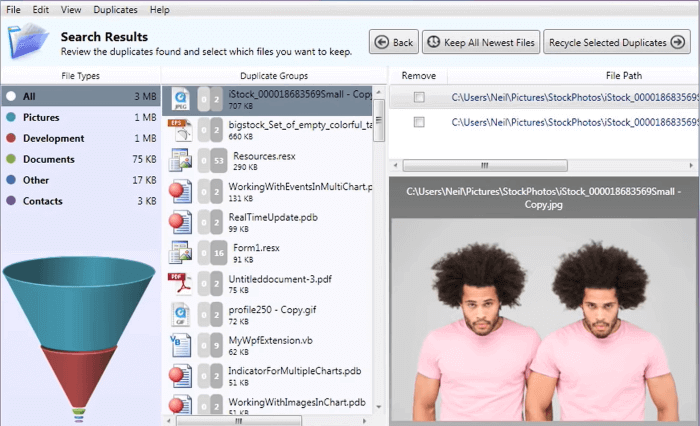 5. dupeGuru
? Compatibility:
MacOS 10.12 or later
? Price:
Free
dupeGuru claims to have been downloaded by millions of users since it is a free cross-platform duplicate file finder. It boasts a fuzzy matching algorithm. Therefore, the program is capable to scan the same or even similar filenames or contents quickly and effortlessly. Though it is a free program, it is safe to use and easy to handle. It supports more than ten languages.
dupeGuru offers two special modes: special Music mode and special Picture mode, which will scan music tags and fuzzy pictures on your Mac and show the duplicates in the result window. With dupeGuru, you can not only delete duplicate files but also move and manage them properly.
? Pros:
Free to use.
Especially good with Music Mode and Picture Mode.
Offer three application modes: Standard, Music, and Pictures.
Scan duplicate files or content as well as similar ones.
Have an option to save the scan results.
An open-source app that is available for many platforms (Linux, OS X, Windows).
? Cons:
Standard mode fails to find duplicates sometimes.
It will crash if it scans some files in formats that are not supported, such as GIFs.
Only JPG and PNG files are available in Picture mode.

6. Tidy Up 5
? Compatibility:
MacOS 10.12 or later
? Price:
Start from $29.99
The last but not least program that ends up in our top 6 duplicate file finders list is Tidy Up 5. It is a new generation product brought by Hyperbolic Software. Tidy Up 5 comes with a simple mode and an advanced mode, which give both beginners and pro users customized options to search for duplicate files on Mac. Contents including photos, songs, files, folders, and more can be detected.
You can exclude a certain location within a folder and set priorities to have the software recognize in which location the originals reside. You can filter duplicate files by content, types, or other attributes. For instance, you can refine search criteria to find only JPEG images on your disk, giving you lots of user flexibility.
? Pros:
Search locations automatically, manually select them, or drag other files that are not listed.
Offer a simple mode and an advanced mode for users.
Provide predefined searches for all kinds of files to search for duplicate files more accurately.
Provide a PDF user manual for users.
? Cons:
It's more elaborate and not intuitive enough.
Quite expensive.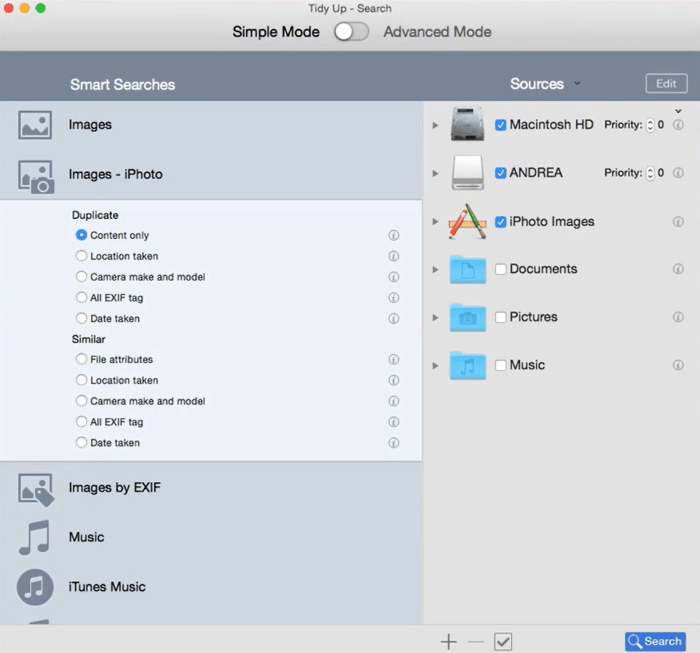 /p>
FAQs
Q1. Does Mac have an in-built duplicate file finder?
No, Mac doesn't come with any duplicate file finder. However, you can search for duplicates on your Mac through Smart Folder, which is not a folder, but a finder search window. You can filter files on your Mac by name, file type, last opened date, and so on to manage them. Therefore, by creating a new Smart Folder, you can also find duplicate files and clear them up, though it may cost a long time.
Q2. How can I find and remove duplicate photos from Mac?
Many ways are available for finding and removing duplicate photos. It's very convenient to download a third-party duplicate photo finder, such as Macube Cleaner, which can scan your Mac smartly for sorting out duplicates and similar images. With this program, all copies can be removed in a few seconds.
Another way is to create a Smart Folder or Album directly if you don't want to download any software. You can search for images by name or date and manage or remove them manually. However, it will take you a bit more time to access the locations and delete the duplicates one by one.
The upcoming MacOS 13 Ventura system may also come with a new built-in tool for finding duplicate images. You can also try it soon.
Conclusion
An excellent duplicate file finder can remove duplicate or similar files with one click, helping you free up Mac space and make your Mac run faster. The top 6 duplicate file finders for Mac, including paid-for and free programs are explicitly introduced and analyzed above. Some do a great job of scanning your disk thoroughly and finding duplicate files on every corner of your Mac. Some provide multiple customizable options, which give users a lot of flexibility.
In my opinion, Macube Cleaner stands out from the other programs. It's an all-in-one app that can not only wipe duplicate files and images off your Mac but also clean up junk files, unneeded applications, and so on in a flash. It is well with a variety of cleaning modes that will optimize your Mac performance. Since the price of the program is quite affordable, it's worth a try.