Streaming a great deal of Disney Plus video content on Mac during a road trip or a long airplane is a good choice. However, a slow and unstable flow of internet occurs sometimes, causing inconvenience and annoyance. In addition, there's no official Disney Plus app for Mac. Also, due to DRM protection, movies and shows from Disney Plus can only be played via the official app. In order to tackle these problems, we here recommend a third-party solution to bypass the DRM and capture Disney Plus videos to portable devices for offline playback regardless of the internet condition.
How to Download Movies from Disney Plus on Mac?
When it comes to downloading Disney Plus movies on Mac, you can fully trust MovPilot Disney Plus Video Downloader. It is a professional and versatile software for easily downloading Disney Plus videos to DRM-free MP4/MKV video files. With a 5X faster speed and hardware acceleration, it helps you get movies downloaded quickly and efficiently. Besides, all downloaded videos can be up to 1080P quality with internal multilingual subtitles and audio tracks fully retained.
Why Choose MovPilot Disney Plus Video Downloader?
Downloads videos to 1080P MP4 or MKV files.

Preserves audio tracks and subtitles in 6 language selections.

3 kinds of subtitles optional: soft, hard, and external subtitles.

Delivers the original Dolby Atmos 5.1 surround sound.

Resumes any paused downloads due to dropped connections or unexpected computer shutdowns.
As you've already learned the most functionalities of the MovPilot Disney Plus Video Downloader. Just use it to download Disney Plus movies on Mac with the simple steps below!
Step 1. Sign in with your Disney Plus account
Download and install MovPilot Disney Plus Video Downloader on Mac. Then log in to your Disney Plus account in the pop-up window.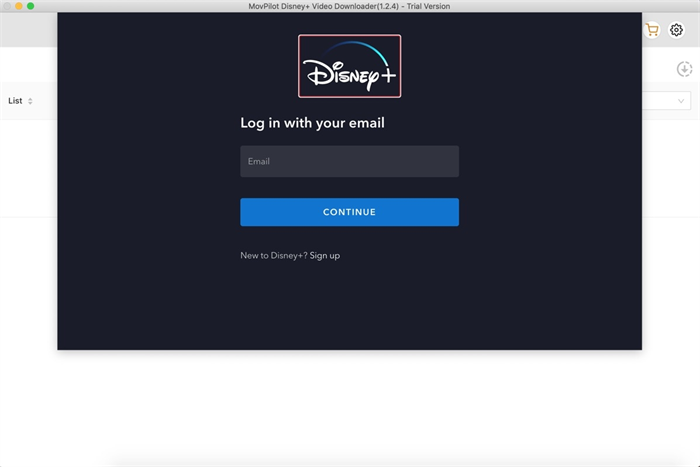 Step 2. Search for your desired movies or shows
Once you've successfully signed up, you can type in the title or paste the URL of the video page into the search box and click on the magnifying glass icon.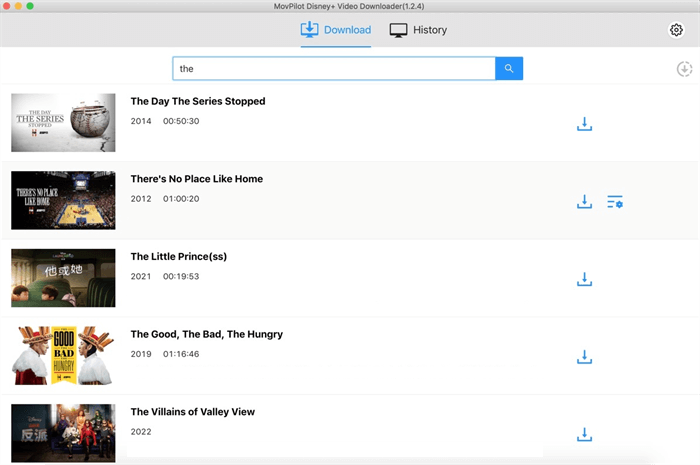 Step 3. Customize the parameters and start to download
Tap on the settings gear icon in the top-right corner. From there, you can choose video format, codecs, audio/subtitle language, etc. as you need for all videos at once. After that, hit the download button in the search results to download your favorite Disney Plus videos on Mac.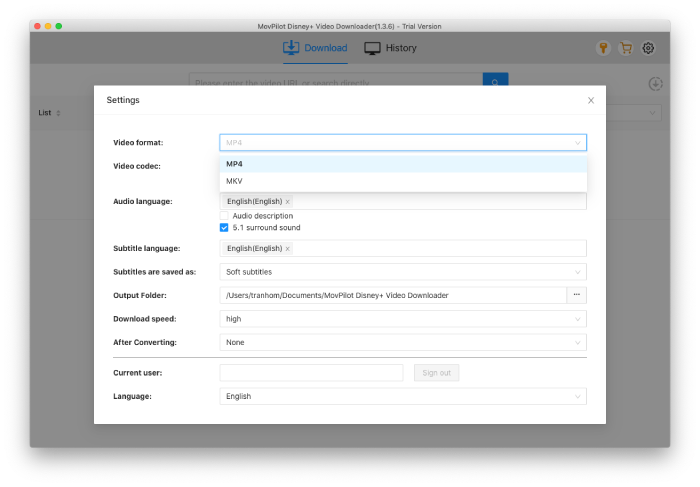 After that, all your downloads will be saved to your local storage. Click History on the top-right to explore them.
FAQs About Downloading Disney Plus Movies
Where are Disney Plus Downloads Stored?
There are only iOS and Android apps available to download Disney Plus videos. Only on Android devices can you set the installed SD card as the Download Location option in the app settings. Another thing is that the downloads are not playable because the data is encrypted and can only be read by the Disney Plus app.
To access Disney Plus movies and transfer them freely to any mobile or tablet device, you can give it a try on MovPilot Disney Plus Video Downloader to save Disney Plus videos in DRM-free MP4 or MKV format.
How Long Can I Keep My Disney Plus Downloads?
The keeping time of Disney Plus downloads will last for 30 days(you need to renew the downloads if you want to keep them longer) as long as you continue to subscribe to Disney Plus. But if you sign out from the app or cancel the subscription, all downloads will not stay on your device. But don't worry about this. MovPilot Disney Plus Video Downloader provides the ultimate solution to keep Disney Plus movies and TV shows forever.
Conclusion
After reading this article, you must have learned how to download Disney Plus videos on Mac. With the assistance of MovPilot Disney Plus Video Downloader, you are able to get any content from Disney Plus as high-quality MP4 or MKV for offline watching at your convenience. It has a very intuitive and friendly interface equipped with a built-in browser that allows you to download Disney Plus movies directly not requiring the additional app. Just download it and have a try.