My 128 GB MacBook Air is about to run out of space. So I checked the storage of SSD disk the other day and was surprised to find that the Apple Mail takes up an insane amount - about 25 GB - of disk space. I never thought that the Mail could be such a memory hog. How can I clear up Mac Mail? And can I delete the Mail Downloads folder on my Mac?
Apple' s Mail app is designed to cache every single email and attachment that you've ever received for offline viewing. These cached data, especially the attached files, could take up lots of space in your hard drive memory over time. To clean up your iMac/MacBook Pro/MacBook Air and get more free space, why not start from removing mail attachments on Mac?
Check How Much Space Mail Takes Up on Mac
The Mail app stores all its cached messages and attached files on the folder ~/Library/Mail, or /Users/NAME/Library/Mail. Go to the mail folder and see how much space that Mail is using on your Mac.
Open Finder.

Click Go > Go to Folder or use the shortcut Shift + Command + G to bring out the Go to Folder window.

Enter ~/Library and press Enter button to open Library folder.

Find Mail folder and right-click on the folder.

Choose Get Info and see how much space the Mail is taking up on your Mac. In my case, since I don't use the Mail app to receive my emails, the Mail app only uses 97 MB of my hard drive space.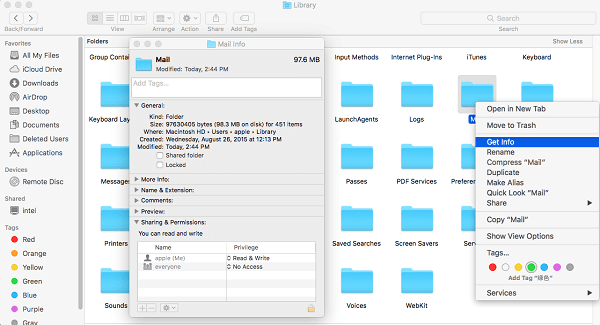 Remove Attachments from Mail on macOS Sierra/Mac OS X
The Mail app comes with Remove Attachments option that allows you to delete attachments of your emails. However, please note that by using the Remove Attachments option, the attachments will be deleted from both your Mac and the server of your email service. Here is how to remove email attachments on Mac OS X/macOS Sierra:
Open Mail app on your Mac;

Choose the email that you want to delete attachments;

Click Message > Remove Attachments.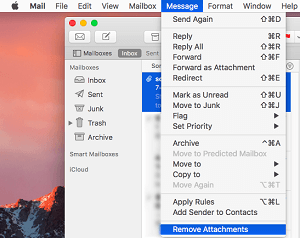 Tip: If you find it inconvenient to sort out the emails with attachments. You can use filters in the Mail app to filter only mail with attachments. Or use Smart Mailbox to create a folder with emails containing attached files.
What to Do If Remove Attachment Not Available?
Many users reported that the Remove Attachment no longer works after updating to macOS Sierra from Mac OS X. If the Remove Attachments gray out on your Mac, please try these two tricks.
Go to Mail > Preferences > Accounts and make sure Download Attachments is set to All, and not to None.

Go to ~/Library folder and choose Mail folder. Right click the folder to choose Get Info. Make sure you can find account name as "name (Me)" under Sharing & Permissions and have Read & Write beside "name (Me)". If not, click the lock icon and click + to add your account and choose Read & Write.
Delete Mac Email Attachments from Folders
Remove attachments from Mail will delete the attachments from the server of your mail service. If you want to keep the attachments in the server while cleaning up cached attachments from your Mac, here is a workaround: deleting email attachments from Mac folders.
You can access email attachments from ~/Library/Mail. Open folders like V2, V4, then folders containing IMAP or POP and your email account. Choose an email account, then open the folder named with various random characters. Keep opening its subfolders until you find the Attachments folder.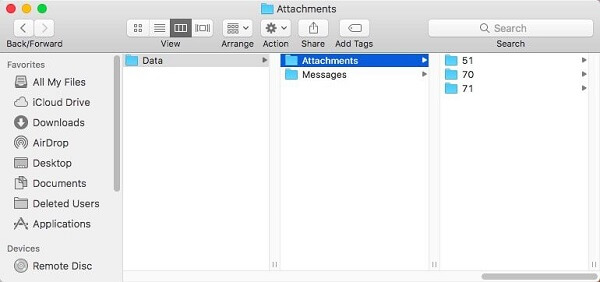 One Click to Clean Up Mail Attachments
If you find it too inconvenient to delete the mail attachments one by one, you can have an easier solution, using Macube Cleaner, a great Mac cleaner that let you clean mail cache generated when you open the mail attachments as well as unwanted downloaded mail attachments in one click.
Please note that deleting downloaded attachments with Macube won't remove the files from mail server and you can redownload the files anytime you want.
Free download Macube on your Mac. The program is now simple to use.

Choose Mail Trash and click Scan. After Scanning, tick Mail Junk or Mail Attachments to check.

You can choose the old mail attachment that you don't need anymore and click Clean.

You can also use the software to clean system caches, application cache, large old files, and more.
How to Reduce the Space That Mail Use
Before OS X Mavericks, you have the option to tell Apple's Mail app to never keep copies of messages for offline viewing. Since the option has been removed from macOS Sierra, El Capitan, Yosemite, you can try these tricks to reduce the space that Mail uses and have more free hard drive memory.
Open the Mail app, click Mail > Preferences > Accounts and set Download Attachments as None for all your accounts.

Change server settings to control the amount of messages that Mail downloads. For example, for Gmail account, open Gmail in the web, choose Settings > Forwarding and POP/IMAP tab > Folder Size Limits and set a number for "Limit IMAP folders to contain no more than this many messages". This will stop the Mail app from seeing and downloading all mail from Gmail.

Disable Mail on Mac and switch to third-party mail service. Other email services should offer an option to store fewer emails and attachment offline.