MacBook always comes with a great reputation for its speedy performance and no-lagging programming methods. However, as you use it for a longer age, the functions would slow down, and more problems occur. Under such circumstances, don't forget that regularly checking and defragging the disk could be a fix for retaining the superior performance of your Mac. So in this post, the methods on how to defrag your Mac effortlessly will be introduced.
Part 1: What is Defragmentation?
Defragmentation refers to the process when your computer actions to organize the files stored in the hard drive, enabling the large files to be combined together. In this way, the large files can be accessed and read in a faster way. As computers are developed with defragmentation techniques, their cooperating speed with the large files is much faster than ever before.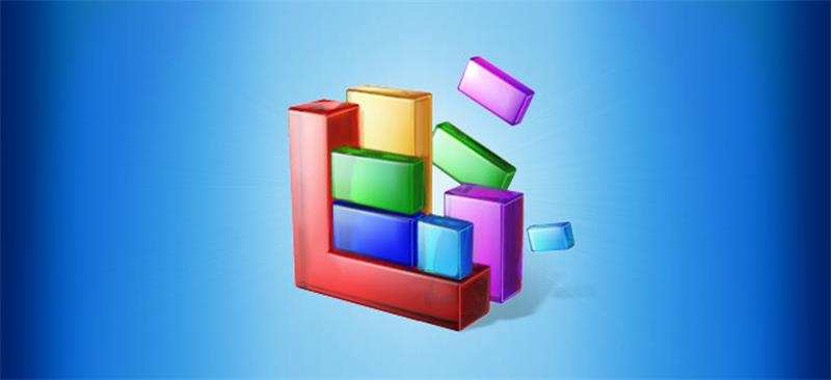 For Windows PCs, defragging the device is a workable option to get the computer run faster when it slows down. However, this rule is not 100% appropriate for Mac to apply. Why?
Dating back to 2002, when Apple launched the OS X 10.2, the devices had been developed to prevent file fragmentation but were able to defrag automatically. The core technology utilized by Apple is the Hot File Adaptive Clustering (HFC), which facilitates quick access to the read-only files in a hot storage zone on Mac. When the files are removed or deleted, Mac will automatically defrag them.
More surprisingly, the Mac devices are able also to detect whether the file is highly fragmented by themselves. If yes, they will automatically act to defragment it.
When Do You Need to Defrag Your Mac?
As Mac has been equipped with the auto-defragging feature, it is seemingly that people are not required to defrag Mac by themselves.
But there are still some exceptions when defragging your Mac is required:
You are using the older Macs with the HDD drive.
The hard drive of your Mac is less than 10%.
You have to work with large files (the file size is larger than 1GB) on a regular basis.
Under these circumstances, we still need to defrag Mac manually. However, you also need to make sure the hard drive of your Mac is HDD before the defragmentation (SSD hard drive would be damaged during the defragging process). Also, please make sure you have backed up the data in advance to get rid of the data loss situation.

Tips:
For macOS user, Click Apple Logo > About This Mac > System Report > Storage to check the hard drive type on your Mac. If you see Flash Storage, it means your Mac has an SSD hard drive.
Part 2: Alternatives to Defrag Mac
Defragging Mac is not the best solution to speed up Mac again, because the improper manipulation may bring harm to your device on the contrary. Instead, if you wish to speed up your Mac again while it runs slower or is lacking in storage space, these two alternative solutions can be more reliable.
Solution 1. Clean up Mac with Macube Cleaner
Cleaning up and managing the storage on Mac with a powerful tool can be a great alternative to Mac defragmentation, You may have tried to do the cleanup job manually, but it's still likely that some useless files are left behind because they are easily neglected and hard to be deleted.
Macube Cleaner is a superior Mac cleaning application that provides multiple methods to clean up Mac throughout. It can smartly detect all the files stored on Mac and sort them into corresponding categories for people to manage at one time. Through the deep cleanup, your Mac can retain the speedy performance and facilitate productivity again.
The following 3 functions may be the ones you are looking for when get stuck in the exceptions when you want to defrag your Mac:
Smart Scan to Quickly Free up Storage
The Smart Scan mode of Macube Cleaner only takes one easy click to scan through your device and sort out system junks like caches and trashes during the device's running. Usually, these files are what slow down your Mac but are hard to be located.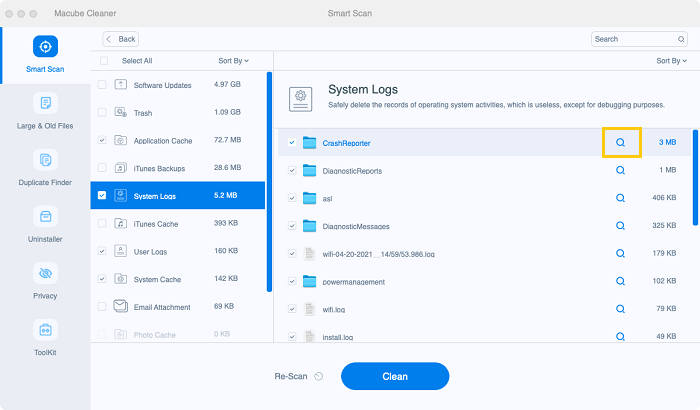 Clear Large & Old Files
Macube's Large & Old Files mode can help you separate the files:
Over 100 MB

Between 5 and 100 MB

Older than 1 year

Over 30 days
Then by selecting them to delete, your Mac can free up certain storage and retain the speedy performance.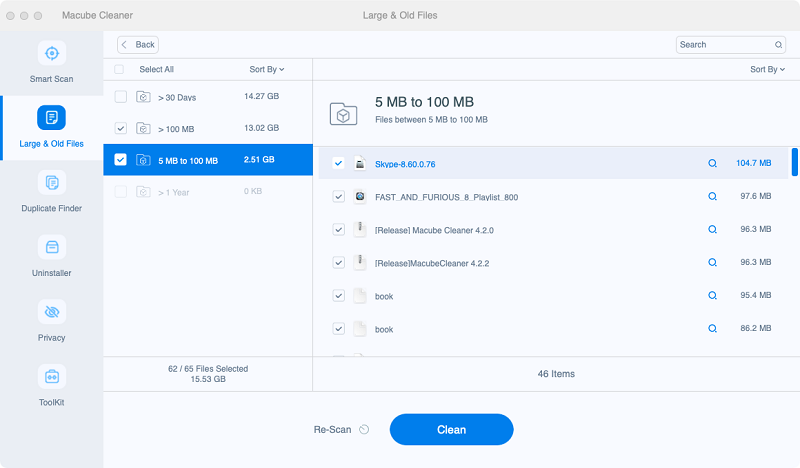 Completely Uninstall Apps with App Files
Deleting apps you no longer need is an effective way to optimize your computer's speed and free up space on your Mac. What's more, outdated and unused applications can become incompatible with updated computer systems, eventually causing computer malfunctions. The Uninstaller of Macube will list all the installed apps on Mac and help you uninstall them completely.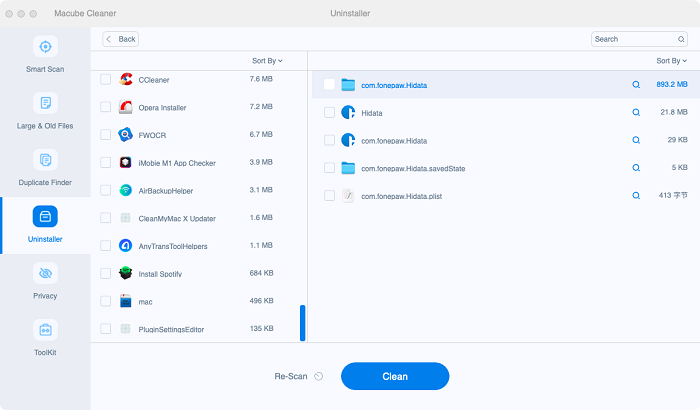 All in all, you get different options to clean up Mac for retaining its powerful performance when meeting the low storage situation or you are required to work with large files frequently. Utilizing Macube Cleaner may be a more rational option than defragging your Mac.
Solution 2. Try to Restart Your Mac Device
Replacing of defragging Mac or turning to the third-party app for help, the simplest way to get the sudden problem resolved and bring your Mac back to great performance is to restart the Mac device in a go. Through restarting the device, the corrupted programs would be shut down, and those created caches and temporary files will automatically be deleted, in that your Mac will come back to the high-efficient status again.
Solution 3: Remove Unnecessary login items
When you have too many login items, your computer will start slowly, affecting network connectivity or the loading of other applications. Removing unnecessary login items can improve the performance of your Mac without the need for complex defragmentation of your Mac disk.
Sometimes those startup items are not those you set up yourself, so you'll be curious about where to turn off startup items. The answer will be given below.
Step 1: Click System Settings > General > Login Items.
Step 2: Select the applications from the list and click the "-" button to disable them from automatically starting at startup.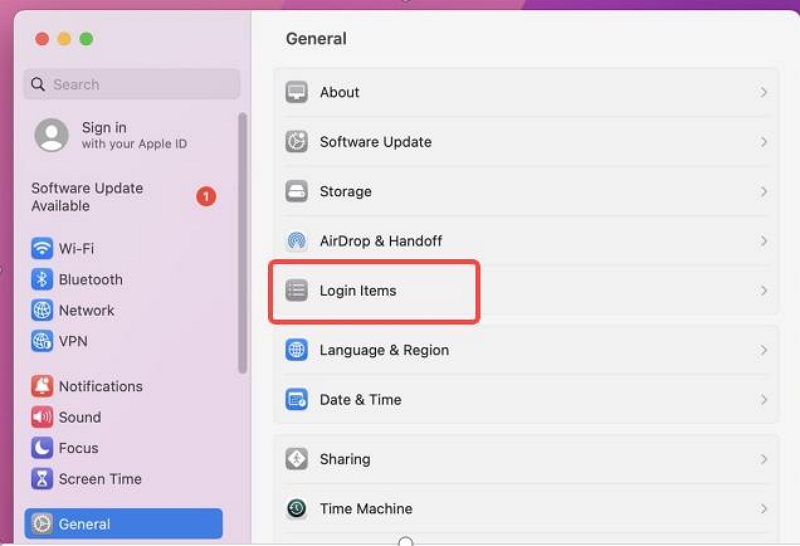 Part 3: How to Defrag a Mac
If you do need to defrag a Mac, manipulating it with a proper process would be essential. Before the defragmentation proceeds, you should first backup your data using Time Machine, iCloud, or an external drive, otherwise, data will all lose when the defragmentation fails.
Selecting a professional application to process the Mac defragmentation is also important. The Drive Genius 5 offers professional service to help defrag your Mac without going through complicated processes. But please pay attention that the Defragment feature is not available for macOS 10.13 or the newer versions.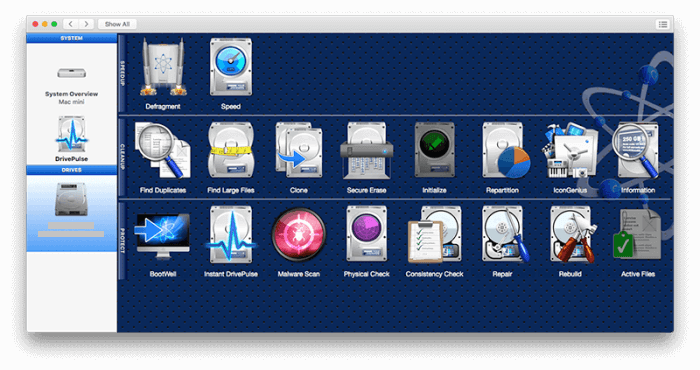 FAQs:
Q1: Can defragmentation damage hard drives?
No, defragmentation does not usually cause direct damage to hard drives. However, defragmentation may put additional stress on hard drives, which can increase the risk of hardware failure if the drive is already damaged or degraded.
Q2: Why is defragmenting SSD is a bad idea?
Defragmenting an SSD is a bad idea because unlike traditional hard drives, SSDs use flash memory technology which has a limited number of write cycles. Defragmentation involves moving and rearranging data on the drive, which can cause unnecessary wear and tear on the SSD, shortening its lifespan.
Conclusion
As all explained above, only very few Mac users would go into situations when they need to defrag the Mac. The auto-defragmentation feature built into Mac systems has facilitated great convenience, especially when we have to work with large files on a frequent basis. If you think you need to defrag your Mac, it's more recommended that you try to clean it up as an alternative first. By the way, as you run into the demand for Mac defragging, don't forget to backup data before proceeding with the defragmentation!