If you have bought a used iPhone/iPad but the previous user forgets to log out of his /her Apple ID and Find My is still enabled on the device, your iPhone/iPad may get stuck with the activation lock screen. Due to the sophisticated security technologies of activation lock, operations such as factory reset cannot remove it. Once you set up the device, the activation lock screen will prompt again. Without entering the correct Apple ID and password, you can hardly get access to the device.
So, is there any feasible way to get out of this situation? Don't worry. This post will introduce three useful ways to bypass the iCloud activation lock on iPhone/ iPad easily and efficiently. Please keep reading.
What Is Activation Lock?
Activation Lock is a security feature embedded in Find My. Once you enable the Find My feature, the activation lock will automatically turn on. It is designed to prevent anyone else from using your iPhone/ iPad when it's lost or stolen. After it's turned on, Apple securely stores your Apple ID on its activation servers and links it to your device.
And a message will be displayed on the screen that says: "This iPhone is linked to an Apple ID. Enter the Apple ID and password that were used to set up this iPhone". Your Apple ID password or device passcode is required before anyone can turn off Find My, erase your device, or reactivate and use your device even after factory resetting and data erasing.
This is a perfect feature if your iPhone/iPad is lost or stolen, which can surely keep your privacy secure. However, what if you forget your Apple ID password or you've just bought a second-hand iPhone/iPad without knowing the Apple ID and its password? The only solution is to bypass the activation lock. In this article, we will share with you 3 feasible ways to help you get rid of the activation lock.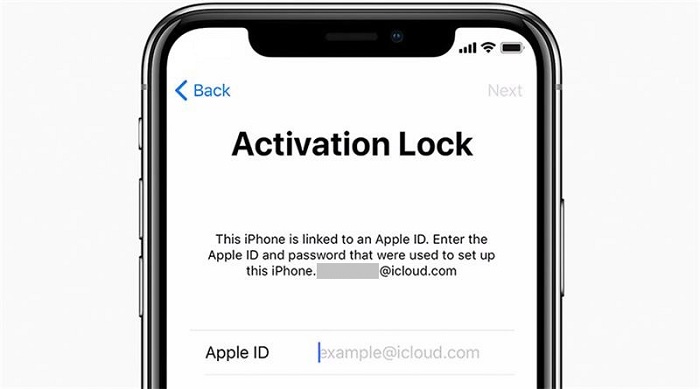 How to Bypass Activation Lock Without Apple ID
The best solution for your iPhone/iPad when it gets stuck on the "Activation Lock" screen is to use the professional activation lock bypass tool, Passvers iPhone Unlocker. It is a reliable program that allows you to bypass the activation lock with a great success rate. Whether you forget the screen lock or screen time passcode, or you've just bought a used iPhone and wanted to remove the Apple ID, Passvers iPhone Unlocker can meet your unlocking demands.
It should be noted that you need to jailbreak your iPhone/iPad before the lock bypassing. During the unlock process, make sure that your locked device is fully charged and that your computer has enough storage space. Now, dive into the tutorial and see how to bypass the activation lock with Passvers iPhone Unlocker.
Free Download Free Download Free Download Free Download
Step 1. Jailbreak your device
Back up your data and jailbreak your locked device.
Step 2. Download Passvers iPhone Unlocker
Download and install Passvers iPhone Unlocker on your computer. And connect your device to the computer with a USB cable. Then wait for the device configuration.
Step 3. Confirm device information
Click "Start Bypassing Activation" on the information confirm page. Check the warning and click "Start" to the next step.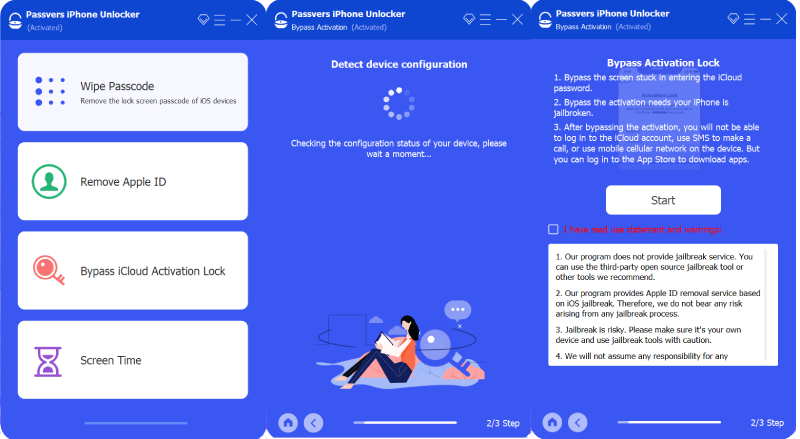 Step 3. Jailbreak confirmed and set up for bypassing
If you haven't jailbroken your device, click "iOS Jailbreak Tutorial" and follow the help page to get it done. If you've finished, choose "Next".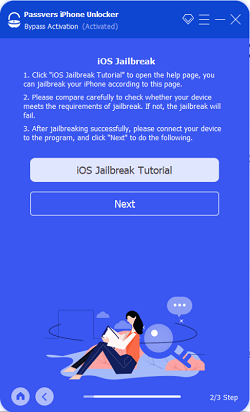 Step 4. Start to bypass the activation lock
Then, the program will start to bypass your activation lock. Wait for a moment and the lock will be successfully removed on your device.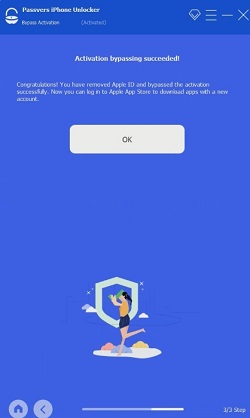 Free Download Free Download Free Download Free Download
How to Bypass Activation Lock via DNS
When an Apple device is WiFi-connected, it will first establish a connection with a DNS server before attempting to contact the Apple server. This method is a trick that bypasses the DNS server and gives you access to the major features such as watching videos, browsing websites, chatting with friends, and playing games on your device temporarily.
However, it's not a perfect solution as it doesn't solve the underlying problem. This way is only for iOS 8 to iOS 10, and it does not work all the time. So, if you're in a hurry to use your iPhone to find someone for help, follow the steps below.
Step 1. Open your device and go to the Wi-Fi connection.
Step 2. Choose your local Wi-Fi and click the information icon behind the Wi-Fi name to go to the detail page.
Step 3. Tap "Configure DNS" and tap "Manual".
Step 4. Then tap "Add Server" and select the one from the list of IP Addresses of DNS Servers below based on your current region.
USA: 104.154.51.7
South America: 35.199.88.219
Europe: 104.155.28.90
Asia: 104.155.220.58
Australia and Oceania: 35.189.47.23
Other: 78.100.17.60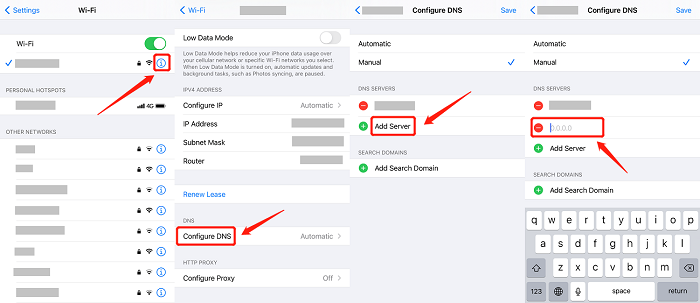 Step 5. Now, hit "Joint Networks" at the top of the screen and enter your actual Wi-Fi password.
Step 6. Once you hit the "Join" button, the iPhone will go to a new page. Hit the "Back" button and then a prompt should come up without you having to do anything.
Step 7. Then, it shows you that you're logged into the "iCloudDNSBypass.net". Now you are done and you can use the features on the list.
How to Bypass Activation Lock Using iCloud
If you have bought a second-hand iPhone/ iPad that has a locked iCloud account, you can try contacting the previous user and ask him/her to remove the Apple ID for you. It can be done remotely via iCloud, so don't worry if the previous owner lives in another city.
As iCloud launches the activation lock officially, bypassing the activation lock using iCloud is the fastest solution. Here are the detailed procedures to remove the device from the iCloud account.
Step 1. Open iCloud.com on a web browser. Please sign in with the Apple ID and password of the locked iPhone/ iPad.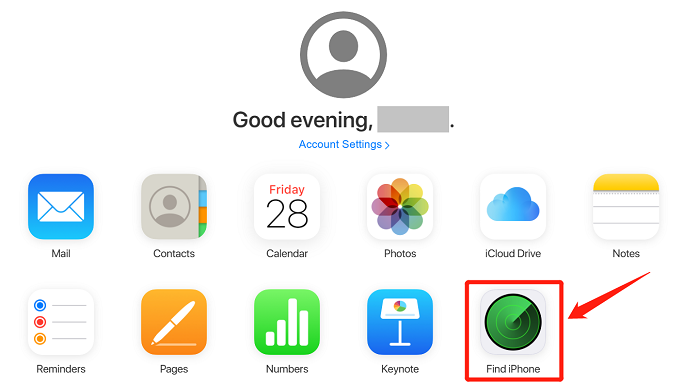 Step 2. Then select "Find iPhone" on the home page. Click "All Devices" to choose the iPhone model that you need to bypass.
Step 3. Select "Erase This Device" and "Remove from Account". When the steps are completed, the iPhone/iPad will be deleted from the Apple ID. So, the activation lock should be removed.
FAQs About Bypassing Activation Lock
Is it possible to unlock an iCloud locked iPhone?
Yes. All three methods we provided above work with bypass activation lock on your device. You can utilize a third-party professional activation lock remover to get out of trouble, which is safe and efficient. DNS is a temporary solution that allows you to use major functions on your device in an emergency. The last one is to use iCloud to remove the Apple ID from the Account, which is the fastest solution.
It should be noted that though all these methods can meet the unlock demands, the actual use will be limited as long as you don't have the Apple ID and passcode.
Can factory reset remove the iCloud activation lock?
As mentioned in this post, due to privacy protection, the activation lock will not be removed even after factory reset and data erase. When you set up your device, the activation lock window will still pop up. It can only be removed by turning off the Find My feature in iCloud.
Conclusion
That is all about how to bypass the activation lock on iPhone/iPad. All in all, Passvers iPhone Unlocker is the best option to go for if you want a secure and convenient way. Other methods are workable also well. So, you can choose the suitable one based on your own situation. We hope that this guide will be helpful to you.