It is a common reality that when you use your Mac on a frequent basis, there accumulates more files, data, and programs, gradually occupying an increasing amount of the storage space, in that slow down the performance of your Mac.
Therefore, keeping your Mac clean is always a fundamental job to maintain its great performance, facilitating high productivity when you need to work or study with the laptop. Thankfully, there has been plenty of professional and powerful Mac cleaners launched to assist the Mac cleanup process completed within one shot. In this post, there are the top 7 ranked Mac cleaner software of 2022 gonna be introduced. Please keep reading if you also need a favor to tidy up your Mac and free much space.
What Makes a Good Mac Cleaner?
Before diving into the review of the 7 best Mac cleaner software of this year, we'd better know exactly how to define a "good" Mac cleaner? What can be the criteria of a good Mac cleaner deserving our choice? Generally, when a program could cover the following qualifications and features, it could meet most users' standards to clean up the Mac computers:
Smart Cleaning Mode
A good Mac cleaner must ensure people to automatically clean up the junk files, including those tough to access.
Safe Cleanup
It refers to whether the program could thoroughly clean up different sorts of data, files, and apps on Mac safely.
Large Files and Duplicates Finder Equipped
Large and old files and duplicates are usually the culprit that eats up Mac space, so it would be a bonus as a good Mac cleaner can detect the duplicated files taking up the space for you to clear them up.
Program Uninstaller
It's daily tasks to use apps on your Mac. A qualified Mac cleaner must be able to assist you uninstalling unnecessary apps from the device completely, including the related files and generated caches.
Extra Functions for Safeguarding Your Mac
A reliable Mac cleaner needs to highly value data security, in that it would provide corresponding features such as anti-virus as well as privacy protection to safeguard the Mac computers.
Concluded from these aspects, we ought to consider a qualified Mac cleaner software not only from its provided functions but also its performance as well as the program security. Referring to the criteria, let's walk through the 8 best-recommended programs in the next part.
7 Best Mac Cleaner Software in 2022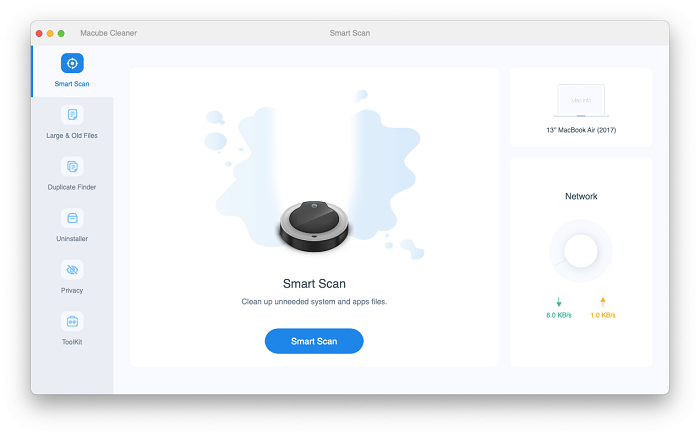 Macube Cleaner tops this chart because of its powerful and versatile cleanup features and simple operation. When Apple upgraded the M1 chip, Macube Cleaner also follows up the trend to develop itself for fully compatible with the change. With the enhanced updates, the program would perform with great stability and smarter scanning methods to sort out all unnecessary data, files, and apps for you to clear up.
The highlight of Macube Cleaner is absolutely its smart scanning mode. It takes only one simple click to proceed with the auto-scanning as well as the Mac device cleanup. With 7 more cleaning tools, such as the large and old files finder, duplicate filters, apps uninstaller, privacy protector, extension remover, and more, Macube Cleaner is entirely sufficient to fulfill all your needs to clean up the Mac computers in-depth.
Also with the easy-using interface, Macube Cleaner attracts most users for its easy start-up process. This handy program makes Mac cleaning an effortless job to proceed. Furthermore, the subscription price of Macuble is also very affordable, and it even provides a free version that you can enjoy all features mentioned above for 7 days. From these aspects, Macube Cleaner is selected as the best option if you gonna select a Mac cleaner to free up your Mac and speed it up again.
Pros
A full set of functions is provided to clean up your Mac from different aspects in one shot.

Offer a full-function free trial that is available for up to 7 days.

Smartly detect and classify all types of data, files, apps, extensions, and more stored on your Mac.

Speed up the scanning as well as Mac cleanup processes to an efficiently-fast speed.

The program highly secures user privacy and data security with the encrypted technologies adopted.

Regular updates to follow up on the system updates of the macOS systems.
Cons
Lack of antivirus features.
Price
7-day free trial: $0.00 (registration required)

One-month license (1 Mac): $8.95

Lifetime license (2 Macs): $69.95
Video Tutorial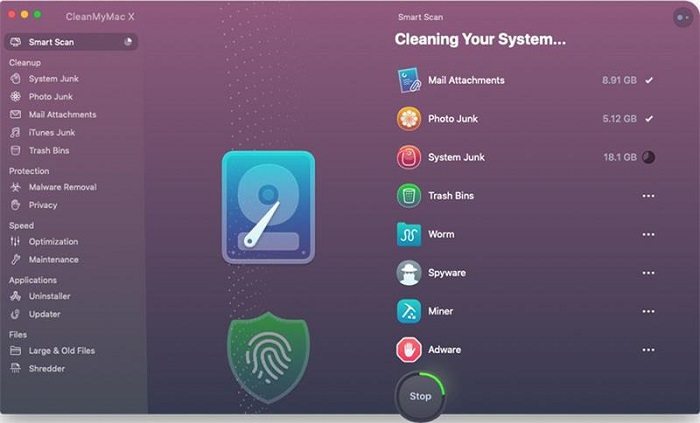 Let's come to another professional Mac cleaning program for the macOS system. CleanMyMac X has been rated as one of the most professional and trustworthy cleaning tools for macOS systems. It has great compatibility, which ensures a speedy scanning process and stable cleanup performance to clear up the Mac computers in-depth.
Its Smart Scan function also allows people to press one button to proceed with the Mac cleanup job without keeping their eyes on the program. It can recognize different junk files that people could remove. Furthermore, CleanMyMac X also provides the optimization and maintenance module to optimize the Mac by managing the unused apps or extensions. Equipped with extra security functions such as the malware scanner and several basic privacy protection features, CleanMyMac X is a reliable defender to safeguard your computers from potential threats.
Pros
The program delivers excellent and powerful Mac cleaning tools to tidy up the computers thoroughly.

It is designed with an intuitive graphical interface to make the functions easy to navigate inside the app.

Extremely powerful in managing the storage free up for your Mac computers to save much space.
Cons
The Updater function fails to detect updates of certain apps sometimes.

You may be notified of confusing results while processing the malware removal feature in the program.

More expensive expenses are required to purchase the license key.
Price
One-year license (1 Mac): $34.95

One-year license (2 Macs): $54.95

One-year license (5 Macs): $79.95

Lifetime license (1 Mac): $89.95

Lifetime license (2 Macs): $134.95

Lifetime license (5 Macs): $199.95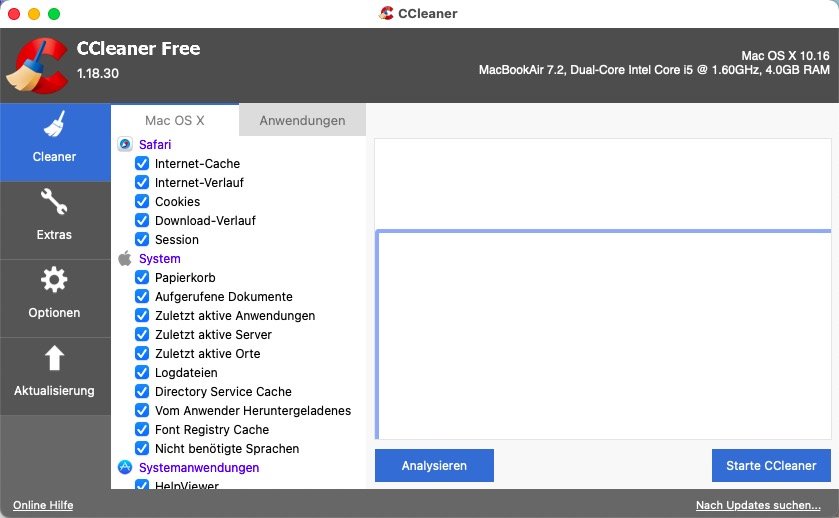 CCleaner is designed with a similar UI as its Windows counterpart. If you have already tried it on Windows, then it would be an effortless process for you to get started on Mac. Compared to most Mac cleaner software, CCleaner offers more competitive prices but comprehensive functions to clear up the Mac computers. Most things stored on your Mac such as unused files, trash, caches, and more can be detected by CCleaner so that you can easily clean them up to free up space and speed up your Mac.
What's more, CCleaner is developed to equip extra Mac cleanup tools, including the duplicates finder, app uninstaller, and more basic apps that would be required by a majority of users. The only downside of CCleaner should be its lack of some security functions. Therefore, if users seek such functions to safeguard Mac, CCleaner is less competitive.
Pros
It is a lightweight program that could run stably without using up much computer CPU.

The basic Mac cleaning tools are provided to meet most people's requirements on Mac tidying up.

The price to unlock its premium version is competitive.

More than one-decade development with the best-enhanced services provided.
Cons
It is lacking in the security features that enable people to safeguard their data privacy on Mac.
Price
One-year license (1 Mac): $29.95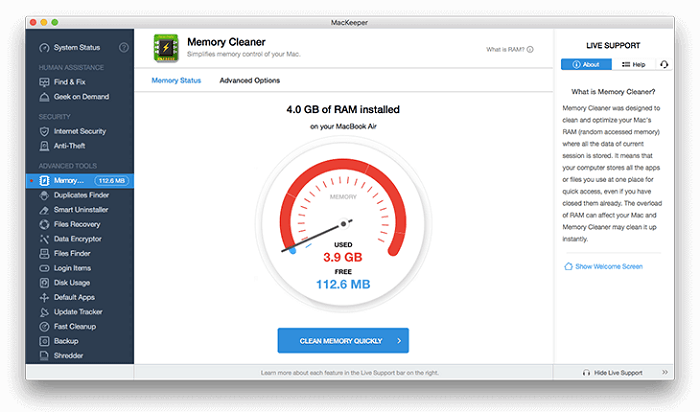 MacKeeper has enhanced a fresher design with an easy-navigating interface to deliver a convenient user experience to clean up the Mac computers. The program is equipped with all necessary functions to assist to get rid of the heavy Mac storage by sorting as well as deleting the useless junk or unused files that have eaten up the space.
Furthermore, the all-featured Mac cleanup program is also equipped with advanced security functions, including instant antivirus protection, ad filter, and more privacy protections to safeguard devices by protecting data privacy.
To users' surprise, MacKeeper also provides the VPN service as part of its subscription feature, to allow people to access websites from around the globe with the virtual IP addresses safely. With MacKeeper, you are actually getting a multi-functional Mac protector other than a simple cleanup tool.
Pros
All-featured program with all required functions such as Mac cleanup, security protection, system optimization, and so forth.

Instant monitoring mode ensures the daily condition of your Mac from time to time.

An extra secure VPN service is provided to browse any website safely.
Cons
Lack of ransomware protection in its security mode.
Price
One-month license (1 Mac): $10.95

One-year license (1 Mac): $71.40

One-year license (3 Macs): $89.40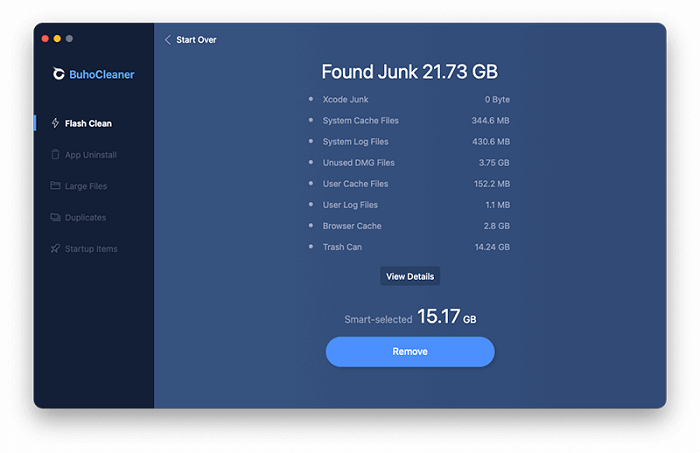 Coming with a simply-designed interface, Buho Cleaner also develops to be an easy-using Mac cleaner software of 2022. People can easily navigate to the cleanup tools provided on the left panel and process one click to initiate the device scanning process. Buho Cleaner can smartly walk through all data and files in-depth to provide you with the cleanable files for freeing up your Mac.
Compared to professional cleanup programs for Mac such as Macube and CleanMyMac, Buho Cleaner delivers more practical functions to meet the daily needs of a majority of people. The basic features are sufficient to help you remove junk files, unused apps, large files, or duplicates with easy manipulation. Buho Cleaner is a rational option for people who only consider an affordable program with all basic Mac cleanup tools provided.
Pros
The easy-navigating UI allows people to immediately get started once launching the program.

The basic Mac cleanup functions are sufficient to cover a majority of needs for freeing up Mac storage and speeding up the performance.

The price of getting a registered license would be competitive.
Cons
It is lacking in some security functions to protect the Mac.

The Mac cleaning condition is not as powerful as many other Mac cleaner software could do.
Price
Lifetime license (1 Mac): $14.99

Lifetime license (3 Macs): $22.99

Lifetime license (10 Macs): $39.99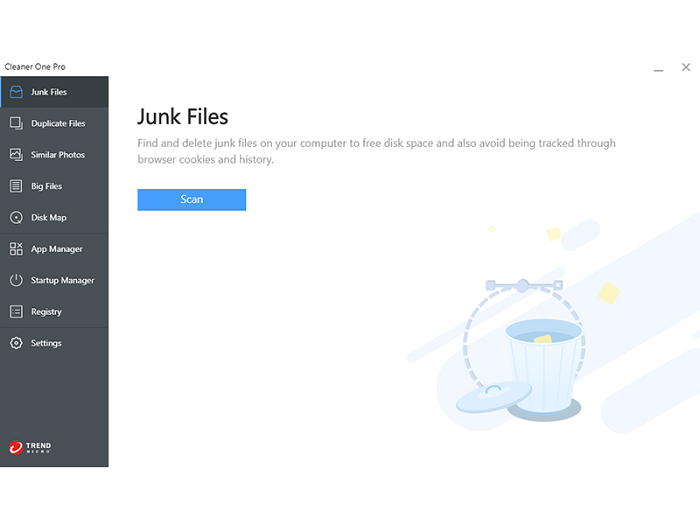 Cleaner One Pro, which was known as Dr.Cleaner formerly, is also ranked as one of the best Mac cleanup programs of 2022, offering sufficient Mac cleaning functions to remove all sorts of junk files, duplicates, or shred files, uninstall apps, and more. With all these equipped features, it would be an effortless process for everyone to get back the disk space on Mac.
Moreover, to ensure the equally-high Mac performance ability, Cleaner One Pro also enables the Smart Scan feature to instantly check the factors that have affected your system operation. Meanwhile, it would list certain recommended solutions to help fix the issues one by one.
Pros
Common Mac cleanup functions are provided to clear the Mac storage with easy manipulation.

It is able to powerfully monitor the computer performance and provide corresponding solutions to fix the problems affecting Mac's running.

Handy functions ensure the daily Mac checking easier to be processed.
Cons
The security functions are missed.
Price
One-year license (1 Mac): $14.99

One-year license (5 Macs): $29.99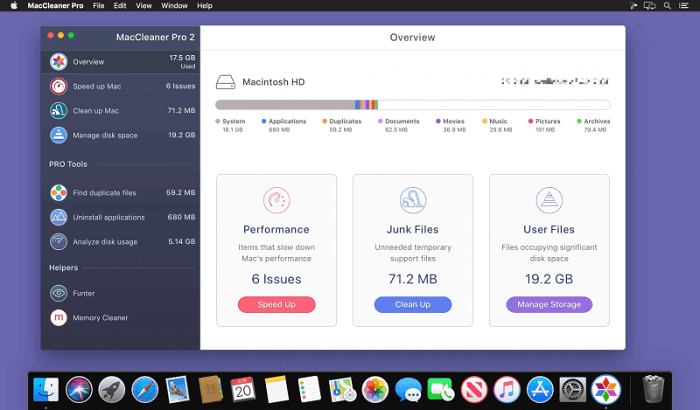 Don't miss MacCleaner Pro while seeking a reliable partner to clean up your Mac computers. MacCleaner Pro majored in Mac speed up, file cleaning, and disk space management. The program could dive into your device space occupation in-depth, for instance, its speed-up feature will deeply scan through the RAM to free it up or disable certain startup programs so that to accelerate the Mac speed again.
As for its cleanup function, MacCleaner Pro could also sort out all the potential unnecessary files or caches to proceed with the cleaning. Its suggested clean-up items could free up over 50% of occupied storage on Mac to return such space back to people again.
The Pro features of MacCleaner Pro come with a more helpful cleanup toolkit to clear the Mac computers in-depth, including the duplicates finder, app uninstaller, disk space analyzer, and so on. With accurate graphics and algorithms, MacCleaner Pro can fully take the missions to free up your Mac effortlessly.
Pros
Its cleanup tools are all well-selected and can bring the most practical help to people.

Mac system speed-up option is available to free up RAM or prevent start-up to enable faster performance on Mac.

Easy-using and simple-to-navigate interface helps people to master the program in a quick process.

One-off price to get the full features without any using restrictions from then on.
Cons
The security features and privacy protection are not developed in the program.

There provides no VPN service inside the app.
Price
Lifetime license (1 Mac): $44.95
Conclusion
Let's review how to wisely select a reliable Mac cleaner software to clear Mac systems:
Safe cleanup process

In-depth computer cleaning

Uninstallation feature

Security modes equipped
Now you would be much clearer to match up the criteria you care about the most while reviewing these 7 recommended Mac cleanup programs. Just select the best option to try out!