Summary: This post is about how to permanently delete files on Mac hard drive to avoid confidential information leakage. You should know that even though you move files to Trash and then empty it, they can be recovered with a data recovery app. So how to remove confidential data on your hard drive completely? Please continue to read.
Don't Miss Out:
The old written way is now replaced by the flood of digital files stored on Mac computers. To prevent leaking out confidential files or give away or sell a MacBook/Mac Pro/Mac mini/iMac, users should make sure that files and documents are completely deleted with any possibility to get them recovered. For that reason, a Mac File Shredder app is a must.
Part 1: What Is A File Shredder?
Speaking of a shredder, the first idea that is pictured in your mind may be a paper shredder that in with paper documents, out with either stripes or fine particles, which is used to destroy private, confidential, or otherwise sensitive documents. With the great use of digital files, people now use a file shredder to eliminate any documents from Mac computers, making them irrecoverable.
How does a file shredder work? Instead of any material things being stripped, the whole process is invisible. The shredder will wipe out selected files from the hard disk drive and randomly create content (which will be deleted after that) to overwrite the previous place so that it's impossible to recover anything back. Here's a tested to be the best Mac shredder app I want to introduce for you, please check it out.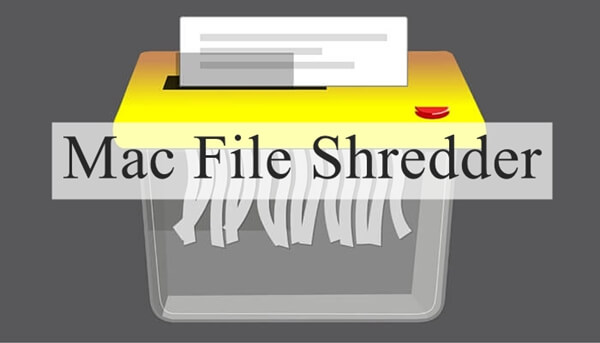 Part 2: The Best File Shredder for Mac
Macube Cleaner is an intuitive and multifunctional Mac manager providing a bunch of useful functions like Junk Files, Clutter, Large & Old File, Similar Image Finder, Duplicate Finder, Uninstaller, Shredder. The Shredder is the one feature Macube Cleaner offers. It's also considered as a great Mac cleaning software. Let's don't beat around the bush and take a look at how this all-sing and all-dancing program works.
Note that Macube Cleaner is well-compatible with Mac running macOS 10.13 (High Sierra), 10.12 (Sierra), 10.11 (El Capitan), 10.10 (Yosemite), 10.9 (Mavericks), 10.8, 10.7, or 10.6.
Now, please download and install the Mac file shredder and disk cleaner on your computer.
Step 1. Get Down to Macube Cleaner
After you launch the software, you can check out the details information of your Mac on the main page. Then, please click "Eraser" to try this feature.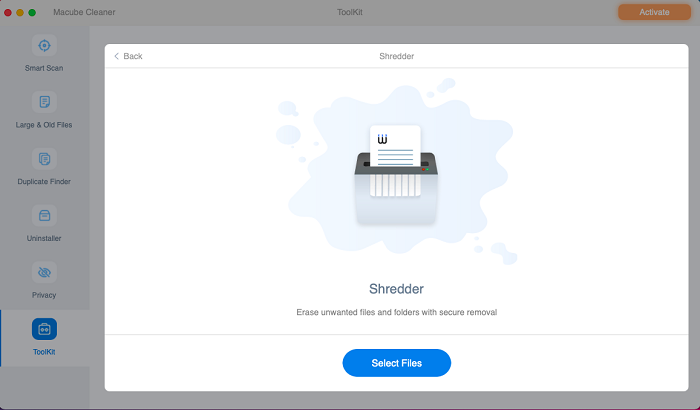 Step 2. Choose Files to Destroy
Here you can check out the onscreen introduction to Shredder. Next, click "Select Files" > "Add Files" and navigate to open desired files you want to wipe out. If you select the wrong folder/file, click "Deselect" to retrieve your choice. Make sure that all selected ones are okay to be erased, for the process is irreversible.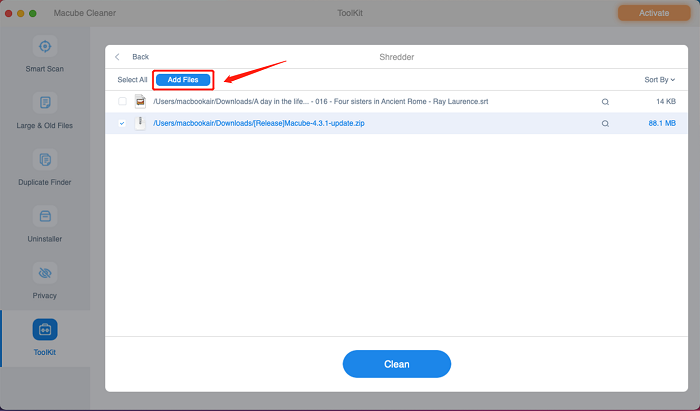 Step 3. Destroy Sensitive Files
Now, hit the "Erase" button, and then you'll be warned to confirm this step. It may take a bit longer than simply emptying the trash.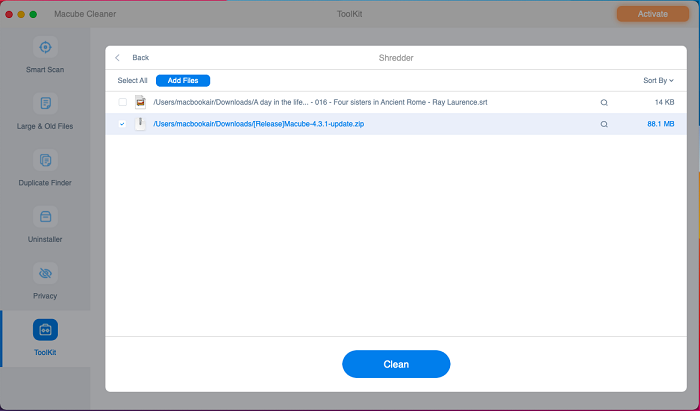 When the process completes, you can see the size of the files you permanently erase with the Mac file deleter.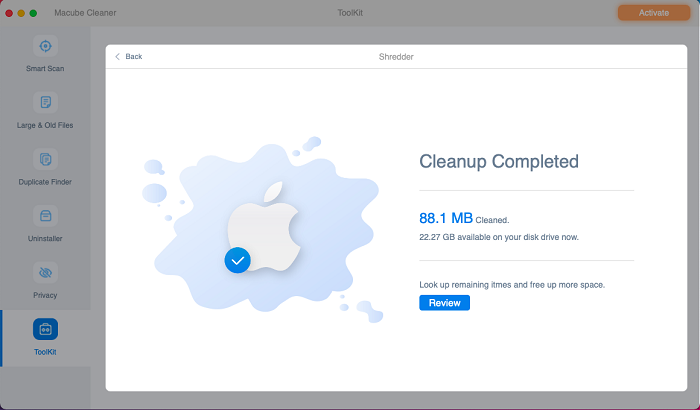 Part 3: Why Is Macube Cleaner Recommended?
You may bear a question that there are plenty of shredder programs on the internet, so why should you take a try on Macube Cleaner over others? Good questions. Here are the reasons that make Macube Cleaner stands out from others.
It's a multifunctional program can do much more than shredding files.

It's a simple to use requiring no extra tech knowledge with a user-friendly interface.

It's completely compatible with all Mac models running all macOS.

Its certified data erasure algorithms promise enduring deletion of the selected files.

It ensures an impossible recovery on erased data via any so-called professional programs.
I'm sure you may get tired of so many characters, so why not try Macube Cleaner and securely delete files on Mac? You're just a stone's throw away from what you're looking for.