Lack of storage on hard drive is the culprit of a slow Mac. Therefore, to optimize your Mac's performance, it is essential for you to develop the habit of cleaning up Mac hard drive regularly, especially for those who have a smaller HDD Mac. In this post, we'll show you how to see what's taking up space on your Mac hard drive and how to clean Mac more effectively and easily. The tips are applicable to Mac OS Sierra, Mac OS X El Capitan, OS X Yosemite, Mountain Lion and another old version of Mac OS X.
What's Taking Up Space on Mac Hard Drive
Before the clean-up, let's see what's taking up space of your Mac's hard drive so that you will know what to clean to get a faster Mac. Here is how you can check your hard drive storage on Mac:
Step 1. Click the Apple icon at the top-left corner of your screen.
Step 2. Choose About This Mac.
Step 3. Select Storage.
You'll see that there are six kinds of data that are eating up your storage: photos, movies, apps, audios, backups and other. You probably have no doubt about the first five kinds of data but get confused about what this "Other" storage category is. And sometimes it is the "Other" data that takes up most of the space on your hard drive.
In fact, this mysterious Other category includes all data that can't be identified as photos, movies, apps, audios, backups. They could be:
Documents such as PDF, doc, PSD;
Archives and disk images, including zips, dmg, iso, etc;
Various types of personal and user data;
System and applications files, such as user library items, user caches and system caches;
Fonts, app accessories, application plugins, and app extensions.
Now that we know what's taking up the space of the Mac hard drive, we can search for the unwanted files and delete them to clean up space. However, this is much more troublesome than it sounds. It means that we have to go through folder by folder to find the unwanted files. Moreover, for system/application/users files in Other category, we don't even know the exact locations of these files.
That's why developers create different Mac cleaners to make cleaning easier and more effective for Mac users. Macube Cleaner, the program that will be introduced below, is top-ranked among its kind.
Use Practical Tool to Clean Your Mac Hard Drive Effectively
Macube Cleaner is the best Mac cleaner that you can download from the following button. It allows users to free clean up your Mac for 500 GB space, so that you can try to optimize Mac before the purchasing.
You can use the program to:
Identify system files that can be safely removed from hard drive;
Scan out junk files and delete the useless data;
Sort out big and old files by size, date at once, making it easier for you the identify useless files;
Remove iTunes backups completely, especially the unneeded backup files.
Step 1. Launch Macube Cleaner
Launch Macube Cleaner. You can see the concise homepage as below.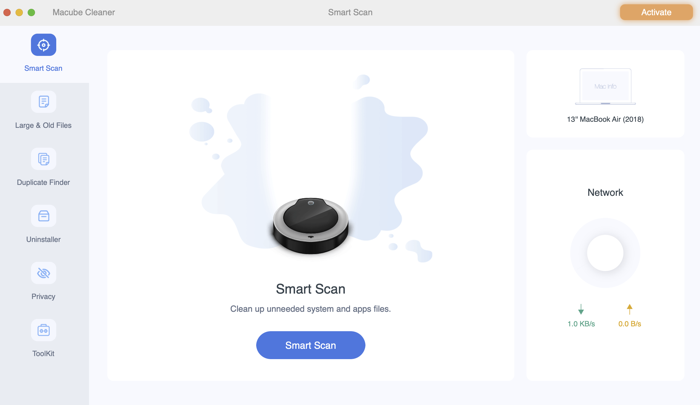 Step 2. Get Rid of System Junk
Click Smart Scan to preview and delete system data that you need no more, including app cache, system logs, system cache, user logs, so that you don't have to look through every single files on your Mac.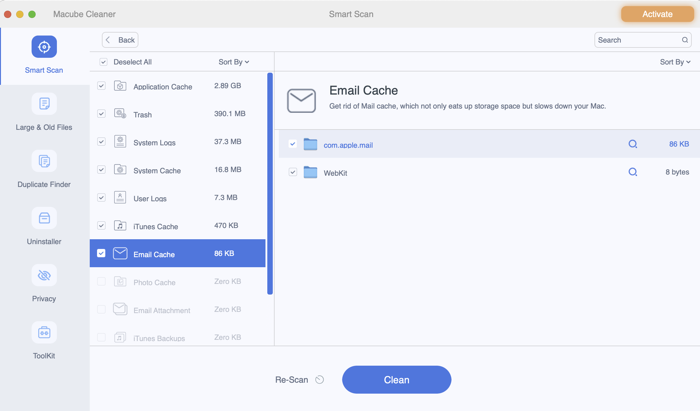 Step 3. Remove Large and Old Files
Comparing to finding big/old files manually, Macube Cleaner will locate those files that are obsolete or too large more quickly. Just click Large & Old Files and choose the contents to remove. You can select these files by date and by size.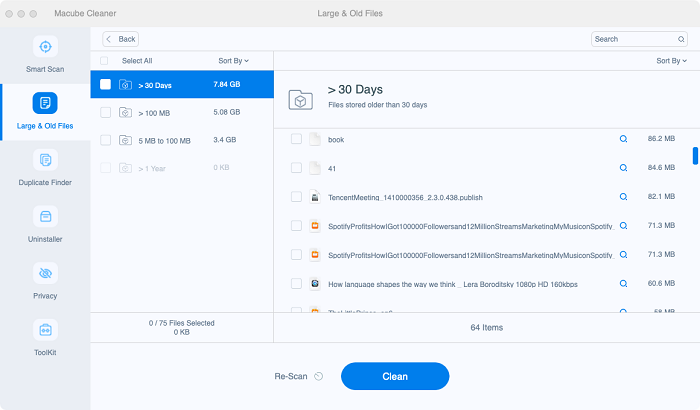 As you can see, Macube Cleaner can help you speed up Mac and clean all things that are eating up the space of your Mac hard drive, including not only caches and media files, but also data that you don't know about. Most of its features are used in one click. Why not get it on your iMac/MacBook and try it yourself?