Summary: This post is about how to clear unwanted autofill entries in Google Chrome, Safari and Firefox. The unwanted information in autofill can be annoying or even anti-secretive in some cases, so it's time to clear autofill on your Mac.
See also: Why is Autofill Not Working on My Chrome? (opens new window)
Now all browsers (Chrome, Safari, Firefox, etc.) have autocomplete feature, which can fill out online forms(address, credit card, password, etc.), log-in information (email address, password) automatically for you. It helps to save your time, however, it is not safe to let browsers remember important information like credit card, address, email address. This post is going to walk you through the steps to remove autofill in Chrome, Safari & Firefox on Mac. And if you want, you can completely turn off autofill in Chrome, Safari, Firefox.
Part 1: Easiest Way to Get Rid of Unwanted Information in Autofill
You can open each browsers on Mac and delete autofill entry, saved passwords one by one. Or you can use a more simple way - Macube Cleaner (opens new window) to remove autofill in all browsers in one click. And Macube Cleaner can also clear other browsing data, including cookies, search history, download history and more. Pleases follow the below steps to delete all autofill entries and saved text on Mac:
Step 1 Download Macube Cleaner on iMac, MacBook Pro/Air.
Step 2 Run the program and click Privacy (opens new window) > Scan to search out browsing history in Chrome, Safari, Firefox, on Mac.
Step 3 Select Chrome > tick Login History and Autofill History. Click Clean to remove autofilll in Chrome.
Step 4 Choose Safari, Firefox or other browser and repeat the above step to delete autofill in Safari, Firefox and more.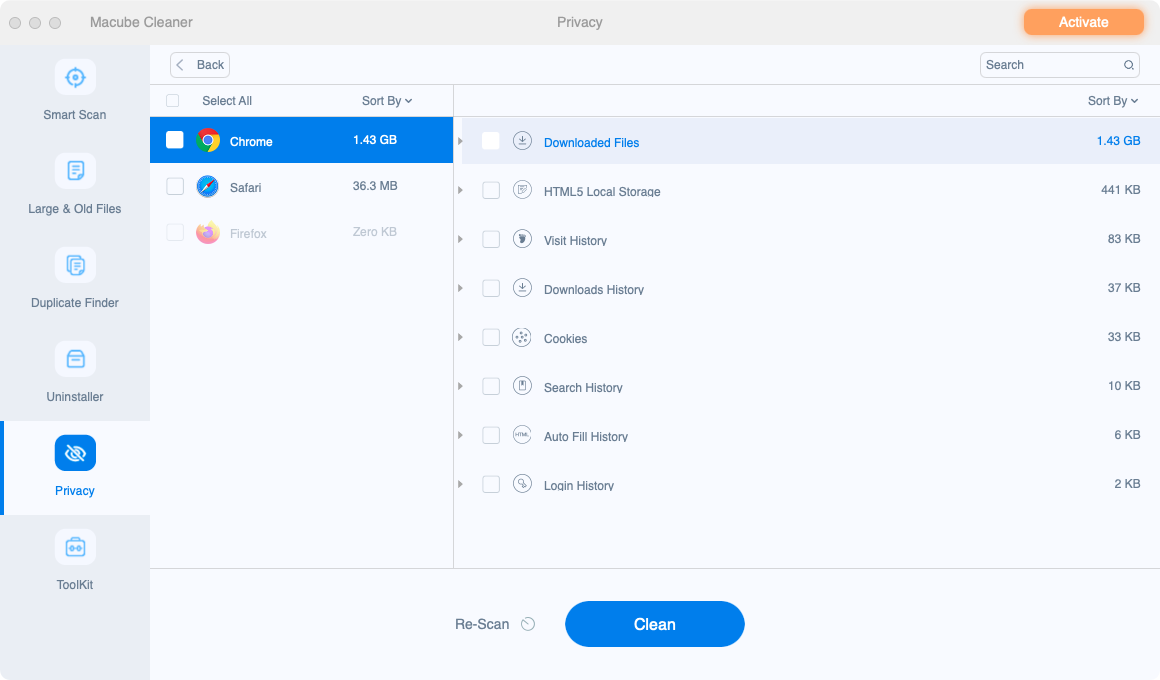 Tip: If you want to remove a specific autofill entry, for example, delete facebook login history, delete email address from gmail, click gray triangle icon to view all login history. Check the item you want to remove and click Clean.
Part 2: Remove AutoFill in Chrome
Follow the below steps to remove autocomplete history in Chrome.
Step 1 Open Chrome on Mac.
Step 2 Launch Chrome. Hit History > Show Full History.
Step 3 Click Clear Browsing Data… and check Passwords and Autofill form data.
Step 4 Click Clear browsing data.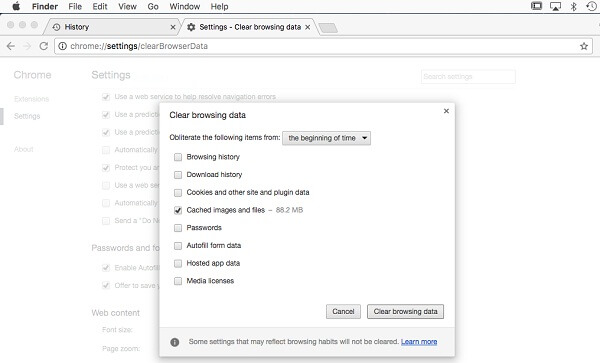 But if you want to delete specific autofill entries in Chrome, you can refer to the below steps:
Step 1: Click the three dots icon on the top right corner in Chrome and choose "Settings".
Step 2: Scroll down and chick on "Manage Passwords" under "Passwords and forms" menu.

Step 3: Now, you can see all of the saved passwords from different sites. Click on the three dots icon and choose "Remove" to delete autofill in Chrome on your Mac.
Tip: To turn off autofill in Chrome on Mac, click three dots icon on the top right corner to open drop-down list. Hit Settings > Advanced, scroll down to Password and forms, choose Autofill settings and toggle off autofill.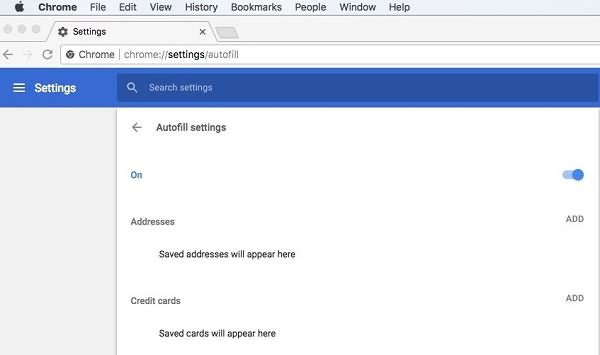 Part 3: Delete Autofill in Safari on Mac
Safari also allows you to delete autofill, save usernames and passwords.
Step 1 Open Safari.
Step 2 Click Safari > Preferences.
Step 3 In Preferences windows, choose Autofill.
Navigate to User names and passwords, click Edit and remove saved user names and passwords in Safari.

Next to Credit cards, click Edit and remove credit cards information.

Click Edit for Other forms and delete all autofill entries.

Tip: If you don't need Autofill anymore, you can uncheck Using info from my Contacts Card + Other Forms on Safari > Preference > Autofill.
Part 4: Clear Autofill in Firefox on Mac
Clearing autofill in Firefox is very similar to that in Chrome and Safari.
Step 1 In Firefox, click three lines at top right of screen > History > Show All History.
Step 2 Set Time Range to Clear to Everything.
Step 3 Check Form & Search History and click Clear Now.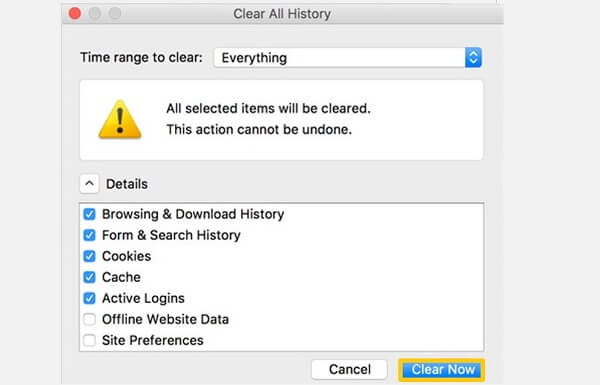 Tip: To disable autocomplete in Firefox, click three lines > Preferences > Privacy. In History section, choose Firefox will Use custom settings for history. Uncheck Remember search and form history.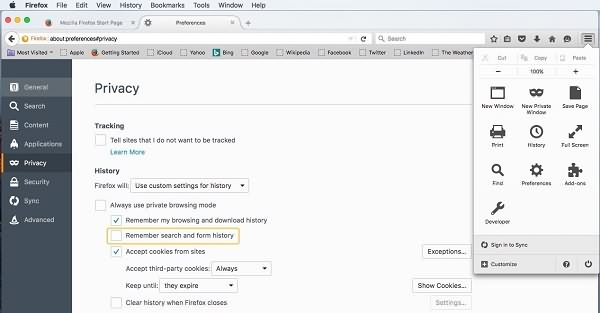 That's it! If you have any question about this guide, please drop us a comment below.