Summary: Is Safari freezing or crashing on your Mac? This post will help. Just follow the step-by-step guide on how to fix Safari when it freezes or crashes.
Some people complaint that after updating MacBook Air to macOS Sierra (10.12), the Safari keeps crashing every time they open it. So is there any idea on why Safari keeps crashing? And how to fix Safari on the Mac?
Why does Safari keep crashing or freezing up?
There are many reasons why Safari keeps crashing on iMac, MacBook Pro, MacBook Air.
You are opening too many tabs at a time on Safari.

There are too many applications running on your MacBook, especially when your MacBook is running out of storage.

The site your are visiting has heavy flash, videos, plugins or other elements that overload Safari.

Safari has old or corrupted caches, cookies or downloads.

An extension or plugin in the Safari cause the problem.

Safari bug. For example, on January 2016, Safari on iOS & Mac OS X quit unexpectedly becaused of a bug caused by Apple's Safari Suggestions.
And to fix crashing Safari on macOS Sierra, OS X El Capitan, Yosemite and more, you can try the following methods.
Solution 1: Clear Browsing Data
Clearing old and corrupted browsing history (caches, cookies, etc.) can help stop Safari from crashing. Since you cannot open the browser right now, you can clear browsing data without opening Safari with Macube Cleaner, which can clean browser data, system caches, and more on your Mac.
Install Macube Cleaner on your iMac, MacBook.

Click System Junk and hit Scan. When the scan stops, choose App Cache, find Safari cache and click Clean to get rid of the browser cache.

Choose Privacy > Scan > Safari. Click Clean to delete cookies, internet history, download history of Safari on your Mac.
Now you can open Safari and see if it crashes or hangs again.
Tip: If Safari or other applications keeps crashing because of insufficient storage on your Mac, you can also use Macube Cleaner to clean up the Mac and free up more space.
Solution 2: Disable Extensions
If you have installed extensions in Safari, it could be one of the extensions that cause Safari to crash.
On Safari, choose Safari > Preference > Extensions.

Set all extensions to off and see if the Safari quits unexpectedly again.

If not, you can narrow down the problematic extension by enabling them one by one.

When you find the extension, uninstall it.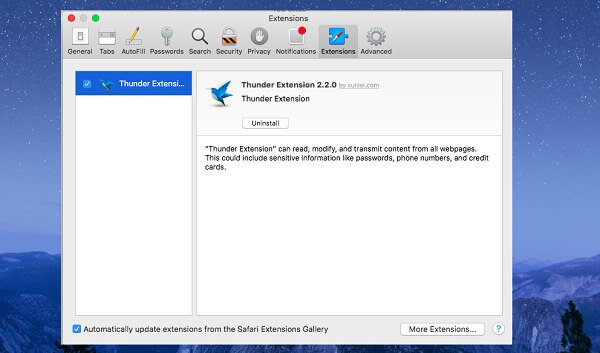 Solution 3: Disable or Uninstall Virus Scanner
Virus Scanners usually take much efforts to keep Safari clean. If there is something wrong with the virus scanner, it could make the Safari stop working.
Disable virus scanners on your Mac;

If your Safari stops crashing after that, uninstall the program and switch to another virus scanner.
Solution 4: Delete Safari Preference Files
Some users find the Safari start working after deleting preference file.
Click Go tab and hold down Option button until you see Go to Folder;

IEnter ~/Library/Safari/ and hit Go.

Delete all files on the folder.

Solution 5:Uninstall Flash Player on Mac
Flash player enables us to watch videos and play other interactive content on the web. But since now most websites have switched to HTML 5 or other technology, most websites works fine without Flash. So it is totally okay to uninstall Flash player on Mac.
Solution 6: Update Your Mac
If the Safari crashing problem is caused by a bug or you cannot get the browser working after the above steps, your last resort will be software update. Since Safari is included in macOS, there is no way to update Safari separately.
To update Safari, you need to install the latest macOS on your iMac, MacBook.

If there is no update available, switch to Google Chrome and Firefox for a while and wait for the new Mac version to come out.
Safari on your Mac should stop crashing right now. To avoid the problem, you may clean Safari with Macube Cleaner from time to time to keep the data up-to-date.