When useless content occupies a large space on Mac computers, the running speed and performance would be dragged down, which greatly lowers user experience. Macube Cleaner (opens new window), a perfect software to keep your Mac always clean and fast, can smartly clear unnecessary computer files or data, meanwhile, protect users' privacy. Now, follow this simple guide and thoroughly clear your Mac with Macube Cleaner!
Step 1. Download and Install Macube Cleaner
Before starting cleaning your Mac, one important step is to equip your device with Macube Cleaner. Please open your browser and navigate to Macube's product page for installing Macube Cleaner to your Mac computer.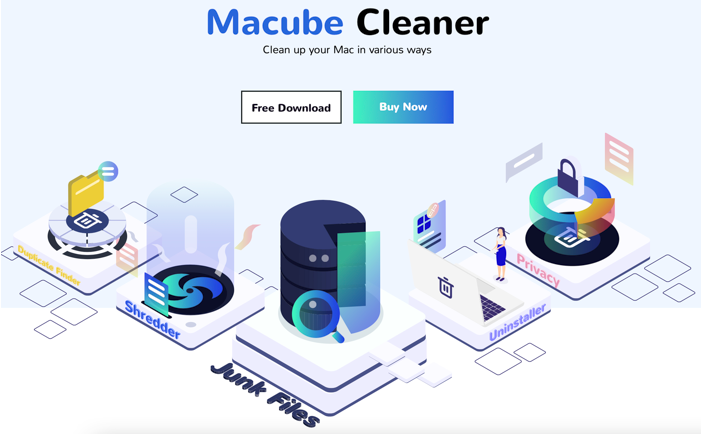 It is recommended to first try the free trial before purchasing. So you are available to click on Free Download to get the installation package and go through the simple set-up process to install Macube Cleaner on Mac.
Step 2. Start Using Macube Cleaner
When Macube Cleaner is installed, open the software and start using it to clean up your Mac accordingly.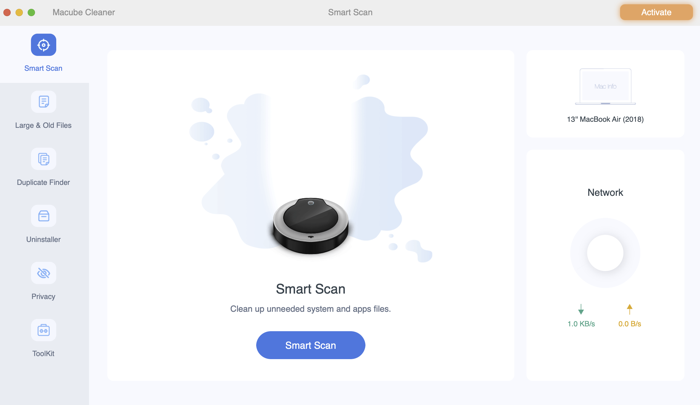 Macube Cleaner has divided its clean-up services into the following 6 types:
· Smart scan: scan Mac caches and get rid of them to return more space to users.
· Large & old files: find the unused files which occupy a large room and remove them.
· Duplicate finder: search for duplicate files such as music and videos and clear them.
· Uninstaller: thoroughly delete the apps and related caches from the mac
· Privacy: clear the browsing history to protect your personal privacy.
· Toolkit: securely remove unwanted files and properly handle extensions.
By measuring your demands in clearing the content from your Mac, select the function from these provided 6 features. Macube Cleaner performs simply to clean up Mac computers with very simple clicks. Here we will take Smart Scan as an example to guide you on how to clean up your Mac with Macube Cleaner easily. The way to use the rest cleaning functions is similar.
Step 3. Allow Full Disk Access
After clicking on Smart Scan, you may be required to allow Macube Cleaner the full access to the disk to ensure a fully clean result. Please follow the instruction to grand Macube a full access in "System Preference".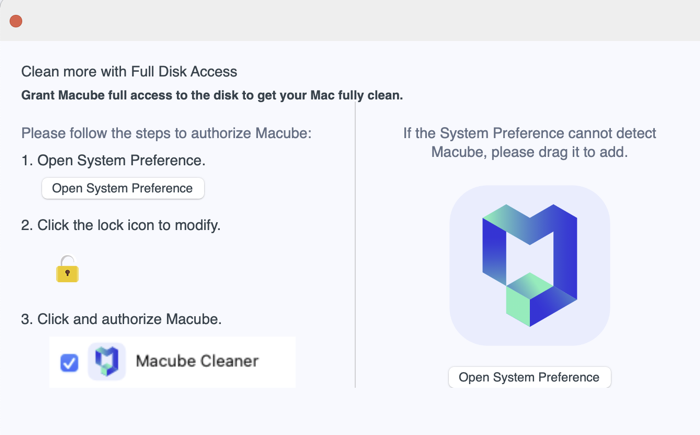 Step 4. Clean You Mac
Once Macube Cleaner is granted full access, it will guide you to the operating page. You can see the listed contents that Macube Cleaner is going to help you scan and clear. Simply check the options you want to scan, then click on Clean to ask Macube Cleaner to start working.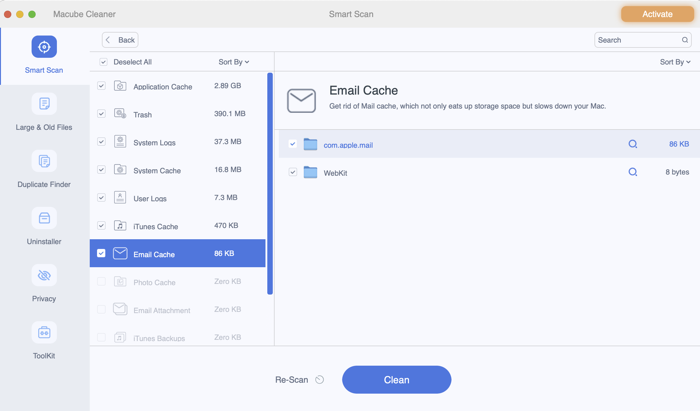 Subsequently, Macube Cleaner will tell you that the cleaning process is completed, and you are available to click on Review to check the detailed cleanup information.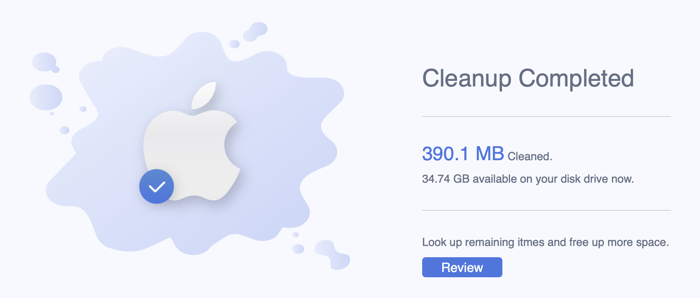 The whole process is simple and easy. Only 2-3 clicks, and you can gain a completely clean and new Mac computer. No need to experience more difficulties because we take your needs carefully, and you can immediately improve your Mac's performance.